11 May
United States Wars, News and Casualties
Iraq A Deadly Deception 2016, War Documentary 2018
WAR DOCUMENTARY: IRAQ A DEADLY DECEPTION ALJAZEERA DOCUMENTARIES 2018 On the evening of 9/11, George W Bush made a vow to the American public – that he would defeat terrorism.
Unknown to those listening in shock to the presidential address, the president and his advisers had already begun planning their trajectory into an invasion of Iraq. It was packaged as "holding responsible the states who support terrorism" by Richard Perle, a Pentagon adviser between 2001 and 2003.
"I believe it represented a recognition that we would never succeed against the terrorists if we went after them one at a time and as long as governments were facilitating the organisation, training, equipping of, financing of terrorist organisations, we were never going to get it under control," says Perle.
After 100 days spent fighting those who had become publicly accepted as the culprits – Osama bin Laden, al-Qaeda and the Taliban in Afghanistan – the US set the ball rolling for war against Iraq.
On the evening of 9/11 the president is saying: well, maybe we'll be going after Iraq now and somebody said, well, that would be against international law. The president responded: I don't care, we're going to kick some ass.
The War Criminals
How many Iraqis have died as a result of the invasion 15 years ago? Some credible estimates put the number at more than one million. You can read that sentence again.
The invasion of Iraq is often spoken of in our country as a "blunder," or even a "colossal mistake." It was a crime.
Those who perpetrated it are still at large. Some of them have even been rehabilitated thanks to the horrors of a mostly amnesiac citizenry. (A year ago Mr. Bush was on "The Ellen DeGeneres Show," dancing and talking about his paintings.)
The war criminals, Bush,Cheney,Rice,Rumsfeld, Wolfowitz, and Powell

who sold us the war still go on doing what they do.
We condemned children to death, some after many days of writhing in pain on bloodstained mats, without pain relievers. Some died quickly, wasted by missing arms and legs, crushed heads. As the fluids ran out of their bodies, they appeared like withered, spoiled fruits. They could have lived, certainly should have lived – and laughed and danced, and run and played- but instead they were brutally murdered. Yes, murdered!
The war ended for those children, but it has never ended for survivors who carry memories of them. Likewise, the effects of the U.S. bombings continue, immeasurably and indefensibly.
The McGlynn

War News

President Trump's decision to abandon the Iran nuclear deal and his Iran policy reminded some current and former U.S. officials of the buildup to the March 2003 invasion of Iraq.
The real reasons behind Trump withdrawing from the Iran nuclear deal and its implications for the greater Middle East.
American presidents have long devised strategic visions to guide their foreign policy, focusing on a particular enemy or threat, whether communists, Arab nationalists or "violent jihadists".
With communism defeated, Arab nationalism in crisis, and "Sunni Jihadists" on the run, the Trump administration has made Iran the object of its enmity.
After a year of confusion and uncertainty, a revised American doctrine focused on the Middle East, but with direct implementations for South East Asia, Europe and Russia is finally taking shape, for reasons that can be best explained with the telling and memorable acronym, I.S.R.A.E.L.
WASHINGTON — A Defense Department investigation of a Special Forces mission in Niger last fall found widespread problems across all levels of the military counterterrorism operation, but focused in particular on the actions of junior officers leading up to an ambush that killed four American soldiers.
The investigation, released Thursday, found that the 11-member team had not undergone crucial training as a unit before it deployed to Niger because of "personnel turnover" and had not rehearsed its mission before leaving its base. It said the two junior officers had "mischaracterized" the mission in a required planning document filed before the team, which included Green Berets, departed.
It also found that soldiers wounded on the mission — at least two Americans and three Nigeriens — were not evacuated for more than four hours, far longer than the Pentagon had acknowledged.
Most Americans were unaware before the Oct. 4 ambush that Green Berets, and 800 other American troops, were stationed in Niger, and the attack led to the largest loss of American lives during combat in Africa since the 1993 "Black Hawk Down" debacle in Somalia…………..
The executive summary and the Pentagon briefing did not directly address why the team was relatively unequipped, traveling in an unarmored sport utility vehicle that was not carrying a mounted machine gun. It did not specifically fault the Army, the United States Africa Command and the Special Forces for fatal gaps in training and oversight.
The summary also did not acknowledge that Maj. Gen. Roger L. Cloutier Jr., the Army officer who oversaw the inquiry, is a senior official in the very command he was investigating. General Cloutier was promoted last month to lead all Army forces in Africa.
Theresa May pays tribute to life-saving rescue group working in 'horrendous' conditions and will look at boost in British support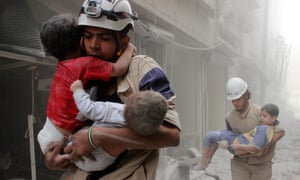 Britain could increase its funding to the Syrian volunteer rescue group the White Helmets following reports that Donald Trump is withdrawing US support.
Theresa May said she would consider plugging the gap, acknowledged the important work done by the organisation in "horrendous" conditions. The US government previously contributed about a third of the overall funding for the group.
On Wednesday, Matthew Pennycook, Labour MP for Greenwich and Woolwich, told the House of Commons of the life-saving work done by the White Helmets, despite the "ever present threat of death" from both Syrian and Russian airstrikes in the face of "smears and disinformation", and asked the prime minister whether the government would pledge to make up the shortfall.
May replied: "We recognise the very important and valuable work that the White Helmets are doing. They are, as he says, doing this in horrendously difficult conditions. They are incredibly brave to be continuing that work. We do support them, we will continue to support them and … the international development secretary will be looking at the level of support in the future."
NEW YORK (Thomson Reuters Foundation) – Some 21,000 students and teachers were injured or killed in attacks on schools over the last five years, a study said on Thursday, condemning a rise in violent assaults on education.
More than 12,700 attacks, including bombings, arson and violent repression of education-related protests, took place between 2013 and 2017, the New York-based Global Coalition to Protect Education from Attack (GCPEA) said.
"Teaching and learning has become increasingly dangerous with the lives of students, teachers, and academics frequently put at risk," the head of the coalition of United Nations (U.N.) agencies and charities, Diya Nijhowne, said in a statement.
"Schools and universities should be safe and protective spaces, but armed forces and armed groups continue to turn them into sites of intimidation and violence."
A total of 41 countries suffered at least five attacks in the last five years, it said, a 36 percent increase on the previous half decade.
The treatment of Abdel Hakim Belhaj and Fatima Boudchar was indefensible. Britain's apology has far-reaching implications for security cooperation with states that support and practise torture
When a government falls short of its own high ethical standards, the attorney general Jeremy Wright told MPs on Thursday, it must do three things: first, there should be a proper apology; second, there should be appropriate compensation; and, third, there must be changes, based on a learning of lessons for the future. That all sounds admirable and principled. But how does it measure up in practice? The British government's apology to Abdel Hakim Belhaj and his wife Fatima Boudchar for its part in the 2004 rendition operation, which kidnapped them in Thailand to end up in Libyan jails, ticks the first two boxes. The question is whether it also ticks the third.
The apology was given on Thursday after an out-of-court settlement of the Belhaj/Boudchar couple's litigation against the British government, along with the former Labour foreign secretary Jack Straw and the former MI6 counter-terrorism chief Sir Mark Allen. It was certainly full. It takes the form of a letter from the prime minister, read out in full by Mr Wright, with Mrs Boudchar listening in the gallery, and a copy of which was handed to Mr Belhaj by the British ambassador to Turkey. The choreography was meticulous. Britain apologised "unreservedly". Theresa May herself was "profoundly sorry".
Israel has bombed Iranian targets inside Syria – leading to fears confrontations between the two powerful arch-foes could get worse. Here's the background to what is happening.
Israel sees Iran as a threat to its existence and has always said Iran must not get a nuclear weapon. Its leaders are worried by Iran's expansion in the Middle East.
What has Syria got to do with it?
Israel has watched anxiously as its neighbour Syria has been consumed by war since 2011.
Israel has stayed out of the fighting between the Syrian government and rebels.
Why are Israel and Iran enemies?
Ever since the Iranian revolution in 1979, when religious hardliners came to power, Iran's leaders have called for Israel's elimination. Iran rejects Israel's right to exist, considering it an illegitimate occupier of Muslim land.
BAGHDAD (Reuters) – For the first time since driving out Islamic State, Iraqis go to the polls on Saturday in an election that will shape attempts to heal the country's deep divisions and could shift the regional balance of power.
Iraq's three main ethnic and religious groups, the majority Shi'ite Arabs and the minority Sunni Arabs and Kurds, have been at loggerheads for decades and the sectarian rifts are as apparent as ever 15 years after the fall of Saddam Hussein.
The election of a new prime minister and parliament also takes place the same week U.S. President Donald Trump announced he was pulling out of the Iran nuclear deal, raising tensions between Iraq's two main allies: Tehran and Washington.
Whoever wins the May 12 election will face the challenge of rebuilding Iraq after four years of war with Islamic State, jump-starting a flagging economy, balancing the interests of powerful foreign patrons and maintaining the country's fragile unity in the face of sectarian and separatist tensions.
"We want security. We have killings, theft, kidnappings. We never had this before. In the past 15 years the people have been destroyed," said 29-year-old Khalid Radi, a laborer in Baghdad.
Observers fear that the lines between independent journalism and politics in Iraq are becoming increasingly blurred.
Earlier this month, Iraqi journalist Muntadher al-Zaidi, who shot to prominence in 2008 when he hurled a shoe at George W Bush and called the former US president "a dog", announced his candidacy for the May 12 parliamentary elections.
"I want to lock up all the thieves who've robbed Iraq of its wealth," he told Al Jazeera, explaining that he plans to pass a law that would see "corrupt politicians held to account".
The nomination of Zaidi with the Sairoon Coalition – an alliance between the Sadirst Movement and the Iraqi Communist Party – was celebrated by his supporters. But it was not received with the same level of enthusiasm among the wider Iraqi public as his "farewell kiss [to Bush] from the Iraqi people" 10 years ago.
The Sairoon Coalition led by Shia leader Muqtada al-Sadr is one of the five main Shia factions running in the election for a new parliament.
Read full story »
KABUL, Afghanistan — An Afghan official says Taliban fighters have stormed a security post in Farah province, killing at least seven and wounding four.
Mohammad Naser Mehri, spokesman for the provincial governor, says the attack took place Thursday night in Bala Buluk district. The gun battle lasted several hours and at least seven security forces were killed, he said.
A member of the provincial council, Abdul Samad Salehi, said the attack was massive and killed 22 and wounded two. He said the Taliban "arrested" three security forces.
Read full story »
KABUL — Insurgents have killed at least 86 people lining up to enroll to vote during a registration drive in Afghanistan, the United Nations said on Thursday, describing the violence as a reminder of the need to press on with efforts to bring peace.
Afghanistan's government launched a nationwide drive last month to issue identification cards to more than 14 million adults, to pave the way for long-delayed parliamentary and provincial council elections in October. Violence during the first phase of the voter registration process has highlighted the government's struggle to protect voters.
The UN report said insurgents had abducted 26 people during election-related attacks. One hundred eighty-five people were wounded………………..The deadliest attack on the election took place last month, when a suicide bomber blew himself up near a crowd lined up outside a voter registration center in Kabul, killing 60 people.
Islamic State claimed responsibility for the attack on a project of key importance to the credibility of President Ashraf Ghani's government, which has been under international pressure to ensure the parliamentary polls take place this year.
The Taliban, who have also launched their annual spring offensive, have already made it clear that they will target the election. The UN report said fighters had threatened to kill election staff or cut off their fingers if they continue their work on the vote. Teachers have been warned that their schools will be targeted if they are used for voter registration.
By Khaama Press on 10 May 2018 3:34pm .
The Afghan armed forces have thwarted a plan by the anti-government armed militant groups to carry out a deadly explosion in western Herat province of Afghanistan. The 207th Zafar Corps of the Afghan Military in the West said the militants had planted an improvised explosive device made up of heavy artillery shells on a roadside .
War Casualties By Name – Search by Name:

Recent Casualties:
Color Denotes Today's Confirmation
The Department of Defense announced today the death of a soldier who was supporting Operation Freedom's Sentinel.
Spc. Gabriel D. Conde, 22, of Loveland, Colorado, was killed in action April 30 as a result of enemy small arms fire in Tagab District, Afghanistan. The incident is under investign.
Conde was assigned to 3rd Battalion, 509th Infantry Regiment, 4th Infantry Brigade Combat Team (Airborne), 25th Infantry Division, U.S. Army Alaska, Joint Base Elmendorf-Richardson, Alaska.

Care for Veterans:
PTSD: National Center for PTSDPTSD Care for Veterans, Military, and FamiliesSee Help for Veterans with PTSD to learn how to enroll for VA health care and get an assessment.
All VA Medical Centers provide PTSD care, as well as many VA clinics.Some VA's have programs specializing in PTSD treatment. Use the VA PTSD ProgramLocator to find a PTSD program.If you are a war Veteran, find a Vet Center to help with the transition from military to civilian life.