12 May
United States Wars, News and Casualties
Iraq A Deadly Deception 2016, War Documentary 2018
WAR DOCUMENTARY: IRAQ A DEADLY DECEPTION ALJAZEERA DOCUMENTARIES 2018 On the evening of 9/11, George W Bush made a vow to the American public – that he would defeat terrorism.
Unknown to those listening in shock to the presidential address, the president and his advisers had already begun planning their trajectory into an invasion of Iraq. It was packaged as "holding responsible the states who support terrorism" by Richard Perle, a Pentagon adviser between 2001 and 2003.
"I believe it represented a recognition that we would never succeed against the terrorists if we went after them one at a time and as long as governments were facilitating the organisation, training, equipping of, financing of terrorist organisations, we were never going to get it under control," says Perle.
After 100 days spent fighting those who had become publicly accepted as the culprits – Osama bin Laden, al-Qaeda and the Taliban in Afghanistan – the US set the ball rolling for war against Iraq.
On the evening of 9/11 the president is saying: well, maybe we'll be going after Iraq now and somebody said, well, that would be against international law. The president responded: I don't care, we're going to kick some ass.
The War Criminals
How many Iraqis have died as a result of the invasion 15 years ago? Some credible estimates put the number at more than one million. You can read that sentence again.
The invasion of Iraq is often spoken of in our country as a "blunder," or even a "colossal mistake." It was a crime.
Those who perpetrated it are still at large. Some of them have even been rehabilitated thanks to the horrors of a mostly amnesiac citizenry. (A year ago Mr. Bush was on "The Ellen DeGeneres Show," dancing and talking about his paintings.)
The war criminals, Bush,Cheney,Rice,Rumsfeld, Wolfowitz, and Powell

who sold us the war still go on doing what they do.
We condemned children to death, some after many days of writhing in pain on bloodstained mats, without pain relievers. Some died quickly, wasted by missing arms and legs, crushed heads. As the fluids ran out of their bodies, they appeared like withered, spoiled fruits. They could have lived, certainly should have lived – and laughed and danced, and run and played- but instead they were brutally murdered. Yes, murdered!
The war ended for those children, but it has never ended for survivors who carry memories of them. Likewise, the effects of the U.S. bombings continue, immeasurably and indefensibly.
The McGlynn

War News
ABU DHABI (Reuters) – Military transport planes from the United Arab Emirates landed on the sleepy Yemeni island of Socotra last week, unloading tanks and troops as part of the Gulf Arab state's drive to extend its influence over a strategic waterway flanked by war zones.
The UAE, with a population of less than 10 million but the Arab world's second-largest economy thanks to oil, is deploying its soldiers and cash to create a web of bases and armed allies in Yemen and Somalia as a bulwark against Islamist extremists and Iranian influence, according to diplomats as well as Yemeni and Somali officials.
But backing groups at loggerheads with their national governments threatens to bog down the UAE in the seemingly endless conflicts of two of the world's poorest countries.
Lying between the Arabian Peninsula and Horn of Africa, Socotra island, best known for its otherworldly plant life, appeared far from the war until the UAE troops arrived, in a landing reported by Yemeni officials and media.
When rescue workers drag civilians from the rubble left by airstrikes, they don't pause to check who fired the missiles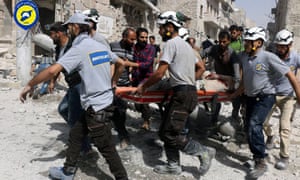 F

or years, Syria's civil defence workers have been subjected to a vicious online propaganda campaign by the "electronic armies" of the Assad regime and Russia. The digital offensive accelerated following a 2016 Netflix documentary that was cited as evidence of "western bias in the Syrian conflict".
What is little known, however, is the countless times these workers, known as the White Helmets, have saved civilians from the rubble of airstrikes launched not by the Syrian regime or Russia, but by the US-led coalition.
While the majority of US attacks in Syria have targeted areas under the control of Islamic State (Isis) – areas in which the White Helmets are not allowed to operate – there have also been dozens of US airstrikes on rebel-held territories, which have been vastly under-reported.
Indeed, since 2014 the US has bombed anti-Isis rebel population centres far more than areas loyal to the regime, despite the far greater coverage afforded to the latter.
Syria's White Helmets operating in the aftermath of a US airstrike.
Ismail al-Abdullah, a 30-year-old former teacher and volunteer with the Syria Civil Defence from the rural area around Aleppo, was present when 46 civilians were killed by a US-led airstrike on a mosque in Al-Jinah, a village held by the rebel faction Ahrar al-Sham.
He said the victims at Al-Jinah were civilians, "students at an institute" who died "after the building was targeted twice consecutively".
BAGHDAD (Reuters) – Iraq holds its first parliamentary election on Saturday since defeating Islamic State, but few people expect its new leaders to deliver the stability and economic prosperity that have long been promised.
The oil producer has been struggling to find a formula for stability since a U.S.-led invasion toppled dictator Saddam Hussein in 2003, and politics has brought only disappointment to most Iraqis.
The three main ethnic and religious groups — the majority Shi'ite Arabs and the Sunni Arabs and Kurds — have been at odds for decades, and the sectarian divisions remain as deep as ever.
Iraqis seem to have little faith that a new parliament will be any more able to tackle their country's numerous challenges.
Much of the northern city of Mosul was reduced to rubble in fighting to oust Islamic State, and it will require billions of dollars to rebuild. The economy is stagnant. Sectarian tensions, which erupted into 2006-2007, are still a major security threat. And Iraq's two main backers, Washington and Tehran, are at loggerheads.
BAGHDAD (AP) — Iraqi forces in coordination with U.S.-backed Syrian forces have captured five senior Islamic State group leaders, the U.S.-led coalition said Thursday in a statement.
The arrest was a "significant blow to Daesh," coalition spokesman Army Col. Ryan Dillon said, using the Arabic acronym for the extremist group.
A Pentagon spokesman, Marine Maj. Adrian J.T. Rankine-Galloway, said the U.S. credited Iraqi security forces with the militants' capture "on the Iraq-Syria border."
"These arrests are a significant blow to ISIS as we continue to remove its leadership and fighters from the battlefield," Rankine-Galloway said.
KIRKUK, Iraq — An intersection in the northern Iraqi city of Kirkuk paints a vivid picture of the Kurds' rapid turn of fortune. The towering statue of a fighter who used to brandish a Kurdish sunburst flag now holds the red, white and black of Iraq's Baghdad government.
Opposite, a fortified former headquarters of the Kurdish autonomous region's ruling party serves as a base for the Iraqi forces that led Kirkuk's swift recapture in October and dashed hopes of Kurdish independence.
Many Iraqi Kurds long for Kirkuk as the eventual capital of their own state, and as Islamic State went down to defeat in northern Iraq last year the oil-rich city seemed closer than ever to becoming a permanent center of Kurdish power.
That short-lived ascendancy has been reversed, and hopes for a Kurdish Kirkuk have faded ahead of an Iraqi national election on Saturday expected to weaken the main Kurdish parties there.
BAGHDAD — An Iraqi journalist who threw his shoes at U.S. President George W. Bush during a news conference a decade ago is standing for parliament, campaigning against corruption and the sectarianism that has plagued his country.
TV correspondent Muntazer al-Zaidi became famous across Iraq and the Middle East after throwing his footwear at Bush during a news conference in Baghdad in 2008, shouting "This is a farewell kiss from the Iraqi people, you dog!"
Bush ducked twice as the shoes sailed over his head. Zaidi served six months in prison for assaulting a visiting leader.
HERAT, Afghanistan — Taliban fighters attacked Afghan bases in the western province of Farah, killing more than 30 police, officials said on Friday, as the insurgents stepped up their offensive in a region with vital opium smuggling routes into neighboring Iran.
Farid Bakhtawar, head of the Farah provincial council, said fighters had stormed a police base overnight in Balabuluk, a district that has been under heavy pressure for months, killing at least 23 and wounding three.
In a separate attack in Farah city, Taliban fighters killed 11 police and seized a large quantity of weapons and equipment, he said.
The latest violence underlines the extent of the pressure faced by the Western-backed government of President Ashraf Ghani, already heavily criticized for a spate of suicide bombings in the capital, Kabul.
By Khaama Press on 12 May 2018 9:32am .
At least five militants affiliated with the Islamic State of Iraq and Syria (ISIS) terrorist group were killed by their own comrades in eastern Nangarhar province of Afghanistan. The provincial government media office in a statement said the militants were killed during infighting in the restive Achin district. In the meantime, the provincial government said .
By Khaama Press on 11 May 2018 1:46pm .
At least twelve militants were killed during the operations of the Afghan army Commandos and the Afghan Intelligence, National Directorate of Security (NDS), Special Forces in eastern Laghman province of Afghanistan. According to a statement released by the governor's office in Laghman, the operation was conducted late on Wednesday night in the vicinity of Alingar .
War Casualties By Name – Search by Name:

Recent Casualties:
Color Denotes Today's Confirmation
The Department of Defense announced today the death of a soldier who was supporting Operation Freedom's Sentinel.
Spc. Gabriel D. Conde, 22, of Loveland, Colorado, was killed in action April 30 as a result of enemy small arms fire in Tagab District, Afghanistan. The incident is under investign.
Conde was assigned to 3rd Battalion, 509th Infantry Regiment, 4th Infantry Brigade Combat Team (Airborne), 25th Infantry Division, U.S. Army Alaska, Joint Base Elmendorf-Richardson, Alaska.

Care for Veterans:
PTSD: National Center for PTSDPTSD Care for Veterans, Military, and FamiliesSee Help for Veterans with PTSD to learn how to enroll for VA health care and get an assessment.
All VA Medical Centers provide PTSD care, as well as many VA clinics.Some VA's have programs specializing in PTSD treatment. Use the VA PTSD ProgramLocator to find a PTSD program.If you are a war Veteran, find a Vet Center to help with the transition from military to civilian life.