17 May
United States Wars, News and Casualties
Iraq A Deadly Deception 2016, War Documentary 2018
WAR DOCUMENTARY: IRAQ A DEADLY DECEPTION ALJAZEERA DOCUMENTARIES 2018 On the evening of 9/11, George W Bush made a vow to the American public – that he would defeat terrorism.
Unknown to those listening in shock to the presidential address, the president and his advisers had already begun planning their trajectory into an invasion of Iraq. It was packaged as "holding responsible the states who support terrorism" by Richard Perle, a Pentagon adviser between 2001 and 2003.
"I believe it represented a recognition that we would never succeed against the terrorists if we went after them one at a time and as long as governments were facilitating the organisation, training, equipping of, financing of terrorist organisations, we were never going to get it under control," says Perle.
After 100 days spent fighting those who had become publicly accepted as the culprits – Osama bin Laden, al-Qaeda and the Taliban in Afghanistan – the US set the ball rolling for war against Iraq.
On the evening of 9/11 the president is saying: well, maybe we'll be going after Iraq now and somebody said, well, that would be against international law. The president responded: I don't care, we're going to kick some ass.
The War Criminals
How many Iraqis have died as a result of the invasion 15 years ago? Some credible estimates put the number at more than one million. You can read that sentence again.
The invasion of Iraq is often spoken of in our country as a "blunder," or even a "colossal mistake." It was a crime.
Those who perpetrated it are still at large. Some of them have even been rehabilitated thanks to the horrors of a mostly amnesiac citizenry. (A year ago Mr. Bush was on "The Ellen DeGeneres Show," dancing and talking about his paintings.)
The war criminals, Bush,Cheney,Rice,Rumsfeld, Wolfowitz, and Powell

who sold us the war still go on doing what they do.
We condemned children to death, some after many days of writhing in pain on bloodstained mats, without pain relievers. Some died quickly, wasted by missing arms and legs, crushed heads. As the fluids ran out of their bodies, they appeared like withered, spoiled fruits. They could have lived, certainly should have lived – and laughed and danced, and run and played- but instead they were brutally murdered. Yes, murdered!
The war ended for those children, but it has never ended for survivors who carry memories of them. Likewise, the effects of the U.S. bombings continue, immeasurably and indefensibly.
The McGlynn

War News
Locals say unarmed men were banana farmers and were killed trying to flee during operation against al-Shabaab extremists
US special forces have been accused of complicity in the deaths of civilians after five unarmed men were killed during a raid by Somali troops last week that they "aided and assisted".
The casualties were described as banana farmers by local inhabitants, and appear to have been shot while trying to flee the site of the operation, which officials say targeted commanders of the al-Shabaab extremist group.
Somali intelligence officials say three men detained in the raid on a village in the Lower Shabelle region were senior militants.
Mohamed Sheikh Mohamud, a farmer in the village of Ma'alinka, 37 miles south of Mogadishu, told the Guardian the operation started at about 1am last Thursday when "forces came down from a helicopter and started shooting the people in the farm".
Mohamud said he knew the five men killed. Two were tractor drivers at a banana farm, and three were cattle farmers………………US troops routinely accompany their Somali charges on operations. One special forces soldier during a raid on a village last year, the first US soldier to die in Somali since the 1993 Black Hawk Down debacle.
DUBAI (Reuters) – Tens of thousands of Yemenis have been fleeing Hodeidah as fighting intensifies on frontlines near the Houthi-held western province, Amnesty International said on Thursday, warning that "the worst is yet to come" if the war reaches urban areas.
Forces backed by a Saudi-led military coalition are advancing toward Hodeidah port city, long a key target in the three-year-old war, though local officials told Reuters this week they do not plan to launch an assault on densely populated areas nearby.
The United Nations puts the number of displaced along Yemen's western coast in recent months at some 100,000 people, most of them from Hodeidah, the second most populated province, the rights group said.
"The human impact of this fresh military offensive on Yemen's western coastal areas is clear from the distressing stories shared by civilians displaced by the conflict," Rawya Rageh, Senior Crisis Response Adviser at Amnesty International, said in a statement.
Watchdog to report soon on whether chemical weapons were used in larger-scale attack in Douma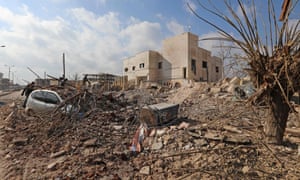 Destruction around the Udai hospital following airstrikes by government forces on the town of Saraqeb in January. Photograph: Omar Haj Kadour/AFP/Getty Images
An investigation by the chemical weapons watchdog has found that chlorine is likely to have been used in an attack on a Syrian town in February.
In what is likely to be seen as a dry run for a more controversial report later this month, the Organisation for the Prohibition of Chemical Weapons found that the February attack on the neighbourhood of Saraqeb was caused by the dropping of two cylinders that had contained chlorine on to a field in the town.
The OPCW is to report soon on whether chemical weapons were used on a larger-scale attack in Douma, eastern Ghouta, in May. Aspects of the evidence gathered at Saraqeb and Douma are very similar, weapons experts said.
The OPCW does not have the power to attribute responsibility for attacks, and the UN body that did have the power to attribute blame has been closed after Russia used its veto to block the renewal of its mandate
BEIRUT (Reuters) – The remaining fighters started to withdraw from the last rebel-held enclave in central Syria on Wednesday, state television reported, sealing the government's control over the area and opening a major stretch of the country's most important highway.

It further cements President Bashar al-Assad's dominant position over the most populated parts of Syria after years of fighting, but means any new military campaign might risk direct conflict with foreign powers.
The withdrawal may also be the last in a series of agreed evacuations used by the government to defeat besieged insurgents by forcing them to surrender territory in return for safe passage to opposition areas in the north.
Often brokered by Assad's Russian allies, such agreements have in recent years become a defining characteristic of Syria's seven-year war.
In the last two months alone, the United Nations says 110,000 people have been evacuated to northwestern Syria and rebel-held areas north of Aleppo.
Gina Haspel has paved the way for her confirmation as new CIA director, after repudiating torture tactics used in the past. But the scars from one of America's darkest chapters, the abuse of Iraqis at Abu Ghraib prison, still linger, as one of the men involved explains.
A big, bear-sized man, Jeremy Sivits hunches his shoulders when he walks across the car park of a pizzeria in Martinsburg, Pennsylvania, trying to make himself smaller.
He shoves his hands in his pockets as he stands next to me, outside where we can speak freely about the cruelty of his past, without fear of being overheard.
The Abu Ghraib scandal broke on 28 April 2004 when photos taken by him and other soldiers at the prison were revealed on CBS News.
The pictures showed naked prisoners heaped into a pyramid, forced to simulate sexual acts and adopt humiliating poses.
One showed a US soldier, Lynndie England, holding a prisoner on a strap made to look like a leash. Another, the defining image of the scandal, showed a hooded man standing on a box and holding electrical wires.
Sivits was sentenced to a year in prison for dereliction of duty, for counts related to taking a picture and failing to stop the mistreatment of detainees……………..Not long after Sivits arrived in Iraq, he was assigned to work at Abu Ghraib, a prison in Baghdad where he filled in as a mechanic and a driver.
At the time about 2,000 Iraqi men, women and children were held at the prison. Many were innocent and knew nothing about the insurgency – they'd been picked up accidentally in raids.
By this time, the US had approved the use of harsh interrogation methods at US-run detention facilities. Vice-President Dick Cheney said shortly after the 9/11 attacks that they would work the "dark side".
With that goal in mind, Washington officials recast laws in order to allow for interrogation methods that had long been defined as torture, and the techniques were used on prisoners at Abu Ghraib.
Detainees were beaten – some to death. One photograph shows the corpse of a prisoner, Manadel al-Jamadi, who had been held there by the CIA. His body was wrapped in plastic.
BAGHDAD (Reuters) – Gunmen in the northern Iraqi city of Kirkuk were on Wednesday besieging several polling stations containing election staff, four days after a national vote, the head of the electoral commission said.
Riyadh al-Badran said the gunmen, whom he did not identify, were putting pressure on the commission to change the election results in the multi-ethnic region.
"The employees of the commission are in a hostage situation," he said, calling on authorities to provide protection.
On Wednesday evening, however, the head of Kirkuk's law enforcement denied reports that election commission employees were being detained, adding that polling stations were secured and under the protection of counter-terrorism forces.
LASHKAR GAH, Afghanistan (Reuters) – Taliban fighters battled police and troops in the western city of Farah overnight, officials said on Thursday, as security forces struggled to regain control of a city that has been under growing pressure from the militants for months.
The latest fighting in Farah came a day after officials said the city was clear of insurgents who had overrun many areas following a surprise attack in the early hours of Tuesday.
"A number of Taliban clashed with Afghan forces in different parts of the city," said Fazel Ahmad Sherzad, the city's police chief.
"Right now there is no fighting but a search and clearance operation is underway," he said.
After months of relative calm over the winter, the latest fighting underlines the challenge facing the Kabul government and its U.S. allies.
The United States has sent thousands of extra trainers to help Afghan forces and stepped up air strikes dramatically, with the aim of pressing the Taliban to the negotiating table, but there has been little to indicate the plan is working.
KABUL, Afghanistan — Taliban insurgents abandoned their effort to take over the capital of the western Afghan province of Farah, leaving the city early Wednesday without apparent opposition, local residents said.
Even with 25 members of the security forces and five civilians killed, officials immediately hailed the insurgents' departure as a victory. They said that hundreds of insurgents had been killed in the one-day assault on Farah city and that the government's response proved it could beat back any Taliban initiative to take and hold territory.
But for many Afghans, especially residents in battered Farah, the assault showed mostly that the insurgents could attack at will even against a well-entrenched government position backed up by both Afghan and American air power.
"The Taliban managed to leave the city without a single shot being fired, and the night was calm," said Abdullah Khan, a resident reached by telephone. "It shows the utmost incompetence of our forces. The Taliban were wandering the Farah city streets openly without fear as if they had lived there a long time, making jokes with their friends and telling citizens to stay calm and not worry."
By Khaama Press on 17 May 2018 11:53am .
President Mohammad Ashraf Ghani has urged the Taliban group and other militants to respect the Holy Month of Ramadan and refrain from violence. In a video message released on the occasion of the Holy Month of Ramadan, President Ghani said he expects that the Taliban and other armed militants do not spread chaos and instability .
By Khaama Press on 17 May 2018 10:03am .
Clashes have once again erupted among the security forces and the Taliban insurgents in Farah city, the provincial capital of Farah province. According to the eyewitnesses and the residents of the city, the clashes broke out late on Wednesday night in some key parts of the city. The local residents are saying that they have .
War Casualties By Name – Search by Name:

Recent Casualties:
Color Denotes Today's Confirmation
The Department of Defense announced today the death of a soldier who was supporting Operation Freedom's Sentinel.
Spc. Gabriel D. Conde, 22, of Loveland, Colorado, was killed in action April 30 as a result of enemy small arms fire in Tagab District, Afghanistan. The incident is under investign.
Conde was assigned to 3rd Battalion, 509th Infantry Regiment, 4th Infantry Brigade Combat Team (Airborne), 25th Infantry Division, U.S. Army Alaska, Joint Base Elmendorf-Richardson, Alaska.

Care for Veterans:
PTSD: National Center for PTSDPTSD Care for Veterans, Military, and FamiliesSee Help for Veterans with PTSD to learn how to enroll for VA health care and get an assessment.
All VA Medical Centers provide PTSD care, as well as many VA clinics.Some VA's have programs specializing in PTSD treatment. Use the VA PTSD ProgramLocator to find a PTSD program.If you are a war Veteran, find a Vet Center to help with the transition from military to civilian life.