19 May
United States Wars, News and Casualties
Iraq A Deadly Deception 2016, War Documentary 2018
WAR DOCUMENTARY: IRAQ A DEADLY DECEPTION ALJAZEERA DOCUMENTARIES 2018 On the evening of 9/11, George W Bush made a vow to the American public – that he would defeat terrorism.
Unknown to those listening in shock to the presidential address, the president and his advisers had already begun planning their trajectory into an invasion of Iraq. It was packaged as "holding responsible the states who support terrorism" by Richard Perle, a Pentagon adviser between 2001 and 2003.
"I believe it represented a recognition that we would never succeed against the terrorists if we went after them one at a time and as long as governments were facilitating the organisation, training, equipping of, financing of terrorist organisations, we were never going to get it under control," says Perle.
After 100 days spent fighting those who had become publicly accepted as the culprits – Osama bin Laden, al-Qaeda and the Taliban in Afghanistan – the US set the ball rolling for war against Iraq.
On the evening of 9/11 the president is saying: well, maybe we'll be going after Iraq now and somebody said, well, that would be against international law. The president responded: I don't care, we're going to kick some ass.
The War Criminals
How many Iraqis have died as a result of the invasion 15 years ago? Some credible estimates put the number at more than one million. You can read that sentence again.
The invasion of Iraq is often spoken of in our country as a "blunder," or even a "colossal mistake." It was a crime.
Those who perpetrated it are still at large. Some of them have even been rehabilitated thanks to the horrors of a mostly amnesiac citizenry. (A year ago Mr. Bush was on "The Ellen DeGeneres Show," dancing and talking about his paintings.)
The war criminals, Bush,Cheney,Rice,Rumsfeld, Wolfowitz, and Powell

who sold us the war still go on doing what they do.
We condemned children to death, some after many days of writhing in pain on bloodstained mats, without pain relievers. Some died quickly, wasted by missing arms and legs, crushed heads. As the fluids ran out of their bodies, they appeared like withered, spoiled fruits. They could have lived, certainly should have lived – and laughed and danced, and run and played- but instead they were brutally murdered. Yes, murdered!
The war ended for those children, but it has never ended for survivors who carry memories of them. Likewise, the effects of the U.S. bombings continue, immeasurably and indefensibly.
The McGlynn

War News
REI: Iraq Causality
Young boy
GUARD: Photo – A woman from Afghanistan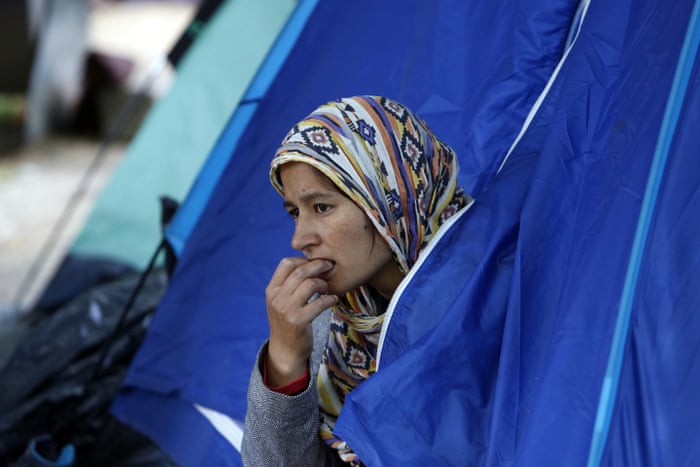 A woman from Afghanistan peers from her tent in a park across from the city hall in Sarajevo. Thousands of migrants and refugees have been stuck in the Balkans while trying to reach western Europe. Hundreds have been camping in the Bosnian capital, where a make-shift tent settlement has sprouted in a park.
GUARD: Mid East Refugee
Young Boy
BEIRUT (Reuters) – The humanitarian crisis in Syria is worse this year than ever before in the country's seven-year-old civil war, a United Nations official said on Friday.
"We see in 2018 the humanitarian situation inside Syria being the worst we have seen since the war started: a very dramatic deterioration, massive displacement, disrespect of protection of civilians and people's lives still being turned upside down," Panos Moumtzis, U.N. Humanitarian Coordinator for the Syria crisis, said in Beirut.
Syria is the worst place in modern history in terms of attacks on healthcare workers and facilities, accounting for 70 percent of all such attacks worldwide, he said.
U.N. data shows 89 healthcare workers died in 92 confirmed military attacks on healthcare facilities between Jan 1 and May 4, compared to 73 killed in 112 attacks in the whole of 2017, U.N. Humanitarian Coordinator for the Syria crisis.
The two areas which saw the most healthcare attacks in 2018 were Eastern Ghouta and Idlib………….In 2017, 27 percent of requests made by the U.N. to Syrian authorities for permission to deliver aid were granted. In the first four months of 2018 only seven percent were granted, Moumtzis said.
WASHINGTON (Reuters) – The Trump administration will withdraw assistance from northwest Syria dominated by Islamist factions and focus recovery efforts on areas where U.S.-led forces have retaken territory from Islamic State in the northeast, U.S. officials with knowledge of the decision said on Friday.
CBS, which first reported the story, said tens of millions of dollars will be cut from previous U.S.-backed efforts in the northwest, including projects for "countering violent extremism, supporting independent society and independent media, strengthening education, and advocating for community policing."
U.S. officials told Reuters that humanitarian assistance would not be affected in the northwest around Idlib province, which is the largest chunk of Syrian territory held by insurgent factions, including al Qaeda's former affiliate in the Syrian war.
"U.S. assistance for programs in northwest Syria are being freed up to provide potential increased support for priorities in northeast Syria," a State Department official told Reuters.
A second official said the administration believed it wanted to move the assistance to areas where the U.S. had more control.
Sitting PM in third place with pro-Iran figure in second

Protracted negotiations to form government expected
A political bloc led by populist cleric Moqtada al-Sadr, a long-time adversary of the US who also opposes Iranian influence in Iraq, has been confirmed as the winner of the country's parliamentary election, the electoral commission said on Saturday.
Sadr himself cannot become prime minister as he did not run in the election, though his bloc's victory puts him in a position to have a strong say in negotiations. His Sairoon electoral list captured 54 parliamentary seats.
The Al-Fatih bloc led by Hadi al-Amiri, who has close ties with Iran and heads an umbrella group of paramilitaries that played a key role in defeating Islamic State, came in second with 47 seats.
The Victory Alliance, headed by incumbent prime minister Haider al-Abadi, took third place with 42.
The victory was a surprising change of fortunes. The cleric, who made his name leading two violent uprisings against US occupation troops, was sidelined for years by Iranian-backed rivals.
JALALABAD, Afghanistan (Reuters) – As many as eight people were killed and dozens more wounded by multiple explosions at a sports stadium in the eastern city of Jalalabad late on Friday night, officials said.
The blasts occurred at a football stadium in the city that was hosting a cricket match at the start of the holy month of Ramadan, Sohrab Qaderi, a member of the provincial council said.
He said the blasts were caused by two rockets which killed at least six people and wounded 50 but there was some uncertainty about the final casualty total.
Attaullah Khogyani, a spokesman for the provincial governor of Nangarhar said eight spectators were killed and 43 wounded by at least three back-to-back explosions.
There was no immediate claim of responsibility.
Nangarhar, on the border with Pakistan, has seen growing violence this year, most recently last week when a coordinated attack on the state accounts office killed at least 15 people.
KABUL, Afghanistan — Afghan officials say Taliban fighters have attacked several security posts in three provinces, killing 16 security forces.
Ramadan Ali Mooseni, deputy provincial police chief, said Friday the Taliban launched an attack the previous night in Ghazni province's remote Ajristan district, killing nine security forces and wounding seven others. The gun battle also left 25 Taliban fighters dead, he said.
Elsewhere, Taliban insurgents attacked police security posts in the Maruf district of Kandahar province, killing five police and wounding six. Also, 12 Taliban were killed and 18 wounded, said Zia Durani, spokesman for the chief of police.
Similar attacks Thursday night in southern Uruzgan province left two police dead, officials said.
By Khaama Press on 19 May 2018 12:09pm.
President Mohammad Ashraf Ghani in reaction to the deadly stadium bombing in Jalalabad city has said that the militants continue their enmity with the cultural and religious values of Afghanistan by carrying out such attacks. The Chief Executive of Jamiat Islami and the ex-governor of Balh Ata Mohammad Noor also condemned the brutal bombing in .
By Khaama Press on 19 May 2018 11:17am .
The Taliban group in Afghanistan has vowed to step up attacks despite the appeals made by the government and the United Nations Assistance Mission in Afghanistan to respect the holy month of Ramadan and stop violence. "Islam's major battles were fought in Ramazan like the Jang-e-Badr and the Conquest of Mecca. So we will step.
By Khaama Press on 19 May 2018 9:55am .
At least eight people were killed in a coordinated bombing target a cricket stadium in Jalalabad city the provincial capital of Nangarhar province. The provincial government media office in a statement said the incident took place late on Friday night in the vicinity of the 1st police district of the city. The statement further added .
War Casualties By Name – Search by Name:

Recent Casualties:
Color Denotes Today's Confirmation
The Department of Defense announced today the death of a soldier who was supporting Operation Freedom's Sentinel.
Spc. Gabriel D. Conde, 22, of Loveland, Colorado, was killed in action April 30 as a result of enemy small arms fire in Tagab District, Afghanistan. The incident is under investign.
Conde was assigned to 3rd Battalion, 509th Infantry Regiment, 4th Infantry Brigade Combat Team (Airborne), 25th Infantry Division, U.S. Army Alaska, Joint Base Elmendorf-Richardson, Alaska.

Care for Veterans:
PTSD: National Center for PTSDPTSD Care for Veterans, Military, and FamiliesSee Help for Veterans with PTSD to learn how to enroll for VA health care and get an assessment.
All VA Medical Centers provide PTSD care, as well as many VA clinics.Some VA's have programs specializing in PTSD treatment. Use the VA PTSD ProgramLocator to find a PTSD program.If you are a war Veteran, find a Vet Center to help with the transition from military to civilian life.