20 May
United States Wars, News and Casualties
DRG: Invading Iraq
Part One: How Britain And America Got It Wrong (Modern Military Documentary)
Invading Iraq is a special two-hour documentary investigation recounting the key strategies, battles and turning points of the war from both sides of the battlefield – ending with the story of Saddam's capture. The documentary takes viewers behind the scenes of the allied invasion and advance on Baghdad. Through first-hand accounts from key commanders, frontline soldiers and civilians on both sides of the conflict, the film offers a rare battlefield perspective of the war as seen through the eyes of those who lived it. It also shows how the false assessment of Saddam Hussein's alleged weapons of mass destruction was just the first in a series of major intelligence failures that shaped the course of the war and led to the unstable occupation America and Britain are now mired in.
The War Criminals
How many Iraqis have died as a result of the invasion 15 years ago? Some credible estimates put the number at more than one million. You can read that sentence again.
The invasion of Iraq is often spoken of in our country as a "blunder," or even a "colossal mistake." It was a crime.
Those who perpetrated it are still at large. Some of them have even been rehabilitated thanks to the horrors of a mostly amnesiac citizenry. (A year ago Mr. Bush was on "The Ellen DeGeneres Show," dancing and talking about his paintings.)
The war criminals, Bush,Cheney,Rice,Rumsfeld, Wolfowitz, and Powell

who sold us the war still go on doing what they do.
We condemned children to death, some after many days of writhing in pain on bloodstained mats, without pain relievers. Some died quickly, wasted by missing arms and legs, crushed heads. As the fluids ran out of their bodies, they appeared like withered, spoiled fruits. They could have lived, certainly should have lived – and laughed and danced, and run and played- but instead they were brutally murdered. Yes, murdered!
The war ended for those children, but it has never ended for survivors who carry memories of them. Likewise, the effects of the U.S. bombings continue, immeasurably and indefensibly.
The McGlynn

War News
BEIRUT (Reuters) – The Syrian Observatory for Human Rights said a group of Islamic State fighters had been evacuated from the last insurgent enclave near Damascus on Sunday in a withdrawal that will restore state control over the area.
Syrian state media made no mention of a deal to allow the militants to leave the enclave centered around the Palestinian Yarmouk refugee camp. On Saturday, a Syrian military source denied that any agreement had been reached, state media said.
With the recovery of the Yarmouk enclave, the Syrian government will have crushed the last besieged rebel enclave in western Syria, though swathes of territory at the borders with Turkey, Iraq and Jordan remain outside its control.
The Observatory said buses had entered the enclave after midnight to take out fighters and their families. They had departed in the direction of the Syrian badia, a sparsely populated area to east of the capital.
Photo

Iraq, "The Aftermath of Saddam"
The McGlynn:

But what would appear to have been a lightening war, proves to be far different, deteriorating into a prolonged state of general instability and civil war that pits the international forces and the new Iraqi government, supported by the Kurdish and Shiite militias, against a primarily Sunni resistance movement that includes members of terrorist groups.
Synopsis
The film is based on the true events of Knight Ridder journalists who were the only ones who "got it right" in the lead-up to the 2003 Iraq War when they questioned the true nature of the Bush White House's justification for the conflict.
The McGlynn: 15 years too late
The creative, makeshift gardens at Domiz refugee camp have inspired Tom Massey's show garden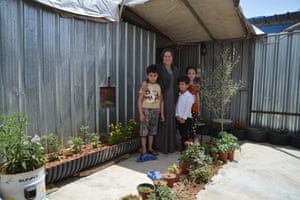 Naama Ibrahim and her children in their garden at Domiz refugee camp in Iraq. Photograph: Mikey Tomkins
D

esigners often travel abroad to seek inspiration for their Chelsea show gardens, but their trips don't usually entail an arduous journey by road, passing armed border guards because the nearest airport is closed.
Tom Massey visited Domiz camp in northern Iraq earlier this year to find out how refugees are carving out makeshift gardens, in the hope of bringing some of that spirit of inventiveness to a Main Avenue Chelsea plot. It was an eye-opener for him, showing how people who arrived with nothing have recreated a tiny slice of their lives back home, mostly in Syria. "They are thrown together, given a basic shelter. It was humbling to see how important gardening and growing is to them and how much benefit green space gives," he says.
BAGHDAD (AP) — Iraq's Muqtada al-Sadr, the maverick Shiite cleric whose political coalition beat out Iran's favored candidates to come in first in national elections, says he wants to form a government that puts Iraqis first.
The electoral commission announced early Saturday that the militant-turned-populist preacher, who has long spoken out against both Iranian and U.S. influence in Iraq, had defeated his establishment rivals.
Al-Sadr — who is remembered for leading an insurgency against U.S. forces after the 2003 invasion — did not run for a seat himself and is unlikely to become prime minister, but will command a significant number of seats and has already begun informal talks about government formation.
Salah al-Obeidi, a spokesman for al-Sadr's Sa'eroun political bloc, told The Associated Press that Iraq's sovereignty was going to be the new government's "guiding principle."
"We warn any other country that wants to involve itself in Iraqi politics not to cross the Iraqi people," he said.
However, even as al-Sadr is in position to nominate a prime minister and set the political agenda for the next four years, he will find his choices limited by Iran.
The Middle East's pre-eminent Shiite power has a direct line with some of Iraq's most powerful politicians, and it is trying to rally them as a bloc to undercut al-Sadr.
Al-Sadr's rise threatens Iran's claim to speak on behalf of Iraq's Shiite majority, a precedent that could fuel independent Shiite movements elsewhere. Also at stake are top ministerial posts — political appointments that are a source of patronage and police and military power.
By Khaama Press – Sat May 19 2018
The 438th Air Expeditionary Wing of the US Air Force in Afghanistan says the combat flight hours of the Afghan Air Force reached to nearly 30 hours during the operations to suppress the Taliban attack in Farah province. (Courtesy Photo – 438th Air Expeditionary Wing)
The source further added that the Afghan Air Force A=29s were armed and ready to provide overwatch and escort of the Afghan National Army forces in Farah.
The Afghan Air Force pilots flew nearly 30 hours of combat, disabling three enemy vehicles as they provided persisent on-call coverage, the 438th Air Expeditionary said in a short online statement.
This comes as the  United States Department of Defense, Pentagon, had earlier hailed the Afghan National Defense and Security Forces (ANDSF), for their response to the Taliban offensive on Farah city.
"This week, the Afghan national defense and security forces, supported by U.S. air power and advisers, defeated a major Taliban offensive in Farah City in western Afghanistan. Today, in spite of vain Taliban attempts to challenge the Afghan government's control of Farah City remains under the control of Afghan defense and security forces," Pentagon spokesperson Dana White told reporters.
By Khaama Press on 20 May 2018 10:18am
Unconfirmed reports emerging from Pakistan indicate that the former Director General of the Military Operations (DGMO) of the Pakistani Military Lt General (R) Shahid Aziz has been killed in Afghanistan. Reports regarding the killing of Aziz were apparently broken by one of the print medias in Pakistan. Citing the media report, Pakistan Today, reported that .
 
Iraq A Deadly Deception – War Documentary 2018

WAR DOCUMENTARY: IRAQ A DEADLY DECEPTION ALJAZEERA DOCUMENTARIES 2018 On the evening of 9/11, George W Bush made a vow to the American public – that he would defeat terrorism.
Unknown to those listening in shock to the presidential address, the president and his advisers had already begun planning their trajectory into an invasion of Iraq. It was packaged as "holding responsible the states who support terrorism" by Richard Perle, a Pentagon adviser between 2001 and 2003.
"I believe it represented a recognition that we would never succeed against the terrorists if we went after them one at a time and as long as governments were facilitating the organisation, training, equipping of, financing of terrorist organisations, we were never going to get it under control," says Perle.
After 100 days spent fighting those who had become publicly accepted as the culprits – Osama bin Laden, al-Qaeda and the Taliban in Afghanistan – the US set the ball rolling for war against Iraq.
On the evening of 9/11 the president is saying: well, maybe we'll be going after Iraq now and somebody said, well, that would be against international law. The president responded: I don't care, we're going to kick some ass.

War Casualties By Name – Search by Name:

Recent Casualties:
Color Denotes Today's Confirmation
The Department of Defense announced today the death of a soldier who was supporting Operation Freedom's Sentinel.
Spc. Gabriel D. Conde, 22, of Loveland, Colorado, was killed in action April 30 as a result of enemy small arms fire in Tagab District, Afghanistan. The incident is under investign.
Conde was assigned to 3rd Battalion, 509th Infantry Regiment, 4th Infantry Brigade Combat Team (Airborne), 25th Infantry Division, U.S. Army Alaska, Joint Base Elmendorf-Richardson, Alaska.

Care for Veterans:
PTSD: National Center for PTSDPTSD Care for Veterans, Military, and FamiliesSee Help for Veterans with PTSD to learn how to enroll for VA health care and get an assessment.
All VA Medical Centers provide PTSD care, as well as many VA clinics.Some VA's have programs specializing in PTSD treatment. Use the VA PTSD ProgramLocator to find a PTSD program.If you are a war Veteran, find a Vet Center to help with the transition from military to civilian life.