22 May
United States Wars, News and Casualties
DRG: Invading Iraq
Part One: How Britain And America Got It Wrong (Modern Military Documentary)
Invading Iraq is a special two-hour documentary investigation recounting the key strategies, battles and turning points of the war from both sides of the battlefield – ending with the story of Saddam's capture. The documentary takes viewers behind the scenes of the allied invasion and advance on Baghdad. Through first-hand accounts from key commanders, frontline soldiers and civilians on both sides of the conflict, the film offers a rare battlefield perspective of the war as seen through the eyes of those who lived it. It also shows how the false assessment of Saddam Hussein's alleged weapons of mass destruction was just the first in a series of major intelligence failures that shaped the course of the war and led to the unstable occupation America and Britain are now mired in.
The War Criminals
How many Iraqis have died as a result of the invasion 15 years ago? Some credible estimates put the number at more than one million. You can read that sentence again.
The invasion of Iraq is often spoken of in our country as a "blunder," or even a "colossal mistake." It was a crime.
Those who perpetrated it are still at large. Some of them have even been rehabilitated thanks to the horrors of a mostly amnesiac citizenry. (A year ago Mr. Bush was on "The Ellen DeGeneres Show," dancing and talking about his paintings.)
The war criminals, Bush,Cheney,Rice,Rumsfeld, Wolfowitz, and Powell

who sold us the war still go on doing what they do.
We condemned children to death, some after many days of writhing in pain on bloodstained mats, without pain relievers. Some died quickly, wasted by missing arms and legs, crushed heads. As the fluids ran out of their bodies, they appeared like withered, spoiled fruits. They could have lived, certainly should have lived – and laughed and danced, and run and played- but instead they were brutally murdered. Yes, murdered!
The war ended for those children, but it has never ended for survivors who carry memories of them. Likewise, the effects of the U.S. bombings continue, immeasurably and indefensibly.
The McGlynn

War News
RIYADH (Reuters) – Five people were killed and 22 wounded by a Houthi missile fired at the Yemeni city of Marib, which falls under control of the internationally recognized government of President Abd-Rabbu Mansour Hadi, the SABA news agency reported on Tuesday.
"Iran-backed Houthi launched a Katyusha missile targeting a crowded popular market in the city center of Marib, killing 5 people and wounding 22," SABA said.
Backed by the Saudi-led Arab coalition, Hadi's government has been battling the Iran-aligned Houthi movement since 2015 in a war that has driven the country to the verge of famine.
The United Nations says 10,000 people have died in the three-year-old war, and three out of four Yemenis – 22 million civilians – need relief aid.
BEIRUT (Reuters) – The Syrian army has restored control over all areas surrounding the capital Damascus for the first time since early in the seven-year-old war, after pushing Islamic State militants out of a south Damascus pocket, the military said.
Pro-Syrian government forces have been battling for weeks to recover al-Hajar al-Aswad district and the adjacent Yarmouk Palestinian refugee camp from Islamic State since driving rebels from eastern Ghouta in April.
In a televised statement Syria's army high command said al-Hajar al-Aswad and Yarmouk had been cleared of militants.
WASHINGTON (Reuters) – The U.S. military will take all necessary steps to confront Iranian behavior in the region and is still assessing whether that could include new actions or doubling down on current ones, the Pentagon said on Monday.
"We are going to take all necessary steps to confront and address Iran's malign influence in the region," Pentagon spokesman Colonel Robert Manning told reporters.
"We are assessing if we are going to double down on current actions or implement new actions," Manning said.
He did not comment on specific actions.
So this then is the US "Plan B" for Iran – to step up the sanctions pressure in order to force the Tehran government into a new diplomatic deal. It would need to accept broader constraints, not just on its nuclear activities, but also on its missile programme and wider behaviour in the region.

But is this a realistic policy for a new compromise with Tehran? Or is it a recipe for growing tensions; in reality a hawkish diplomatic smoke-screen intended to cloak a policy whose fundamental goal is regime change in Iran?
But how realistic is this policy? And how many of Washington's allies are likely to sign up to it beyond the Saudis and the Israelis, for whom the new policy in Washington must be music to their ears?
A Baghdad court has sentenced more than 40 foreign women to death after 10-minute hearings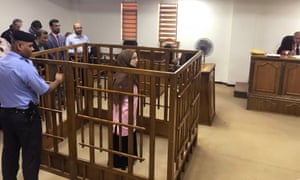 French national Djamila Boutoutao at the central penal court in Baghdad, where she was sentenced to life in prison for belonging to the Islamic State group. Photograph: Ammar Karim/AFP
In a small holding room in a Baghdad court, French citizen Djamila Boutoutao cradled her two-year-old daughter and begged for help.
Boutoutao, 29, is accused of being a member of Islamic State. Whispering in her native tongue within earshot of other accused Isis members – all foreigners like her – she said life had become unbearable.
"I'm going mad here," said Boutoutao, a small bespectacled woman with a deadpan stare. "I'm facing a death sentence or life in prison. No one tells me anything, not the ambassador, not people in prison."
Guards moved closer as Boutoutao continued. So did her fellow accused – all from central Asia or Turkey, who had all lost husbands and, in some cases, children as the Islamic State collapsed in Iraq last year.
"Don't let them take my daughter away," she pleaded. "I am willing to offer money if you can contact my parents. Please get me out of here."
KABUL, Afghanistan — The Taliban launched a wave of attacks in Afghanistan's eastern province of Ghazni, killing at least 14 police officers, including a district police chief and a reserve unit's commander, Afghan officials said Tuesday.
Provincial council member Hassan Reza Yusoufi said seven of the officers were killed in the district of Dih Yak, including Faizullah Toofan, the police chief, and reserve commander Haji Baraket. Another seven were killed in Jaghatu district.
The attacks started on Monday night and continued on Tuesday in Dih Yak, Jaghatu, Ajristan and Qarabagh districts, according to Arif Noori, spokesman for the provincial governor.
Noori said at least 12 other members of the security forces were wounded in the attacks in Dih Yak and Jaghatu districts.
Taliban fighters stormed several checkpoints in Dih Yak and Jaghatu, setting off intense battles there, said Latifa Akbari, the head of the provincial council in Ghazni.
WASHINGTON — The Trump administration's revamped Afghanistan strategy has made little progress against the Taliban insurgency, leaving the country a "dangerous and volatile" place nearly 17 years after the U.S. invaded, a government watchdog report said Monday.
The conclusion contrasts with assertions last fall by the American military that the Afghans, with U.S. support, had "turned the corner" and captured momentum against the Taliban, which it called fractured and desperate.
The report to Congress by inspectors general of the Pentagon, the State Department and the U.S. Agency for International Development also cast doubt on the administration's decision to send a new set of military advisers this year to work with Afghan forces closer to the front lines. It said this, combined with stepped-up Afghan offensives, "further raises the risk of civilian casualties, insider attacks, U.S. casualties, and other conflict-related violence."
The U.S. has about 15,000 support troops in Afghanistan providing military assistance but not in direct combat roles.
Citing a series of deadly Taliban attacks, including last week in the western province of Farah, bordering Iran, the inspector general report released by the Pentagon said there are few signs of significant progress by Afghan forces…………As further evidence of the volatile situation, the report noted that parliamentary elections scheduled for July have been postponed until October. It said this could make it difficult to hold the presidential election planned for 2019, and it questioned the extent to which balloting amid Taliban resistance will promote peace.
By Khaama Press on 22 May 2018 1:14pm .
A relatively heavy explosion rocked Kandahar city the provincial capital of Kandahar province in South of Afgahnistan this afternoon. According to the preliminary reports, the incident took place after a suicide bomber detonated a vehicle packed with explosives. There are no reports regarding the possible casualties and exact target of the attack. This is a .
By Khaama Press on 22 May 2018 10:10am .
The US Secretary of State Mike Pompeo on Monday announced Washington new demands for the inclusion in a new nuclear treaty with Iran. Among several other demands regarding Iran's nuclear program and Middle East, Washington has asked Iran to end support for the Taliban and other "terrorists" in Afghanistan and the region and cease harbouring .
By Khaama Press on 22 May 2018 9:28am .
The Taliban militants launched a large scale attack on two districts of southeastern Ghazni province amid reports several security personnel have lost their lives during the clashes. A provincial council member Ahmad Faqiri confirmed the attack and said several security personnel were martyred during the clashes with the Taliban insurgents. He said the commander of .
 
Iraq A Deadly Deception – War Documentary 2018

WAR DOCUMENTARY: IRAQ A DEADLY DECEPTION ALJAZEERA DOCUMENTARIES 2018 On the evening of 9/11, George W Bush made a vow to the American public – that he would defeat terrorism.
Unknown to those listening in shock to the presidential address, the president and his advisers had already begun planning their trajectory into an invasion of Iraq. It was packaged as "holding responsible the states who support terrorism" by Richard Perle, a Pentagon adviser between 2001 and 2003.
"I believe it represented a recognition that we would never succeed against the terrorists if we went after them one at a time and as long as governments were facilitating the organisation, training, equipping of, financing of terrorist organisations, we were never going to get it under control," says Perle.
After 100 days spent fighting those who had become publicly accepted as the culprits – Osama bin Laden, al-Qaeda and the Taliban in Afghanistan – the US set the ball rolling for war against Iraq.
On the evening of 9/11 the president is saying: well, maybe we'll be going after Iraq now and somebody said, well, that would be against international law. The president responded: I don't care, we're going to kick some ass.

War Casualties By Name – Search by Name:

Recent Casualties:
Color Denotes Today's Confirmation
The Department of Defense announced today the death of a soldier who was supporting Operation Freedom's Sentinel.
Spc. Gabriel D. Conde, 22, of Loveland, Colorado, was killed in action April 30 as a result of enemy small arms fire in Tagab District, Afghanistan. The incident is under investign.
Conde was assigned to 3rd Battalion, 509th Infantry Regiment, 4th Infantry Brigade Combat Team (Airborne), 25th Infantry Division, U.S. Army Alaska, Joint Base Elmendorf-Richardson, Alaska.

Care for Veterans:
PTSD: National Center for PTSDPTSD Care for Veterans, Military, and FamiliesSee Help for Veterans with PTSD to learn how to enroll for VA health care and get an assessment.
All VA Medical Centers provide PTSD care, as well as many VA clinics.Some VA's have programs specializing in PTSD treatment. Use the VA PTSD ProgramLocator to find a PTSD program.If you are a war Veteran, find a Vet Center to help with the transition from military to civilian life.