27 May
United States Wars, News and Casualties
The War Criminals
How many Iraqis have died as a result of the invasion 15 years ago? Some credible estimates put the number at more than one million. You can read that sentence again.
The invasion of Iraq is often spoken of in our country as a "blunder," or even a "colossal mistake." It was a crime.
Those who perpetrated it are still at large. Some of them have even been rehabilitated thanks to the horrors of a mostly amnesiac citizenry. (A year ago Mr. Bush was on "The Ellen DeGeneres Show," dancing and talking about his paintings.)
The war criminals, Bush,Cheney,Rice,Rumsfeld, Wolfowitz, and Powell

who sold us the war still go on doing what they do.
We condemned children to death, some after many days of writhing in pain on bloodstained mats, without pain relievers. Some died quickly, wasted by missing arms and legs, crushed heads. As the fluids ran out of their bodies, they appeared like withered, spoiled fruits. They could have lived, certainly should have lived – and laughed and danced, and run and played- but instead they were brutally murdered. Yes, murdered!
The war ended for those children, but it has never ended for survivors who carry memories of them. Likewise, the effects of the U.S. bombings continue, immeasurably and indefensibly.
The McGlynn

War News
SANAA, Yemen (AP) — Yemeni security officials say a Saudi-led coalition airstrike in the capital has killed at least four civilians and wounded over 10 others.
The officials said Saturday's airstrike hit a site near a gas station belonging to an oil company in Sanaa, Yemen.
They said the casualties were civilians who were near the site or driving close by. They spoke on condition of anonymity because they were not authorized to brief the media.
Yemen has been embroiled in a civil war since March 2015, pitting the Saudi coalition against Iran-backed Shiite rebels who control the capital and much of the country's north.
With husbands, sons and fathers dead or missing, women have been unwittingly thrust into the spotlight. Their resilience and innovation could point a way forward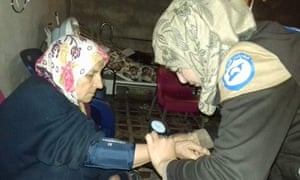 A volunteer offers medical help at a women's centre in Idlib, Syria. Photograph: Courtesy of Syria Civil Defence
T

he plight of approximately three million civilians encircled by hostile forces in Syria's north-western Idlib province is growing worse by the day, according to UN officials, aid agencies and advocacy groups who fear a looming humanitarian catastrophe.
For many Syrian families, Idlib is the refuge of last resort, after their forced displacement from homes in other parts of the country. But it also risks becoming a sanctuary without exits – what activists have termed a "kill-box" from which there is no escape. The Syrian army, backed by Russian and Iranian forces, is entrenched to the south and east.
The route north is blocked by Turkish forces occupying Syria's Afrin region. Along with Free Syrian Army (FSA) rebels, they have seized a crescent-shaped area around Idlib. The Turks last week set up "observation posts" ringing the province. For this reason, many refugees from the Damascus area have instead fled south to the rebel enclave in Dara'a. But a fresh government offensive is also feared there…………
White Helmets women's centre. Photograph: Courtesy of Syria Civil Defence
"We do lots of activities with the students. Once we cooked together and distributed the food to low-income families. When I see the children coming to the centre under the bombardment, because they want to spend time with their friends and me, I can never think about stopping, ever." She also finds time to help women find work and start their own businesses.
"Many women have sewing skills: we have been trying to launch a sewing workshop, where women can share creative ideas. A woman displaced from Damascus has been doing excellent work with clothes recycling. In the beginning, the community found it a bit abnormal to see a woman doing multiple jobs and going wherever she wanted. Now they are looking at me as a role model for other girls.
"What we have been through has made us stronger. If people stayed at home to grieve, life could have stopped a long time ago. Life won't stop: we need to keep going and working. I believe in working until the last possible moment."
DAMASCUS, Syria (AP) — Syria's Foreign Ministry says it has handed to the Russian and Iranian ambassadors in Damascus a list of the members it has named to a committee to review the national constitution.
Control over the constitutional process has been a key point of conflict between President Bashar Assad's government and the international community and Syrian opposition.
Assad has said his government will only consider amendments to the current constitution, in defiance of a U.N. initiative to have the government, opposition, and independents draft a new document.
The U.N. initiative was given a boost in February by Russia which organized a Syrian congress in Sochi earlier this year to press the warring sides to pen a new constitution.
But the Syrian government has refused to endorse the effort.
The Foreign Ministry's statement, published on state media on Saturday, was vague on the matter of whether the government was naming its own commission or nominating members to a U.N. commission. It did not identify the members named in the list. And it said the government was satisfied with "the current constitution."
BEIRUT (AP) — A Syrian war-monitoring group said Friday that suspected Israeli strikes hit a military base overnight in central Syria housing fighters from Lebanon's Hezbollah and others from factions allied with the Damascus government.
It was not immediately clear if there were any casualties at the Dabaa air base and surrounding areas in central Homs province, said the Britain-based Syrian Observatory for Human Rights. The base, north of al-Qusair near the border with Lebanon, captured by Hezbollah in 2013 from rebels, marking a turning point in the group's role in the Syrian war.
Syria's state media reported late Thursday that a military base in central Syria came under attack from "enemy fire," and that Syrian air defenses responded. State news agency SANA reported loud explosions at the Dabaa air base.
The Israeli military is believed to be behind dozens of airstrikes in recent years against Hezbollah, Iran, and Syrian military positions. The U.S. and Israeli governments have viewed Iran's role in Syria as a threat to Israel and have threatened action.
Syria's government forces have relied on support from the Iranian-backed militant Hezbollah group and other regional militias to fight Syrian rebels and Islamic State fighters. The conflict is now in its eighth year.
The Observatory also raised the death toll from Wednesday night's airstrikes in eastern Syria to 14 pro-government fighters, all but two foreign nationals. Syrian-run media blamed the U.S.-led coalition fighting IS for the strikes on military positions between the towns of Boukamal and Hmeimeh in the eastern Deir el-Zour province.
The Observatory said it also suspects coalition aircraft were behind the attack but the Pentagon said it had "no information" to substantiate such reports.
BEIRUT (AP) — The United States warned it would take "firm and appropriate measures" to protect a cease-fire in southern Syria if President Bashar Assad's forces move against rebels there.
The area in southwestern Syria, between the border city of Daraa and the Israeli-occupied Golan Heights, has emerged as a flashpoint in a wider standoff between regional archrivals Israel and Iran.
The U.S., Russia, and Jordan agreed last year to include Daraa in a "de-escalation zone" to freeze the lines of conflict. But government forces have recently dropped leaflets on rebel-held areas warning of an imminent offensive and urging fighters to lay down their arms, Syrian state media said Friday.
In a statement released Friday, the U.S. State Department said it was concerned by reports that Assad's forces were preparing for an operation in southwestern Syria. It warned the government against "any actions that risk broadening the conflict."
Assad has relied on Russia, Iran and the Lebanese militant group Hezbollah to battle an uprising against his family's decades-long rule and roll-back an Islamic State insurgency that grew out of the country's seven-year civil war. Iran has sent military commanders to oversee battles and organize militias from across the Middle East to fight alongside Assad's troops.
The U.S. and Israel view Iran's extensive military presence in Syria as a threat to Israel and have threatened action. The Israeli military is believed to be behind dozens of airstrikes in recent years against Hezbollah, Iran, and Syrian military positions.
MOSUL (Reuters) – A group of Iraqi university students have found a cause in the ruins of Mosul.
They are salvaging what is left of its rich heritage, clearing rubble and distributing aid in a city crying out for help after the war against Islamic State.
The project began when Raghad Hammoudi and a group of students decided to launch a campaign to help rebuild the Central Library of Mosul University, burned and bombed in the war. Its vast contents had been all but lost.
But they found buried under layers of ash some 30,000 books almost intact. Over 40 hot days, with the war still raging on the other side, the students moved the books one by one using holes made by rockets to carry them to safety.
"An entire city with a glorious past and ancient history lost its heritage and culture: the tomb of the Prophet Jonah, the minaret of Al-Hadba which is older than Iraq itself. It is great that we were able to save a part of this heritage," said Hammoudi, 25, a nursing student.
Both the leaning minaret of Al-Hadba , part of the 12th century Grand al-Nuri Mosque, where in 2014 Islamic State's Abu Bakr al Baghdadi declared a caliphate, and the ancient tomb of what is believed to be the Prophet Jonah were destroyed in the military campaign to retake the city.Hammoudi says among the books salvaged were some handwritten by Mosul scholars. They included editions written in Moslawi, the distinct dialect of the region once known as a center for scholarly Islam and the pride of many for its ancient mosques, churches and Old City architecture.
KANDAHAR, Afghanistan — An Afghan official says a suicide car bomb attack by the Taliban has killed at least two Afghan soldiers.
Omar Zwak, a spokesman for the governor of the southern Helmand province, says four other soldiers were wounded in Sunday's attack in the Nad Ali district. He says the large explosion could be heard from far away, and that the toll could rise.
The Taliban, who control several districts in Helmand, claimed the attack.
By Khaama Press on 27 May 2018 12:52pm .
The Afghan National Army (ANA) soldiers suffered casualties in a suicide attack in southern Helmand province of Afghanistan, the local officials said. The incident took place earlier today in the vicinity of Nad-e-Ali district after a suicide bomber detonated a Vehicle-borne Improvised Explosive Device (VBIED) near a military base. Provincial governor's spokesman Omar Zwak confirmed
By Khaama Press on 27 May 2018 11:45am
Several Taliban militants were killed or wounded in a series of airstrikes carried out by the foreign forces in southeastern Ghazni province of Afghanistan. The 203rd Thunder Corps of the Afghan Military in the Southeast said the airstrikes were carried out in Andar and Deh Yak districts of the province. The source further added that .
By Khaama Press on 27 May 2018 11:30am .
The sounds of two back to back explosions were heard in Jalalabad city the provincial capital of Nangarhar province. Preliminary reports indicate the incident has taken place close to the Breshna Sherkat / State-owned Utility Directorate. Provincial governor's spokesman Ataullah Khogyani confirmed that the incident has taken place in Nursery Farm area of the city

War Casualties By Name – Search by Name:

Recent Casualties:
Color Denotes Today's Confirmation
The Department of Defense announced today the death of a soldier who was supporting Operation Freedom's Sentinel.
Spc. Gabriel D. Conde, 22, of Loveland, Colorado, was killed in action April 30 as a result of enemy small arms fire in Tagab District, Afghanistan. The incident is under investign.
Conde was assigned to 3rd Battalion, 509th Infantry Regiment, 4th Infantry Brigade Combat Team (Airborne), 25th Infantry Division, U.S. Army Alaska, Joint Base Elmendorf-Richardson, Alaska.

Care for Veterans:
PTSD: National Center for PTSDPTSD Care for Veterans, Military, and FamiliesSee Help for Veterans with PTSD to learn how to enroll for VA health care and get an assessment.
All VA Medical Centers provide PTSD care, as well as many VA clinics.Some VA's have programs specializing in PTSD treatment. Use the VA PTSD ProgramLocator to find a PTSD program.If you are a war Veteran, find a Vet Center to help with the transition from military to civilian life.
 
Iraq A Deadly Deception – War Documentary 2018
WAR DOCUMENTARY: IRAQ A DEADLY DECEPTION ALJAZEERA DOCUMENTARIES 2018 On the evening of 9/11, George W Bush made a vow to the American public – that he would defeat terrorism.
Unknown to those listening in shock to the presidential address, the president and his advisers had already begun planning their trajectory into an invasion of Iraq. It was packaged as "holding responsible the states who support terrorism" by Richard Perle, a Pentagon adviser between 2001 and 2003.
"I believe it represented a recognition that we would never succeed against the terrorists if we went after them one at a time and as long as governments were facilitating the organisation, training, equipping of, financing of terrorist organisations, we were never going to get it under control," says Perle.
After 100 days spent fighting those who had become publicly accepted as the culprits – Osama bin Laden, al-Qaeda and the Taliban in Afghanistan – the US set the ball rolling for war against Iraq.
On the evening of 9/11 the president is saying: well, maybe we'll be going after Iraq now and somebody said, well, that would be against international law. The president responded: I don't care, we're going to kick some ass.
DRG: Invading Iraq
Part One: How Britain And America Got It Wrong (Modern Military Documentary)
Invading Iraq is a special two-hour documentary investigation recounting the key strategies, battles and turning points of the war from both sides of the battlefield – ending with the story of Saddam's capture. The documentary takes viewers behind the scenes of the allied invasion and advance on Baghdad. Through first-hand accounts from key commanders, frontline soldiers and civilians on both sides of the conflict, the film offers a rare battlefield perspective of the war as seen through the eyes of those who lived it. It also shows how the false assessment of Saddam Hussein's alleged weapons of mass destruction was just the first in a series of major intelligence failures that shaped the course of the war and led to the unstable occupation America and Britain are now mired in.