19 Jun
United States Wars, News and Casualties

The War Criminals
The war criminals, Bush,Cheney,Rice,Rumsfeld, Wolfowitz, and Powell who sold us the war still go on doing what they do.
How many Iraqis have died as a result of the invasion 15 years ago? Some credible estimates put the number at more than one million. You can read that sentence again.
The invasion of Iraq is often spoken of in our country as a "blunder," or even a "colossal mistake." It was a crime.
Those who perpetrated it are still at large. Some of them have even been rehabilitated thanks to the horrors of a mostly amnesiac citizenry. (A year ago Mr. Bush was on "The Ellen DeGeneres Show," dancing and talking about his paintings.)
We condemned children to death, some after many days of writhing in pain on bloodstained mats, without pain relievers. Some died quickly, wasted by missing arms and legs, crushed heads. As the fluids ran out of their bodies, they appeared like withered, spoiled fruits. They could have lived, certainly should have lived – and laughed and danced, and run and played- but instead they were brutally murdered. Yes, murdered!
The war ended for those children, but it has never ended for survivors who carry memories of them. Likewise, the effects of the U.S. bombings continue, immeasurably and indefensibly.
The McGlynn
War News
Photos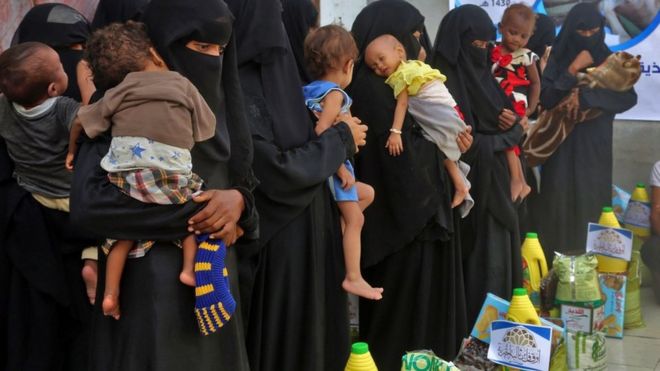 SANAA, Yemen — The U.N. spokesman said Monday that tens of thousands of residents have fled the fighting along Yemen's western coastline where Yemeni fighters backed by a Saudi-led coalition are engaged in fierce battles with Iranian-backed Houthi rebels.
Stephane Dujarric, the spokesman for the U.N. Secretary-General, told reporters that about 5,200 families, or around 26,000 people, have fled the fighting and sought safety within their own districts or in other areas in Hodeida governorate.
"The number is expected to increase as hostilities continue," he said.
The U.N. Security Council again reiterated its call for the rebel-held ports of Hodeida and Salif "to be kept open and operating safely" in a press statement issued after closed door briefings by U.N. Special Envoy for Yemen Martin Griffiths and U.N. humanitarian chief Mark Lowcock.
Russia's deputy U.N. ambassador, Dmitry Polyansky, whose country holds the rotating Security Council presidency this month, told reporters that Griffiths confirmed the ports continue to operate.
Emirati troops, along with irregular and loyalist forces in Yemen, have been fighting against Houthis for Hodeida since Wednesday. Coalition warplanes rained missiles and bombs on Houthi positions near Hodeida airport, in the city's south.
The campaign to seize control of Hodeida threatens to worsen Yemen's humanitarian situation, as Hodeida's port is the country's main entry point for most humanitarian aid.
UN's hopes of negotiating ceasefire and handover of vital port of Hodeidah appear dashed
The UN's hopes of negotiating a ceasefire with Houthi rebels in the vital port of Hodeidah in Yemen appear to have been dashed after the Saudi-led coalition backing the Yemeni government said it would only accept the rebels' unconditional withdrawal from the area.
The UN special envoy for Yemen, Martin Griffiths, has been in the country seeking a deal whereby the port, currently under Houthi control, is handed over to the UN and its relief agencies. The port is the distribution point for up to 80% of the food, water and commercial fuel vital to the lives of more than 8 million Yemenis in severe need. The UN and aid agencies fear a prolonged fight will endanger the aid supplies.
But the United Arab Emirates, the key military supporters of the UN-backed government, has insisted it will not accept anything but an unconditional withdrawal.
The Houthis are extremely unlikely to agree to this, since it would amount to surrender of the area with no guarantees on the future status of Yemen.
"There can be no conditions in any offers to withdraw," the UAE's foreign minister, Anwar Gargash, told a press briefing in Dubai.
ADEN (Reuters) – Troops backed by a Saudi-led coalition stormed the airport compound in Yemen's main port city Hodeidah on Tuesday after fierce battles with Iran-aligned Houthis, residents and Yemeni military sources said.
The capture of the airport from the Houthis would be an important gain for the coalition led by Saudi Arabia and the United Arab Emirates, who have promised a quick assault on the city to avoid disrupting aid deliveries through the port.
"They have stormed the airport," an anti-Houthi Yemeni military source told Reuters.
"This is the first time we hear the clashes so clearly. We can hear the sound of artillery and machinegun fire," a resident, who requested anonymity, told Reuters.
Warplanes bombarded the airport earlier in the morning, the resident added.
The Western-backed alliance launched the onslaught on Hodeidah seven days ago to try and turn the tables in a long-stalemated proxy war between Saudi Arabia and Iran that has compounded instability across the Middle East.
The upsurge in fighting has wounded and displaced dozens of civilians and hampered the work of aid groups in the port city, which is a lifeline for millions of Yemenis.
The United Nations fears the offensive will exacerbate what is already the world's most urgent humanitarian crisis, with 22 million Yemenis dependant on aid, and 8.4 million on the verge of starvation.
It estimates that 600,000 people live in and around Hodeidah, and in a worst-case scenario the battles could cost up to 250,000 lives.
BEIRUT (Reuters) – Syrian state media said on Monday that U.S.-led coalition aircraft had bombed a Syrian army position near the Iraqi border, causing deaths and injuries, but the U.S. military denied it was responsible.
The attack took place in al-Harra, southeast of the town of Albu Kamal, state news agency SANA said, citing a military source. SANA said the attack caused an unspecified number of deaths and injuries.
A commander in the alliance fighting alongside Damascus told Reuters that drones that were "probably American" had bombed the positions of Iraqi factions between Albu Kamal and Tanf, as well as Syrian military positions.
The commander, who is not Syrian and spoke on condition of anonymity, said the strike had killed and injured some Iraqi fighters but he did not give any numbers.
Iraq's Popular Mobilisation Forces, a grouping of mostly Iran-backed Shi'ite paramilitaries, said a U.S. air strike on the Iraqi border with Syria killed 22 of its members and wounded 12 others.
"At 22:00 last night a U.S. plane hit a fixed headquarters of the Popular Mobilisation Forces' 45th and 46th brigades defending the border strip with Syria, using two guided missiles which led to the martyrdom of 22 fighters," it said in a statement.
It demanded an explanation from the United States.
ISTANBUL (Reuters) – Turkish air strikes killed 26 militants and destroyed their gun positions, shelters and ammunition stores in southeast Turkey and northern Iraq this week, Turkey's armed forces said on Tuesday.
The military said in a statement released on its Twitter account the air strikes were carried out on Sunday and Monday in Turkey's Diyarbakir and Sirnak provinces and in the Avasin-Basyan area of northern Iraq, where the Kurdistan Workers Party (PKK) militant group has bases.
CAIRO (Reuters) – Iraq on Tuesday condemned air strikes targeting forces fighting Islamic State in Iraq or Syria after Syrian state media said that U.S.-led coalition aircraft had bombed a Syrian army position near the Iraqi border, causing deaths and injuries.
In a statement, Iraq's Foreign Ministry said that it "expresses rejection and condemnation of any air operations targeting forces in areas where they are fighting ISIS, whether in Iraq or Syria or any other area where there is a battlefield against this enemy that threatens humanity."
The statement added that the ministry reiterates its call for all countries to stand together to face these "extremist groups," and it sees the necessity for an international coalition to coordinate regularly and accurately with the forces fighting these groups as well as to offer help and support.
Iraq's Popular Mobilisation Forces, a grouping of mostly Iran-backed Shi'ite paramilitaries, also said on Monday a U.S. air strike on the Iraqi border with Syria killed 22 of its members and wounded 12 others.
However, an Iraqi military statement later said no Popular Mobilisation Forces or other Iraqi troops tasked with securing the Iraqi-Syrian border had been hit by the air strike, and it had taken place inside Syria.
The U.S. military denied it was responsible.
By Khaama Press on 19 Jun 2018 12:21pm.
By Khaama Press on 19 Jun 2018 10:57am .
Current Casualties, Exclusive of Civilians
Color denotes today's confirmation
The Department of Defense announced today the death of a soldier who was supporting Operation Octave Shield.
Staff Sgt. Alexander W. Conrad, 26, of Chandler, Arizona, died June 8, in Somalia of injuries sustained from enemy indirect fire. The incident is under investigation.
Conrad was assigned to 1st Battalion, 3rd Special Forces Group, Fort Bragg, North Carolina.
War Casualties By Name – Search by Name:

Recent Casualties:
Color Denotes Today's Confirmation
The Department of Defense announced today the death of a soldier who was supporting Operation Freedom's Sentinel.
Spc. Gabriel D. Conde, 22, of Loveland, Colorado, was killed in action April 30 as a result of enemy small arms fire in Tagab District, Afghanistan. The incident is under investign.
Conde was assigned to 3rd Battalion, 509th Infantry Regiment, 4th Infantry Brigade Combat Team (Airborne), 25th Infantry Division, U.S. Army Alaska, Joint Base Elmendorf-Richardson, Alaska.

Care for Veterans:
PTSD: National Center for PTSDPTSD Care for Veterans, Military, and FamiliesSee Help for Veterans with PTSD to learn how to enroll for VA health care and get an assessment.
All VA Medical Centers provide PTSD care, as well as many VA clinics.Some VA's have programs specializing in PTSD treatment. Use the VA PTSD ProgramLocator to find a PTSD program.If you are a war Veteran, find a Vet Center to help with the transition from military to civilian life.
 
Iraq A Deadly Deception – War Documentary 2018
WAR DOCUMENTARY: IRAQ A DEADLY DECEPTION ALJAZEERA DOCUMENTARIES 2018 On the evening of 9/11, George W Bush made a vow to the American public – that he would defeat terrorism.
Unknown to those listening in shock to the presidential address, the president and his advisers had already begun planning their trajectory into an invasion of Iraq. It was packaged as "holding responsible the states who support terrorism" by Richard Perle, a Pentagon adviser between 2001 and 2003.
"I believe it represented a recognition that we would never succeed against the terrorists if we went after them one at a time and as long as governments were facilitating the organisation, training, equipping of, financing of terrorist organisations, we were never going to get it under control," says Perle.
After 100 days spent fighting those who had become publicly accepted as the culprits – Osama bin Laden, al-Qaeda and the Taliban in Afghanistan – the US set the ball rolling for war against Iraq.
On the evening of 9/11 the president is saying: well, maybe we'll be going after Iraq now and somebody said, well, that would be against international law. The president responded: I don't care, we're going to kick some ass.