24 Jun
United States Wars, News and Casualties

The War Criminals
The war criminals, Bush,Cheney,Rice,Rumsfeld, Wolfowitz, and Powell who sold us the war still go on doing what they do.
How many Iraqis have died as a result of the invasion 15 years ago? Some credible estimates put the number at more than one million. You can read that sentence again.
The invasion of Iraq is often spoken of in our country as a "blunder," or even a "colossal mistake." It was a crime.
Those who perpetrated it are still at large. Some of them have even been rehabilitated thanks to the horrors of a mostly amnesiac citizenry. (A year ago Mr. Bush was on "The Ellen DeGeneres Show," dancing and talking about his paintings.)
We condemned children to death, some after many days of writhing in pain on bloodstained mats, without pain relievers. Some died quickly, wasted by missing arms and legs, crushed heads. As the fluids ran out of their bodies, they appeared like withered, spoiled fruits. They could have lived, certainly should have lived – and laughed and danced, and run and played- but instead they were brutally murdered. Yes, murdered!
The war ended for those children, but it has never ended for survivors who carry memories of them. Likewise, the effects of the U.S. bombings continue, immeasurably and indefensibly.
The McGlynn
War News
As the assault on Hudaida makes news, we examine flaws in coverage of the war in Yemen. Plus, chemical attacks in Syria.
Contributors:
Piers Robinson, chair in Politics, Society and Political Journalism, University of Sheffield
Alex Emmons, reporter, The Intercept
Shireen al-Adeimi, assistant professor, Michigan State University
Hashem Ahelbarra, senior correspondent, Al Jazeera
On The Listening Post this week: As the assault on Hudaida makes news, we examine flaws in coverage of the wider war in Yemen. Plus, the warring narratives around chemical attacks in Syria.
How US and UK media report the war in Yemen
A conflict described by Amnesty International as the "forgotten war", Yemen has found itself in the news this past week.
The reason was an assault by the combined forces of Saudi Arabia and the United Arab Emirates on the port city of Hudaida. While it's the Saudi-led coalition that has waged this war for the past three years, many media outlets describe Yemen as a proxy war, hence the term 'Iran-backed Houthi rebels'.
But what about the US and the UK whose weapons sales and military assistance have enabled the Gulf states to carry on the war?
For British and US journalists that should make Yemen a foreign war with plenty of domestic angles. But you wouldn't know it from the kind of coverage – and the overall lack of it.
Campaigners say licences for 'less sensitive goods' are being used for bombs that hit civilian targets in Yemen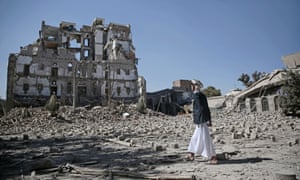 The Republican Palace, destroyed by Saudi-led airstrikes, in Sanaa, Yemen. Photograph: Hani Mohammed/AP
Hundreds of millions of pounds worth of British-made missiles and bombs have been sold to Saudi Arabia for use in Yemen under an opaque licensing system that makes tracking arms sales more difficult.
The disclosure has prompted accusations that the government is trying to mask the true extent of British-made arms exports to Saudi, a claim denied by the Department for International Trade.
Human rights groups allege that the Saudi-led coalition backing the country's government has been targeting civilian infrastructure and buildings, something that would constitute a war crime. Iran-backed Houthi rebels fighting the Saudi-led coalition have also been accused of committing war crimes against civilians in the key port city of Hodeidah, now the scene of heavy fighting and where there are fears of an unprecedented humanitarian crisis.
Britain has consistently said that it keeps all arms exports under close scrutiny and that licensing is made on a case-by-case basis. But now a freedom of information request reveals that for the last five years, Britain has been selling Storm Shadow and Brimstone air-to-surface missiles and Paveway IV bombs to the Saudis under what are known as Open Individual Export Licences (OIELs), which the government says are for the export of "less sensitive goods"…………."Open licences issued in the years before Saudi Arabia intervened in Yemen's civil war are still being used for the export of hundreds of millions of pounds of bombs today. If it were not for this Observer report neither parliament nor the committee tasked with scrutinising arms exports, on which I sit, would have any idea that these weapons are being sent," said Labour MP Lloyd Russell-Moyle, who sits on the Commons committee on arms export controls.
Russian jets make first foray into south-west as government ramps up campaign to regain strategic area
The US has warned Syrian rebels in the south-west of the country they should not expect military support to help them resist a major government offensive.
The message from Washington comes as Russian jets struck an opposition-held town on Sunday in the first air cover provided by Moscow to an expanding Syrian army offensive in the strategic area bordering Jordan and the Israeli-occupied Golan Heights.
The US message sent to heads of the Free Syrian Army said Washington wanted to make clear that "you should not base your decisions on the assumption or expectation of a military intervention by us".
The Syrian army began ramping up its assault last week in order to recapture the area.
Washington had warned the Syrian president, Bashar al-Assad, and his Russian allies that violations of a "de-escalation" zone agreed by the US and Russia last year would have "serious repercussions" and pledged "firm and appropriate measures"…………"We in the United States government understand the difficult conditions you are facing and still advise the Russians and the Syrian regime not to undertake a military measure that violates the zone," the message also said.
The advice seems to be going unheeded by the Russians. Two tracking centres that monitor military aircraft movements recorded at least 20 strikes on Busra al-Harir, north-east of Daraa, two sources told Reuters.
AMMAN (Reuters) – The Syrian army and allied forces pounded rebel-held areas of the southwest as thousands of civilians fled to safer opposition held areas along the border with Jordan and Israel, aid workers and rebels said.
They said hundreds of families with their personal belongings had arrived in the last two days in the towns of Tayba and Mataiyah, just a few kilometers from the heavily patrolled border with Jordan.
Busra al Harir, Nahta, Maliha and a sting of towns and villages east of Deraa city have borne the brunt of a ramped up assault by the Syrian army begun last week. It is targeting opposition areas in the strategic region bordering Jordan and the Israeli-occupied Golan Heights.
Thousands of Syrians also fled frontline opposition-held villages of Masahra and Hara in the Quneitra province to makeshift camps near the border with Israel, where Syrian artillery avoid shelling, two residents said.
BAGHDAD (Reuters) – Iraq has launched an air attack on a gathering of Islamic State leaders inside neighboring Syria, killing 45 members of the hardline militant group, its military said on Saturday.
F-16 fighter jets destroyed three houses on Friday which were connected by a trench in the town of Hajin, where the leaders were meeting.
Those killed included high profile targets such as the group's "deputy war minister", one of its "media emirs", its leader Abu Bakr al-Baghdadi's personal courier and its chief of police, the military said in a statement.
Islamic State, which once occupied a third of Iraq's territory, has been largely defeated in the country but still poses a threat along the border with Syria.
"Iraqi F-16 jets carried out a successful air strike that targeted a meeting of Daesh leaders … in the Hajin area within Syrian territory. The operation resulted in the complete destruction of the targets, and the killing of around 45 terrorists," the military's Joint Operations Command said.
Daesh is an Arabic acronym for Islamic State.
BAGHDAD — Muqtada al-Sadr, the maverick Shiite cleric who emerged as the main winner in Iraq's parliamentary elections last month, campaigned on a platform to end sectarian politics and replace it with a government that puts Iraqis first.
Instead, he has forged a postelection coalition with a rival Shiite bloc that includes some of the most powerful militias operating in Iraq — groups that get their funding and support from Tehran.
The deal underscores the active role Iran is taking in shaping the next government of Iraq, sending key military and spiritual advisers to revive a grand coalition of Shiite parties as a conduit for its influence in Baghdad. It also illustrates how Iran has gained sway over al-Sadr, who once called for booting foreign influence from Iraq.
Two Shiite politicians with inside knowledge of the party talks told The Associated Press that the new coalition between al-Sadr's Sa'eroun bloc and Hadi al-Amiri's Fatah bloc came on the heels of intensive Iranian lobbying, including visits by the influential Gen. Qassem Soleimani and the highly respected son of Iran's Supreme Leader Ayatollah Ali Khamenei, who met with al-Sadr earlier this month………"This coalition is a product of Iran's desire to influence internal forces in Iraq," said Wathiq al-Hashimi of the Iraqi Group for Strategic Studies. "But besides the Shiite National Alliance, there will be a Sunni alliance and a Kurdish alliance, and a return of sectarianism among all the armed blocs and factions… This is the most dangerous thing in Iraq right now."
BAGHDAD — Iraq's outgoing Prime Minister Haider al-Abadi, an American ally, and the radical Shiite cleric Moktada al-Sadr, a longtime foe of the United States, said on Saturday that they had become political allies in an effort to form a new government in the wake of widely discredited elections.
The announcement, made in the Shiite holy city of Najaf in a meeting between the two leaders, came as a surprise to many political observers, especially because Mr. Sadr — the top vote-getter — had already announced an alliance with a pro-Iranian Shiite leader, Hadi al-Ameri. Mr. Ameri was second in the polls, while Mr. Abadi was third.
"This is a call for an alliance that is nonsectarian and rejects ethnic politics in order to include all of the Iraqi people," Mr. Sadr said at a joint news conference with Mr. Abadi, who is still the prime minister until the new parliament sits on July 1 and elects his replacement………..American military officials, who still have 4,500 troops in Iraq and Syria fighting against the Islamic State, and are active in training and advising Iraqi troops, face a difficult decision in how to deal with a government dominated by Mr. Sadr and other militia leaders like Mr. Ameri, who have close ties to Tehran at a time when the Trump administration has repudiated the nuclear agreement with Iran.
BAGHDAD — Islamic State militants have kidnapped six members of Iraq's security forces and threatened to kill them in three days unless the government releases Sunni Muslim female prisoners, the group said on Saturday.
In a video posted by the group's Amaq news agency, six men with visible injuries on their faces appear sitting on the floor with two masked gunmen, pointing assault rifles at them, standing behind. Islamic State's black banner hangs in the background.
Iraq's military spokesman could not be immediately reached for comment.
In the video, the men identify themselves as members of Iraq's police or the Popular Mobilisation Forces, an umbrella grouping of mostly Shi'ite Iran-backed militias that fought with government forces against Islamic State and nominally report to Prime Minister Haider al-Abadi.
"I implore the central government of Haider al-Abadi and the Anbar provincial government, we are now with the Islamic State, and we have three days. If the demand to release Sunni women from prisons is not met, we will all be killed," said one of the hostages.
Current Casualties, Exclusive of Civilians
Color denotes today's confirmation
The Department of Defense announced today the death of a soldier who was supporting Operation Octave Shield.
Staff Sgt. Alexander W. Conrad, 26, of Chandler, Arizona, died June 8, in Somalia of injuries sustained from enemy indirect fire. The incident is under investigation.
Conrad was assigned to 1st Battalion, 3rd Special Forces Group, Fort Bragg, North Carolina.
War Casualties By Name – Search by Name:

Recent Casualties:
Color Denotes Today's Confirmation
The Department of Defense announced today the death of a soldier who was supporting Operation Freedom's Sentinel.
Spc. Gabriel D. Conde, 22, of Loveland, Colorado, was killed in action April 30 as a result of enemy small arms fire in Tagab District, Afghanistan. The incident is under investign.
Conde was assigned to 3rd Battalion, 509th Infantry Regiment, 4th Infantry Brigade Combat Team (Airborne), 25th Infantry Division, U.S. Army Alaska, Joint Base Elmendorf-Richardson, Alaska.

Care for Veterans:
PTSD: National Center for PTSDPTSD Care for Veterans, Military, and FamiliesSee Help for Veterans with PTSD to learn how to enroll for VA health care and get an assessment.
All VA Medical Centers provide PTSD care, as well as many VA clinics.Some VA's have programs specializing in PTSD treatment. Use the VA PTSD ProgramLocator to find a PTSD program.If you are a war Veteran, find a Vet Center to help with the transition from military to civilian life.
 
Iraq A Deadly Deception – War Documentary 2018
WAR DOCUMENTARY: IRAQ A DEADLY DECEPTION ALJAZEERA DOCUMENTARIES 2018 On the evening of 9/11, George W Bush made a vow to the American public – that he would defeat terrorism.
Unknown to those listening in shock to the presidential address, the president and his advisers had already begun planning their trajectory into an invasion of Iraq. It was packaged as "holding responsible the states who support terrorism" by Richard Perle, a Pentagon adviser between 2001 and 2003.
"I believe it represented a recognition that we would never succeed against the terrorists if we went after them one at a time and as long as governments were facilitating the organisation, training, equipping of, financing of terrorist organisations, we were never going to get it under control," says Perle.
After 100 days spent fighting those who had become publicly accepted as the culprits – Osama bin Laden, al-Qaeda and the Taliban in Afghanistan – the US set the ball rolling for war against Iraq.
On the evening of 9/11 the president is saying: well, maybe we'll be going after Iraq now and somebody said, well, that would be against international law. The president responded: I don't care, we're going to kick some ass.