10 Jul
United States Wars, News and Casualties

Iraq A Deadly Deception – War Documentary 2018
WAR DOCUMENTARY: IRAQ A DEADLY DECEPTION ALJAZEERA DOCUMENTARIES 2018 On the evening of 9/11, George W Bush made a vow to the American public – that he would defeat terrorism.
Unknown to those listening in shock to the presidential address, the president and his advisers had already begun planning their trajectory into an invasion of Iraq. It was packaged as "holding responsible the states who support terrorism" by Richard Perle, a Pentagon adviser between 2001 and 2003.
"I believe it represented a recognition that we would never succeed against the terrorists if we went after them one at a time and as long as governments were facilitating the organisation, training, equipping of, financing of terrorist organisations, we were never going to get it under control," says Perle.
After 100 days spent fighting those who had become publicly accepted as the culprits – Osama bin Laden, al-Qaeda and the Taliban in Afghanistan – the US set the ball rolling for war against Iraq.
On the evening of 9/11 the president is saying: well, maybe we'll be going after Iraq now and somebody said, well, that would be against international law. The president responded: I don't care, we're going to kick some ass.
The War Criminals
The war criminals, Bush,Cheney,Rice,Rumsfeld, Wolfowitz, and Powell  
How many Iraqis have died as a result of the invasion 15 years ago? Some credible estimates put the number at more than one million. You can read that sentence again.
The invasion of Iraq is often spoken of in our country as a "blunder," or even a "colossal mistake." It was a crime.
Those who perpetrated it are still at large. Some of them have even been rehabilitated thanks to the horrors of a mostly amnesiac citizenry. (A year ago Mr. Bush was on "The Ellen DeGeneres Show," dancing and talking about his paintings.)
We condemned children to death, some after many days of writhing in pain on bloodstained mats, without pain relievers. Some died quickly, wasted by missing arms and legs, crushed heads. As the fluids ran out of their bodies, they appeared like withered, spoiled fruits. They could have lived, certainly should have lived – and laughed and danced, and run and played- but instead they were brutally murdered. Yes, murdered!
The war ended for those children, but it has never ended for survivors who carry memories of them. Likewise, the effects of the U.S. bombings continue, immeasurably and indefensibly.
The McGlynn
War News
Children of War Photos

We won't be able to change what grew inside the brains and hearts  of the children of War.
Damn The war criminals, Bush,Cheney,Rice,Rumsfeld, Wolfowitz, and Powell 
The McGlynn: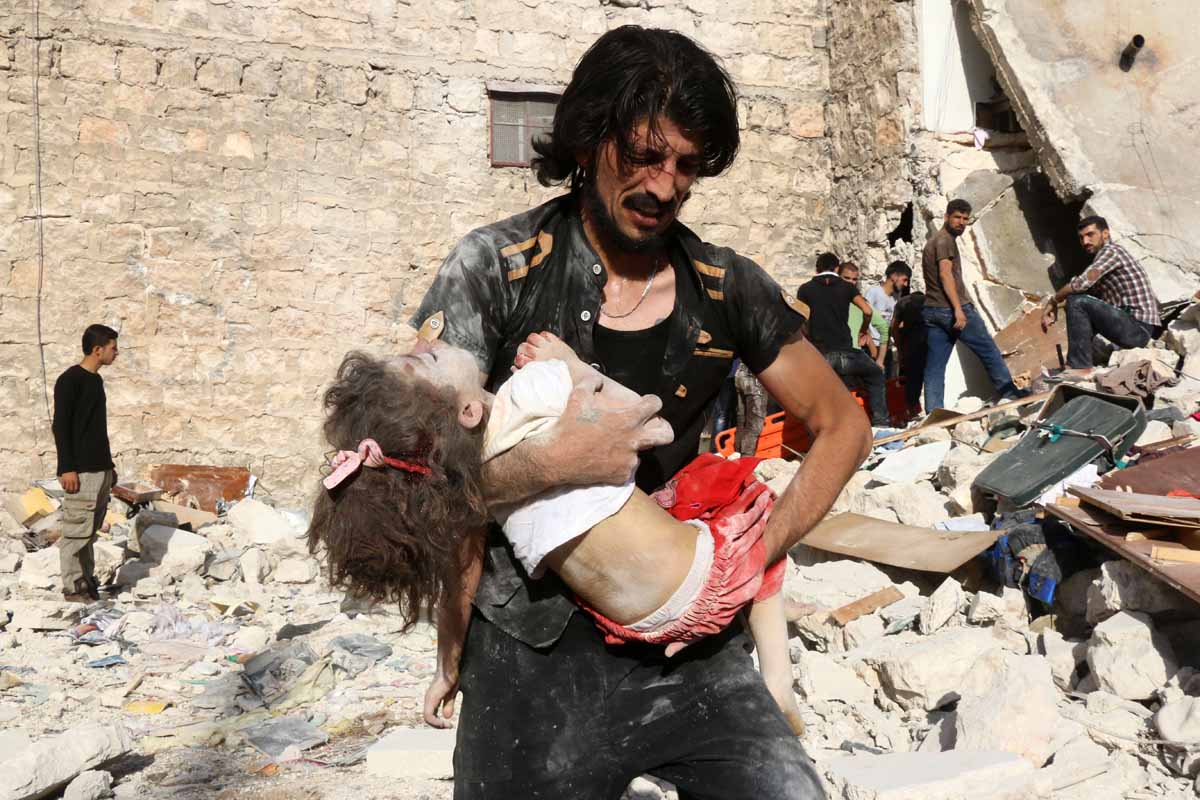 UNITED NATIONS — A quarter of the world's children — about 535 million — are living in a country affected by conflict or disaster, the head of the U.N. children's agency said Monday.
Henrietta Fore told a Security Council meeting on children and armed conflict that it is "almost beyond comprehension" that one of every four young people are caught in that situation.
She pointed to children and young people whose lives are being shattered by conflicts, including in Yemen, Mali and South Sudan. She also cited youngsters recruited to fight, killed by a land mine or an attack on their school, and "losing hope not only in their futures, but in the futures of their countries."
Sweden, which holds the Security Council presidency this month, organized the open meeting on the theme "Protecting Children Today Prevents Conflict Tomorrow" and sponsored a resolution unanimously adopted by the 15 members to strengthen U.N. actions to ensure the care and safety of youngsters………Virginia Gamba, the U.N. special representative for children and armed conflict, said she is "profoundly shocked" by the more than 21,000 violations of children's rights in 2017 recently reported by the U.N., a significant increase from 2016.
"The majority of these despicable acts were perpetrated by armed groups although government forces and unknown armed actors played an important part," she said. "Each and every one of them led to unspeakable suffering for children, families and entire communities."
Gamba said the level and severity of the latest violations demonstrate the need for united action "to change the tide of history," including by focusing on prevention and reintegration "to break cycles of violence" against children.
SANAA, Yemen (AP) — Yemen's interior minister on Monday demanded the United Arab Emirates shut down or hand over secret prisons that The Associated Press reported are under the control of the UAE and its allied militias.
At least 80 detainees have been freed from the facilities in recent weeks since an AP investigation detailed sexual abuse and torture at the sites.
It was the first time Interior Minister Ahmed al-Maysari has gone public with the demand in talks with an Emirati official, seeming to contradict the UAE's repeated denials that it has authority over any prisons in Yemen.
The AP first reported in an investigation last year that the UAE and its allied militias were running a network of secret detention facilities around southern Yemen, beyond the control of Yemeni President Abed Rabbo Mansour Hadi's government.
Former prisoners and security officials described widespread torture at the facilities, which are housed in locations ranging from Emirati-run military bases to a former nightclub run by a UAE-backed security chief and his anti-terrorism squad. Thousands of Yemenis swept up in the U.S.-backed campaign against al-Qaida have been held in the prisons without charges or trials. Some have been interrogated by U.S. personnel inside the facilities, the AP found.
In June, the AP revealed that hundreds had been subjected to sexual abuse, including one incident in the Beir Ahmed prison in the southern city of Aden, where detainees were lined up naked as guards probed their anal cavities. Sexual abuses were filmed as a way to turn suspects into informants, detainees reported.
DUBAI (Reuters) – A Saudi-led coalition has made no major gains in its offensive to wrest control of Yemen's Hodeidah port from the Iran-aligned Houthis, leaving it without the decisive increase in leverage it had sought against the group in U.N.-sponsored peace efforts.
The alliance led by Saudi Arabia and the United Arab Emirates launched the offensive on the heavily defended Red Sea city on June 12 in the largest battle of the three-year war, which the United Nations fears risks triggering a famine.
The Arab states pledged a swift operation to take over Hodeidah's air and sea ports, without entering the city center, seeking to minimize civilian casualties and avoid disruption of the port, a lifeline for millions in the impoverished state where 8.4 million are believed to be on the verge of starvation.
But they have made little progress in the campaign which Riyadh and Abu Dhabi say aims to cut off the Houthis' main supply line and force the group to the negotiating table.
The coalition announced on June 20 that it had seized Hodeidah airport, but local military and aid sources told Reuters that neither side has complete control of the airport and its surrounding area, which spreads over 20 km (12 miles).
AMMAN (Reuters) – The Syrian army and allied troops laid siege to the rebel-held enclave in Deraa on Monday and were poised to gain complete control of the city where the uprising against President Bashar Assad's rule first erupted, insurgents said.
With its advance on rebel-held parts of Deraa city, the government appeared to be piling military pressure on the insurgents even after they agreed to surrender terms last week, in a major victory for Assad.
The army was also consolidating its grip over the border area with Jordan to the east of Deraa city on Monday. Free Syrian Army rebels (FSA), once backed by the West and Jordan, have mostly handed over the area along with their heavy arms to the government since the surrender deal clinched last Friday.
Backed by Russian air power, the Syrian army and its militias scored a strategic victory in a 20-day offensive after they captured Nassib crossing, a vital trade route that insurgents held for three years..
The United Nations said on Monday it would immediately start providing humanitarian assistance to thousands of civilian families affected by the fighting in the Deraa, Sweida and Quneitra areas of southern Syria, after the Syrian government asked it to do so.
"The living conditions of the civilians affected by the conflict in the Syrian south are currently dire," said United Nations humanitarian coordinator in Syria Ali Al Zaatari, and he welcomed the government's request to mobilize aid.
The offensive in southern Syria has displaced more than 320,000 people, the United Nations said last week.
BAGHDAD — An Iraqi military spokesman says an airstrike has killed 20 Islamic State militants outside the northern city of Mosul.
In a statement issued on Monday, Brig. Gen. Yahya Rasool says the slain militants were hiding inside a tunnel in Badoush area northwest of Mosul.
Rasool says the strike was carried out by the U.S.-led coalition. He didn't give a date for the strike.
In the early days of IS' onslaught in June 2014 in northern Iraq, the militants killed some 600 male Shiite inmates from Baduosh prison.
Over the past three years, IS has gradually been driven out of nearly all the territory it once held in Syria and Iraq. But the group still maintains a presence in the Syrian desert and remote areas along the Syria-Iraq border.
TIKRIT, Iraq (Reuters) – Islamic State militants killed three government-backed militia fighters on Monday near Iraq's biggest oil refinery in the northern city of Baiji, police and militia sources said.
Iraq declared victory in December over Islamic State, which had seized control of nearly a third of the country in 2014, but it continues to carry out attacks and bombings in Baghdad and other parts of Iraq.
Police sources said at least seven militants opened fire on the militia forces in Baiji. Four of the attackers were killed and at least two others were still at large, they said.
A security official said some of the militants were identified as wanted Islamic State members.
At least five other fighters from a government-affiliated militia known as Popular Mobilisation Forces (PMF) were critically wounded, a local militia commander said.
KABUL, Afghanistan — U.S. Secretary of State Mike Pompeo used an unannounced trip to Afghanistan on Monday to step up the Trump administration's calls for peace talks between the Afghan government and the Taliban.
Flying into Kabul after visiting Vietnam, Pompeo made the appeal in meetings with Afghan President Ashraf Ghani and Chief Executive Abdullah Abdullah.
"The United States will support, facilitate and participate in these discussions," Pompeo later told journalists, stressing that any talks would be "Afghan-led and Afghan-owned."
Pompeo added: "The region and the world are all tired of what are taking place here in the same way that the Afghan people are no longer interested in seeing war."
However, it remains unclear how the Taliban will take such an offer after nearly 17 years of war. The U.S. invaded Afghanistan following the Sept. 11 terror attacks by al-Qaida, which the Taliban government at the time had harbored.
Since then, the insurgents have repeatedly rejected such calls, demanding direct talks with the United States.
KABUL, Afghanistan — The Saudi-based Organization of Islamic Cooperation is hosting a two-day conference to encourage peace talks to end Afghanistan's nearly 17-year war.
The OIC, a 57-nation organization based in Jiddah, began the summit Tuesday.
It says the summit will include senior religious scholars who will "discuss ways of contributing to the efforts of achieving peace and stability in Afghanistan."
Shah Hussain Murtazavi, a deputy spokesman for Afghan President Ashraf Ghani, welcomed the conference.
The Taliban, meanwhile, criticized the event and said they expect it will take the side of the American "invaders."
Ghani has pushed for peace talks with the Taliban. The insurgents say they want to negotiate directly with the U.S., which invaded Afghanistan in 2001 to topple Kabul's Taliban government that harbored al-Qaida leader Osama bin Laden.
KABUL, Afghanistan — An Afghan official says at least 10 people, including two intelligence service agents and eight civilians, have been killed in a suicide attack in eastern Afghanistan.
Attahullah Khogyani, spokesman for the provincial governor, says four were wounded in the attack in Jalalabad.
The bomber was on foot and targeted the intelligence service, said Khogyani.
In western Farah province, Taliban fighters attacked police checkpoints, killing three police, said Mohammad Naser Mehri, spokesman for the provincial governor.
Four other police were wounded in the attack that took place late Monday in Bala Buluk district, added Mehri.
He said at least five Taliban insurgents were killed and seven others wounded in the gun battle.
By Khaama Press on 10 Jul 2018 11:21am .
Several militants were killed after the Special Forces of the Afghan Intelligence, National Directorate of Security (NDS), stormed a hideout of the Taliban militants in eastern Nangarhar province. The provincial government issued a statement claiming that fifteen Taliban militants were killed during the operation conducted late on Monday night. The statement further added that the
By Khaama Press on 10 Jul 2018 10:32am .
An explosion rocked Jalalabad city, the provincial capital of eastern Nangarhar province of Afghanistan earlier today. Provincial governor's spokesman Ataullah Khogyani confirmed the incident has taken place in the vicinity of the 6th police district of the city. He did not disclose further information and there are no reports available regarding the type of the
War Casualties By Name – Search by Name:

Recent Casualties:
Color

Denotes Today's Confirmation
The Department of Defense announced today the death of a soldier who was supporting Operation Freedom's Sentinel.
Cpl. Joseph Maciel of South Gate, California, died July 7, 2018, in Tarin Kowt District, Uruzgan Province, Afghanistan from wounds sustained during an apparent insider attack. The incident is under investigation.
Maciel was assigned to 1st Battalion, 28th Infantry Regiment, 3rd Infantry Division, Fort Benning, Georgia. Task Force 1-28 Infantry is currently deployed in support of the 1st Security Force Assistance Brigade.

The Department of Defense announced today the death of a soldier who was supporting Operation Freedom's Sentinel.
Spc. Gabriel D. Conde, 22, of Loveland, Colorado, was killed in action April 30 as a result of enemy small arms fire in Tagab District, Afghanistan. The incident is under investign.
Conde was assigned to 3rd Battalion, 509th Infantry Regiment, 4th Infantry Brigade Combat Team (Airborne), 25th Infantry Division, U.S. Army Alaska, Joint Base Elmendorf-Richardson, Alaska.

Care for Veterans:
PTSD: National Center for PTSDPTSD Care for Veterans, Military, and FamiliesSee Help for Veterans with PTSD to learn how to enroll for VA health care and get an assessment.
All VA Medical Centers provide PTSD care, as well as many VA clinics.Some VA's have programs specializing in PTSD treatment. Use the VA PTSD ProgramLocator to find a PTSD program.If you are a war Veteran, find a Vet Center to help with the transition from military to civilian life.