22 Sep
United States Wars, News and Casualties
*********************
Originally Published on Nov 26, 2007
"I regret they got hurt,' Bush,the former president and war criminal said of the veterans."
To the War Criminal Bush – And to the thousands upon thousands of innocent civilians?
Never, ever forget that the War Criminals Bush, Cheney, Rumsfeld etc. founded ISIS and today are proud of what they did and feel no regret.
'It was the right decision': Bush says he has 'no regrets' about invading Iraq and Afghanistan when asked how he feels when he sees wounded veterans
Since the Iraq and Afghanistan conflicts began, at least 8,000 US and allied soldiers have died, according to CNN.
Tens of thousands of civilians are believed to have been killed in Afghanistan since 2001, according to the United Nations.
The civilian death toll in Iraq is estimated to be somewhere between 170,000 and 190,000, according to Iraq Body Count. 
The McGlynn
**********************
War News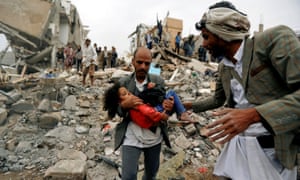 A bomb that destroyed a residential building in Yemen's capital last month, killing 16 civilians and injuring 17 more – including a five-year-old girl called Buthaina whose photograph went viral after the strike – was made in the US, Amnesty International has said.
The assessment was based on an examination of the remnants of the weapon used in the 25 August airstrike.
The Saudi Arabia-led military coalition admitted carrying out the attack, blaming civilian casualties on a "technical error".
Lynn Maalouf, Amnesty International's Middle East research director, said: "We can now conclusively say that the bomb that killed Buthaina's parents and siblings, and other civilians, was made in the USA.
"There simply is no explanation the USA or other countries such as the UK and France can give to justify the continued flow of weapons to the Saudi Arabia-led coalition for use in the conflict in Yemen. It has time and time again committed serious violations of international law, including war crimes, over the past 30 months, with devastating consequences for the civilian population."
BEIRUT (Reuters) – Two rockets struck near Damascus airport at dawn on Friday, Lebanese TV station al-Mayadeen reported, an attack it said had probably been carried out by Israeli warplanes from outside Syria's borders.
Al-Mayadeen gave no further details in the report carried in a news flash on screen. An Israeli military spokeswoman declined to comment on the reports of the air strike, saying: "We do not respond to such reports."
Earlier this month, the Syrian army reported an Israeli air strike on a military site in Syria's Hama province.
Israel says it has hit arms convoys of the Syrian military and its Iranian-backed ally Hezbollah nearly 100 times in the past five years.
NEW YORK (Reuters) – Turkish President Tayyip Erdogan said on Thursday Turkey will deploy troops in Syria's northern Idlib region as part of a so-called de-escalation agreement brokered by Russia last month.
The "de-escalation" zones, agreed by Turkey, Russia and Iran, would be further discussed in talks with Russian President Vladimir Putin during his trip to Ankara next week, Erdogan said in an interview with Reuters while he was in New York for the annual United Nations General Assembly.
"Under the agreement, Russians are maintaining security outside Idlib and Turkey will maintain the security inside Idlib region," Erdogan said.
"The task is not easy … With Putin we will discuss additional steps needed to be taken in order to eradicate terrorists once and for all to restore peace."
Shirqat (IraqiNews.com) ISIS News Today/ Iraqi government and paramilitary forces recaptured several villages on Thursday as the government launched a wide-scale, final operation to retake all of Islamic State's remaining havens.
Iraqi Prime Minister Haider al-Abadi and the Joint Operations Command said Thursday and late Wednesday  that major offensives were launching to retake Islamic State last bastions in Salahuddin's Shirqat and Kirkuk's Hawija. Other offensives had launched earlier this week at the group's holdouts in western Anbar's borders with Syria.
NEW YORK (AP) — Abolishing militant hideouts in Pakistan is critical to establishing peace in neighboring Afghanistan, the Afghan leader said Thursday before meeting President Donald Trump on the sidelines of the U.N. General Assembly.
Neither Trump nor Afghan President Ashraf Ghani mentioned Pakistan when they appeared publicly together after their discussion. But Ghani said Pakistan's role is an important part of the Trump plan announced last month to end America's longest war and eliminate a rising extremist threat in Afghanistan.
"Reduction of safe havens is absolutely necessary, both for counterterrorism and for stability in Afghanistan," Ghani told National Public Radio in an interview broadcast Thursday.
The Trump administration in August infuriated Pakistan by accusing it of providing haven to extremists. The U.S. also has threatened to withhold military aid from Pakistan. The country repeatedly has said it is acting against Taliban insurgents and members of the Haqqani militant group.
"I hope that this time, Pakistanis get the message loud and clear that business as usual cannot continue. It's not in their interest. It's not in anyone's interest," Ghani said.
The members of the 1st Brigade Combat Team have been leaving in groups over the course of the past week. They are part of a troop surge of more than 3,000 soldiers who will join the 10,000 military personnel already serving in the country.
President Donald Trump met with Afghan President Ashraf Ghani at the United Nations Thursday and spoke of the danger of Afghanistan becoming a terrorist breeding ground without a more robust U.S. presence.
Despite President Trump's unveiling of his Afghanistan strategy on August 21, which involves committing several thousand additional American troops, the reality is that the war in Afghanistan, the longest in US history, is effectively over.
A victory at this stage for America would mean simply maintaining an American presence in the region, as a military victory is now virtually impossible. Yet even this will be increasingly difficult given the uncertain relations between the US and other prime nations with a stake in Afghanistan—Pakistan, India, Russia, Iran, and China.
Several US presidents have recognized both the importance and the volatility of South Asia. President Bill Clinton during his presidency called South Asia "the most dangerous place on earth," and President Barack Obama described the Afghanistan-Pakistan border region as "the most dangerous place in the world."…………….If the US strategy is to bring peace to Afghanistan, the Trump administration is set on doing the opposite. It is encouraging further unrest and drawing India and Pakistan into heightened conflict, with daily confrontations between the two nuclear armed nations on the India-Pakistan border once again becoming far too common………………….Afghanistan is known as the "graveyard of empires" for a reason. War there is deceptive. An invading country might think it has won in this fraught theater when it has actually lost. This realization may not come until it is far too late. Today, the majority of the country has sided with the Taliban and the US is all but irrelevant to the big picture. This is a tribal war, and the Afghan tribes are not going to stop fighting, as by definition, tribal leaders and their followers will not allow an occupation of their lands. It is a question of the tribal code of honor and they will continue to fight no matter the cost.
The leader of Hezb-e-Islami Gulbuddin Hekmatyar declared amnesty for those who have fought against the party in the past. In his meeting with the tribal elders of Herat and Badghis provinces in Herat province, Hekmatyar said "We pardon all those who have fought against Hezb-e-Islami and extend the hand of brotherhood and invite for the
The introduction of UH-60 assault helicopter is included in the plans for the expansion of the Afghan Air Force, the NATO-led Resolute Support Mission has said. According to a short statement posted online by the alliance "The world is taking notice of Afghan Air Power and its success against the enemy. The Afghan Air Force will more
C

asualties, Exclusive of Civilians
Recent Casualties
Color Denotes Today's Confirmation
The Department of Defense announced today the death of a soldier who was supporting Operation Freedom's Sentinel.

Staff Sgt. Aaron R. Butler, 27, of Monticello, Utah, died Aug. 16 in Nangarhar Province, Afghanistan, of injuries suffered from an improvised explosive device while conducting combat operations. The incident is under investigation.
Butler was assigned to the 19th Special Forces Group (Airborne), Camp Williams, Utah.
The Department of Defense announced today the death of two soldiers who were supporting Operation Inherent Resolve. They died Aug. 13 of wounds sustained while engaged in combat operations in Iraq. Both soldiers were assigned to 2nd Battalion, 319th Airborne Field Artillery Regiment, 2nd Brigade Combat Team, 82nd Airborne Division, Fort Bragg, North Carolina. The incident is under investigation.
Killed were:
Sgt. Roshain Euvince Brooks, 30, of Brooklyn, New York
Spc. Allen Levi Stigler Jr., 22, of Arlington, Texas
The Department of Defense announced today the death of two soldiers who were supporting Operation Freedom's Sentinel. They died Aug. 2 in Kandahar, Afghanistan, as a result of injuries sustained when a vehicle-borne improved explosive device detonated near their convoy. Both soldiers were assigned to 2nd Battalion, 504th Infantry Regiment, 1st Brigade Combat Team, 82nd Airborne Division, Fort Bragg, N.C. The incident is under investigation.
Killed were:
Sgt. Jonathon Michael Hunter, 23, of Columbus, Indiana.
Spc. Christopher Michael Harris, 25, of Jackson Springs, North Carolina.
The Department of Defense announced today the death of an airman who was supporting Operation Inherent Resolve.
Tech. Sgt. David Board, 49, of Barboursville, West Virginia, died August 2 in Kuwait in a non-combat-related incident while deployed in support of combat operations.
Care for Veterans:
PTSD: National Center for PTSDPTSD Care for Veterans, Military, and FamiliesSee Help for Veterans with PTSD to learn how to enroll for VA health care and get an assessment.
All VA Medical Centers provide PTSD care, as well as many VA clinics.Some VA's have programs specializing in PTSD treatment. Use the VA PTSD ProgramLocator to find a PTSD program.If you are a war Veteran, find a Vet Center to help with the transition from military to civilian life.