13 Jul
United States Wars, News and Casualties
War News
Child Photo
We won't be able to change what grew inside the brains and hearts  of the children of War.
Damn The war criminals, Bush,Cheney,Rice,Rumsfeld, Wolfowitz, and Powell 
The McGlynn
ADEN — For days, Amal would pull her four children back from the windows each time Apache helicopters attacked the rooftop snipers in her neighborhood south of Yemen's port city of Hodeidah.
Eventually the fighting got too much so the family fled the al-Tahita district to seek shelter in the heavily-defended city center.
Amal, who declined to give her last name, is one of thousands of Yemenis displaced by a Saudi-led coalition offensive launched on June 12 to take control of the Red Sea port city from the Iran-aligned Houthis.
"Rockets were falling constantly … Most families have left their homes because they are afraid of being killed," she told Reuters by telephone.
"Houthi fighters were stationed on rooftops of buildings and in the alleyways and coalition helicopters would attack them."
The United Nations fears the offensive on Hodeidah, whose port is a lifeline for millions of Yemenis, risks exacerbating a humanitarian crisis in which 8.4 million people are believed to be on the verge of starvation.
Many Yemenis who have fled their homes and farms in and around Hodeidah to head north to the Houthi-held capital Sanaa or to safer areas along the western coast and the southern port city of Aden say they are struggling to survive.
In Sanaa, some families from Hodeidah have only been able to find shelter in crumbling one-room cement structures with no running water or furniture and have no source of income.
CAIRO (AP) — An international rights group on Thursday called for an investigation into alleged disappearances, torture and possible deaths in detention facilities run by the United Arab Emirates and its allied militias in southern Yemen as potential war crimes.
Amnesty International's call comes months after The Associated Press reported that the UAE and allied militias were running a network of secret detention facilities where torture and abuses were widespread, outside the control of Yemeni President Abed Rabbo Mansour Hadi's government.
In a report titled "God only knows if he's alive," Amnesty said it documented "egregious violations going unchecked, including systemic enforced disappearance and torture and other ill-treatment amounting to war crimes."
The UAE issued a statement Thursday promptly rejecting Amnesty's report, describing it as "politically motivated to undermine" Emirati efforts as part of the Saudi-led coalition in support of the Yemeni government.
In Yemen's 3-year-old civil war, the UAE is part of a Saudi-led coalition battling Iranian-backed Shiite rebels known as Houthis who have taken over most of the country's north. Ostensibly, the Emiratis and Hadi's government are allies in the fight, but tensions between them have been high.
The UAE has built up militias across southern Yemen that government officials say are only loyal to the Emiratis. Those forces have taken over wide swaths of territory in the south, including towns and cities.
Amnesty said that these militias were "created, trained, equipped and financed" by the UAE and are "operating outside the command of their own government." The Emiratis, it added, have also built alliances with Yemeni security officials that bypass the Yemeni government.
National flag hoisted in city for first time in years after rebels agree surrender deal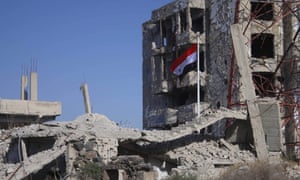 The Syrian national flag flies in Daraa after troops loyal to Bashar al-Assad entered the city. Photograph: Mohamad Abazeed/AFP/Getty Images
Forces loyal to the regime of the Syrian president, Bashar al-Assad, have entered rebel-controlled parts of Daraa, the birthplace of protests that led to the country's civil and proxy war, in a symbolic victory that illustrates the turning tides of the conflict.
Syrian state media said Assad's forces hoisted their flag for the first time in years in the rebel-controlled parts of the city after a surrender deal was agreed with local rebels, which included a planned handover of weapons and the exile of opposition fighters and activists.
"Units of the Syrian Arab army entered the district of Daraa al-Balad and raised the national flag in the main square … a declaration that Daraa is now clear of terrorism," said the state news agency Sana, referring to the opposition groups as terrorists.
Protests in Daraa in March 2011 against the incarceration and torture of teenagers who had scrawled anti-government graffiti on their school wall, sparked a nationwide outcry against the Assad family. A violent crackdown on protesters would later lead to an armed uprising…………..The surrender deal mirrors that in other parts of Syria: the handover of heavy weapons and forced displacement of those who oppose the agreement to the country's northern territories, which are controlled either by rebel groups or proxies of Turkey.
The Syrian Observatory for Human Rights, which has been monitoring the war, said rebels were still in the city, but on Thursday their departure appeared to be merely a matter of time. Government forces are now expected to turn to Idlib in the north, where Islamist militias and al-Qaida-linked militants control territory hosting more than two million internal refugees.
MOSCOW (Reuters) – Ali Akbar Velayati, a senior adviser to Iranian Supreme Leader Ayatollah Ali Khamenei, said on Friday that Tehran coordinates positions on its military presence in Syria with Moscow and Damascus.
He made his comments at a conference in Moscow, in response to a question about whether Iran might withdraw its forces from Syria's southern border region, near Israel.
Velayati also said that U.S. sanctions against Iran could raise oil prices and harm oil consumers.
BEIRUT (Reuters) – An air strike killed at least 28 people in an Islamic State-held area of eastern Syria near the border with Iraq, the Syrian Observatory for Human Rights said on Friday.
The Syrian state news agency and the pro-Damascus al-Watan newspaper, in its online edition, said the U.S.-led coalition carried out the air strike near the town of Albu Kamal east of the Euphrates River.
The U.S.-led coalition could not immediately be reached for comment by phone and did not immediately respond to emailed request for comment.
Citing local sources, the state news agency SANA said preliminary reports put the death toll at more than 30. SANA said the air raids had hit the towns of al-Sousa and al-Baghouz Fawkani.
Reuters could not independently verify the reports.
The U.S.-led coalition is fighting to crush the remnants of Islamic State in Syria in support of the Syrian Democratic Forces (SDF), an alliance of militias including the Kurdish YPG.
(Reuters) – A U.S. service member died on Thursday from wounds sustained in a combat operation in eastern Afghanistan, according to a brief statement from the Department of Defense.
Neither the branch of military nor the name of the service member was released, pending notification of next of kin. The person "died of wounds sustained during a combat operation in Afghanistan" the statement said.
A member of the Afghan security forces was also killed and several other people were wounded.
KABUL — Afghan forces killed at least six civilians in ground and air operations on Thursday in eastern Nangarhar province, which has witnessed heavy fighting in the last two weeks, a spokesman for the provincial governor's office said.
The attacks in the Khogyani district of the province also wounded four civilians, spokesman Ataullah Khogyani said.
An Afghan military official said an investigation was under way to determine if and how the operation resulted in civilian casualties. Both Taliban and Islamic State militants are active in eastern Afghanistan.
"A farmer and a security guard were among the dead. A mosque and 21 vehicles were damaged during the bombing," Khogyani said.
Earlier this week, gunmen attacked an education department office in the eastern Afghan city of Jalalabad and held out against security forces for four hours before the assault ended with at least 10 people killed.
It was the third major attack in less than two weeks in Jalalabad, the main city in Nangarhar province, following a blast that killed a group of Sikhs on July 1 and a second that killed at least 12 people this week.
The fighting comes despite speculation about possible peace talks between the government and the Taliban, with calls from a special religious council meeting in Saudi Arabia this week for negotiations to end the 17-year conflict.
The United States last year stepped up air strikes as part of a strategy to force the Taliban to the negotiating table and commanders say that together with the fledgling Afghan air force, the campaign has inflicted heavy casualties on the insurgents.
Human Rights Watch in its latest report called for impartial investigations into airstrikes causing civilian losses.
By Khaama Press on 13 Jul 2018 1:53pm .
The local officials in southeastern Paktia province are saying that the Taliban's Red Unit militants have suffered heavy casualties after attacking the Ahmadabad district. The provincial government media office in a statement said Thursday that the Red Unit militants of the group launched coordinated attacks on Sparai and Machlaghoo areas of the district late on
By Khaama Press on 13 Jul 2018 1:07pm .
The US and Afghan forces have suffered casualties during an operation in an eastern province of Afghanistan, the US military said. "A U.S. service member died today of a wound sustained during a combat operation in eastern Afghanistan, July 12," a statement by the US Military said. The statement further added "In addition, an Afghan


Iraq A Deadly Deception – War Documentary 2018
WAR DOCUMENTARY: IRAQ A DEADLY DECEPTION ALJAZEERA DOCUMENTARIES 2018 On the evening of 9/11, George W Bush made a vow to the American public – that he would defeat terrorism.
Unknown to those listening in shock to the presidential address, the president and his advisers had already begun planning their trajectory into an invasion of Iraq. It was packaged as "holding responsible the states who support terrorism" by Richard Perle, a Pentagon adviser between 2001 and 2003.
"I believe it represented a recognition that we would never succeed against the terrorists if we went after them one at a time and as long as governments were facilitating the organisation, training, equipping of, financing of terrorist organisations, we were never going to get it under control," says Perle.
After 100 days spent fighting those who had become publicly accepted as the culprits – Osama bin Laden, al-Qaeda and the Taliban in Afghanistan – the US set the ball rolling for war against Iraq.
On the evening of 9/11 the president is saying: well, maybe we'll be going after Iraq now and somebody said, well, that would be against international law. The president responded: I don't care, we're going to kick some ass.
The War Criminals
The war criminals, Bush,Cheney,Rice,Rumsfeld, Wolfowitz, and Powell  
How many Iraqis have died as a result of the invasion 15 years ago? Some credible estimates put the number at more than one million. You can read that sentence again.
The invasion of Iraq is often spoken of in our country as a "blunder," or even a "colossal mistake." It was a crime.
Those who perpetrated it are still at large. Some of them have even been rehabilitated thanks to the horrors of a mostly amnesiac citizenry.

We condemned children to death, some after many days of writhing in pain on bloodstained mats, without pain relievers. Some died quickly, wasted by missing arms and legs, crushed heads. As the fluids ran out of their bodies, they appeared like withered, spoiled fruits. They could have lived, certainly should have lived – and laughed and danced, and run and played- but instead they were brutally murdered. Yes, murdered!
The war ended for those children, but it has never ended for survivors who carry memories of them. Likewise, the effects of the U.S. bombings continue, immeasurably and indefensibly.
The McGlynn