21 Jul
United States Wars, News and Casualties
War News
Children  Photos
We won't be able to change what grew inside the brains and hearts  of the children of War.
Damn The War Criminals, Bush,Cheney,Rice,Rumsfeld, Wolfowitz, and Powell 
The McGlynn
Lull in hostilities prompts residents to escape Hodeidah in their thousands, amid concern that fighting could soon resume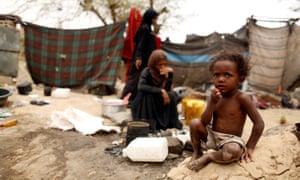 A boy displaced from the Red Sea port city of Hodeidah sits outside a house where he and his family live in the outskirts of Sana'a. Photograph: Khaled Abdullah/Reuters
The besieged port city of Hodeidah in Yemen has become a "ghost town" as residents continue to flee in their thousands, using the current lull in hostilities to sell what remains of their belongings and escape amid fears UN-brokered negotiations will collapse.
Aid workers have told the Guardian that although things seem peaceful as diplomatic talks continue between warring parties, schools and businesses remain closed, and "anyone with any resources to get out is doing so now".
"People are living in pathetic conditions not fit for humans and completely untenable for those who are most vulnerable," said Isaac Ooko, area manager in Hodeidah for the Norwegian Refugee Council (NRC).
"What might appear to be a pause to the outside world doesn't feel the same for those of us seeing what it means for people here."
More than 35,000 families have been displaced from Hodeidah governorate since June, when the Saudi-led coalition began a military offensive to wrest control of the vital Red Sea port city from Iran-backed Houthi rebels.
UN-led negotiations, brokered by special envoy Martin Griffiths, have floated the idea of handing over Hodeidah – which handles about 70% of all Yemen's imports – to UN supervision, in a bid to end current blockages on food, water and oil.
The hiatus has allowed much-needed supplies to come back into the famine-stricken country, where 22 million people – 80% of the entire population – need humanitarian aid.
But aid workers warn supplies are low, with current food stocks at only 40% and fuel at just 16% of July's requirements.
PARIS (Reuters) – France sent 50 tonnes of medical aid to government-controlled eastern Ghouta in Syria on Friday after Russia agreed to facilitate its delivery, raising hopes for future aid efforts, French officials said.
The aid, which will arrive on a Russian plane to a Russian military base in northwestern Syria from France on Saturday, comes after an agreement between President Emmanuel Macron and Russian leader Vladimir Putin following talks since May.
"This operation is very significant because it shows a willingness from the Russians to work with us on a matter of priority," said the French diplomatic source. "This area is crying out for help."
A joint Franco-Russian statement confirmed the accord………….The aid worth about 400,000 euros ($469,000) is part of a 50 million euro commitment by Paris that has so far predominantly been used in the Raqqa region of northeastern Syria, where France has a military presence along with the United States.
BASRA, Iraq (Reuters) – A security guard outside a branch of one Iraq's most powerful paramilitary groups shot and killed a protester on Friday while trying to push back a crowd, police sources said, ratcheting up tensions over a lack of basic services sweeping southern cities.

Two people were wounded when demonstrators throwing bricks and stones gathered outside the local headquarters of the Iranian-backed Badr Organisation.
"We received the body of a protester with a bullet wound to the head," said a doctor in a hospital in the city of Diwaniya.
Friday's death brings to four the number of protesters killed in nearly two weeks of demonstrations against corrupt politicians blamed for failing to deliver basic services and jobs to the crumbling oil hub of Basra and other cities.
Dozens of members of the security forces have been injured in the protests, some of which have taken place at the entrance to oilfields. Officials say production has not been affected.
SANAA, Yemen — Yemeni security officials and tribal leaders say a boat carrying more than 160 African migrants has capsized off the southern province of Shabwa. It is not immediately clear if there have been any fatalities or if any migrants have been rescued.
The authorities and tribal leaders said Thursday that the boat departed from the port of Bosaso in Somalia carrying 100 Somalis and 60 Ethiopians, including women and children.
The officials insisted on speaking anonymously because they were not authorized to brief the media and the tribal leaders for fear of reprisals.
Although Yemen is wracked by conflict, African migrants continue to arrive in the war-torn country where there is no central authority to prevent them from travelling onward to oil-rich Gulf countries.
WASHINGTON — A Pentagon investigation into the death of an American soldier in Afghanistan is looking at whether an Army brigade that is at the center of the Trump administration's new war strategy had followed proper security procedures designed to protect United States troops from insider attacks by Afghan forces they train.
Cpl. Joseph Maciel, who was killed on July 7, was part of a group of soldiers assigned to protect American military advisers with the First Security Forces Assistance Brigade. He was with a team of roughly 25 trainers and soldiers that was attacked in Tarinkot, a town in the Taliban heartland, by what a local councilman described as an Afghan soldier who fired on the Americans.
The brigade's roughly 1,000 soldiers are among the first conventional American forces since 2014 that are being sent into active fighting zones. They are spread across the country in small teams to help Afghan troops with training, intelligence and logistics.
Senior Pentagon officials, including Gen. Mark A. Milley, the Army chief of staff, and commanders at the American-led coalition's headquarters in Kabul have declined to discuss details of the deadly shooting, which also wounded two American soldiers and an Afghan interpreter.
But two American military officers said the Pentagon was investigating whether the team in Tarinkot included enough security personnel to protect it from insider attacks. Since the shooting, American troops in the region have tightened security for units working alongside Afghan forces, according to a third military officer. All three spoke on the condition of anonymity to discuss the investigation.
More than 2,200 American forces have died in Afghanistan since 2001. But American officials are sensitive about Corporal Maciel's death, given the high profile of the advisory brigade, which is on its first deployment and is a central part of the Trump administration's strategy to exit the war by escalating training of Afghan troops.
The ongoing protests in Iraq are neither a conspiracy, nor a revolution.
For the past two weeks, waves of mass protests have engulfed several of Iraq's southern governorates, spreading from Basra all the way to the capital, Baghdad.
Summer protests are a fairly regular feature of the Iraqi political calendar, as the unbearable heat brings the public's long-simmering grievances to boiling point. However, 
this year's protests will likely cause Iraq's political classes more concern than usual.
The root causes and triggers of the ongoing protests are not that different from previous years: lack of basic services (especially electricity shortages), corruption, and unemployment. In addition to the infernal heat, this summer has been marked by unprecedented water shortages. The ensuing public anger was exacerbated by 15 years of remarkable levels of waste and theft. 
However, the context of 2018 makes this round of "summer protests" somewhat different previous ones. In December 2017, the Iraqi government declared victory in the war against the Islamic State of Iraq and the Levant (ISIL, known as ISIS), but seven months later ordinary Iraqis still have not seen a peace dividend.
There has been

 incessant talk of political reform since at least 2014, but it continues to be business-as-usual for Iraq's political class. The supposedly game-changing "post-ISIL" election has come and gone, but brought no change. The ever more distant, unresponsive, self-interested and thoroughly rotten political elites are still enriching themselves, while ordinary Iraqis struggle to make ends meet.
War Casualties By Name – Search by Name:

Recent Casualties:

Color Denotes Today's Confirmation
The Department of Defense announced today the death of an airman who was supporting Operation Inherent Resolve.
Staff Sgt. James T. Grotjan, 26, of Waterford, Connecticut, died July 12 at the Landstuhl Regional Medical Center, Germany, from injuries sustained in a non-combat related incident July 8 at Al Dhafra Air Base, United Arab Emirates.
He was assigned to the 4th Civil Engineer Squadron at Seymour Johnson Air Force Base, North Carolina.

The Department of Defense announced today the death of a soldier who was supporting Operation Freedom's Sentinel.
Sgt. 1st Class Christopher Andrew Celiz, 32, from Summerville, South Carolina, died, July 12, in Afghanistan, of wounds sustained as a result of enemy small arms fire while conducting operations in support of a medical evacuation landing zone in Zurmat district, Paktiya province. The incident is under investigation.
Celiz was assigned to the 1st Battalion, 75th Ranger Regiment, Hunter Army Airfield, Georgia.

The Department of Defense announced today the death of a soldier who was supporting Operation Freedom's Sentinel.
Cpl. Joseph Maciel of South Gate, California, died July 7, 2018, in Tarin Kowt District, Uruzgan Province, Afghanistan from wounds sustained during an apparent insider attack. The incident is under investigation.
Maciel was assigned to 1st Battalion, 28th Infantry Regiment, 3rd Infantry Division, Fort Benning, Georgia. Task Force 1-28 Infantry is currently deployed in support of the 1st Security Force Assistance Brigade.
Care for Veterans:
PTSD: National Center for PTSDPTSD Care for Veterans, Military, and FamiliesSee Help for Veterans with PTSD to learn how to enroll for VA health care and get an assessment.
All VA Medical Centers provide PTSD care, as well as many VA clinics.Some VA's have programs specializing in PTSD treatment. Use the VA PTSD ProgramLocator to find a PTSD program.If you are a war Veteran, find a Vet Center to help with the transition from military to civilian life.

Iraq A Deadly Deception – War Documentary 2018
WAR DOCUMENTARY: IRAQ A DEADLY DECEPTION ALJAZEERA DOCUMENTARIES 2018 On the evening of 9/11, George W Bush made a vow to the American public – that he would defeat terrorism.
Unknown to those listening in shock to the presidential address, the president and his advisers had already begun planning their trajectory into an invasion of Iraq. It was packaged as "holding responsible the states who support terrorism" by Richard Perle, a Pentagon adviser between 2001 and 2003.
"I believe it represented a recognition that we would never succeed against the terrorists if we went after them one at a time and as long as governments were facilitating the organisation, training, equipping of, financing of terrorist organisations, we were never going to get it under control," says Perle.
After 100 days spent fighting those who had become publicly accepted as the culprits – Osama bin Laden, al-Qaeda and the Taliban in Afghanistan – the US set the ball rolling for war against Iraq.
On the evening of 9/11 the president is saying: well, maybe we'll be going after Iraq now and somebody said, well, that would be against international law. The president responded: I don't care, we're going to kick some ass.
The War Criminals
The war criminals, Bush,Cheney,Rice,Rumsfeld, Wolfowitz, and Powell  
How many Iraqis have died as a result of the invasion 15 years ago? Some credible estimates put the number at more than one million. You can read that sentence again.
The invasion of Iraq is often spoken of in our country as a "blunder," or even a "colossal mistake." It was a crime.
Those who perpetrated it are still at large. Some of them have even been rehabilitated thanks to the horrors of a mostly amnesiac citizenry.

We condemned children to death, some after many days of writhing in pain on bloodstained mats, without pain relievers. Some died quickly, wasted by missing arms and legs, crushed heads. As the fluids ran out of their bodies, they appeared like withered, spoiled fruits. They could have lived, certainly should have lived – and laughed and danced, and run and played- but instead they were brutally murdered. Yes, murdered!
The war ended for those children, but it has never ended for survivors who carry memories of them. Likewise, the effects of the U.S. bombings continue, immeasurably and indefensibly.
The McGlynn