24 Jul
United States Wars, News and Casualties
War News
Children  Photos
We won't be able to change what grew inside the brains and hearts  of the children of War.
Damn The War Criminals, Bush,Cheney,Rice,Rumsfeld, Wolfowitz, and Powell 
The McGlynn
Report says women returning from fighting in Syria and Iraq pose specific security threat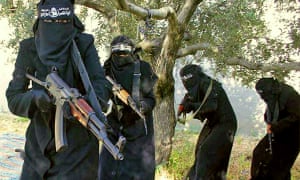 The all-female al-Khansaa Isis police brigade in Syria. Women played a variety of roles that went beyond those of 'jihadi brides'. Photograph: unknown/Syriadeeply.org
Experts have warned of the growing threat of women and minors linked to Islamic State, suggesting that the number returning to Britain from Syria and Iraq has been significantly underestimated.
According to a new report from King's College London, a combination of an absence of government data and a changing view within Isis of when women should take up arms means that the danger they pose is likely to be much greater than official figures suggest.
The report, from the university's International Centre for the Study of Radicalisation, found that women had recently been actively involved in plots across the world. It said that 4,761 (13%) of 41,490 foreign citizens who became affiliated with Isis in Iraq and Syria between April 2013 and June 2018 were women. A further 4,640 (12%) were minors.
BEIRUT (Thomson Reuters Foundation) – Yemen is close to famine after a 25-percent increase in levels of severe hunger this year and an offensive on the main port city of Hodeida, a lifeline for millions, humanitarian organizations warned on Monday.
Thousands more people have been displaced by the conflict and many are having to skip meals and beg on the streets, they said, with an estimated 8.4 million people already on the verge of starvation.
"We perceive the country to be sitting on a knife edge in terms of famine – it could tip at any time really," Suze van Meegen, spokeswoman for the Norwegian Refugee Council, told the Thomson Reuters foundation by phone from the capital, Sanaa.
"The desperation we are seeing is becoming greater – more people are begging in the streets."………….The war has caused the world's most urgent humanitarian crisis, with 22 million Yemenis dependent on aid.
BEIRUT (Reuters) – The Syrian government on Monday condemned the evacuation of hundreds of Syrian White Helmet rescue workers and their families with the help of Israeli soldiers, calling it a "criminal operation" undertaken by "Israel and its tools".
The rescue workers and their families crossed out of Syria into the Israeli-occupied Golan Heights before arriving in Jordan over the weekend, fleeing an offensive by Syria and its Russian ally to take control of southwest Syria from rebels.
Israel said it had helped with the evacuation at the request of U.S. President Donald Trump and other leaders – and there had been fears that the rescue workers' lives were at risk.
The Syrian government has accused the White Helmets, also known as Syria Civil Defence, of being a Western-sponsored terrorist organization. President Bashar al-Assad has called the White Helmets part of al Qaeda in Syria.
BEIRUT (AP) — The call came on Saturday night. In the raging war zone that is southwestern Syria, with enemy forces on the march, the 98 White Helmets volunteers brought their spouses, children and a personal bag each. A total of 421 people massed at two collection points where they were to make their crossing to safety.

By the time they crossed, they were 422. One woman went into labor, requiring an emergency C-section. Her son, Nairouz, came into the world in an open field under the darkness of night just short of the frontier with the Israeli-occupied Golan Heights.
It was just one moment of drama in a complicated international rescue operation to extract the Syrian volunteer rescuers who work in opposition areas through their country's bitter enemy Israel by bus to a temporary haven in Jordan.
It was a nail-biting trip to a crossing over one of the most tightly sealed frontiers in the world. Up until the last minute, those on the ground were uncertain the operation would go through.
Another nearly 400 people were meant to be pulled out as well. Most didn't make it in time to the assembly points, unable to go through roads that were closing fast by the advancing Syrian forces on one side and the expanding Islamic State militants on the other.
In all, it took about six hours to complete the evacuation, according to a person close to the operation who agreed to discuss the details on condition of anonymity because of the sensitivity of the issue.
"It was a 'Hail Mary' operation," said the person familiar with the evacuation. "The only place of safety was through their evacuation" to Jordan.
The operation was conceived by Britain, Germany and Canada and supported by Israel, Jordan, the United States and the U.N. It took an unprecedented level of agreement and coordination — something international players have rarely demonstrated during eight years of war in Syria that have pitted world powers against one another.
The rescue of the besieged White Helmets was not without controversy.
It raised questions about the fate of 3,000 other White Helmets still operating in opposition-held northern Syria, living with other 1 million other displaced civilians in areas where the government is expected to target next.
BAQUBA, Iraq (Reuters) – Months after Iraq declared victory over Islamic State, its fighters are making a comeback with a scatter-gun campaign of kidnap and killing.
With its dream of a Caliphate in the Middle East now dead, Islamic State has switched to hit-and-run attacks aimed at undermining the government in Baghdad, according to military, intelligence and government officials interviewed by Reuters.
Islamic State was reinventing itself months before Baghdad announced in December that it had defeated the group, according to intelligence officials who said it would adopt guerrilla tactics when it could no longer hold territory.
Iraq has now seen an increase in kidnappings and killings, mainly in the provinces of Kirkuk, Diyala, and Salahuddin, since it held an election in May, indicating the government will come under renewed pressure from a group that once occupied a third of the country during a three-year reign of terror.
Last month saw at least 83 cases of kidnap, murder or both in the three provinces. Most occurred on a highway connecting Baghdad to Kirkuk province. In May, the number of such incidents in that area was 30, while in March it was seven, according to Hisham al-Hashimi, an expert on Islamic State who advises the Iraqi government………………..

Children hold pictures of their fathers, who were killed by Islamic State militants at Kirkuk road, in Kerbala, Iraq July 5, 2018. Picture taken July 5, 2018. REUTERS/Abdullah Dhiaa al-Deen
A military spokesman did not respond to phone calls and written requests for comment. The U.S.-led coalition fighting Islamic State said in a statement that it "has no safe haven in Iraq".
ORLANDO, Fla. — More than a year after a former interpreter for U.S. military forces in Iraq was pulled out of a U.S. citizenship ceremony without explanation, he's about to be naturalized.
Haeder Al Anbki said Monday he was notified over the weekend that he could participate in a naturalization ceremony next week in Orlando. Al Anbki had sued a federal agency over the matter. He was given no explanation for the government's reversal in his case, but he credited stories by The Associated Press and The Tampa Bay Times with publicizing his plight.
"The articles and it's out in the public … made the changes and it's opening many eyes to see the truth," Al Anbki said Monday in text message from Camp Blanding in Jacksonville, where he was training with his Florida National Guard unit.
The Iraqi native was at a June 2017 naturalization ceremony in Fort Benning, Georgia, for 20 immigrant recruits when he was stopped and told he wouldn't be participating. No explanation was given other than "there was a problem in the system," according to a lawsuit he filed last month in the District of Columbia.
Al Anbki, 36, said in the lawsuit that the U.S. Citizenship and Immigration Services was obligated to complete his citizenship application but instead was applying a different set of rules under a program known as the Controlled Application Review and Resolution Program, which opponents say targets applicants from majority-Muslim countries.
The once-secret program also is being challenged in federal court in Seattle by the American Civil Liberties Union and the Northwest Immigrant Rights Project. Their class-action lawsuit claims the government since 2008 has blacklisted thousands of applications for asylum, legal permanent residency or citizenship as national security concerns. The case goes to trial next year.
KABUL, Afghanistan — An Afghan official says 12 insurgents including a Taliban shadow governor and district chief have been killed in a military operation by Afghan commando units in northeastern Kapisa province.
Sharin Aqa Faqiri, spokesman for the army in northeastern Afghanistan, says Tuesday that Mullah Nasim Mushfaq, Taliban shadow governor for Kapisa, and Qari Esanullah, the shadow district chief for Tagab, were among those killed in the operation late Sunday night.
Faqiri said the senior Taliban leaders were in a meeting when they came under attack by ground forces supported by aircraft Tagab district.
Zabihullah Mujahid, Taliban spokesman, confirmed the attack in a statement, saying a number of Taliban including the shadow governor and shadow district chief were killed in the attack.
The McGlynn:

BULLSHIT!
KABUL — Increasing prospects of peace talks with the Taliban show the U.S. strategy in Afghanistan is working, despite continuing violence and insurgent control of wide areas of the countryside, top U.S. commanders in Afghanistan said on Monday.
The comments came as speculation has grown that talks to end 17 years of war in Afghanistan may be closer after last month's ceasefire over the Eid holiday brought scenes of unarmed fighters and soldiers mingling on the streets.
"The advancement toward the reconciliation goal in President Trump's strategy has seen progress in the last year that we haven't seen in the previous 17 years and that is significant," General John Nicholson, commander of the NATO-led Resolute Support mission, told reporters.
"I believe this advancement toward peace is extremely relevant and in a way is perhaps more important than some of these other metrics that we've been using," he said.
CIVILIAN DEATHS
Almost a year after U.S. President Donald Trump sent more troops to Afghanistan and gave commanders greater authority to use air strikes against the Taliban, thousands of civilians are still being killed and wounded and the government holds no more than two-thirds of the country.
However General Joseph Votel, the top U.S. regional commander who was visiting Kabul, expressed "cautious optimism" about the progress made. He said the strategy, which set no deadline for U.S. forces to leave Afghanistan, had squeezed the Taliban and created the space for diplomatic and social pressure for peace to build.
By Khaama Press on 24 Jul 2018 11:15am .
The Commander of the NATO-led Resolute Support and US Forces in Afghanistan General John Nicholson and Commander of the US Central Command General Joseph Votel reaffirmed their stance regarding the support to an Afghan-led peace process and relentless fight to counter-terrorism. The two top US and NATO Commanders reaffirmed their stance while speaking to media .
By Khaama Press on 24 Jul 2018 10:53am.
The Silab Corps of the Afghan Military in the East said at least fourteen militants including two senior leaders of the Taliban group have been killed during the ongoing operations in Northeastern Kapisa province. The 201st Silab Corps in a statement said the Afghan National Army, Commando Forces, Afghan National Police, Afghan Local Police, Afghan .
By Khaama Press on 24 Jul 2018 9:19am .
The Taliban militants group in Afghanistan confirmed the killing of its two top leaders in Kapisa province, including the group's shadow governor for Kapisa and shadow district chief for Tagab district. The group issued a statement confirming that the shadow governor for Kapisa Mullah Mohammad Nasim Mushfaq and shadow district chief for Tagab Qari Ehsanullah.
War Casualties By Name – Search by Name:

Recent Casualties:

Color

Denotes Today's Confirmation
The Department of Defense announced today the death of an airman who was supporting Operation Inherent Resolve.
Staff Sgt. James T. Grotjan, 26, of Waterford, Connecticut, died July 12 at the Landstuhl Regional Medical Center, Germany, from injuries sustained in a non-combat related incident July 8 at Al Dhafra Air Base, United Arab Emirates.
He was assigned to the 4th Civil Engineer Squadron at Seymour Johnson Air Force Base, North Carolina.

The Department of Defense announced today the death of a soldier who was supporting Operation Freedom's Sentinel.
Sgt. 1st Class Christopher Andrew Celiz, 32, from Summerville, South Carolina, died, July 12, in Afghanistan, of wounds sustained as a result of enemy small arms fire while conducting operations in support of a medical evacuation landing zone in Zurmat district, Paktiya province. The incident is under investigation.
Celiz was assigned to the 1st Battalion, 75th Ranger Regiment, Hunter Army Airfield, Georgia.

The Department of Defense announced today the death of a soldier who was supporting Operation Freedom's Sentinel.
Cpl. Joseph Maciel of South Gate, California, died July 7, 2018, in Tarin Kowt District, Uruzgan Province, Afghanistan from wounds sustained during an apparent insider attack. The incident is under investigation.
Maciel was assigned to 1st Battalion, 28th Infantry Regiment, 3rd Infantry Division, Fort Benning, Georgia. Task Force 1-28 Infantry is currently deployed in support of the 1st Security Force Assistance Brigade.
Care for Veterans:
PTSD: National Center for PTSDPTSD Care for Veterans, Military, and FamiliesSee Help for Veterans with PTSD to learn how to enroll for VA health care and get an assessment.
All VA Medical Centers provide PTSD care, as well as many VA clinics.Some VA's have programs specializing in PTSD treatment. Use the VA PTSD ProgramLocator to find a PTSD program.If you are a war Veteran, find a Vet Center to help with the transition from military to civilian life.

Iraq A Deadly Deception – War Documentary 2018
WAR DOCUMENTARY: IRAQ A DEADLY DECEPTION ALJAZEERA DOCUMENTARIES 2018 On the evening of 9/11, George W Bush made a vow to the American public – that he would defeat terrorism.
Unknown to those listening in shock to the presidential address, the president and his advisers had already begun planning their trajectory into an invasion of Iraq. It was packaged as "holding responsible the states who support terrorism" by Richard Perle, a Pentagon adviser between 2001 and 2003.
"I believe it represented a recognition that we would never succeed against the terrorists if we went after them one at a time and as long as governments were facilitating the organisation, training, equipping of, financing of terrorist organisations, we were never going to get it under control," says Perle.
After 100 days spent fighting those who had become publicly accepted as the culprits – Osama bin Laden, al-Qaeda and the Taliban in Afghanistan – the US set the ball rolling for war against Iraq.
On the evening of 9/11 the president is saying: well, maybe we'll be going after Iraq now and somebody said, well, that would be against international law. The president responded: I don't care, we're going to kick some ass.
The War Criminals
The war criminals, Bush,Cheney,Rice,Rumsfeld, Wolfowitz, and Powell  
How many Iraqis have died as a result of the invasion 15 years ago? Some credible estimates put the number at more than one million. You can read that sentence again.
The invasion of Iraq is often spoken of in our country as a "blunder," or even a "colossal mistake." It was a crime.
Those who perpetrated it are still at large. Some of them have even been rehabilitated thanks to the horrors of a mostly amnesiac citizenry.

We condemned children to death, some after many days of writhing in pain on bloodstained mats, without pain relievers. Some died quickly, wasted by missing arms and legs, crushed heads. As the fluids ran out of their bodies, they appeared like withered, spoiled fruits. They could have lived, certainly should have lived – and laughed and danced, and run and played- but instead they were brutally murdered. Yes, murdered!
The war ended for those children, but it has never ended for survivors who carry memories of them. Likewise, the effects of the U.S. bombings continue, immeasurably and indefensibly.
The McGlynn