27 Jul
United States Wars, News and Casualties

Damn The War Criminals
The war criminals, Bush,Cheney,Rice,Rumsfeld, Wolfowitz, Powell and Blair from England



How many Iraqis have died as a result of the invasion 15 years ago? Some credible estimates put the number at more than one million. You can read that sentence again.
The invasion of Iraq is often spoken of in our country as a "blunder," or even a "colossal mistake." It was a crime.
Those who perpetrated it are still at large. Some of them have even been rehabilitated thanks to the horrors of a mostly amnesiac citizenry.

We condemned children to death, some after many days of writhing in pain on bloodstained mats, without pain relievers. Some died quickly, wasted by missing arms and legs, crushed heads. As the fluids ran out of their bodies, they appeared like withered, spoiled fruits. They could have lived, certainly should have lived – and laughed and danced, and run and played- but instead they were brutally murdered. Yes, murdered!
The war ended for those children, but it has never ended for survivors who carry memories of them. Likewise, the effects of the U.S. bombings continue, immeasurably and indefensibly.
The McGlynn
Iraq A Deadly Deception – War Documentary 2018
WAR DOCUMENTARY: IRAQ A DEADLY DECEPTION ALJAZEERA DOCUMENTARIES 
On the evening of 9/11, George W Bush made a vow to the American public – that he would defeat terrorism.
Unknown to those listening in shock to the presidential address, the president and his advisers had already begun planning their trajectory into an invasion of Iraq. It was packaged as "holding responsible the states who support terrorism" by Richard Perle, a Pentagon adviser between 2001 and 2003.
"I believe it represented a recognition that we would never succeed against the terrorists if we went after them one at a time and as long as governments were facilitating the organisation, training, equipping of, financing of terrorist organisations, we were never going to get it under control," says Perle.
After 100 days spent fighting those who had become publicly accepted as the culprits – Osama bin Laden, al-Qaeda and the Taliban in Afghanistan – the US set the ball rolling for war against Iraq.
On the evening of 9/11 the president is saying: well, maybe we'll be going after Iraq now and somebody said, well, that would be against international law. The president responded: I don't care, we're going to kick some ass.
War News
Mouawiya Syasneh was just 14 when he sprayed anti-government slogans on his school wall in Deraa, Syria. It was February 2011, and he could never have imagined that such a minor act would spark a full-blown civil war.
More than half a million people have been killed in Syria since the start of the war. Mouawiya's home city has been ravaged by street fighting, shelling and barrel bombing. The war has left scars that may never heal.
Now a young man, fighting on the frontline for the Free Syrian Army, Mouawiya admits that had he known what the consequences of his actions would be, he would never have taunted the country's president, Bashar al-Assad.
His life has been transformed by that adolescent prank. He has lost friends and relatives, including his father. And Syria has been changed for ever.
The Boy who started the Syrian Civil War offers a glimpse into life in Deraa since the start of the conflict.
Our national security law expert in Washington has been writing about legal and policy problems related to the government's handling of captured terrorism suspects since 2003.
"Can you keep a secret?"
The voice on the phone belonged to Senator Lindsey Graham, the South Carolina Republican who sits on the Senate Armed Services Committee. The secret was that he was organizing a bipartisan congressional research trip to go into Syrian territory held by the Syrian Democratic Forces (S.D.F.), a Kurdish-led militia that is a primary ally of the United States fighting on the ground against the Islamic State. The delegation would tour prisons where the S.D.F. is warehousing captive ISIS fighter suspects from nearly 50 countries, raising a dilemma to which he believes the world needs to pay more attention: What should happen to them?
Plans for such a sensitive trip are kept quiet to avoid tipping off militants about a potential target, but I had a reason to know about them: Senator Graham was inviting me to travel with the group and write whatever I saw fit about what we would see. This was a unique opportunity: The Kurds normally do not let journalists tour their ISIS fighter prisons.
I have been writing about legal and policy problems related to the government's handling of captured terrorism suspects for 15 years — for three newspapers and in two books — ever since I made my first of many reporting trips to the American wartime prison at Guantánamo Bay, Cuba, in 2003……………..

A detainee walking up stairs in Camp V at the U.S. Naval Station at Guantánamo Bay in August 2014.
As the years passed and the costs and headaches of indefinitely imprisoning large numbers of men at Guantánamo accumulated, the Bush and Obama administrations tried to close the prison. Today, of the roughly 780 men who were brought there, only 40 remain. But it proved to be tremendously difficult, bureaucratically and politically, to let captives go: Any transfer creates some risk and the opportunity for blame. …………..Still, even President Obama was unwilling to abandon wartime detention power: His idea for closing the prison, before Congress blocked it, was to move several dozen detainees who were deemed untriable but too dangerous to release to a different prison for continued detention. Human-rights advocates have relentlessly shamed the United States for that approach, espousing the generally European view that terrorism suspects should be prosecuted or released. Yet many European nations are now themselves effectively using wartime detention to solve their ISIS citizens problem — by outsourcing imprisonment to the Kurds.
TILOS, Greece (Thomson Reuters Foundation) – On a balmy summer evening, Abdulkader Hamo smiled as he watched his young daughters dance in a school performance on the tiny Greek island of Tilos, far from their home in northern Syria.

Abdulkader Hamo (M), 32, and his daughters Afreen Hamo (L), 8, and Bareen Hamo (R), 10, who are Kurdish-Syrian refugees, pose for a portrait at the primary school on Tilos Island, Greece, June 14, 2018. Thomson Reuters Foundation/Shanshan Chen
With some 850 km (528 miles) separating them from the trauma of Syria's war, the girls laughed and played with their new classmates.
Back in Afrin, they would cry every day because of the air strikes, said Hamo, while he and his wife faced discrimination because they are Kurdish.
Last summer, they decided to flee Syria with their five children.
"I wanted to keep them safe," Hamo told the Thomson Reuters Foundation. "I didn't want my children to experience the same life as I did."
The family is one of five Syrian households living on Tilos as part of a resettlement scheme managed by Greek aid group Solidarity Now and the U.N. refugee agency (UNHCR).
In villages militants left one survivor per family to witness their brutality, while in Sweida city suicide bombers entered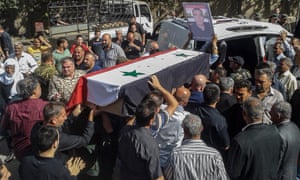 Mourners carry coffins of three of the 216 who were killed by Isis fighters in Sweida province. Photograph: Sana Handout Handout/EPA
K

aram Monther's mother placed the ammunition box in her youngest son's car, holding back her tears as he drove off in the dawn light to the frontline. News had come that Islamic State militants were storming homes on the eastern edges of his home province, Sweida, in southern Syria.
Monther joined two dozen other young men who had picked up arms and together they battled through to the edge of the nearby town of Rami. Fallen fighters lay strewn in the streets – the remains of the Isis militants in pieces after they detonated suicide vests.
A woman stumbled out of one of the the houses, repeating: "They slaughtered them." Inside, she pointed to the bathroom.
"I felt in my heart that a crime had happened there," Monther said. "I opened the door slowly, and I saw a mother holding her children, but it appeared she hadn't been able to protect them from Daesh's [Isis] gunshots."
"I will never forget this scene all my life. No words can describe it. I knelt and wept in grief," he said.
BEIRUT (Reuters) – A top Syrian Kurdish official is in Damascus this week for talks with Syrian government officials at the head of a delegation including members of the U.S.-backed Syrian Democratic Forces, their first declared visit to the capital.
The visit points to moves by the Kurdish-led authorities that control roughly one quarter of Syria to open channels to President Bashar al-Assad's administration as they seek to negotiate a political deal that preserves their autonomy.
The delegation in Damascus is headed by Ilham Ahmed, executive head of the Syrian Democratic Council (SDC), said Riad Darar, SDC co-chair, speaking by phone from Vienna. The delegation arrived two days ago, he added.
The meetings were expected to primarily discuss matters of service provision in the areas controlled by the Kurdish-led authorities, but Darar added that there was no set agenda and the talks might widen to political and security matters.
The outcome of the meetings is not yet clear, he said, adding that he did not know which officials they would meet. It was not clear how long the delegation would stay in Damascus.
BEIRUT (Thomson Reuters Foundation) – A senior member of the Syrian "White Helmet" rescue workers called on Thursday for the United Nations to save his colleagues trapped in the southwest by advancing government forces.
Israel and Western powers helped evacuate 422 White Helmets and their families from Syria into Jordan last week but others were unable to make it out because of government checkpoints and the expansion of Islamic State in the area.
Forces loyal to Syrian President Bashar al-Assad, backed by the Russian military, have captured most of the southern province of Deraa in an offensive that began in June.
"We want the U.N. or any international agency to remove the White Helmet volunteers from Deraa to [rebel-held] Idlib so we can continue to work in the north of Syria" said Majd Khalaf, one of the founders of the White Helmets………….He declined to say how many White Helmets were still at risk in the area, but said that the group has more than 3,700 women and men in Syria and that more than 200 volunteers have been killed in the seven-year civil war.
The group, known officially as Syria Civil Defense, has been widely hailed in the West and credited with saving thousands of people in rebel-held areas during years of bombing attacks by Damascus and its allies.
MOSCOW (Reuters) – Syrian President Bashar al-Assad said on Thursday Russian forces were needed in the country long-term and for more than just fighting terrorism, Russian news agencies reported, citing an interview with the leader.
"Russian armed forces are needed for balance in our region, at least in the Middle East, until the global political balance changes. And this might not even happen, we do not know. So it is important and necessary," Interfax news agency cited Assad as saying in an interview with Russian media…………..He also commented on the White Helmets volunteers, saying the Syrian rescue workers were a cover for militant groups.
The group, known officially as Syria Civil Defense, has been widely hailed in the West and credited with saving thousands of people in rebel-held areas during years of bombing attacks by Damascus and its allies.
Its members, known for their white helmets, say they are neutral. But Syrian President Bashar al-Assad and his backers, including Russia, have dismissed them as Western-sponsored propaganda tools and proxies of Islamist-led insurgents.
"The fate of "White Helmets" is the same as of any terrorist," Interfax cited the Syrian leader as saying.
By Khaama Press on 26 Jul 2018 3:40pm .
A key member of the newly formed Grand National Coalition of Afghanistan Haji Mohammad Mohaqiq warned that the government would .
By Khaama Press on 26 Jul 2018 2:19pm .
Several militants affiliated with the Islamic State of Iraq and Syria Khurasan (ISIS-K) surrendered to the Afghan Local Police (ALP) .
A delegation of US officials led by Ambassador Alice Wells, the State Department's deputy assistant secretary for South and Central .
War Casualties By Name – Search by Name:

Recent Casualties:

Color Denotes Today's Confirmation
The Department of Defense announced today the death of an airman who was supporting Operation Inherent Resolve.
Staff Sgt. James T. Grotjan, 26, of Waterford, Connecticut, died July 12 at the Landstuhl Regional Medical Center, Germany, from injuries sustained in a non-combat related incident July 8 at Al Dhafra Air Base, United Arab Emirates.
He was assigned to the 4th Civil Engineer Squadron at Seymour Johnson Air Force Base, North Carolina.

The Department of Defense announced today the death of a soldier who was supporting Operation Freedom's Sentinel.
Sgt. 1st Class Christopher Andrew Celiz, 32, from Summerville, South Carolina, died, July 12, in Afghanistan, of wounds sustained as a result of enemy small arms fire while conducting operations in support of a medical evacuation landing zone in Zurmat district, Paktiya province. The incident is under investigation.
Celiz was assigned to the 1st Battalion, 75th Ranger Regiment, Hunter Army Airfield, Georgia.

The Department of Defense announced today the death of a soldier who was supporting Operation Freedom's Sentinel.
Cpl. Joseph Maciel of South Gate, California, died July 7, 2018, in Tarin Kowt District, Uruzgan Province, Afghanistan from wounds sustained during an apparent insider attack. The incident is under investigation.
Maciel was assigned to 1st Battalion, 28th Infantry Regiment, 3rd Infantry Division, Fort Benning, Georgia. Task Force 1-28 Infantry is currently deployed in support of the 1st Security Force Assistance Brigade.
Care for Veterans:
PTSD: National Center for PTSDPTSD Care for Veterans, Military, and FamiliesSee Help for Veterans with PTSD to learn how to enroll for VA health care and get an assessment.
All VA Medical Centers provide PTSD care, as well as many VA clinics.Some VA's have programs specializing in PTSD treatment. Use the VA PTSD ProgramLocator to find a PTSD program.If you are a war Veteran, find a Vet Center to help with the transition from military to civilian life.
.