11 Aug
United States Wars, News and Casualties

In the Viet Nam era, stories like this and television reporting on the war contributed to the end of the Viet Nam War in a time frame of much less than 17 years.
As deployment of the last 17 years only came to a sub set of young people, and TV and news rarely covered the searing violence of war, eschewing such content for minor content (Kardashians, Tweets, outrageous behavior), the daily violence and futility went "off stage".
One is invited to read the daily post, "United States Wars, News and Casualties" and then watch the daily news on the U.S. TV Media.

The absence of U.S. War News is atrocious.
We need this daily report of our wars in our face………..Daily.
The McGlynn

Damn The War Criminals
The war criminals, Bush,Cheney,Rice,Rumsfeld, Wolfowitz, Powell and Blair from England.



How many Iraqis have died as a result of the invasion 15 years ago? Some credible estimates put the number at more than one million. You can read that sentence again.
The invasion of Iraq is often spoken of in our country as a "blunder," or even a "colossal mistake." It was a crime.
Those who perpetrated it are still at large. Some of them have even been rehabilitated thanks to the horrors of a mostly amnesiac citizenry.

We condemned children to death, some after many days of writhing in pain on bloodstained mats, without pain relievers. Some died quickly, wasted by missing arms and legs, crushed heads. As the fluids ran out of their bodies, they appeared like withered, spoiled fruits. They could have lived, certainly should have lived – and laughed and danced, and run and played- but instead they were brutally murdered. Yes, murdered!
The war ended for those children, but it has never ended for survivors who carry memories of them. Likewise, the effects of the U.S. bombings continue, immeasurably and indefensibly.
The McGlynn
War News
United Nations security council calls for transparency over airstrike that left at least 29 children dead in rebel stronghold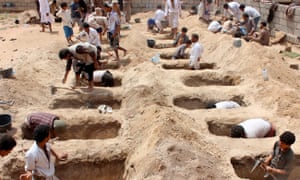 Yemenis dig graves for children killed when their bus was hit during a Saudi-led coalition airstrike in Sa'ada. Photograph: AFP/Getty Images
The British ambassador, Karen Pierce, who holds the council presidency, told reporters following a closed-door meeting on Friday that "if any investigation that is held is not credible, the council will obviously want to review that".
The Houthi rebels on Friday backed the UN call for an investigation into the Saudi-led coalition airstrike.
Senior Houthi leader Mohammed Ali al-Houthi said on Twitter that the rebels were willing to cooperate in an investigation of the airstrike on Thursday in their stronghold of Sa'ada province that hit the bus carrying civilians – many of them school children – in a busy market in Dahyan.
The US-backed coalition earlier announced that it had ordered an investigation into the airstrike, that wounded at least 48 others.
The McGlynn: Highly recommend to not believe such BULLSHIT from this dastardly Coalition, supported by the U.S.
SANAA/DUBAI/GENEVA (Reuters) – A Saudi-led Arab military coalition said on Friday it would investigate an air strike that killed dozens of children in Yemen, an apparent shift of stance on an attack Riyadh has portrayed as a legitimate action against its Houthi foes.

Boys inspect graves prepared for victims of Thursday's air strike in Saada province, Yemen August 10, 2018. REUTERS/Naif Rahma
At least 40 children were killed in Thursday's strike on a bus in northern Yemen, the armed Houthi group which controls Yemen's capital said. That raised the toll of children killed in the raid from 29.
The strike by the Western-backed alliance of Arab countries outraged human rights groups and was strongly condemned by U.N. officials. Henrietta Fore, executive director of the U.N. Children's Fund UNICEF, said the "horrific" attack marked "a low point in (Yemen's) brutal war".
People in Saada started to dig graves in preparation for funerals to be held on Saturday.
"God may give us patience," said Hussein Hussein Tayeb, who lost three sons on the bus, on a trip with other pupils to visit a mosque and tombs…………..The Arab states carried out new air strikes on Friday, killing a girl and injuring several other people whose home was targeted in Marib province, east of the capital Sanaa, the Houthis' al-Masirah TV said. …………The Saudi-led Arab alliance, whose members receive Western political support and buy billions of dollars a year in arms from the United States, Britain and France, has been fighting for three years to drive out the Houthis, Iran-aligned fighters who pushed a Saudi-backed government out of the capital in 2014.
DUBAI — Talks between Yemen's warring parties next month will focus on a transitional governance deal and disarmament, the U.N. special envoy to Yemen, Martin Griffiths, said in remarks published on Saturday.
Griffiths is trying to negotiate an end to the three-year conflict that has killed more than 10,000 people and pushed Yemen to the verge of starvation.
Air strikes by a Saudi-led coalition killed dozens of children traveling on a bus in the northern province of Saada on Thursday. U.N. chief Antonia Guterres has called for an independent investigation of the raid.
Consultations are due to begin in Geneva on Sept. 6 on a framework for peace talks and confidence-building measures.
"Primarily, we are trying to reach an agreement between the Yemeni government and (the Houthis') Ansarullah on the issues essential to ending the war and on a national unity government in which everyone participates," Griffiths told the Arabic-language Saudi-owned Asharq Al-Awsat newspaper.
"This will require a signed agreement that includes setting up a transitional political operation under a national unity government … and putting in place security arrangements for the withdrawal of all armed groups in Yemen and disarming them."
He said the consultations would lead to direct negotiations.
The coalition of Sunni Muslim Arab states backed by Western powers including the United States and Britain intervened in Yemen's civil war in 2015 against the Iranian-aligned Houthi movement to restore the internationally recognized government of President Abd-Rabbu Mansour Hadi.
BEIRUT (Reuters) – Dozens of air strikes and shelling hit parts of the last swathe of Syrian territory still held by rebels on Friday, according to rebels, rescue workers and a war monitoring group, in a possible prelude to a full-scale government offensive.
The UK-based Syrian Observatory for Human Rights said dozens of strikes from helicopters and war planes had hit parts of Hama, Idlib and Aleppo provinces, killing at least 29 people.
The three areas in northwest Syria are the last major ones still in the hands of fighters seeking to overthrow President Bashar al-Assad, whose forces recaptured the area around Damascus and the southwest earlier this year.
Abu al-Baraa al-Hamawi, a rebel leader in northern Hama, said a "massacre" had resulted from strikes in western Aleppo on the town of Urem al-Kubra. Pro-opposition television Orient News said at least 20 people were killed there and the Observatory said at least 18 had died.
On Thursday the Syrian army had dropped leaflets over Idlib province, urging people to agree to a return of state rule and telling them the seven-year war was nearing its end.
Al-Hamawi said Friday's attacks – the heaviest in months – appeared part of a "psychological media war against the people".
KABUL, Afghanistan — A day after the Taliban in Afghanistan made a large-scale attack in an effort to overrun the southeastern city of Ghazni, both the government and the insurgents claimed to be in control.
The city is cut off and only sketchy reports are emerging about what happened there, but both sides conceded that the fighting that began on Friday was continuing. Communication towers were reportedly destroyed, and telephone networks have been shut down for nearly 24 hours.
Ghazni is a strategic city that controls the main highway between Kabul, the capital, and the country's second-largest city, Kandahar. If the Taliban control Ghazni, they would essentially have cut off the traditional Taliban homelands in the south from northern Afghanistan and the capital.
"Reinforcements from Kandahar were stuck in the Muqur District of Ghazni, but late at night they managed to enter the city," said Dawoud Ahmadi, a spokesman for the governor in Kandahar. "The Taliban planted mines at all entrances to Ghazni and they have brought down the communication system, so it's very hard to get updates from the city."
PUL-I-ALAM, Afghanistan — Ordered to investigate an airstrike by American warplanes that killed at least 17 Afghan men on Tuesday, Afghan and American investigators have reached starkly different conclusions about the identity of the victims.
The bombing, just south of the Afghan capital, set off the latest dispute over the human toll of American bombing in the country.
The Afghan investigation was up-close and gruesomely personal. As Zer Gul, a local police commander, sorted through the body parts at the scene, in the Azra District of Logar Province, he concluded that nearly all the victims were police officers under his command, along with a few volunteers who were allies of the police force. He recognized the uniforms they wore, he said, but he also knew some of his own men by body parts he could identify.
"Anyone who denies any police were killed are liars and rumormongers," Mr. Gul said in an interview on Wednesday. "Definitely American forces bombed our front line and 12 police were killed here and five more were killed on another outpost. They bombed our lines instead of the Taliban's lines."
By Khaama Press on 11 Aug 2018 11:06am .
Several Taliban militants were killed during the airstrikes conducted by the US forces in southern Helmand province of Afghanistan.
According to the local officials, the latest airstrikes were carried out on Taliban hideouts in the vicinity of Nahr Siraj district.
The officials further added that the airstrikes left at least 19 militants dead while a number of weapons belonging to the militants were also destroyed.
The provincial government media office in a statement confirmed the airstrike and the death toll of the Taliban militants during the airstrikes.
The statement further added that the airstrikes were carried out in the western parts fo 611 Road, leaving at least 19 militants dead.
The Afghan Military says the armed forces have foiled Taliban's bid to carry out coordinated attack on security outposts in Sarobi district of Kabul.
The 201st Silab Corps of the Afghan Military in the East said a group of Taliban militants were attempting to carry out attack on army outposts in Uzbin Dara area of the district on Friday.
The statement further added the armed forces carried out operations against the hideout of the militants based on intelligence tip as they were planning the attack, leaving at least two of the militants dead and another militant wounded.
According Silab Corps, the militants killed during the operation have been identified as Mohammad Gul and Syed Karim while another militant identified as Asadullah has sustained injuries
War Casualties By Name – Search by Name:
Recent Casualties:

Color Denotes Today's Confirmation
The Department of Defense announced today the death of an airman who was supporting Operation Inherent Resolve.
Staff Sgt. James T. Grotjan, 26, of Waterford, Connecticut, died July 12 at the Landstuhl Regional Medical Center, Germany, from injuries sustained in a non-combat related incident July 8 at Al Dhafra Air Base, United Arab Emirates.
He was assigned to the 4th Civil Engineer Squadron at Seymour Johnson Air Force Base, North Carolina.

The Department of Defense announced today the death of a soldier who was supporting Operation Freedom's Sentinel.
Sgt. 1st Class Christopher Andrew Celiz, 32, from Summerville, South Carolina, died, July 12, in Afghanistan, of wounds sustained as a result of enemy small arms fire while conducting operations in support of a medical evacuation landing zone in Zurmat district, Paktiya province. The incident is under investigation.
Celiz was assigned to the 1st Battalion, 75th Ranger Regiment, Hunter Army Airfield, Georgia.
Care for Veterans:
PTSD: National Center for PTSDPTSD Care for Veterans, Military, and FamiliesSee Help for Veterans with PTSD to learn how to enroll for VA health care and get an assessment.
All VA Medical Centers provide PTSD care, as well as many VA clinics.Some VA's have programs specializing in PTSD treatment. Use the VA PTSD ProgramLocator to find a PTSD program.If you are a war Veteran, find a Vet Center to help with the transition from military to civilian life.
Iraq A Deadly Deception – War Documentary 2018
WAR DOCUMENTARY: IRAQ A DEADLY DECEPTION ALJAZEERA DOCUMENTARIES 
On the evening of 9/11, George W Bush made a vow to the American public – that he would defeat terrorism.
Unknown to those listening in shock to the presidential address, the president and his advisers had already begun planning their trajectory into an invasion of Iraq. It was packaged as "holding responsible the states who support terrorism" by Richard Perle, a Pentagon adviser between 2001 and 2003.
"I believe it represented a recognition that we would never succeed against the terrorists if we went after them one at a time and as long as governments were facilitating the organisation, training, equipping of, financing of terrorist organisations, we were never going to get it under control," says Perle.
After 100 days spent fighting those who had become publicly accepted as the culprits – Osama bin Laden, al-Qaeda and the Taliban in Afghanistan – the US set the ball rolling for war against Iraq.
On the evening of 9/11 the president is saying: well, maybe we'll be going after Iraq now and somebody said, well, that would be against international law. The president responded: I don't care, we're going to kick some ass.