28 Aug
United States Wars, News and Casualties

In the Vietnam era, stories like this and television reporting on the war contributed to the end of the Vietnam War in a time frame of much less than 17 years.
As deployment of the last 17 years only came to a sub set of young people, and TV and news rarely covered the searing violence of war, eschewing such content for minor content (Kardashians, Tweets, outrageous behavior), the daily violence and futility went "off stage".
One is invited to read the daily post, "United States Wars, News and Casualties" and then watch the daily news on the U.S. TV Media.

The absence of U.S. War News is atrocious.
We need this daily report of our wars in our face………..Daily.
The McGlynn


Damn The War Criminals,Bush,Cheney,Rice,Rumsfeld Wolfowitz, Powell and Blair from England.
How many Iraqis have died as a result of the invasion 15 years ago? Some credible estimates put the number at more than one million. You can read that sentence again.
The invasion of Iraq is often spoken of in our country as a "blunder," or even a "colossal mistake." It was a crime.
Those who perpetrated it are still at large. Some of them have even been rehabilitated thanks to the horrors of a mostly amnesiac citizenry.

We condemned children to death, some after many days of writhing in pain on bloodstained mats, without pain relievers. Some died quickly, wasted by missing arms and legs, crushed heads. As the fluids ran out of their bodies, they appeared like withered, spoiled fruits. They could have lived, certainly should have lived – and laughed and danced, and run and played- but instead they were brutally murdered. Yes, murdered!
The war ended for those children, but it has never ended for survivors who carry memories of them. Likewise, the effects of the U.S. bombings continue, immeasurably and indefensibly.
The McGlynn
War News
BEIRUT (AP) — Iran has signed a deal to rebuild Syria's armed forces, which have been depleted by more than seven years civil war, Iranian Defense Minister Amir Hatami said on Monday.
Hatami, on a two-day visit to Syria, told the Beirut-based al-Mayadeen TV station that the agreement also stipulates helping rebuild Syria's military industry.
The announcement comes as the U.S. under President Donald Trump shifts is toughening its stance on Iran's support for Syrian President Bashar Assad's government, which has weathered a calamitous civil war.
The White House has demanded that Iran extract itself from Syria as an essential precondition to lifting sanctions that went into effect earlier this month.
Israel has also been critical of Iran's expanding role in Syria, saying it won't tolerate a permanent Iranian military presence near its frontiers.
Iran has been an essential backer of Syria's government in the civil war now in its seventh year, providing advisers, military supplies, training and thousands of militiamen to fight alongside the Syrian army.
Report criticises Saudi Arabia, the UAE and Yemen's government and rebels
The McGlynn: The United States has provided military assistance to the Saudi-led coalition since it first intervened in Yemen's civil conflict in March 2015 under President Obama. The support has continued despite international alarm over the coalition's air campaign against the Houthis, which has killed thousands of civilians in airstrikes that human rights groups have alleged are frequently indiscriminate.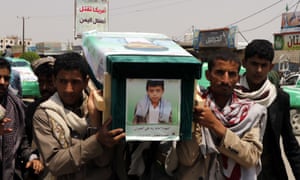 Mourners carry the coffin of a child who was among 51 people killed by an airstrike on a bus in Yemen this month. Photograph: Mohammed Hamoud/Getty Images
The governments of Saudi Arabia, the United Arab Emirates and Yemen may have been responsible for war crimes including rape, torture, disappearances and "deprivation of the right to life" during more than three years of fighting against rebels in Yemen, three UN experts have said.
In their first report for the UN's human rights council, the experts also point to possible crimes by rebel Shia militia in Yemen, which have been fighting the Saudi-led coalition and Yemen's government since March 2015.
The experts have also chronicled the damage from coalition airstrikes over the last year.

A student stands in the ruins of the Aal Okab school in Saada, Yemen. Classes are now held in a nearby temporary tent Photograph: Giles Clarke/Unicef.

Inserted by The McGlynn
They urged the international community to "refrain from providing arms that could be used in the conflict" – an apparent reference to countries such as the US and Britain that have helped to arm the Saudi-led coalition, as well as Iran, which has been accused by the coalition of arming the Houthi rebels……………The UN's humanitarian aid agency has said Yemen is the world's worst humanitarian crisis – with three-quarters of its 20 million population in need of assistance. The war has devastated the country's health system and provided the breeding ground for the world's largest cholera outbreak last year.
Yemeni children take part in a mass funeral for children killed in an air strike by the Saudi-led coalition in Saada, Yemen, this month.

Credit

Credit

Agence France-Presse — Getty Images
WASHINGTON — The top American air commander in the Middle East is urging the Saudi-led coalition of Arab nations to be more forthcoming about an investigation into an airstrike in northern Yemen earlier this month that struck a school bus, killing more than 40 children.
The comments by Lt. Gen. Jeffrey L. Harrigian reflected increasing exasperation by United States officials over the conflict that has spiraled into a humanitarian disaster.
"There's a level of frustration we need to acknowledge," General Harrigian said in a wide-ranging telephone interview last week. "They need to come out and say what occurred there."
His comments were the latest, and bluntest, public critique of the Saudi-led air campaign against Houthi rebels that have been voiced by a growing number of senior American military, Pentagon and diplomatic officials seeking to distance the United States from the conflict — but who are facing increasing questions about American support for the air war with every errant strike.
KABUL, Afghanistan (AP) — Russia postponed indefinitely a meeting on the Afghan peace process planned for next week, Afghan officials said.
A statement released Monday by the office of the Afghan presidency said that Russian Foreign Minister Sergei Lavrov and Afghan President Ashraf Ghani have decided to postpone the meeting and hold it at a later date.
President Ghani insists the peace talks should be "Afghan owned and led," according to the statement.
Lavrov said Russia agrees the peace process should be under the auspices of the Afghans and it is "ready to cooperate," the statement added.
Russia's Foreign Ministry, which had extended the invitation to the Taliban despite the group's official designation as a terrorist organization in Russia, also confirmed in a statement Monday that the talks have been postponed after Lavrov's conversation with Ghani.
"(Ghani) supported the idea of a Moscow meeting in principle and suggested postponing it in order to come up with a consolidated position," the ministry's statement said.
KABUL, Afghanistan (AP) — A U.S. strike over the weekend killed a senior Islamic State commander in eastern Afghanistan, Afghan and U.S. officials said Monday.
The strike in Nangarhar province killed Abu Sayeed Orakzai, a senior leader in the extremist group, according to Shah Hussain Martazawi, deputy spokesman for the Afghan presidency. He said the operation showed the government's "determination to fight terrorism."
Lt. Col. Martin O'Donnell, a spokesman for U.S. forces in Afghanistan, said American forces launched a counterterrorism strike in eastern Afghanistan on Saturday that targeted a "senior leader of a designated terrorist organization." He did not provide further details.
"These efforts target the real enemies of Afghanistan, the same enemies who threaten America," he said.
Orakzai, who also known as Abu Saad Erhabi, was the head of the Islamic State group in Afghanistan, according to a government official who spoke on condition of anonymity because he was not authorized to brief reporters. Erhabi was killed alongside nine other members of the militant group in the attack, the official said.
An IS affiliate that emerged in Afghanistan in 2014 has carried out scores of attacks targeting security forces and the country's Shiite minority. Even with U.S. and NATO support, Afghan security forces have struggled to combat IS and the more well-established Taliban.
Separately in northern Faryab province, three Afghan army soldiers were killed and five others wounded after their convoy was ambushed by Taliban insurgents, said Hanif Rezaie, an army spokesman for the country's north.
War Casualties By Name – Search by Name:
Recent Casualties:

Color Denotes Today's Confirmation
The Department of Defense announced today the death of a soldier who was supporting Operation Inherent Resolve.
Chief Warrant Officer 3 Taylor J. Galvin, 34, from Spokane, Washington, died Aug. 20, 2018, in Baghdad, Iraq, as a result of injuries sustained when his helicopter crashed in Sinjar, Ninevah Province, Iraq. The incident is under investigation.
Galvin was assigned to the 1st Battalion, 160th Special Operations Aviation Regiment (SOAR), Fort Campbell, Kentucky.

The Department of Defense announced today the death of a soldier who was supporting Operation Freedom's Sentinel.
Staff Sgt. Reymund Rarogal Transfiguracion, 36, from Waikoloa, Hawaii, died Aug. 12, 2018, of wounds sustained when an improvised explosive device detonated near him while he was conducting combat patrol operations in Helmand Province, Afghanistan. The incident is under investigation.
Transfiguracion was assigned to the 3rd Battalion, 1st Special Forces Group (Airborne), Joint Base Lewis-McChord, Washington.
.
Care for Veterans:
PTSD: National Center for PTSDPTSD Care for Veterans, Military, and FamiliesSee Help for Veterans with PTSD to learn how to enroll for VA health care and get an assessment.
All VA Medical Centers provide PTSD care, as well as many VA clinics.Some VA's have programs specializing in PTSD treatment. Use the VA PTSD ProgramLocator to find a PTSD program.If you are a war Veteran, find a Vet Center to help with the transition from military to civilian life.