02 Sep
United States Wars, News and Casualties

In the Vietnam era, stories like this and television reporting on the war contributed to the end of the Vietnam War in a time frame of much less than 17 years.
As deployment of the last 17 years only came to a sub set of young people, and TV and news rarely covered the searing violence of war, eschewing such content for minor content (Kardashians, Tweets, outrageous behavior), the daily violence and futility went "off stage".
One is invited to read the daily post, "United States Wars, News and Casualties" and then watch the daily news on the U.S. TV Media.

The absence of U.S. War News is atrocious.
We need this daily report of our wars in our face………..Daily.
The McGlynn


Damn The War Criminals,Bush,Cheney,Rice,Rumsfeld, Wolfowitz, Powell and Blair from England.
How many Iraqis have died as a result of the invasion 15 years ago? Some credible estimates put the number at more than one million. You can read that sentence again.
The invasion of Iraq is often spoken of in our country as a "blunder," or even a "colossal mistake." It was a crime.
Those who perpetrated it are still at large. Some of them have even been rehabilitated thanks to the horrors of a mostly amnesiac citizenry.

We condemned children to death, some after many days of writhing in pain on bloodstained mats, without pain relievers. Some died quickly, wasted by missing arms and legs, crushed heads. As the fluids ran out of their bodies, they appeared like withered, spoiled fruits. They could have lived, certainly should have lived – and laughed and danced, and run and played- but instead they were brutally murdered. Yes, murdered!
The war ended for those children, but it has never ended for survivors who carry memories of them. Likewise, the effects of the U.S. bombings continue, immeasurably and indefensibly.
The McGlynn
War News
Coalition expresses regret after investigators call for immediate review of rules of engagement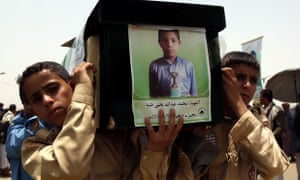 Boys carry the coffin of one of the dozens of child victims of an Saudi-led airstrike in Yemen. Photograph: Xinhua/REX/Shutterstock
The Saudi-led coalition in Yemen has admitted an air attack in August that killed dozens of people, including children travelling on a bus, was unjustified and pledged to hold accountable anyone who contributed to the error.
The rare concession follows mounting international pressure, including from allies, to do more to limit civilian casualties in the three-and-a-half-year civil war that has killed more than 10,000 people and pushed the already impoverished country to the brink of famine.
The western-backed alliance fighting the Iranian-aligned Houthi group said at the time that the 9 August air strikes at a market in Saada province had targeted missile launchers used to attack southern Saudi Arabia a day earlier, and accused the Houthis of using children as human shields.
The Joint Incident Assessment Team, an investigative body set up by the coalition, said on Saturday that the strikes had been based on intelligence indicating the bus was carrying Houthi leaders, a legitimate military target, but delays in executing the strike and receiving a no-strike order should be further investigated…………………Last week, a UN panel of human rights experts said that some coalition air strikes may constitute war crimes. The US secretary of defence, Jim Mattis, said US support for the Saudi-led coalition was not unconditional, but suggested the United States would continue to support the alliance as it works to reduce fallout on civilians.

FILE PHOTO: Mourners attend a funeral of people, mainly children, killed in a Saudi-led coalition air strike on a bus in northern Yemen, in Saada, Yemen August 13, 2018. REUTERS/Naif Rahma/File Photo
The UN has convened talks in Geneva on 6 September, the first effort to negotiate the war in more than two years.
Rights group calls Saudi-led coalition bombing an apparent war crime, placing 'arms suppliers at risk of complicity'.
At least 51 people, including 40 children, were killed in the Saada attack [Reuters]
The Human Rights Watch (HRW) has called for an end to all weapons sales to Saudi Arabia following the bombing of a school bus last month that killed 51 people, including 40 children.
The rights group called the attack an apparent war crime and said it places arms suppliers at "risk of complicity in war crimes".
HRW's statement, released on Sunday, came just hours after Saudi Arabia and the United Arab Emirates admitted the bombing was "unjustified".
A probe, conducted by the Saudi-led coalition fighting Yemen's Houthi rebels, concluded on Saturday that "mistakes" were made in the August 9 air raid in Saada province.
Disinformation is rife about US plots and rebels' supposed use of chemical weapons as Putin prepares for final victory
R

ussia is going to extraordinary lengths to justify in advance the murderous onslaught that observers fear is about to descend on Idlib, a province in north-west Syria that is home to nearly two million internally displaced people. Idlib is the last large populated area outside the control of Bashar al-Assad, Syria's dictator. And Assad, backed by his Russian and Iranian allies, is determined to get it back – whatever the human cost.
In a series of coordinated moves last week, Russian government officials and military spokesmen tried to pre-empt or deflect western opposition to the expected air and ground offensive. Partly it was pure propaganda. Sergei Ryabkov, the deputy foreign minister, accused the US of plotting forcible regime change in Damascus. "Again, we are witnessing serious escalation of the situation," he claimed.
Unfortunately perhaps, this is disingenuous fantasy. A distracted Donald Trump has shown no interest in toppling Assad. He has ended support for rebel groups and given Vladimir Putin, Russia's president, a virtual free hand. Airstrikes by the US, France and the UK after Assad's chemical weapons attack on Douma in AprilWEBLINK proved to be an ineffective one-off. Trump has turned his back on Syria and plans to pull out the remaining US special forces fighting Islamic State as soon as possible.
BASRA, Iraq — About 150 protesters gathered at the main entrance to Iraq's giant Nahr Bin Omar oilfield in the southern oil hub of Basra on Sunday, police said, amid growing unrest in southern cities over poor public services and corruption.
Officials at the field, operated by state-run Basra Oil Co., said production operations were running normally.
Production from Nahr Bin Omar now stands at around 44,000 barrels per day, oilfield officials said.
On Friday, hundreds of Iraqi protesters stoned and tried to break into the provincial government headquarters in the southern oil hub of Basra demanding better public services and an end to pervasive corruption.
Protesters threatened to break into the field if the government did not respond to their demands to improve basic services and address their complaints over Basra's drinking water, which residents say is undrinkable due to high salt levels.
KABUL, Afghanistan — An Afghan official says a foreign pilot and two Afghan soldiers were killed when a helicopter contracted by NATO crashed inside an army base.
Maj. Hanif Rezaie, an army spokesman, says three others, including another foreign pilot, were wounded when the MI-14 helicopter crashed shortly after takeoff from the base near the northern city of Mazar-i-Sharif. Rezaie says the crash was caused by a technical problem and the helicopter caught fire after it hit the ground. He says there was no enemy fire.
Seven other security forces on board the helicopter were rescued.
Rezaie was unable to confirm the nationality of the two foreign pilots.
KABUL — U.S. Army General Scott Miller assumed command of NATO forces in Afghanistan on Sunday, arriving as Washington faces growing questions over its strategy to force the Taliban into talks to end the 17-year conflict.
Miller, former commander of the U.S. military's Joint Special Operations Command, takes over at a time of mixed hope and fear for the Western-backed government in Kabul.
"To be successful, we must continually learn and adapt to the enemy and the environment," Miller said at a change of command ceremony at the headquarters of the NATO-led Resolute Support mission in Kabul.
"There is no room for status quo. We cannot afford to be complacent."
The United States is now a year into its strategy of stepping up pressure on the Taliban by increasing airstrikes and sending thousands more troops to train and advise Afghan forces, but clear signs of success have so far proved elusive.
By Khaama Press on 02 Sep 2018 12:42pm .
At least thirty one militants were killed or wounded during the airstrikes conducted by the Afghan Air Force in southeastern Ghazni province of Afghanistan.
The 203rd Thunder Corps of the Afghan Military in the Southeast said the airstrikes were carried out in Khogyani and Nawa districts of the province.
According to a statement released by 203rd Thunder Corps, the militants were targeted in Arzo area of Khogyani and Langa area of Nawa districts.
The statement further added that 21 militants were killed and at least 10 others were wounded during the same airstrikes.
The 203rd Thunder Corps also added that the Afghan forces discovered and defused 9 improvised explosive devices dring the opertions in Andar and Maidan Wardak provinces.
The anti-government armed militant groups including Taliban militants have not commented regarding the report so far.
War Casualties By Name – Search by Name:
Recent Casualties:

Color

Denotes Today's Confirmation
The Department of Defense announced today the death of a soldier who was supporting Operation Inherent Resolve.
Chief Warrant Officer 3 Taylor J. Galvin, 34, from Spokane, Washington, died Aug. 20, 2018, in Baghdad, Iraq, as a result of injuries sustained when his helicopter crashed in Sinjar, Ninevah Province, Iraq. The incident is under investigation.
Galvin was assigned to the 1st Battalion, 160th Special Operations Aviation Regiment (SOAR), Fort Campbell, Kentucky.

The Department of Defense announced today the death of a soldier who was supporting Operation Freedom's Sentinel.
Staff Sgt. Reymund Rarogal Transfiguracion, 36, from Waikoloa, Hawaii, died Aug. 12, 2018, of wounds sustained when an improvised explosive device detonated near him while he was conducting combat patrol operations in Helmand Province, Afghanistan. The incident is under investigation.
Transfiguracion was assigned to the 3rd Battalion, 1st Special Forces Group (Airborne), Joint Base Lewis-McChord, Washington.
.
Care for Veterans:
PTSD: National Center for PTSDPTSD Care for Veterans, Military, and FamiliesSee Help for Veterans with PTSD to learn how to enroll for VA health care and get an assessment.
All VA Medical Centers provide PTSD care, as well as many VA clinics.Some VA's have programs specializing in PTSD treatment. Use the VA PTSD ProgramLocator to find a PTSD program.If you are a war Veteran, find a Vet Center to help with the transition from military to civilian life.