06 Sep
United States Wars, News and Casualties

In the Vietnam era, stories like this and television reporting on the war contributed to the end of the Vietnam War in a time frame of much less than 17 years.
As deployment of the last 17 years only came to a sub set of young people, and TV and news rarely covered the searing violence of war, eschewing such content for minor content (Kardashians, Tweets, outrageous behavior), the daily violence and futility went "off stage".
One is invited to read the daily post, "United States Wars, News and Casualties" and then watch the daily news on the U.S. TV Media.

The absence of U.S. War News is atrocious.
We need this daily report of our wars in our face………..Daily.
The McGlynn


Damn The War Criminals,Bush,Cheney,Rice,Rumsfeld, Wolfowitz, Powell and Blair from England.
How many Iraqis have died as a result of the invasion 15 years ago? Some credible estimates put the number at more than one million. You can read that sentence again.
The invasion of Iraq is often spoken of in our country as a "blunder," or even a "colossal mistake." It was a crime.
Those who perpetrated it are still at large. Some of them have even been rehabilitated thanks to the horrors of a mostly amnesiac citizenry.

We condemned children to death, some after many days of writhing in pain on bloodstained mats, without pain relievers. Some died quickly, wasted by missing arms and legs, crushed heads. As the fluids ran out of their bodies, they appeared like withered, spoiled fruits. They could have lived, certainly should have lived – and laughed and danced, and run and played- but instead they were brutally murdered. Yes, murdered!
The war ended for those children, but it has never ended for survivors who carry memories of them. Likewise, the effects of the U.S. bombings continue, immeasurably and indefensibly.
The McGlynn
War News
A judge has declared a mistrial in the case of a former Blackwater security guard accused of inciting a firefight that killed 14 Iraqi civilians in 2007.
The jury remained deadlocked in the trial of Nicholas Slatten, who was charged with first-degree murder for allegedly firing the first shots.
The case was a retrial, after a court ruled Slatten should not have been tried alongside three other guards.
Neither Slatten nor prosecutors have commented on Wednesday's ruling.
US District Judge Royce Lamberth in Washington DC declared a mistrial after the jury of seven men and five women could not reach a unanimous verdict.
The jury had deliberated for 16 days, even asking Judge Lamberth last week to advise them, the Washington Post reported. The judge gave them until Tuesday to make a decision.
Prosecutors charged Slatten, who was a former Army sniper, with murder as his case had passed the time limit for manslaughter charges.
SAADA, Yemen — Thousands of Yemenis massed in the Houthi stronghold of Saada on Wednesday, calling for the prosecution of the Saudi-led coalition for an air attack last month that killed dozens of people, including 40 children traveling on a bus.
After initially saying it was a legitimate strike and accusing the Houthis of using children as human shields, the coalition said on Saturday it accepted that the attack was unjustified and pledged to hold accountable anyone who contributed to the error.
The rare concession followed mounting international pressure, including from allies, to do more to limit civilian casualties in the 3-1/2 year civil war that has killed more than 10,000 people and pushed the country to the brink of famine.
Yemen's first round of peace talks in almost three years are expected to start in Geneva on Thursday, aimed at getting the Saudi-backed government and the Iranian-aligned Houthi movement to work toward halting the fighting, removing foreign forces, and establishing a unity government…………..
Saudi Arabia and the United Arab Emirates, the two Gulf states leading the coalition, receive Western political support and buy billions of dollars a year in arms from

the United States and European powers including Britain and France.
PARIS — France's top military official said on Thursday his forces were prepared to carry out strikes on Syrian targets if chemical weapons were used in an expected government offensive to retake the northern province of Idlib.
Speaking to a small group of reporters, Armed Forces Chief Francois Lecointre said he expected the final pockets of Islamic State resistance in Iraq and Syria to be eradicated by the end of November.
Turkey warns of 'last chance to avoid massacre' as pace builds towards raid on rebel enclave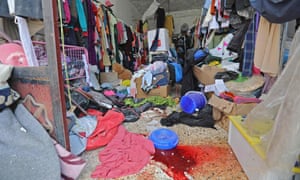 Blood stains the floor of a clothes shop after Russian airstrikes in the rebel-hold town of Muhambal, south-west of Idlib. Photograph: Omar Haj Kadour/AFP/Getty Images
Aid agencies fear that as many as 700,000 people could be displaced within a day of a Russian-led bombardment of Syria's Idlib province as momentum towards an expected attack on the last large rebel enclave continues to gather pace.
A three-way summit between Russia, Turkey and Iran to be held in Tehran on Friday has been described by Ankara as a "last chance to avoid a massacre" in north-western Syria, where up to 3 million people live in a densely packed corner of the country.
Their fate is central to the outcome of the seven-year war, in which Idlib city and its surrounding area had increasingly been used to rehome people exiled from elsewhere in Syria who had fled areas won in battle by forces allied to Bashar al-Assad……………..Amnesty International and the Norwegian Refugee Council also called for the planned assault to be abandoned, with both organisations fearing the consequences would be far worse than in other cities attacked earlier in the war.
"The shocking civilian death tolls and war crimes witnessed recently in other parts of Syria such as eastern Aleppo city, eastern Ghouta and Daraa must not be repeated in Idlib," said Amnesty's Middle East campaign director Samah Hadid.
"People cannot bear the consequences of yet another offensive using prohibited tactics such as starvation of civilians and indiscriminate bombardment."
IDLIB, Syria (Reuters) – Hudhayfa al-Shahad strapped a colorful paper cup filled with cotton and charcoal to a child's face and tightened a plastic bag around his head: an improvised gas mask if chemicals once again fall on Syria's Idlib.
A boy tries on an improvised gas mask in Idlib, Syria September 3, 2018. REUTERS/Khalil Ashawi
Civilians in Syria's last major stronghold of active opposition to President Bashar al-Assad's rule are preparing food and digging shelters ahead of an expected army offensive.
They are also putting their faith in neighboring Turkey's diplomacy to spare them from military action, which could become a humanitarian disaster. [nL8N1VQ6IS]
BASRA, Iraq (Reuters) – One protester died and 25 more were injured on Wednesday night, in a third day of violent clashes with security forces in Iraq's southern city Basra, and unrest spread to the country's main port, local health, security and human rights sources said.
Smoke rises from the governorate and municipalities buildings of Basra, Iraq September 6, 2018. REUTERS/Essam al-Sudani
Southern Iraq, heartland of the Shi'ite majority, has erupted in unrest in recent weeks as protesters express rage over collapsing infrastructure, power cuts and corruption.
Residents in Basra, a city of more than 2 million people, say the water supply has become contaminated with salt, making them vulnerable and desperate in the hot summer months. Hundreds of people have been hospitalized from drinking it.
Overnight, protesters blocked the entrance to the nearby Umm Qasr port, the main lifeline for grain and other commodity imports that feed the country. They blocked the highway from Basra to Baghdad and set fire to the main provincial government building where they had been demonstrating for a third night.
Protesters continued on Thursday to block the entrance to the port, port employees and local officials said, but it was not yet possible to determine whether the unrest would have a serious impact on its operations.
Yazidis Pictures (Inserted By The McGlynn)



In the ancestral land of the Yazidis, a sacred mountain looms large.
A persecuted people has long seen it as their protector.
"Sinjar mountain saved me, and many other Yazidis, four years ago," says Hade Shingaly as we sit on thin mattresses covered with bright geometric patterns in his family's elongated tent.
It is perched in a tidy cluster of tarpaulin shacks on a mountain plateau in this remote corner of Iraq.
Through a window of plastic sheeting, we can see Sinjar's rocky brown slopes speckled with scruffy green shrubs.
Hade's family fled their village in 2014 to take refuge here, along with tens of thousands of other Yazidis fearing for their lives, when fighters of the Islamic State (IS) group swept with shocking cruelty across vast stretches of Iraq and neighbouring Syria.
Four years on, Hade's family, and many others, still live on these slopes, even though the extremist group no longer controls this area.
They are terrified IS will return.
"We don't trust our neighbours," he tells me as we sip traditional cinnamon tea and sample fresh figs. "When IS came to our village, they didn't know anything about the Yazidis. Our Muslim neighbours told them 'the Yazidis don't believe in God, that we aren't Muslim'.
GENEVA/RIYADH (Reuters) – Yemen's first round of peace talks in almost three years aims to build confidence between the warring sides, U.N. mediator Martin Griffiths said on Wednesday, playing down a delay in the arrival of one delegation.
Griffiths wants Yemen's Saudi-backed government and the Iranian-aligned Houthi movement to work towards a deal to end the war, remove foreign forces from Yemeni territory, and establish a national unity government.
A Saudi-led coalition of Sunni Muslim Arab states backed by Western powers, including the United States and Britain,

intervened in Yemen's civil war in 2015 against the Houthis to restore the internationally recognized government of President Abd-Rabbu Mansour Hadi. Subsequent peace talks flopped.
Since then the humanitarian situation has worsened dramatically, putting 8.4 million people on the brink of starvation, triggering the world's worst cholera epidemic, and wrecking the already weak economy.
Nobody knows how many people have died: the U.N. lost count more than two years ago, after 10,000 civilians were killed.
KABUL, Afghanistan — Afghan officials say insurgents have killed 19 people in separate assaults, including an insider attack in which a policeman shot dead eight colleagues.
The attacks came after a twin bombing Wednesday in Kabul that killed 21 people, including two local TV reporters, and wounded 89.
The bombings, in a Shiite neighborhood of the capital, bore the hallmarks of the Islamic State group. The Taliban denied responsibility.
Later Wednesday, suspected Taliban insurgents overran a security outpost in the northern Badghis province and then ambushed reinforcements, killing a total of 10 soldiers, according to Jamshid Shahabi, a spokesman for the governor.
The insider attack happened in the northern Takhar province early Thursday. Abdul Khali Aseir, the provincial police spokesman, says the gunman escaped.
KABUL, Afghanistan — A suicide bomber detonated his explosives during a wrestling match in the Afghan capital on Wednesday, and as emergency medical workers and journalists rushed to the scene, a second, much larger explosion went off, killing at least 20 people in total, officials said.

An injured boy receiving help outside a hospital in Kabul, Afghanistan, after two bombings at a wrestling training center. The second blast was far larger, and timed to kill emergency workers and journalists.

Credit

Rahmat Gul/Associated Press
Two journalists were among those killed and four others were among the scores wounded in the second blast, Afghan news organizations said.
ToloNews, the country's most prominent news channel, identified the dead as members of its staff — a correspondent and a cameraman who were reporting live on national television when the second blast went off.
The two bombings injured at least 70, said Nasrat Rahimi, a spokesman for the Afghan Interior Ministry. Mr. Rahimi said the second blast had been caused by explosives packed into a vehicle, and he added that the toll might change.
A similar double bombing on April 30, in which a second explosion went off among journalists covering the carnage of the first blast, killed nine reporters and photographers……………..The Taliban are responsible for most of the increasing violence across the country. In addition to holding and influencing territory in Afghan districts and attacking Afghan forces, the group carries out coordinated attacks in many cities. Last month, they laid siege to the city of Ghazni, about 100 miles south of Kabul.
But the presence of affiliates of the Islamic State in the recent years has made the battle more complicated.
War Casualties By Name – Search by Name:
Recent Casualties:

Color

Denotes Today's Confirmation
The Department of Defense announced today the death of a soldier who was supporting Operation Freedom's Sentinel.
Command Sgt. Maj. Timothy A. Bolyard, 42, from Thornton, West Virginia, died Sept. 3, 2018, of wounds sustained from small arms fire in Logar Province, Afghanistan. The incident is under investigation.
Bolyard was assigned to 3rd Squadron, 1st Security Force Assistance Brigade, Fort Benning, Georgia.

The Department of Defense announced today the death of a soldier who was supporting Operation Inherent Resolve.
Chief Warrant Officer 3 Taylor J. Galvin, 34, from Spokane, Washington, died Aug. 20, 2018, in Baghdad, Iraq, as a result of injuries sustained when his helicopter crashed in Sinjar, Ninevah Province, Iraq. The incident is under investigation.
Galvin was assigned to the 1st Battalion, 160th Special Operations Aviation Regiment (SOAR), Fort Campbell, Kentucky.

The Department of Defense announced today the death of a soldier who was supporting Operation Freedom's Sentinel.
Staff Sgt. Reymund Rarogal Transfiguracion, 36, from Waikoloa, Hawaii, died Aug. 12, 2018, of wounds sustained when an improvised explosive device detonated near him while he was conducting combat patrol operations in Helmand Province, Afghanistan. The incident is under investigation.
Transfiguracion was assigned to the 3rd Battalion, 1st Special Forces Group (Airborne), Joint Base Lewis-McChord, Washington.
Care for Veterans:
PTSD: National Center for PTSDPTSD Care for Veterans, Military, and FamiliesSee Help for Veterans with PTSD to learn how to enroll for VA health care and get an assessment.
All VA Medical Centers provide PTSD care, as well as many VA clinics.Some VA's have programs specializing in PTSD treatment. Use the VA PTSD Program Locator to find a PTSD program.
If you are a war Veteran, find a Vet Center to help with the transition from military to civilian life.