09 Sep
United States Wars, News and Casualties

In the Vietnam era, stories like this and television reporting on the war contributed to the end of the Vietnam War in a time frame of much less than 17 years.
As deployment of the last 17 years only came to a sub set of young people, and TV and news rarely covered the searing violence of war, eschewing such content for minor content (Kardashians, Tweets, outrageous behavior), the daily violence and futility went "off stage".
One is invited to read the daily post, "United States Wars, News and Casualties" and then watch the daily news on the U.S. TV Media.

The absence of U.S. War News is atrocious.
We need this daily report of our wars in our face………..Daily.
The McGlynn


Damn The War Criminals,Bush,Cheney,Rice,Rumsfeld, Wolfowitz, Powell and Blair from England.
How many Iraqis have died as a result of the invasion 15 years ago? Some credible estimates put the number at more than one million. You can read that sentence again.
The invasion of Iraq is often spoken of in our country as a "blunder," or even a "colossal mistake." It was a crime.
Those who perpetrated it are still at large. Some of them have even been rehabilitated thanks to the horrors of a mostly amnesiac citizenry.

We condemned children to death, some after many days of writhing in pain on bloodstained mats, without pain relievers. Some died quickly, wasted by missing arms and legs, crushed heads. As the fluids ran out of their bodies, they appeared like withered, spoiled fruits. They could have lived, certainly should have lived – and laughed and danced, and run and played- but instead they were brutally murdered. Yes, murdered!
The war ended for those children, but it has never ended for survivors who carry memories of them. Likewise, the effects of the U.S. bombings continue, immeasurably and indefensibly.
The McGlynn
War News
Last week the BBC's Lyse Doucet broadcast the fate of a community at Isis's hands. She recounts the stories she heard.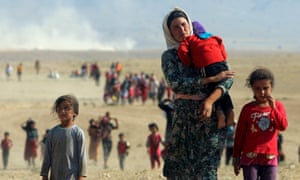 Yazidis fleeing their towns for Mount Sinjar as Islamic State forces advanced on them four years ago. Photograph: Rodi Said/Reuters
A

generator sputters into life and men in farmers' trousers spray water on muddy tractors as the sun slips from a late summer sky. On this most ordinary of village days in a northern corner of Iraq, 20-year-old Bafrin Shivan Amo perches on a metal cot bed to speak of the most hellish of times.
"They raped me every day, twice or more," she recounts with remarkable composure. "I was just a child," she says in her soft steady voice. "I can never forget it."
Bafrin shares her story, as hard as that is, because she wants the world to hear what happened to her and nearly 7,000 other Yazidi women enslaved for years by the fighters of the barbaric Islamic State group. The world, her tiny community believes, has forgotten them.
Four years ago, when Isis fighters swept into the furthest reaches of Iraq, images of desperate people stranded on a mountainside in the Yazidi heartland, dying of dehydration and hunger, sparked alarm and compassion for an ancient culture few had heard of. Helicopters were dispatched to drop food and water on the barren slopes of Mount Sinjar and to pull to safety the small number of people who managed to scramble on board………………Few aid agencies are on the ground here and Yazidis are left in limbo, caught in disputes between the local Kurdish administration and the central government in Baghdad. That affects the delivery of aid as well as security for a population still profoundly fearful that Isis will return.
"I cannot go back to my own village," Bafrin says as we sit in the farmyard in the baking heat, a dark blue scarf with a sparkling trim framing her broad face. She chooses not to hide her face, or her name, as she tells a story which, like the accounts of many Yazidi women, is beyond anyone's imagination. "There is no hope there will ever be life in my village. There are only bones of the dead."………….."People are losing hope," says Farhan Dakheel of Yazda, a global organisation that has been helping to document what the UN is calling a genocide. "So many Yazidis tell me that if nothing happens this year, they will dig for the bodies themselves."
Last week, the first UN team was on site with an Iraqi medical unit, taking blood samples from survivors of another village close to Mount Sinjar.
"It's just the beginning," Farhan says cautiously, in a tone that underlines the Yazidis' fear that they will never be anyone's priority.
AMMAN (Reuters) – Russian and Syrian jets resumed intensive strikes in Idlib and Hama on Sunday, residents and rescuers said, as Damascus stepped up its assault on the rebels' last major stronghold after a Russian-Iranian-Turkish summit failed to agree a ceasefire.
They said Syrian army helicopters dropped barrel bombs – typically filled with high explosives and shrapnel – on al-Habeet and Abdin villages in southern Idlib and a string of other hamlets and villages in the area.
The Syrian army denies using barrel bombs. However, United Nations investigators have extensively documented their use by the army…………..The opposition accuse Russia and its allies of striking at hospitals and civil defense centers to force rebels to surrender in a repeat of earlier, large-scale military offensives.
A U.S.-based medical charity that operates in the provinces said three hospitals and two civil defense centers were bombed in the last two days, "leaving thousands with no access to medical care".
"It is distressing to see a rise in attacks on medical facilities…There are over three million civilians in this crowded area of Syria who are in a life-threatening situation," Ghanem Tayara, head of Union of Medical Care and Relief Organisations (UOSSM) said in a statement.
Syria and Russia have carried out their most intensive air raids in weeks on rebel positions in the northern province of Idlib, activists say.
They say strikes targeted eastern and southern parts of Idlib, as well as the bordering province of Hama.
It is the last major rebel-held area in Syria and government forces, backed by Russia, are poised to attack.
On Friday the leaders of Russia and Iran rejected calls for a truce despite fears of a humanitarian disaster.
On Saturday the UK-based Syrian Observatory for Human Rights (SOHR), a monitoring body, and the opposition-affiliated Idlib Media Centre said government helicopters had dropped 19 barrel bombs on targets in Idlib and northern Hama, and Russian warplanes had staged 68 strikes.

BEIRUT (AP) — Syrian troops and Russian forces resumed their bombing of the opposition's last stretch of territory in the country, killing an infant girl on Sunday and damaging a hospital, rescuers and a war monitoring group say
The Syrian Civil Defense, first responders known as the White Helmets, says the girl was killed in bombing on Hobeit, in Idlib province.
Mustafa al-Haj Youssef, of the White Helmets, says government helicopters dropped unguided barrel bombs on the village.
The Syrian Observatory for Human Rights reported Russian and Syrian government airstrikes on the towns of Latamneh and Kafr Zeita in the neighboring Hama province. It says a hospital in Latamneh was damaged in airstrikes and was taken out of operation.
WASHINGTON (AP) — Despite dire U.S. warnings and fears of a humanitarian disaster, the Trump administration has little leverage to stop Russia, Iran and Syria pressing ahead with a massive military assault against Syria's northwest Idlib province.
Washington has threatened military action in case of a chemical weapons attack but its mixed messaging on retaining a U.S. presence in Syria and a cut in aid has diminished its already limited influence over the seven-year conflict………….So the administration, which has criticized former President Barack Obama for his inaction on Syria after the war started in 2011, risks appearing powerless to prevent the three nations' plan to retake Syria's last rebel-held area. It's an operation that many warn will cause major bloodshed among a vulnerable population of 3 million people.
And on Saturday, Syrian government and Russian warplanes targeted the province's southern edge in what activists described as the most intense airstrikes in weeks. More than 60 air raids killed at least four civilians in southern Idlib, according to the Syrian Observatory for Human Rights and rescue workers.
While the new U.S. special envoy for Syria said this week that America will stay in Syria until the complete eradication of the Islamic State group, there's little assurance that President Donald Trump won't again seek the withdrawal of the roughly 2,000 U.S. troops in the country. And in a sign of the administration's shrinking commitment to Syria, it has pulled more than $200 million in stabilization funding for liberated areas, telling other nations they should step up to pay.
BASRA, Iraq (AP) — A sense of calm returned to Iraq's southern city of Basra on Sunday after a week of violent protests over unemployment and poor public services that left at least 15 people dead and threatened stability in the oil-rich region.
Troops sent from Baghdad have reinforced police, and government offices and markets reopened after a quiet night. Municipality workers were out in force cleaning up the streets and carting away debris from the clashes.
The oil-rich region and other cities in Iraq's southern Shiite heartland have been convulsed by the most serious protests in years, with residents complaining of power outages, filthy tap water and soaring unemployment…………..In recent days, protesters have attacked government offices, political party headquarters and the Iranian consulate. Many blame their woes on neighboring Iran's outsized influence on Iraqi politics and are calling for radical change.
On Saturday, a spokesman for an alliance of powerful Shiite militias, many of them backed by Iran, vowed to respond against "those who are carrying out acts of arson and sabotage." The local commander, known as Abu Yasser al-Jaafari, said the lack of response thus far should not be taken as a sign of weakness.
Hours later, masked government troops in combat fatigues deployed in the city, setting up checkpoints and riding through the city center in black pickup trucks with heavy weapons mounted in the back. Security forces in Humvees deployed at intersections.
KABUL — At least seven people were killed and 25 wounded on Sunday when a suicide bomber on a motorcycle detonated explosives near a procession in Kabul commemorating the death of former anti-Soviet mujahideen commander Ahmad Shah Massoud, a government official said.
Police said the suicide attack came hours after another suspected suicide bomber was shot by police in Kabul before he could detonate his device.
Government spokesman Wahid Majroh said that seven bodies and 25 injured people were taken to the hospital from the attack site.
Earlier, gunfire could be heard across the city as demonstrators fired automatic weapons in aggressive displays of support for Massoud, an ethnic Tajik leader who was killed by suicide bombers in 2001.
At least 13 people were injured by gunmen firing their weapons into the air in defiance of a ban on celebratory gunfire, officials said.
With parliamentary elections approaching next month and rivalry between Afghanistan's ethnic groups on the increase, the annual commemoration day for Massoud has created a tense atmosphere in Kabul, where major roads were blocked by police.
The blast came four days after more than 20 people were killed by a suicide bomber at a wrestling club in Kabul as well as a secondary blast apparently aimed at first responders and journalists.
BAGHLAN-E-MARKAZI, Afghanistan — Taliban insurgents destroyed an army base in northern Afghanistan on Sunday, rampaging through the area, attacking smaller outposts and killing dozens of soldiers and police, local officials said.
Abdul Hai Nemati, the governor of Baghlan Province, said the Afghan National Army base at Mangalha village, in the Baghlan-e-Markazi District just north of the provincial capital of Pul-i-Kumri, had been completely surrounded by insurgents.
Casualties for Afghan security forces have steadily risen in recent years, as the international coalition has mostly withdrawn and left most of the fighting to the Afghans. In the first 10 months of 2016, the number of Afghan police and soldiers who have died totaled 6,785, according to the Special Inspector General for Afghan Reconstruction, a United States government agency.
Since then, the agency said, the American military has classified casualty information as secret at the request of the Afghan government. Many local analysts say official fatalities have almost certainly increased.
War Casualties By Name – Search by Name:
Recent Casualties:

Color

Denotes Today's Confirmation
The Department of Defense announced today the death of a soldier who was supporting Operation Freedom's Sentinel.
Command Sgt. Maj. Timothy A. Bolyard, 42, from Thornton, West Virginia, died Sept. 3, 2018, of wounds sustained from small arms fire in Logar Province, Afghanistan. The incident is under investigation.
Bolyard was assigned to 3rd Squadron, 1st Security Force Assistance Brigade, Fort Benning, Georgia.

The Department of Defense announced today the death of a soldier who was supporting Operation Inherent Resolve.
Chief Warrant Officer 3 Taylor J. Galvin, 34, from Spokane, Washington, died Aug. 20, 2018, in Baghdad, Iraq, as a result of injuries sustained when his helicopter crashed in Sinjar, Ninevah Province, Iraq. The incident is under investigation.
Galvin was assigned to the 1st Battalion, 160th Special Operations Aviation Regiment (SOAR), Fort Campbell, Kentucky.

The Department of Defense announced today the death of a soldier who was supporting Operation Freedom's Sentinel.
Staff Sgt. Reymund Rarogal Transfiguracion, 36, from Waikoloa, Hawaii, died Aug. 12, 2018, of wounds sustained when an improvised explosive device detonated near him while he was conducting combat patrol operations in Helmand Province, Afghanistan. The incident is under investigation.
Transfiguracion was assigned to the 3rd Battalion, 1st Special Forces Group (Airborne), Joint Base Lewis-McChord, Washington.
Care for Veterans:
PTSD: National Center for PTSDPTSD Care for Veterans, Military, and FamiliesSee Help for Veterans with PTSD to learn how to enroll for VA health care and get an assessment.
All VA Medical Centers provide PTSD care, as well as many VA clinics.Some VA's have programs specializing in PTSD treatment. Use the VA PTSD Program Locator to find a PTSD program.
If you are a war Veteran, find a Vet Center to help with the transition from military to civilian life.