10 Sep
United States Wars, News and Casualties

In the Vietnam era, stories like this and television reporting on the war contributed to the end of the Vietnam War in a time frame of much less than 17 years.
As deployment of the last 17 years only came to a sub set of young people, and TV and news rarely covered the searing violence of war, eschewing such content for minor content (Kardashians, Tweets, outrageous behavior), the daily violence and futility went "off stage".
One is invited to read the daily post, "United States Wars, News and Casualties" and then watch the daily news on the U.S. TV Media.

The absence of U.S. War News is atrocious.
We need this daily report of our wars in our face………..Daily.
The McGlynn


Damn The War Criminals,Bush,Cheney,Rice,Rumsfeld, Wolfowitz, Powell and Blair from England.
How many Iraqis have died as a result of the invasion 15 years ago? Some credible estimates put the number at more than one million. You can read that sentence again.
The invasion of Iraq is often spoken of in our country as a "blunder," or even a "colossal mistake." It was a crime.
Those who perpetrated it are still at large. Some of them have even been rehabilitated thanks to the horrors of a mostly amnesiac citizenry.

We condemned children to death, some after many days of writhing in pain on bloodstained mats, without pain relievers. Some died quickly, wasted by missing arms and legs, crushed heads. As the fluids ran out of their bodies, they appeared like withered, spoiled fruits. They could have lived, certainly should have lived – and laughed and danced, and run and played- but instead they were brutally murdered. Yes, murdered!
The war ended for those children, but it has never ended for survivors who carry memories of them. Likewise, the effects of the U.S. bombings continue, immeasurably and indefensibly.
The McGlynn
War News
DIRKOU, Niger — The C.I.A. is poised to conduct secret drone strikes against Qaeda and Islamic State insurgents from a newly expanded air base deep in the Sahara, making aggressive use of powers that were scaled back during the Obama administration and restored by President Trump.
Late in his presidency, Barack Obama sought to put the military in charge of drone attacks after a backlash arose over a series of highly visible strikes, some of which killed civilians. The move was intended, in part, to bring greater transparency to attacks that the United States often refused to acknowledge its role in.
But now the C.I.A. is broadening its drone operations, moving aircraft to northeastern Niger to hunt Islamist militants in southern Libya. The expansion adds to the agency's limited covert missions in eastern Afghanistan for strikes in Pakistan, and in southern Saudi Arabia for attacks in Yemen.
Nigerien and American officials said the C.I.A. had been flying drones on surveillance missions for several months from a corner of a small commercial airport in Dirkou. Satellite imagery shows that the airport has grown significantly since February to include a new taxiway, walls and security posts…………..
The Pentagon's Africa Command has carried out five drone strikes against Qaeda and Islamic State militants in Libya this year, including one two weeks ago. The military launches its MQ-9 Reaper drones from bases in Sicily and in Niamey, Niger's capital, 800 miles southwest of Dirkou.
But the C.I.A. base is hundreds of miles closer to southwestern Libya, a notorious haven for Al Qaeda and other extremist groups that also operate in the Sahel region of Niger, Chad, Mali and Algeria. It is also closer to southern Libya than a new $110 million drone base in Agadez, Niger, 350 miles west of Dirkou, where the Pentagon plans to operate armed Reaper drone missions by early next year.
SANAA, Yemen — Yemeni tribal leaders say a suspected U.S. drone strike has killed four alleged al-Qaida militants including a field leader in the country's south.
The tribal leaders said on Sunday that the operatives were killed when an unmanned aircraft targeted a group of al-Qaida militants in the district of Ahwar, one of al-Qaida's strongholds in the southern Abyan province.
They spoke on condition of anonymity for fear of reprisals.
Al-Qaida in the Arabian Peninsula, as the Yemeni affiliate is known, has long been considered the global network's most dangerous branch and has attempted to carry out attacks inside the U.S.
Yemen was plunged into civil war more than three years ago. Al-Qaida and the Islamic State affiliate have exploited the chaos to expand their presence in the country.
Foreign affairs committee report comes as Russia readies assault on rebel-held Idlib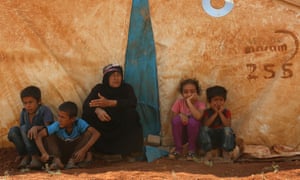 Displaced Syrians rest at a camp in Kafr Lusin, near the border with Turkey in rebel-held Idlib province. Photograph: Zein Al Rifai/AFP/Getty
The UK must share responsibility for the mass atrocities in Syria, MPs on the foreign affairs committee will claim as they call for the government to launch an independent inquiry into the price of Britain's inaction in Syria.
The committee says the price of non-intervention in theseven-year civil war has been unacceptably high in terms of lost lives, increased Russian and Iranian influence and severe consequences for Europe.
The call for an inquiry comes in a report issued on Monday, as Russia prepares a major offensive in the last rebel enlcave of Idlib.
The idea of a Chilcot-style inquiry has already been rejected by the foreign secretary, Jeremy Hunt, in a letter to the committee in which he argued that the reasons for the UK's non-intervention were well documented.

A mother and father weep over the body of their child, who was killed in a chemical weapons attack on Ghouta in 2013. Photograph: Rex/Erbin News/NurPhoto
But the report urges the government to clarify its approach to the UN doctrine of the responsibility to protect, arguing: "While the cost, complexities and challenges of intervening have been well documented through previous inquiries, such as the Iraq inquiry, the consequences of not acting are less well understood. We believe that the consequences of inaction can be every bit as serious as intervening. The decision not to intervene in Syria has had very real consequences for Syrians, their neighbours, the UK and our allies."…………"The absence of humanitarian intervention as a final recourse could result in the paralysis of the international system and a failure to act, resulting in grave consequences for civilian populations."
PARIS (Reuters) – The United Nations' cultural agency wants to use the reconstruction of Iraq's second city Mosul as a way to restore its credibility and show how a fraying multilateral order can be revived, its director general said on Monday.
FILE PHOTO: People walk in front of the remains of the University of Mosul, which was burned and destroyed during a battle with Islamic State militants, in Mosul, Iraq, April 10, 2017. REUTERS/Marko Djurica/File photo
Officially entitled the United Nations Educational, Scientific and Cultural Organisation, Paris-based UNESCO is best known for designating and protecting world heritage sites, from the Galapagos Islands to the tombs of Timbuktu.
It was plunged into turmoil almost a year ago after the United States pulled out, striking a blow to multilateralism and raising questions over the funding of an agency founded after World War Two.
BERLIN (Reuters) – The leader of Germany's Social Democrats said on Monday her party would not approve any participation of Germany in the war in Syria, opening a potential new line of conflict in Chancellor Angela Merkel's loveless coalition government.
SPD leader Andrea Nahles issued a terse statement after the Bild newspaper reported that Germany's conservative-led defense ministry was examining possible options for joining U.S., British and French forces in any future military action if the Syrian government again used chemical weapons.
"The SPD will not agree – either in parliament or in the government – to the participation of Germany in the war in Syria," Nahles said. "We support the foreign minister in his efforts to avert a humanitarian crisis through discussions with Turkey and Russia."
KABUL, Afghanistan (AP) — Taliban insurgents have launched separate attacks on Afghan security forces in the country's north, killing at least 37, provincial officials said Monday.
Mohammad Yusouf Ayubi, head of the provincial council in Kunduz province, said that at least 13 security forces were killed in an attack on a checkpoint they were manning in Dashti Archi district, with another 15 security forces wounded there. The firefight began late Sunday and continued into Monday morning.
Meanwhile in Jawzjan province, Provincial Police Chief Gen. Faqir Mohammad Jawzjani said the Taliban attacked Khamyab district from different directions, forcing Afghan forces to withdraw from the district headquarters to avoid civilian causalities.
"There was intense fighting and we didn't want civilian houses destroyed, or any civilian casualties," said Jawzjani. He said that at least eight policemen were killed and three other police were wounded. Seven Taliban were killed and eight were wounded during the gun battle, he added.
Taliban spokesman Zabihullah Mujahid claimed responsibility for the group for the attacks in Kunduz and Jawzjan provinces.
The Taliban also killed another 14 local Afghan policemen and pro-government militiamen in the Dara Suf district of Samangan province, provincial spokesman Sediq Azizi said, adding that six others were also wounded.
Azizi added that three Taliban fighters were killed and four others were wounded during the Monday morning battle.
BERLIN (AP) — Mohammed swipes the screen on his smartphone and zooms in on a street map showing a neighborhood in Aleppo.
"That's my house, that's where we lived," said the Syrian refugee in Germany, before his smile turns sad. "This area belongs to the regime now."
While fleeing with his family from the rockets and shells of Syria's brutal civil war, the modest home Mohammed built with his life savings on the outskirts of Aleppo was never far from his mind — a tangible focus for the possibility of his eventual return. But a new law allowing the Syrian government to seize homes for redevelopment has raised Mohammed's fears he'll never be able to realize that dream. In Europe, the move has caused concern that without the incentive of property to return to, many Syrians will decide to stay forever.
Some 800,000 Syrian refugees have streamed into Germany since the start of the 2011 civil war, according to government figures, and Germany has been counting on many to return home once the country is again safe.
The innocuously named Law No. 10, passed in April, empowers authorities to confiscate property without compensating the owners or giving them an opportunity to appeal.
The law has not yet gone into effect, but Chancellor Angela Merkel swiftly brought it up with Russian President Vladimir Putin during a meeting in May, urging him to use Moscow's influence with Syrian President Bashar Al-Assad to change it.
"This is bad news for all of those who want to return to Syria one day," Merkel told reporters after meeting Putin. "It would be a big barrier to return and it must be prevented."
The change affects many beyond Germany. Some 5.6 million Syrians have fled their country since 2011 — most to other countries in the Middle East but also to Sweden, Austria and other European nations — and another 6.6 million have been displaced within the country, according to the UN's refugee agency.
Critics maintain it gives Assad the means to keep opponents from returning and create neighborhoods of his supporters. The Syrian government insists it's simply a measure designed to facilitate the country's reconstruction after seven years of civil war.
KABUL — Afghan media are facing growing pressure to cut back coverage of militant attacks following the death of two television reporters who were among 20 killed in an attack on a sports club in Kabul last week.
Following an explosion in April that killed nine reporters, photographers and cameramen covering an attack, Afghanistan has been the deadliest country in the world for journalists this year, according to the Committee to Protect Journalists.
On Wednesday, Samim Faramarz, a reporter for Tolo News, and cameraman Ramiz Ahmadi were killed by a car bomb apparently targeting first responders and journalists as they were covering a suicide attack at a wrestling club in Kabul.
Their deaths came two and a half years after seven Tolo TV employees were killed by a Taliban suicide attacker who rammed a car bomb into a bus driving them home from the station.
Media coverage of attacks had already been noticeably reduced following the deadly blast in April and last week's incident is likely to restrict coverage further, said Lotfullah Najafizada, head of Tolo News.
"The space is shrinking," he told Reuters. "We have lost colleagues in four separate attacks in two years alone. That demonstrates that the media is under immense pressure."
Afghanistan's vibrant media sector has been one of the comparatively few undisputed success stories in the years following the overthrow of the Taliban, with the appearance of stations like Tolo as well as an array of competitors including 1TV, Ariana News, Shamshad TV and Khurshid TV.
By Khaama Press on 10 Sep 2018 2:05pm .
The local officials in northern Jawzjan confirm the Taliban militants have overrun the Khamab district after hours of heavy gun battle.
Provincial police chief Faqir Mohammad Jawzjani confirmed that the district was overrun at around 4am local time today.
Jawzjani further added that both the Taliban militants and the national defense and security forces personnel have suffered casualties during the clashes.
However, he said the exact number regarding the casualties inflicted on the security personnel and the Taliban militants have not been ascertained so far.
In the meantime, the security director of Jawzjan security commandment Abdul Hafiz Khashi said at least eight security personnel have lost their lives during the clashes and 3 others have sustained injuries.
War Casualties By Name – Search by Name:
Recent Casualties:

Color Denotes Today's Confirmation
The Department of Defense announced today the death of a soldier who was supporting Operation Freedom's Sentinel.
Command Sgt. Maj. Timothy A. Bolyard, 42, from Thornton, West Virginia, died Sept. 3, 2018, of wounds sustained from small arms fire in Logar Province, Afghanistan. The incident is under investigation.
Bolyard was assigned to 3rd Squadron, 1st Security Force Assistance Brigade, Fort Benning, Georgia.

The Department of Defense announced today the death of a soldier who was supporting Operation Inherent Resolve.
Chief Warrant Officer 3 Taylor J. Galvin, 34, from Spokane, Washington, died Aug. 20, 2018, in Baghdad, Iraq, as a result of injuries sustained when his helicopter crashed in Sinjar, Ninevah Province, Iraq. The incident is under investigation.
Galvin was assigned to the 1st Battalion, 160th Special Operations Aviation Regiment (SOAR), Fort Campbell, Kentucky.

The Department of Defense announced today the death of a soldier who was supporting Operation Freedom's Sentinel.
Staff Sgt. Reymund Rarogal Transfiguracion, 36, from Waikoloa, Hawaii, died Aug. 12, 2018, of wounds sustained when an improvised explosive device detonated near him while he was conducting combat patrol operations in Helmand Province, Afghanistan. The incident is under investigation.
Transfiguracion was assigned to the 3rd Battalion, 1st Special Forces Group (Airborne), Joint Base Lewis-McChord, Washington.
Care for Veterans:
PTSD: National Center for PTSDPTSD Care for Veterans, Military, and FamiliesSee Help for Veterans with PTSD to learn how to enroll for VA health care and get an assessment.
All VA Medical Centers provide PTSD care, as well as many VA clinics.Some VA's have programs specializing in PTSD treatment. Use the VA PTSD Program Locator to find a PTSD program.
If you are a war Veteran, find a Vet Center to help with the transition from military to civilian life.