14 Sep
United States Wars, News and Casualties

In the Vietnam era, stories like this and television reporting on the war contributed to the end of the Vietnam War in a time frame of much less than 17 years.
As deployment of the last 17 years only came to a sub set of young people, and TV and news rarely covered the searing violence of war, eschewing such content for minor content (Kardashians, Tweets, outrageous behavior), the daily violence and futility went "off stage".
One is invited to read the daily post, "United States Wars, News and Casualties" and then watch the daily news on the U.S. TV Media.

The absence of U.S. War News is atrocious.
We need this daily report of our wars in our face………..Daily.
The McGlynn


Damn The War Criminals,Bush,Cheney,Rice,Rumsfeld, Wolfowitz, Powell and Blair from England.
How many Iraqis have died as a result of the invasion 15 years ago? Some credible estimates put the number at more than one million. You can read that sentence again.
The invasion of Iraq is often spoken of in our country as a "blunder," or even a "colossal mistake." It was a crime.
Those who perpetrated it are still at large. Some of them have even been rehabilitated thanks to the horrors of a mostly amnesiac citizenry.

We condemned children to death, some after many days of writhing in pain on bloodstained mats, without pain relievers. Some died quickly, wasted by missing arms and legs, crushed heads. As the fluids ran out of their bodies, they appeared like withered, spoiled fruits. They could have lived, certainly should have lived – and laughed and danced, and run and played- but instead they were brutally murdered. Yes, murdered!
The war ended for those children, but it has never ended for survivors who carry memories of them. Likewise, the effects of the U.S. bombings continue, immeasurably and indefensibly.
The McGlynn
War News
Families 'absolutely terrified' as Saudi-led offensive resumes on port city of Hodeida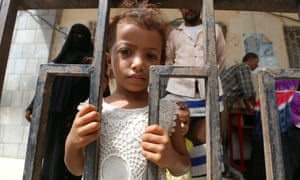 A girl stands behind a fence at a school to which she and her family have been evacuated amid the fighting in Hodeida. Photograph: Abduljabbar Zeyad/Reuters
Yemen's humanitarian situation has worsened rapidly since UN peace talks collapsed and fighting resumed in the port city of Hodeida, where hundreds of thousands of lives hang in the balance, the top UN aid official in the country has said.
"The situation has deteriorated dramatically in the past few days. Families are absolutely terrified by the bombardment, shelling and airstrikes," the UN humanitarian coordinator Lise Grande said in a statement.
On Thursday, the Saudi-led military coalition attacking Houthi rebels seized the main road into the strategic port city of Hodeida, weakening Houthi control over the supply of humanitarian aid into the country.
"The mills in Hodeida feed millions of people," Grande said. "We're particularly worried about the Red Sea mill, which currently has 45,000 metric tonnes of food inside, enough to feed 3.5 million people for a month. If the mills are damaged or disrupted, the human cost will be incalculable," she said………….It is not clear whether the military coalition, which includes Saudi, Emirati and local Yemeni forces, plans to try to enter the city itself, where more than 300,000 people live.
"The main entrance in Hodeida leading to [the capital] Sana'a has been closed after forces backed by the [United Arab Emirates] took control of the road," the coalition said in a statement……………
On Wednesday, the US secretary of state, Mike Pompeo, brushed aside claims that the Saudi bombing campaign was breaching international humanitarian law, and instead certified arms exports to Saudi could continue.
The US state department said the Saudis were taking demonstrable actions to protect civilian lives. Pompeo was forced to make the endorsement after Congress required him by law to examine whether the Saudis were following the rules of war.


A severely malnourished infant is bathed in a bucket in Aslam, Hajjah, Yemen. (AP Photo/Hammadi Issa)

A severely malnourished girl is weighed at the Aslam Health Center. (AP Photo/Hammadi Issa)
CAIRO (AP) — In a remote pocket of northern Yemen, many families with starving children have nothing to eat but the leaves of a local vine, boiled into a sour, acidic green paste. International aid agencies have been caught off guard by the extent of the suffering there as parents and children waste away.
The main health center in Aslam district was flooded with dozens of emaciated children during a recent visit by The Associated Press. Excruciatingly thin toddlers, eyes bulging, sat in a plastic washtub used in a make-shift scale as nurses weighed them one by one. Their papery skin was stretched tight over pencil-like limbs and knobby knees. Nurses measured their forearms, just a few centimeters in diameter, marking the worst stages of malnutrition.
At least 20 children are known to have died of starvation already this year, more than three years into the country's ruinous civil war, in the province that includes the district. The real number is likely far higher, since few families report their children's deaths when they die at home, officials say.
In one nearby village, a 7-month-old girl, Zahra, cries and reaches with her bony arms for her mother to feed her. Her mother is undernourished herself and is often unable to breastfeed Zahra. She can't afford formula for her baby……………People in Aslam have become increasingly reliant on leaves from the local vine, known in Yemeni Arabic as "halas" or in English as Arabian Wax Leaf. It used to be eaten only occasionally but now it's all many residents eat for every meal. Mothers spend hours picking the leaves, then washing and boiling them. Too much of it causes diarrhea. The water it's washed in — well water often tainted with sewage — is also a constant cause of diarrhea.
In the village of al-Mashrada, Zahra's mother feeds her whole family with halas mush. She has seven other children, including two boys with mental disorders who are kept chained inside their shack so they don't wander away. The children's father roams the town, looking for food.
Zahra's mother said only "the big heads" — the better-off and well-connected — end up with international aid.
"We only have God. We are poor and we have nothing."…………….."Deaths happen in remote villages where people can't reach the health units," al-Shamshan said. "It's a steady deterioration and it's scary," he said.
Yemen's civil war has wrecked the impoverished country's already fragile ability to feed its population.

The war pits Shiite rebels known as Houthis, who hold the north, against a Saudi-led coalition, armed and backed by the United States.

The coalition has sought to bomb the rebels into submission with an air campaign in support of Yemeni government forces.
Hundreds of thousands of lives hang in the balance as fighting in port city threatens food supply, says UN official.
The humanitarian crisis in Yemen has worsened "dramatically" in the last week since UN-sponsored peace talks collapsed and fighting resumed in the port city of Hodeidah.
Hunger as a weapon on the rise in conflict zones | Al Jazeera English Video
Lise Grande, UN humanitarian coordinator, said on Thursday that "hundreds of thousands of lives hang in the balance" in rebel-held Hodeidah, where "families are absolutely terrified by the bombardment, shelling and air strikes".
The three-year war has unleashed the world's most urgent humanitarian crisis in the nation of 28 million people with 22 million dependent on aid.
The UN warned ongoing fighting in Hodeidah, the entry point for the bulk of Yemen's commercial imports and aid supplies, could trigger famine in the impoverished nation where an estimated 8.4 million people are facing starvation.
AMMAN (Reuters) – A Syrian rebel commander said on Thursday rare military exercises with U.S. marines in southern Syria sent a strong message to Russia and Iran that the Americans and the rebels intend to stay and confront any threats to their presence.
Colonel Muhanad al Talaa, commander of the Pentagon-backed Maghawir al Thawra group, told Reuters the eight days of drills that ended this week at the U.S. military outpost in Tanf were the first such exercises with live-fire air and ground assault, involving hundreds of U.S. troops and rebel fighters.
"These exercises have a big importance and have beefed up the defenses of the area and raised the combat capabilities and morale and that of civilians in the area," Talaa told Reuters by phone from Tanf, near Syria's borders with Jordan and Iraq.
A U.S. military spokesman said the exercises were a show of force and that the Pentagon had notified Moscow through "deconfliction" channels to prevent "miscommunication or escalate tension"…………..Rebels say hundreds of U.S. marines arrived this month in Tanf to join special operations troops already based in the garrison and participate in the drills, amid heightened U.S.-Russian tensions in Syria and a naval buildup in the Mediterranean.
ISTANBUL (Reuters) – Turkey's foreign minister said in a letter to New York Times editors published on Thursday that the Kurdish YPG militia may aid the Syrian government in an attack against Idlib, the last major rebel-held area in Syria.
Both the United States and Turkey, which are opposed to Syrian President Bashar al-Assad's government, have warned that an attack on Idlib by the Syrian government, backed by Russia and Iran, could further destabilize the region and harm civilians. Syrian President Bashar al-Assad has vowed to recover "every inch" of Syria.
However, Turkey and the United States have differing views about the YPG.
The militia has been a strong ally of the United States in the fight against Islamic State. Turkey, on the other hand, considers the YPG a terrorist organization and an extension of the Kurdistan Workers' Party (PKK), which has led an insurgency against the Turkish state since the 1980s.
Ankara has repeatedly expressed its anger over the U.S. support for the YPG.
ANKARA — The chief of Iran's elite Revolutionary Guards Corps said on Thursday that Tehran's missile attack on an Iranian Kurdish rebel base in northern Iraq last week was a warning to hostile powers, Iranian state television reported.
The Guards fired seven missiles at the headquarters of the Democratic Party of Iranian Kurdistan (PDKI), an armed opposition group that fights for greater autonomy for Iran's Kurdish community.
Iranian media said at least 11 people were killed.
"The attack against the terrorists in Iraq's Kurdistan conveys a message to the enemies, particularly those superpowers who think they can impose their evil plots on Iran and bully us," state TV quoted Major General Mohammad Ali Jafari as saying.
Iran has repeatedly threatened to destroy U.S. military bases across the Middle East and target Israel within minutes if attacked by the United States and its regional allies.
Why is the administration so reluctant to block Tehran's most dangerous regional gambit?
The Trump administration has made clear that its top priority in the Middle East is to thwart Iran's nuclear and regional ambitions. So why is it so reluctant to lift a finger against Tehran's most audacious gambit in Syria?
That gambit is the reconquest, by Syrian dictator Bashar al-Assad and his Iranian and Russian allies, of Idlib Province, the last major rebel holdout in western Syria and home to about three million people. A humanitarian catastrophe is expected to follow, entailing mass casualties and another tidal wave of refugees.
By now, the strategic consequences should also be obvious. Iran will have succeeded in consolidating a Shiite crescent stretching from Bandar Abbas on the Persian Gulf to the Bekaa Valley in Lebanon. Russia will have succeeded in reasserting itself as a Mideast military victor and diplomatic power broker. Hezbollah, already the dominant political player in Lebanon, will further extend its influence in Syria.
As for Assad, he will have shown that the community of civilized nations will, in fact, let you get away with murder. And with using prohibited chemical weapons. And with decimating your own people by means of barrel bombs, mass torture and food blockades.
KABUL, Afghanistan — An Afghan official says Taliban insurgents attacked a security outpost in northern Samangan province, killing six members of the local security force including local police and members of a militia loyal to the government.
A gun battle lasted several hours before reinforcements arrived and repulsed the attack, which took place late Thursday, Abdul Munir Rahimi, spokesman for the provincial police chief, told The Associated Press on Friday.
Elsewhere, a roadside mine exploded in eastern Nangarhar province's Khogyani district, wounding five civilians, said Provincial Police Chief Ghulam Sanayee Stanikzai. He blamed the Taliban saying they were targeting security forces.
There was no claim of responsibility for either attack.
War Casualties By Name – Search by Name:
Recent Casualties:

Color

Denotes Today's Confirmation
The Department of Defense announced today the death of a soldier who was supporting Operation Freedom's Sentinel.
Command Sgt. Maj. Timothy A. Bolyard, 42, from Thornton, West Virginia, died Sept. 3, 2018, of wounds sustained from small arms fire in Logar Province, Afghanistan. The incident is under investigation.
Bolyard was assigned to 3rd Squadron, 1st Security Force Assistance Brigade, Fort Benning, Georgia.

The Department of Defense announced today the death of a soldier who was supporting Operation Inherent Resolve.
Chief Warrant Officer 3 Taylor J. Galvin, 34, from Spokane, Washington, died Aug. 20, 2018, in Baghdad, Iraq, as a result of injuries sustained when his helicopter crashed in Sinjar, Ninevah Province, Iraq. The incident is under investigation.
Galvin was assigned to the 1st Battalion, 160th Special Operations Aviation Regiment (SOAR), Fort Campbell, Kentucky.
Care for Veterans:
PTSD: National Center for PTSDPTSD Care for Veterans, Military, and FamiliesSee Help for Veterans with PTSD to learn how to enroll for VA health care and get an assessment.
All VA Medical Centers provide PTSD care, as well as many VA clinics.Some VA's have programs specializing in PTSD treatment. Use the VA PTSD Program Locator to find a PTSD program.
If you are a war Veteran, find a Vet Center to help with the transition from military to civilian life.