18 Sep
United States Wars, News and Casualties

In the Vietnam era, stories like this and television reporting on the war contributed to the end of the Vietnam War in a time frame of much less than 17 years.
As deployment of the last 17 years only came to a sub set of young people, and TV and news rarely covered the searing violence of war, eschewing such content for minor content (Kardashians, Tweets, outrageous behavior), the daily violence and futility went "off stage".
One is invited to read the daily post, "United States Wars, News and Casualties" and then watch the daily news on the U.S. TV Media.

The absence of U.S. War News is atrocious.
We need this daily report of our wars in our face………..Daily.
The McGlynn


Damn The War Criminals,Bush,Cheney,Rice,Rumsfeld, Wolfowitz, Powell and Blair from England.
How many Iraqis have died as a result of the invasion 15 years ago? Some credible estimates put the number at more than one million. You can read that sentence again.
The invasion of Iraq is often spoken of in our country as a "blunder," or even a "colossal mistake." It was a crime.
Those who perpetrated it are still at large. Some of them have even been rehabilitated thanks to the horrors of a mostly amnesiac citizenry.

We condemned children to death, some after many days of writhing in pain on bloodstained mats, without pain relievers. Some died quickly, wasted by missing arms and legs, crushed heads. As the fluids ran out of their bodies, they appeared like withered, spoiled fruits. They could have lived, certainly should have lived – and laughed and danced, and run and played- but instead they were brutally murdered. Yes, murdered!
The war ended for those children, but it has never ended for survivors who carry memories of them. Likewise, the effects of the U.S. bombings continue, immeasurably and indefensibly.
The McGlynn
War News
Afghan War Pictures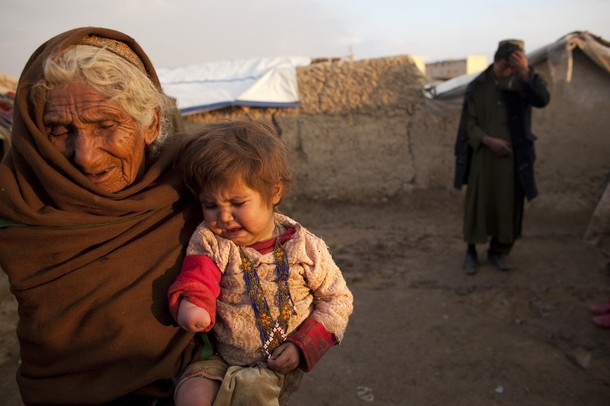 A peaceful uprising against the president of Syria seven years ago turned into a full-scale civil war. The conflict has left more than 350,000 people dead, devastated cities and drawn in other countries.
How did the Syrian war start?
Even before the conflict began, many Syrians were complaining about high unemployment, corruption and a lack of political freedom under President Bashar al-Assad, who succeeded his father Hafez after he died in 2000.
In March 2011, pro-democracy demonstrations erupted in the southern city of Deraa, inspired by the "Arab Spring" in neighbouring countries.
When the government used deadly force to crush the dissent, protests demanding the president's resignation erupted nationwide.
The unrest spread and the crackdown intensified. Opposition supporters took up arms, first to defend themselves and later to rid their areas of security forces. Mr Assad vowed to crush what he called "foreign-backed terrorism".
The violence rapidly escalated and the country descended into civil war.
How many people have died?

Image copyright

Getty Images
The Syrian Observatory for Human Rights a UK-based monitoring group with a network of sources on the ground, had documented the deaths of 364,371 people by August 2018, including 110,613 civilians.
The figure did not include 56,900 people who it said were missing and presumed dead. The group also estimated 100,000 deaths had not been documented.
Russian defence ministry says Israeli pilots put aircraft in path of Syrian air defence systems in a 'deliberate provocation'
A Russian military aircraft with 15 people onboard has been shot down by Syrian anti-aircraft defences, the Russian defence ministry has said.
The ministry blamed Israel's "irresponsible actions" for the incident, however, saying Israeli pilots put the aircraft in the path of Syrian air defence systems in a "deliberate provocation".
A search for the Russian Il-20 was initiated after contact was lost about 35km off the coast of Syria at about 11pm local time (2000 GMT) on Monday.
In a statement, a Russian military spokesman said that Israeli F-16 pilots were using the Russian plane as cover while carrying out missile strikes against targets in Syria's Latakia province and put it in the line of fire from Syrian anti-aircraft batteries.
BEIRUT (Reuters) – The Syrian conflict has turned toward the northwestern Idlib region, where government preparations for a Russian-backed offensive have sparked a concerted Turkish diplomatic bid to prevent an attack.
A major assault in Idlib, home to some three million people, could be more deadly and destructive than any other in a war that has killed hundreds of thousands of people since 2011. The U.N. is warning of a humanitarian catastrophe.
It could also prove the most challenging campaign yet for Assad: Turkey has forces on the ground in Idlib, where the rebels are heavily armed and include highly motivated jihadists.
WHO CONTROLS IDLIB?
Idlib is held by an array of rebels. The most powerful is Tahrir al-Sham, an amalgamation of Islamist groups dominated by the former Nusra Front – an al Qaeda affiliate until 2016.
There are other Islamists and groups fighting under the Free Syrian Army banner. With Turkish backing, they are now gathered under "the National Front for Liberation".
BEIRUT (AP) — They dug trenches around towns, reinforced caves for cover and put up sand bags around their positions. They issued calls to arms, urging young men to join in the defense of Idlib, the Syrian province where opposition fighters expect to make their last stand against Russian- and Iranian-backed government troops they have fought for years.
This time, it's "surrender or die."
As the decisive stand for their last stronghold looms, this motley crew of tens of thousands of opposition fighters, including some of the world's most radical groups, is looking for ways to salvage whatever is possible of an armed rebellion that at one point in the seven-year conflict controlled more than half of the country.
In its last chapter, just as it has throughout the long, bloody war, the Syrian rebellion's fate lies in foreign hands. This time, the splintered and diverse rebels have only Turkey.
"The whole world gave up on us, but Turkey will not," said Capt. Naji al-Mustafa, spokesman for the Turkish-backed umbrella group known as the National Front for Liberation.
Idlib, with its 3 million residents and more than 60,000 fighters, is Turkey's burden to bear.
Ankara has appealed to Russia and Iran, its uneasy negotiating partners, for a diplomatic resolution to the ticking bomb. At the same time, it has sent reinforcements of its troops ringing Idlib, a move designed to ward off a ground assault, at least for now.
KABUL, Afghanistan — An Afghan official says at least nine members of the local police force were killed when another policeman opened fire and shot them at a checkpoint in northern Balkh province, the latest in so-called "insider" attacks in Afghanistan.
Mohammadudin Khanjer, a police official in the district of Char Boldak, says one policeman was wounded and three others were missing after the late Monday shooting.
Khanjer says the attacker was a policeman from another checkpoint in the same district who fled the scene, apparently to join the Taliban. He says the shooter also seized all weapons from the checkpoint.
The Taliban haven't comment on the attack in Char Boldak but insurgents are active in the district and often attack Afghan security forces.
HERAT, Afghanistan — Up to 17 members of the Afghan security forces were killed on Sunday in Farah province on the border with Iran, according to officials in the region, where the Taliban have been pressuring government forces for months.
Officials said the casualties occurred in different incidents late on Sunday night as insurgents kept up attacks on security checkpoints in vulnerable districts.
Mohibullah Mohib, a spokesman for the provincial governor, said Taliban fighters attacked security forces in Pusht-e Rod district, in the west of the province, killing five police.
However a member of the local provincial council, Fareed Bakhtawar, said 10 police were killed in Pusht-e Rod, while another seven soldiers were killed in the district of Bala Boluk, where the insurgents have tightened their grip this year……….Farah province, a remote desert area of smuggling routes and uncontrolled borders, has seen constant fighting this year and in May, the insurgents even briefly overran the provincial capital before being driven back with the aid of U.S. forces.
By Khaama Press on 18 Sep 2018 12:51pm
At least 47 militants were killed or wounded during the separate operations conducted by the Afghan and U.S. forces in Khost and Maidan Wardak provinces.
The 203rd Thunder Corps of the Afghan Military in the Southeast in a statement said at least 30 militants were killed and 8 others were wounded during the operations and airstrikes in Kohna Dara, Khumar, and Salman Fars areas of Jalrez district.
The statement further added that a Dshk heavy machine gun and two Humvee armored personnel carriers seized by the militants were also destroyed during the operations.
In the meantime, the U.S. forces carried out airstrikes in Sparakai area of Nader Shah Kot district in southeastern Khost province, leaving at least four militants dead.
According to 203rd Thunder Corps, a vehicle was also destroyed during the airstrike while the Afghan forces killed a militant and wounded another one in Sabaro district of the province.
By Khaama Press on 18 Sep 2018 11:30am .
The Afghan Intelligence, National Directorate of Security (NDS), says a group of at least 26 ISIS militants have been arrested for planning attacks mourners during the Ashura Day.
A source privy of the development has said the militants have been arrested during separate operations in Kabul city.
The source further added that the leader of the group identified as Abdullah son of Sultan Shah has also been arrested by the NDS forces.
The anti-government armed militant and terrorist groups including loyalists of the Islamic State of Iraq and Syria (ISIS) terrorist group have not commented in this regard so far.
This comes as ISIS militants have carried out numerous attacks in capital Kabul during the recent months, particularly targeting the civilian targets in West of Kabul city.
At least 26 people were killed and more than 90 others were wounded in a coordinated suicide attack and car bomb explosion near a wrestling club in Dasht Barchi area of Kabul city nearly two weeks ago.
War Casualties By Name – Search by Name:
Recent Casualties:

Color Denotes Today's Confirmation
The Department of Defense announced today the death of a soldier who was supporting Operation Freedom's Sentinel.
Command Sgt. Maj. Timothy A. Bolyard, 42, from Thornton, West Virginia, died Sept. 3, 2018, of wounds sustained from small arms fire in Logar Province, Afghanistan. The incident is under investigation.
Bolyard was assigned to 3rd Squadron, 1st Security Force Assistance Brigade, Fort Benning, Georgia.

The Department of Defense announced today the death of a soldier who was supporting Operation Inherent Resolve.
Chief Warrant Officer 3 Taylor J. Galvin, 34, from Spokane, Washington, died Aug. 20, 2018, in Baghdad, Iraq, as a result of injuries sustained when his helicopter crashed in Sinjar, Ninevah Province, Iraq. The incident is under investigation.
Galvin was assigned to the 1st Battalion, 160th Special Operations Aviation Regiment (SOAR), Fort Campbell, Kentucky.
Care for Veterans:
PTSD: National Center for PTSDPTSD Care for Veterans, Military, and FamiliesSee Help for Veterans with PTSD to learn how to enroll for VA health care and get an assessment.
All VA Medical Centers provide PTSD care, as well as many VA clinics.Some VA's have programs specializing in PTSD treatment. Use the VA PTSD Program Locator to find a PTSD program.
If you are a war Veteran, find a Vet Center to help with the transition from military to civilian life.