19 Sep
United States Wars, News and Casualties

In the Vietnam era, stories like this and television reporting on the war contributed to the end of the Vietnam War in a time frame of much less than 17 years.
As deployment of the last 17 years only came to a sub set of young people, and TV and news rarely covered the searing violence of war, eschewing such content for minor content (Kardashians, Tweets, outrageous behavior), the daily violence and futility went "off stage".
One is invited to read the daily post, "United States Wars, News and Casualties" and then watch the daily news on the U.S. TV Media.

The absence of U.S. War News is atrocious.
We need this daily report of our wars in our face………..Daily.
The McGlynn


Damn The War Criminals,Bush,Cheney,Rice,Rumsfeld, Wolfowitz, Powell and Blair from England.
How many Iraqis have died as a result of the invasion 15 years ago? Some credible estimates put the number at more than one million. You can read that sentence again.
The invasion of Iraq is often spoken of in our country as a "blunder," or even a "colossal mistake." It was a crime.
Those who perpetrated it are still at large. Some of them have even been rehabilitated thanks to the horrors of a mostly amnesiac citizenry.

We condemned children to death, some after many days of writhing in pain on bloodstained mats, without pain relievers. Some died quickly, wasted by missing arms and legs, crushed heads. As the fluids ran out of their bodies, they appeared like withered, spoiled fruits. They could have lived, certainly should have lived – and laughed and danced, and run and played- but instead they were brutally murdered. Yes, murdered!
The war ended for those children, but it has never ended for survivors who carry memories of them. Likewise, the effects of the U.S. bombings continue, immeasurably and indefensibly.
The McGlynn
War News
Conditions in war-torn nation could 'cause starvation on an unprecedented scale,' Save the Children warns.
Save the Children has warned the war risks 'killing an entire generation of Yemen's children' [Ali Ashwal/Save the Children]
More than five million children are in serious danger of dying from starvation in Yemen, as the ongoing war has caused food and fuel prices to soar, Save the Children has warned.
The UK-based charity said on Wednesday that any disruption to Hodeidah port, the entry point for the bulk of Yemen's commercial imports and aid supplies, could kill "an entire generation of Yemeni children".
Hodeidah has been the scene of fierce fighting in recent weeks, as Houthi rebels, who control the city, battle forces loyal to exiled President Abd-Rabbu Mansour Hadi.
Saudi Arabia and the United Arab Emirates launched a large-scale operation to retake the strategic seaport on June 13, and see Hodeidah as the main entry point of weapons for the Houthis.
The alliance has accused their regional rival Iran of sending missiles to the rebels, a charge Tehran has denied.
"This war risks killing an entire generation of Yemen's children who face multiple threats, from bombs to hunger to preventable diseases like cholera," said Helle Thorning-Schmidt, the CEO of Save the Children.
"In one hospital I visited in north Yemen, the babies were too weak to cry, their bodies exhausted by hunger.
"Millions of children don't know when or if their next meal will come," she added.
According to the NGO, more than two-thirds of Yemen's population, 64.5 percent of all Yemenis, don't know where their next meal will come from.
Save the Children warns of 'starvation on an unprecedented scale' as conflict disrupts food supplies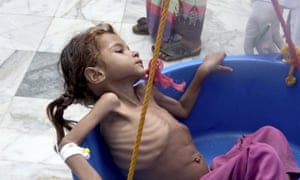 A severely malnourished girl is weighed at the Aslam health center in Hajjah in Yemen. Photograph: Hammadi Issa/AP
More than five million children are at risk of famine in Yemen as the ongoing war causes food and fuel prices to soar across the country, charity Save the Children has warned.
Disruption to supplies coming through the embattled Red Sea port of Hodeida could "cause starvation on an unprecedented scale", the British-based NGO said in a new report.
Save the Children said an extra one million children now risk falling into famine as prices of food and transportation rise, bringing the total to 5.2 million.
Any type of closure at the port "would put the lives of hundreds of thousands of children in immediate danger while pushing millions more into famine", it added…………….Helle Thorning-Schmidt, CEO of Save the Children International, said: "Millions of children don't know when or if their next meal will come. In one hospital I visited in north Yemen, the babies were too weak to cry, their bodies exhausted by hunger.
"This war risks killing an entire generation of Yemen's children who face multiple threats, from bombs to hunger to preventable diseases like cholera," she added.
Surprise initiative welcome respite for Syrian opposition and people of the province
Relieved locals and rebel groups in Idlib have been trying to unpick details of an eleventh-hour truce that excludes much of the northern Syrian province from a Russian-led attack for at least one month and sets up a buffer zone intended to shield 3 million civilians.
The surprise initiative, brokered by Turkey and Russia on Monday, assuages fears of an immediate widespread humanitarian catastrophe and sets the scene for a swathe of northern Syria to remain out of central government control indefinitely.
The arrangement strengthens the role of Turkish-backed rebels in the northern province, and is likely to lead hardline groups to make a tactical retreat to southern Idlib where, for now, they will remain out of the sights of Russian and Syrian guns.
ANKARA (Reuters) – The Russian-Turkish agreement to avert a Syrian government offensive against Idlib hinges on the response of jihadist fighters in the region and could unravel quickly if Moscow and Ankara cannot jointly impose their plan on the Islamist groups.
Turkey, desperate to avoid all-out conflict and a humanitarian crisis on its southern border, forged the surprise deal with Russia on Monday to set up a demilitarized zone around Idlib, staving off an imminent attack.
Ankara has for months called for a targeted campaign against the jihadists who control parts of Idlib, instead of a broad offensive against a region which is also home to 3 million civilians and tens of thousands of Turkey-backed rebels.
The deal announced in Sochi after talks between Russia's President Vladimir Putin, a strong backer of the Damascus government, and President Tayyip Erdogan gives Turkey the opportunity to put that proposal into effect.
However time is short – the two leaders want to set up the demilitarized zone by mid-October – and it is not clear how they will enforce their plan to disarm and remove hardline Islamist insurgents.
ANKARA/AMMAN (Reuters) – Turkey will send more troops into Syria's Idlib province after striking a deal with Russia that has averted a government offensive and delighted rebels who said it kept the area out of President Bashar al-Assad's hands.
The deal unveiled on Monday by Russian President Vladimir Putin, Assad's most powerful ally, and Turkish President Tayyip Erdogan will create a demilitarized zone from which "radical" rebels must withdraw by the middle of next month.
Damascus also welcomed the agreement but vowed to continue its efforts to recover "every inch" of Syria. Iran, Assad's other main ally, said that "responsible diplomacy" had averted a war in Idlib "with a firm commitment to fight extremist terror".
The agreement halted a threatened Syrian government offensive. The United Nations had warned such an attack would create a humanitarian catastrophe in the Idlib region, home to about 3 million people.
The Idlib region and adjoining territory north of Aleppo represent the opposition's last big foothold in Syria. Assad has recovered most of the areas once held by the rebels, with decisive military support from Iran and Russia.
CAIRO (AP) — An international rights group on Tuesday decried the prosecution of 24 Yemeni Bahais, including women and a teenager, by a Houthi rebel court on espionage charges.
Lynn Maalouf, Amnesty International's Middle East director of research, said the group fears the Bahais could receive the death penalty amid "flagrantly unfair proceedings."
The trial opened on Saturday and has been adjourned until Sept. 29. A lawyer following the case said the process was swift and most of the defendants were tried in absentia because only five were in custody. He spoke on condition of anonymity because of fear of retribution.
Iran banned the Baha'i religion, which was founded in 1844 by a Persian nobleman considered a prophet by followers.
The Iranian-backed Shiite Houthis have occupied northern Yemen since 2014, after which the legitimate government fled the country and sought military intervention by a Saudi Arabian-led coalition. Houthis have waged an all-out campaign against all political and religious opponents and held thousands in detention, where torture is rampant.
The Houthi group's leader has targeted Bahais in public speeches describing them as "satanic" and several Bahais have been detained, tortured and held incommunicado, according to the community's U.N. representative.
A top figure was sentenced to death over charges of collaboration with Israel. In 2016, over 60 women, men and children participating in an educational gathering organized by Bahais were arrested as part of a mass crackdown on the religious community.
By Khaama Press on 19 Sep 2018 11:19am
President Mohammad Ashraf Ghani has issued new instructions to the National Directorate of Security and to Kabul Police for the improvement of security in West of Kabul city.
The Office of the President, ARG Palace, in a statement said President Ghani has instructed the Kabul Police Chief to take necessary steps for the implementation of reforms in the Police Stations of Kabul city and recruit qualified people.
The Kabul Police Chief was also instructed to prepare the request for the construction of police stations in the 13th and 18th police districts of the city and the relevant institutions were instructed to start work on the construction of the new stations.
By Khaama Press on 18 Sep 2018 12:51pm .
At least 47 militants were killed or wounded during the separate operations conducted by the Afghan and U.S. forces in Khost and Maidan Wardak provinces.
The 203rd Thunder Corps of the Afghan Military in the Southeast in a statement said at least 30 militants were killed and 8 others were wounded during the operations and airstrikes in Kohna Dara, Khumar, and Salman Fars areas of Jalrez district.
The statement further added that a Dshk heavy machine gun and two Humvee armored personnel carriers seized by the militants were also destroyed during the operations.
In the meantime, the U.S. forces carried out airstrikes in Sparakai area of Nader Shah Kot district in southeastern Khost province, leaving at least four militants dead.
War Casualties By Name – Search by Name:
Recent Casualties:

Color

Denotes Today's Confirmation
The Department of Defense announced today the death of a soldier who was supporting Operation Freedom's Sentinel.
Command Sgt. Maj. Timothy A. Bolyard, 42, from Thornton, West Virginia, died Sept. 3, 2018, of wounds sustained from small arms fire in Logar Province, Afghanistan. The incident is under investigation.
Bolyard was assigned to 3rd Squadron, 1st Security Force Assistance Brigade, Fort Benning, Georgia.

The Department of Defense announced today the death of a soldier who was supporting Operation Inherent Resolve.
Chief Warrant Officer 3 Taylor J. Galvin, 34, from Spokane, Washington, died Aug. 20, 2018, in Baghdad, Iraq, as a result of injuries sustained when his helicopter crashed in Sinjar, Ninevah Province, Iraq. The incident is under investigation.
Galvin was assigned to the 1st Battalion, 160th Special Operations Aviation Regiment (SOAR), Fort Campbell, Kentucky.
Care for Veterans:
PTSD: National Center for PTSDPTSD Care for Veterans, Military, and FamiliesSee Help for Veterans with PTSD to learn how to enroll for VA health care and get an assessment.
All VA Medical Centers provide PTSD care, as well as many VA clinics.Some VA's have programs specializing in PTSD treatment. Use the VA PTSD Program Locator to find a PTSD program.
If you are a war Veteran, find a Vet Center to help with the transition from military to civilian life.