25 Sep
United States Wars, News and Casualties

In the Vietnam era, stories like this and television reporting on the war contributed to the end of the Vietnam War in a time frame of much less than 17 years.
As deployment of the last 17 years only came to a sub set of young people, and TV and news rarely covered the searing violence of war, eschewing such content for minor content (Kardashians, Tweets, outrageous behavior), the daily violence and futility went "off stage".
One is invited to read the daily post, "United States Wars, News and Casualties" and then watch the daily news on the U.S. TV Media.

The absence of U.S. War News is atrocious.
We need this daily report of our wars in our face………..Daily.
The McGlynn


Damn
The WarCriminals,Bush,Cheney,Rice,Rumsfeld, Wolfowitz, Powell and Blair from England.
How many Iraqis have died as a result of the invasion 15 years ago? Some credible estimates put the number at more than one million. You can read that sentence again.
The invasion of Iraq is often spoken of in our country as a "blunder," or even a "colossal mistake." It was a crime.
Those who perpetrated it are still at large. Some of them have even been rehabilitated thanks to the horrors of a mostly amnesiac citizenry.

We condemned children to death, some after many days of writhing in pain on bloodstained mats, without pain relievers. Some died quickly, wasted by missing arms and legs, crushed heads. As the fluids ran out of their bodies, they appeared like withered, spoiled fruits. They could have lived, certainly should have lived – and laughed and danced, and run and played- but instead they were brutally murdered. Yes, murdered!
The war ended for those children, but it has never ended for survivors who carry memories of them. Likewise, the effects of the U.S. bombings continue, immeasurably and indefensibly.
The McGlynn
War News
Photos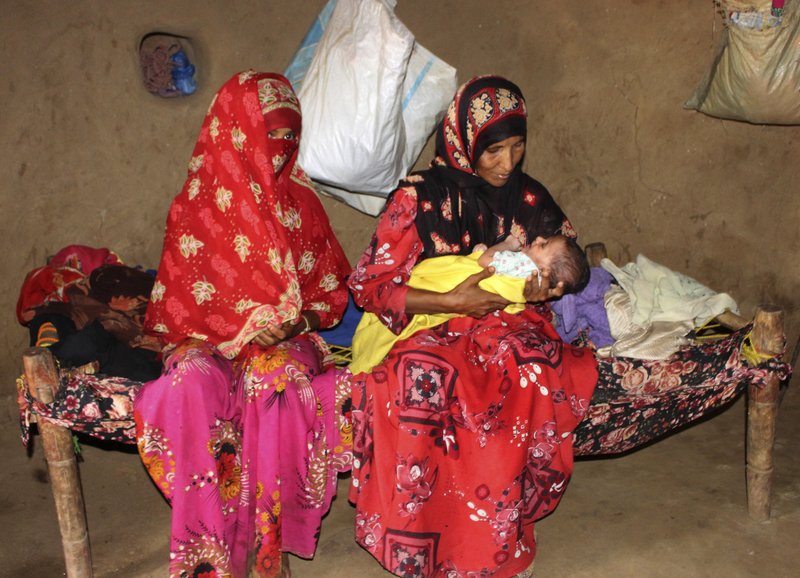 Yemen: Amna Ali, right, mother of 3-year-old Zaifa Shouib, who was the fifth child known to have died in the district this year of malnutrition-related illness, sits in her hut holding a baby.

Section 60 on May 25, 2018, the Friday before Memorial Day.

Credit

Credit

Philip Montgomery for The New York Times
CAIRO (AP) — The United Nations and individual donors are rushing food to a desperate corner of northern Yemen where starving villagers were found to be living off leaves. Aid officials are searching for ways to ensure aid reaches those in need amid alarm that the country's hunger crisis is worsening beyond the relief effort's already strained capabilities.

Shouib Sakaf, the father of 3-year-old Zaifa Shouib who died of severe acute malnutrition, prays in front of her grave.
The aid push was directed at a district called Aslam where The Associated Press recently found some families eating leaves, partially due to local authorities manipulating aid distribution and resisting requests to set up biometric registration for those receiving assistance.
In a sign of the difficulties in tracking Yemen's near-famine, conditions appeared to be as bad or worse in a neighboring district, Khayran al-Maharraq.
On a recent day, Shouib Sakaf buried his 3-year-old daughter, Zaifa, the fifth child known to have died in the district this year from malnutrition-related illness. Sakaf prayed over a grave marked by piles of stones and tangled, dry branches from the surrounding mountain shrubs.
Zaifa was as old as Yemen's civil war, waged between rebels known as Houthis and a coalition led by Saudi Arabia. Born in the war's early days, Zaifa succumbed to the humanitarian crisis it has caused — widespread hunger, the collapse of the economy and the breakdown of the health system. In her final weeks, she wasted away, her ribs protruding, her face and feet swollen. At a local medical facility which did not have enough supplies, her father was told she had to be taken to a hospital further away to treat kidney complications. He had no way to pay for transportation there.
"Death came at 2:30 p.m.," Sakaf said with a deep sigh. "Then we left."
U.N. humanitarian chief Mark Lowcock issued a dire warning to the Security Council on Friday, ahead of the world body's General Assembly, saying, "We are losing the fight against famine" in Yemen.
"We may now be approaching a tipping point, beyond which it will be impossible to prevent massive loss of life as a result of widespread famine across the country," he said. "We are already seeing pockets of famine-like conditions, including cases where people are eating leaves."
Across Yemen, around 2.9 million women and children are acutely malnourished; another 400,000 children are fighting for their lives, in the same condition as Zaifa was. This year, the U.N. and humanitarian groups provided assistance to more than 8 million of the most vulnerable Yemenis who don't know when their next meal will come. That is a dramatic expansion from 2017, when food was reaching 3 million people a month in the country of nearly 29 million.
A funeral ceremony in Ahvaz, Iran, on Monday for the victims of the attack on a military parade.
Credit

Credit

Atta Kenare/Agence France-Presse — Getty Images
BEIRUT, Lebanon — Soldiers in dress uniform lay prone in the street. Others, apparently heavily armed, faced the assailants, then threw themselves to the ground without firing back. Some just ran for their lives.
Captured on video and widely shared on social media, the attack over the weekend on an Islamic Revolutionary Guards Corps parade in Iran was a humiliating blow. A local Arab separatist group claimed responsibility, but Iran said the perpetrators were backed by Saudi Arabia, the United Arab Emirates and the United States.
On Monday, Iranian officials vowed revenge against all three countries and Israel.
The attack has escalated tensions between Iran and the Persian Gulf states and their American allies. The Trump White House has taken a hard line against Iran, withdrawing from a nuclear agreement and imposing sanctions that have damaged Iran's flailing economy.
Saudi Arabia and the United Arab Emirates have clashed with Iran over Yemen, Qatar and Syria. The conflicts are expected to take center stage at the United Nations General Assembly this week.
The attack on Saturday in Ahvaz, Iran, killed at least 25 people, including some children and other civilians who had been among the spectators, according to Iran's state news agency, IRNA, and a dozen members of the elite Revolutionary Guards.
Jean-Yves Le Drian issued warning at start of general assembly week as John Bolton vowed not to pull US troops before Iranians
France has warned Syria faces a future of perpetual war unless Russia agrees to turn the one-month ceasefire in Idlib into a wider UN-endorsed political agreement.
The French foreign minister, Jean-Yves Le Drian, issued the warning at the start of a week of summit meetings at the UN general assembly, where the US national security adviser, John Bolton, also raised the prospect of an endless, grueling conflict, vowing not to pulling US forces out of Syria before Iranian troops and their allies.
"We're not going to leave as long as Iranian troops are outside Iranian borders and that includes Iranian proxies and militias," Bolton said in a striking departure from earlier public pledges by Donald Trump that the 2,000 US troops in Syria would leave "very soon" once the Islamic State was completely defeated there.
Bolton also warned Russia about the deployment of S-300 anti-aircraft missiles in Syria which he called "a major mistake" and a "significant escalation". The US secretary of state, Mike Pompeo, said he would raise the matter when he met his Russian counterpart, Sergey Lavrov, in New York this week.
A widely expected major Syrian government offensive against the last major rebel enclave of Idlib was been put on hold following a deal between Russian and Turkish leaders last week that would create a demilitarised zone along the frontline, and the departure of extremist rebel fighters.
LONDON (Reuters) – The top adviser to Iran's Supreme Leader Ayatollah Ali Khamenei said on Tuesday that an offer by Washington to meet with Iranian leaders including Khamenei would never be accepted.
Asked about an offers made by U.S. President Donald Trump and Secretary of State Mike Pompeo to meet Iranian leaders, Ali Akbar Velayati was quoted as saying by news agency IRNA: "Trump's and Pompeo's dream would never come to reality."
Pompeo made his offer on Fox News on Sunday.
Russia is to send new anti-aircraft missiles to Syria, a week after Syrian forces accidentally shot down a Russian aircraft during an Israeli air strike.
The S-300 missile defence system will be delivered within two weeks.
The Russian reconnaissance plane was downed last Monday after Israeli jets attacked targets in Latakia province.
Israel, which insisted Syria's military was to blame, warned that giving the S-300 to "irresponsible actors" would make the region more dangerous.
US national security adviser John Bolton said the decision would cause a "significant escalation" in Syria's civil war and urged Russia to reconsider.
Russia has an airbase in Syria from which it carries out air strikes in support of President Bashar al-Assad's forces.
Russian Defence Minister Sergei Shoigu said the delivery of the S-300 system had been suspended in 2013 following a request from Israel but added: "Now, the situation has changed. And it's not our fault."
UNITED NATIONS (AP) — As world leaders talk peace at the U.N. this week, the people of Idlib cling to fragile hope that diplomacy will avert a blowout battle over Syria's last rebel stronghold.
Yet diplomacy hasn't served Syria well so far. Those same world powers trying to negotiate a peaceful outcome in Idlib have been using Syria as a proxy battleground for years.
Here's a look at the conflicting objectives of countries near and far with a stake in Syria's future, as Idlib holds its breath and the seven-year civil war approaches a likely end.
WHAT RUSSIA WANTS
When it comes to Syria's future, Russia is in the driver's seat.
Russian forces turned the tide in the international fight against Islamic State extremists — and then Moscow clinched victory for Syrian President Bashar Assad by sending warplanes, generals and alleged mercenaries to cripple and dissipate the Syrian rebellion.
After reshaping the Syrian battlefield, Russia is now trying to design the peace. Its unlikely alliance with Turkey and Iran has sidelined or subsumed parallel Western peace efforts.
And last week, Russia struck a bold deal with Turkey that averts a battle for Idlib — at least for now. Russian Foreign Minister Sergey Lavrov will seek broader backing for the accord at the U.N. General Assembly this week, and try to drum up Western money for Syria's costly reconstruction.
Syria's Cold War patron, Russia wants to maintain influence over Damascus once the war winds down, to keep a strategic foothold in the Mideast and a stable client for Russian weapons and commodities — and to warn the U.S. and its allies against future interference. Russia's announcement Monday that it will supply Syria's government with sophisticated S-300 air defense systems sent that message loud and clear.
CAIRO (AP) — An international watchdog is accusing Yemen's Shiite rebels, known as Houthis, of committing "serious abuses" — including "taking hostages, torture and enforced disappearances" — against people they hold in detention.
Human Rights Watch said Tuesday it documented "16 cases in which Houthi authorities held people unlawfully, in large part to extort money from relatives or to exchange them for people held by opposing forces."
It urges the rebels to "stop taking hostages, free everyone arbitrarily detained, end torture and enforced disappearances, and punish those responsible for abuses."
Sarah Leah Whitson of HRW says some Houthi officials "are exploiting their power to turn a profit through detention, torture, and murder."
Yemen's civil war, which started in March 2015, pits Iran-backed Houthis against a Saudi-led coalition backing the country's internationally recognized government.
By Khaama Press on 25 Sep 2018 2:03pm
The United Nations Assistance Mission in Afghanistan (UNAMA) has expressed concerns about the rising number of civilian casualties from airstrikes this year in Afghanistan, specifically pointing towards with credible reports of the latest incident occurring late Saturday in Kapisa province.
UNAMA in a statement said it has received multiple, credible allegations that on 22 September, aerial ordnance impacted the home of a teacher in the Budrab area of Tagab district, Kapisa province, killing nine civilians, including four children and three women, with several others injured.
The statement further added that all the victims from the attack were from the same family, including grandparents and children aged between two and twelve. Five of the six other family members who were injured when their home was destroyed were women and young children.
According to UNAMA, the incident took place during operations conducted by Pro-Government Forces against Taliban in the area. It was not immediately clear whether the strike was carried out by international military forces or by the Afghan Air Force
By Khaama Press on 25 Sep 2018 10:48am
The Afghan forces have rescued eight soldiers from the Taliban captivity during an operation conducted in central Maidan Wardak province of Afghanistan.
The 203rd Thunder Corps of the Afghan Military in the Southeast in a statement said the operations were conducted in the vicinity of Daid Merdad district.
The statement further added at least 65 militants were killed and at least 15 others sustained injuries during the operations.
The Afghan forces also arrested three militants during the same operations, the 203rd Thunder Corps added in its statement.
In the meantime, the Thunder Corps says at least eight Afghan soldiers who were kept as hostages by the Taliban militants were also rescued during the operations.
The anti-government armed militant groups including Taliban have not commented regarding the report so far.
War Casualties By Name – Search by Name:
Recent Casualties:

Color Denotes Today's Confirmation
The Department of Defense announced today the death of a soldier who was supporting Operation Freedom's Sentinel.
Command Sgt. Maj. Timothy A. Bolyard, 42, from Thornton, West Virginia, died Sept. 3, 2018, of wounds sustained from small arms fire in Logar Province, Afghanistan. The incident is under investigation.
Bolyard was assigned to 3rd Squadron, 1st Security Force Assistance Brigade, Fort Benning, Georgia.
Care for Veterans:
PTSD: National Center for PTSDPTSD Care for Veterans, Military, and FamiliesSee Help for Veterans with PTSD to learn how to enroll for VA health care and get an assessment.
All VA Medical Centers provide PTSD care, as well as many VA clinics.Some VA's have programs specializing in PTSD treatment. Use the VA PTSD Program Locator to find a PTSD program.
If you are a war Veteran, find a Vet Center to help with the transition from military to civilian life.