26 Sep
United States Wars, News and Casualties
A Walk Through Arlington
Come, walk with me past the white stones
Through ancient fields of the fallen
Along paths of dreams not seen
Through aisles of solemn stillness
The oaks and elms not heard
To acres not visited by the tours
Come, walk with me
Past wars and our discontents
We will look for fresh earth
Where a canopy is ready
Where fresh wreaths adorn the new white
Where an anthem and taps sound
Come, walk with me
Past the innocence of youth
The bounty of life never seen
The saga of age denied
Borne by brothers to rest
We will see the past
Come, walk with me
The moment is over the next rise
The white of canopy
Green shoveled aside for the earth
Upon approach
Curfew calls a mother and daughter
Come, walk with me
Stones' whiteness sears the eyes
A nation's history cries
Pangs of conscience overwhelm
We are among the young
Born to flower we failed
Such a large bounty to waste
Come, walk with me
One of eighteen years rests
Beloved daughter, Sam
No child will bound into her lap
No child will grace her knee
Her art of mind and heart lost
No warm hearth of ages of love
Come, walk with me
Through alleys of white
Row upon row of young
Never to return to their streets of warmth
Nor to grace a porch
And shout a greeting to the village
Their virtues denied by war
Come, walk with me
Oh Sam, I hurt for you
For denying you your destiny
The bounty of life and saga of age
If only my voice could provoke your silence
We could meet the dawn
And grasp the moon
One would grace your knee with a little one
Give warmth to your mother
Come, walk with me
Our view will turn to and over the river
Where a little tyrant rules
Rising through lies, fear, slaughter and blood
To the applause of a nation
And that of a listening congress
Silence triumphs its halls
Come, walk with me
Let us go outside …..and march
Come, walk with me
For Sam and the young resting….in silence
The McGlynn
October, 2007
Damn
The WarCriminals,Bush,Cheney,Rice,Rumsfeld, Wolfowitz, Powell and Blair from England.
How many Iraqis have died as a result of the invasion 15 years ago? Some credible estimates put the number at more than one million. You can read that sentence again.
The invasion of Iraq is often spoken of in our country as a "blunder," or even a "colossal mistake." It was a crime.
Those who perpetrated it are still at large. Some of them have even been rehabilitated thanks to the horrors of a mostly amnesiac citizenry.

We condemned children to death, some after many days of writhing in pain on bloodstained mats, without pain relievers. Some died quickly, wasted by missing arms and legs, crushed heads. As the fluids ran out of their bodies, they appeared like withered, spoiled fruits. They could have lived, certainly should have lived – and laughed and danced, and run and played- but instead they were brutally murdered. Yes, murdered!

The war ended for those children, but it has never ended for survivors who carry memories of them. Likewise, the effects of the U.S. bombings continue, immeasurably and indefensibly.
The McGlynn
War News
In a red London bus covered with images of 'disappeared' and detained Syrians, Families for Freedom has reached Berlin – a city whose traumatic past has parallels with Syria's present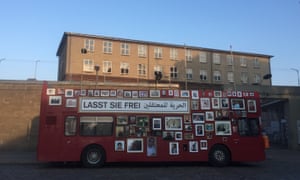 Families for Freedom's red London bus, parked in front of Hohenschönhausen. Photograph: Holly Young

Monika Schneider, left, imprisoned in 1983 on suspicion of trying to flee to the west, and Fadwa Mahmoud, founder of Families for Freedom. Photograph: Gedenkstätte Berlin-Hohenschönhausen
A

gainst the concrete walls of Hohenschönhausen, the former Stasi prison in east Berlin, there is a striking flash of colour: a red London bus. The vehicle, parked in front of the prison's iron gates, is covered with dozens of framed photographs: family snapshots of holidays, dads with children on their laps, a little girl in pigtails. On its sides a banner says in German and Arabic: "Release them".
The bus belongs to Families for Freedom, a women-led movement of Syrian families, and the photos are of their relatives – just a handful of the tens of thousands of Syrians currently in detention or who have disappeared since 2011. The families are demanding the release of those detained and the bus has become a symbol of their cause, travelling through London, Paris and now Berlin to make these absences visible.
The disappearances of tens of thousands of Syrians is not being talked about nearly enough

Anna Fleischer
"These cities value freedom and democracy," says Fadwa Mahmoud, 64, one of the group's founders. "And that is what these young men and women who have been illegally detained or disappeared were struggling for."
JERUSALEM (Reuters) – Prime Minister Benjamin Netanyahu said on Tuesday Israel would continue its military operations in Syria, after Russia announced it would supply an advanced anti-aircraft system to its Syrian ally.

"We will continue to act to prevent Iranian military entrenchment in Syria and we will continue the military coordination between the IDF (Israel Defence Forces) and the Russian army," Netanyahu told reporters before boarding a flight to New York, where he will address the U.N. General Assembly.
Russia said on Monday it would supply an S-300 surface-to-air missile system to Syria in two weeks despite strong Israeli objections, a week after Moscow accused Israel of indirectly causing the downing of a Russian military jet in Syria.
Russia, which fights in Syria to support the government against rebels and militants, has said Syrian anti-aircraft batteries shot its IL-20 surveillance plane down by mistake shortly after Israeli jets hit a nearby target.
Moscow accused Israel of creating dangerous conditions that caused the incident.
Israel, which has carried out air strikes in Syria many times during the civil war, said after the incident it would work to improve "deconfliction" of its missions with Russian forces, but would not halt them.
BEIRUT (AP) — A Syrian official says Israel should think carefully before attacking Syria again once it obtains the sophisticated S-300 defense system from Russia.
Deputy Foreign Minister Faisal Mekdad said late Tuesday that the S-300 should have been given to Syria long ago. He says Israel, "which is accustomed to launching many aggressions under different pretexts, will have to make accurate calculations if it thinks to attack Syria again."
Russia said Monday that it will supply Damascus with the defense system after last week's downing of a Russian plane by Syria forces responding to an Israeli airstrike.
The Russian Il-20 military reconnaissance aircraft was downed by Syrian air defenses that mistook it for an Israeli aircraft, killing all 15 people on board.
US National Security Adviser John Bolton has warned Iran's rulers that there will be "hell to pay" if they harm the US, its citizens or allies.
His comments came hours after President Donald Trump accused Iran of sowing "chaos, death and destruction" across the Middle East.
Iranian President Hassan Rouhani responded by criticising the Trump administration for its hostility.
The US recently imposed sanctions after leaving the 2015 Iran nuclear deal.
The accord, negotiated by former President Barack Obama, saw Iran limit its nuclear activities in exchange for sanctions relief.
US Secretary of State Mike Pompeo condemned the plan as "one of the most counterproductive measures imaginable".
A female human rights activist has been shot dead in the southern Iraqi city of Basra, which has seen violent anti-government protests in recent weeks.
Video posted online appears to show an unidentified man opening fire at Suad al-Ali as she gets into a car near a supermarket in the Abbasiya area.
Another man, believed to be her husband, was wounded in the attack.
Mrs Ali, who supported the protests, was head of an organisation called al-Weed al-Alaiami For Human Rights.

CAIRO — The United Arab Emirates will support United Nations proposals for new peace talks on Yemen, a senior Emiriati official said early on Wednesday after meeting with U.N. Special Envoy to Yemen Martin Griffiths on the sidelines of the United Nations General Assembly meeting in New York.
The remarks came two weeks after the collapse of peace talks for Yemen in Geneva when the Iranian-aligned Houthi movement delegation failed to show up, accusing the Saudi-led coalition fighting in Yemen of blocking them from traveling to the peace talks.
"Very productive discussions on Yemen today in NY with Special Envoy Martin Griffith. Reaffirmed our strong support for UN-led political process after Geneva setback. Will fully support UN proposals for new talks soon", United Arab Emirates Minister of State for Foreign Affairs Anwar Gargash tweeted.
KABUL, Afghanistan — The U.N. mission in Afghanistan said Wednesday that 21 civilians were killed in two separate airstrikes over the weekend.
It said in a statement that nine civilians from the same family, mostly women and children, were killed in a Saturday airstrike in the northeastern Kapisa province, in an area where Afghan forces were battling the Taliban.
Another statement cited "preliminary findings" that 12 women and children, all related, were killed in a Sunday airstrike in the eastern Maidan Wardak province, also during an Afghan military operation. "Ten of those killed were children whose ages ranged from 6 to 15," including eight girls, it said.
The U.N. said it was unclear whether the airstrikes were carried out by Afghan or NATO forces.
Afghan Defense Ministry spokesman Ghafor Ahmad Jawed said the operation in Maidan Wardak freed eight Afghan soldiers who had been abducted by the Taliban and killed 11 insurgents. He said an investigation is underway into the reports of civilian casualties.
There was no immediate comment from Afghan officials on the reported airstrike in Kapisa province.
Cdr. Grant Neeley, a spokesman for U.S. forces in Afghanistan, said "we are currently reviewing all operational, relevant and credible information regarding our operations in Wardak and Kapisa provinces, including information provided by our Afghan partners and local leaders."
Referring to civilian casualties, he said "we take more care to avoid them than anyone else, ever."
The U.N. has reported a 52 percent increase in civilian casualties from airstrikes in the first six months of this year compared to the same period in 2017. It has documented 149 deaths from airstrikes in that period and says another 204 people were wounded.
War Casualties By Name – Search by Name:
Recent Casualties:

Color Denotes Today's Confirmation
The Department of Defense announced today the death of a soldier who was supporting Operation Freedom's Sentinel.
Command Sgt. Maj. Timothy A. Bolyard, 42, from Thornton, West Virginia, died Sept. 3, 2018, of wounds sustained from small arms fire in Logar Province, Afghanistan. The incident is under investigation.
Bolyard was assigned to 3rd Squadron, 1st Security Force Assistance Brigade, Fort Benning, Georgia.
Care for Veterans:
PTSD: National Center for PTSDPTSD Care for Veterans, Military, and FamiliesSee Help for Veterans with PTSD to learn how to enroll for VA health care and get an assessment.
All VA Medical Centers provide PTSD care, as well as many VA clinics.Some VA's have programs specializing in PTSD treatment. Use the VA PTSD Program Locator to find a PTSD program.
If you are a war Veteran, find a Vet Center to help with the transition from military to civilian life.