28 Sep
United States Wars, News and Casualties
A Walk Through Arlington
Come, walk with me past the white stones
Through ancient fields of the fallen
Along paths of dreams not seen
Through aisles of solemn stillness
The oaks and elms not heard
To acres not visited by the tours
Come, walk with me
Past wars and our discontents
We will look for fresh earth
Where a canopy is ready
Where fresh wreaths adorn the new white
Where an anthem and taps sound
Come, walk with me
Past the innocence of youth
The bounty of life never seen
The saga of age denied
Borne by brothers to rest
We will see the past
Come, walk with me
The moment is over the next rise
The white of canopy
Green shoveled aside for the earth
Upon approach
Curfew calls a mother and daughter
Come, walk with me
Stones' whiteness sears the eyes
A nation's history cries
Pangs of conscience overwhelm
We are among the young
Born to flower we failed
Such a large bounty to waste
Come, walk with me
One of eighteen years rests
Beloved daughter, Sam
No child will bound into her lap
No child will grace her knee
Her art of mind and heart lost
No warm hearth of ages of love
Come, walk with me
Through alleys of white
Row upon row of young
Never to return to their streets of warmth
Nor to grace a porch
And shout a greeting to the village
Their virtues denied by war
Come, walk with me
Oh Sam, I hurt for you
For denying you your destiny
The bounty of life and saga of age
If only my voice could provoke your silence
We could meet the dawn
And grasp the moon
One would grace your knee with a little one
Give warmth to your mother
Come, walk with me
Our view will turn to and over the river
Where a little tyrant rules
Rising through lies, fear, slaughter and blood
To the applause of a nation
And that of a listening congress
Silence triumphs its halls
Come, walk with me
Let us go outside …..and march
Come, walk with me
For Sam and the young resting….in silence
The McGlynn
October, 2007

The war ended for those children, but it has never ended for survivors who carry memories of them. Likewise, the effects of the U.S. bombings continue, immeasurably and indefensibly.
Damn
The WarCriminals,Bush,Cheney,Rice,Rumsfeld, Wolfowitz, Powell and Blair from England.
How many Iraqis have died as a result of the invasion 15 years ago? Some credible estimates put the number at more than one million. You can read that sentence again.
The invasion of Iraq is often spoken of in our country as a "blunder," or even a "colossal mistake." It was a crime.
Those who perpetrated it are still at large. Some of them have even been rehabilitated thanks to the horrors of a mostly amnesiac citizenry.

We condemned children to death, some after many days of writhing in pain on bloodstained mats, without pain relievers. Some died quickly, wasted by missing arms and legs, crushed heads. As the fluids ran out of their bodies, they appeared like withered, spoiled fruits. They could have lived, certainly should have lived – and laughed and danced, and run and played- but instead they were brutally murdered. Yes, murdered!
The McGlynn
War News
Photos
Children in Yemen are acutely malnourished. Those who survive will often be stunted for the rest of their lives, physically and mentally.

Credit

Credit

Hammadi Issa/Associated Press
Yemen The three-and-a-half-year-long civil war has ravaged the country's economy [Khaled Abdullah/Reuters]

A group of young girls sits in the rubble of their school in Amran city. The school had been open for only a year before it was struck by an air attack in 2017. Two thousand children were left without education as a result. Suze van Meegen/Norwegian Refugee

Abdullah, 8, and his brother Hussein, 2, in front of their shelter in a camp for displaced people in Sana'a city. Abdullah joins his father each day as they try to eke out a living in their new surroundings. 'I spend my days collecting plastic jerry cans for water. Every morning I collect them and try to sell them,' says Abdullah. Becky Bakr Abdulla/Norwegian Refugee Council
As Yemen's brutal conflict enters its fourth year, the sound of air attacks remains the daily wake up call for many families. Attacks on homes, hospitals and schools are the new normal across the country. The violence has forced over three million people from their homes. More than 60,000 Yemenis have been killed or injured since the conflict started in 2015.
Cuts in salaries, hikes in food prices and the recent devaluation of the Yemeni currency have added to an already toxic mix that has left millions of people without the means to survive.
Recent United Nations efforts to bring conflict parties to the negotiations table and secure peace have been unsuccessful, leaving millions of people without any hope that the war will end soon.
The conflict in Yemen is not a Yemeni problem alone. Multiple nations are engaged in the war, from financing fighting factions to providing arms that enable the killings to continue. The United Kingdom, United States, France, Iran and all power players in Yemen's man-made war can use their influence to bring about an end to the violence.
WASHINGTON — More than 1,100 civilians have been killed in U.S.-led strikes against Islamic State targets in Iraq and Syria since the operation began in 2014, the U.S. military said on Thursday.
The coalition fighting Islamic State militants said in a statement that during the month of August it had determined that an additional 53 civilians had been killed unintentionally, bringing the total to at least 1,114 civilian deaths since August 2014.
The military's official tally is far below those of outside organizations. The monitoring group Airwars says at least 6,575 civilians have been killed by coalition strikes.
Twenty civilians were killed in a strike on Islamic State "fighting positions," explosives factory and a command and control center in May 2017 near Mosul, Iraq, the coalition said.
"We continue to employ thorough and deliberate targeting and strike processes to minimize the impact of our operations on civilian populations and infrastructure," the military's statement said.
The U.S.-led coalition, along with local partners, has largely cleared the militant group from Iraq and Syria but remains concerned about its resurgence.
ERBIL/SULAIMANIYA, Iraq — A year after a failed bid for independence, Iraq's Kurds will be voting again on Sunday, this time in a parliamentary election that could disrupt the delicate balance of power in their semi-autonomous region.
With opposition parties weak, the Kurdistan Democratic Party (KDP) and Patriotic Union of Kurdistan (PUK) are likely to extend their almost three decades of sharing power.
But splits within the PUK present the possibility that Masoud Barzani's KDP will take a dominant position in Kurdish politics, both in the regional capital Erbil and in the difficult formation of a federal government in Baghdad.
The contentious referendum on independence in 2017, led by Barzani, promised to set Iraq's Kurds on a path to a homeland.
Instead, a swift backlash from Baghdad dashed those prospects and diminished the region's autonomy.
Speaking on the vote's first anniversary, Barzani, who stepped down as Kurdish president in the aftermath, told thousands of flag-waving men in Erbil: "We will never give up our dignity or honor."
But Barzani – still the KDP's leader and main vote-getter – also added that "even 1,000 years of war won't solve the problem".
Even though relations with Baghdad have improved, the Kurdish region has lost territory and economic autonomy, and voter frustration is rising.
"This is the first time that I'm not voting," said Ahmed Abdullah, a 68-year-old retiree. "The two parties in power steal and lie, and that's how they stay in power. I've stopped believing anything will change."
LONDON (Reuters) – Iran's Revolutionary Guards (IRGC) told Saudi Arabia and the United Arab Emirates on Friday to respect Tehran's "red lines" or face retaliation, as the United States and its Gulf allies increase pressure on Tehran to curb its regional influence.
Iran accuses Saudi Arabia and the UAE of funding five gunmen who attacked a military parade in Iran last Saturday and killed 25 people, 12 of them members of the elite IRGC. Saudi Arabia and the UAE have denied any involvement.
"If you cross our red lines, we will surely cross yours. You know the storm the Iranian nation can create," the Fars news agency quoted Brigadier General Hossein Salami, deputy head of the Guards, as saying.
Addressing worshippers attending Friday prayers in Tehran, Salami said in a strongly-worded speech: "Stop creating plots and tensions. You are not invincible. You are sitting in a glass house and cannot tolerate the revenge of the Iranian nation… We have shown self-restraint."
Salami also told the United States to "stop supporting the terrorists or they will pay the price".
PESHAWAR, Pakistan (Reuters) – Representatives from the Taliban met an Afghan government delegation in Saudi Arabia this week to discuss security ahead of next month's parliamentary elections and a limited prisoner release, three Taliban officials said.
The meeting comes less than a month before voters are due to go to the polls on Oct. 20 to elect a new Afghan parliament, a process which has been hampered by fears of attacks on polling stations and campaign rallies.
Ensuring the election passes off smoothly and without violence has been a top priority for the Afghan government and its international partners.
"They requested us to help them conduct peaceful elections," said one of the Taliban leaders.
"The Afghan delegation has agreed with us on the release of prisoners," he said, adding that some prisoners facing minor charges had already been released and officials had divided up others into three categories, depending on their importance, for future release.
Both President Ashraf Ghani's office and the U.S. State Department declined to comment. No comment was available from Zabihullah Mujahid, the Taliban's main spokesman.
TEHRAN, Iran (AP) — A senior Iranian security official on Thursday threatened Israel with harsh "reactions" if the Jewish state "continues to attack" Iranian and government forces in Syria.
The semi-official Fars news agency quoted Ali Shamkhani of Iran's Supreme National Security Council as saying that in case of further airstrikes, Israel "will face reactions that would cause sorrow and penitence."
His remarks came during a meeting with his Russian counterpart, Nikolai Patrushev.
Earlier this month, Israel attacked the airport in the Syrian capital Damascus with missiles believed to have targeted arms depots of Iranian forces and the Lebanese militant Hezbollah group — both allies of Syrian President Bashar Assad's troops in the civil war.
Israel has claimed that it has struck more than 200 Iranian targets in Syria over the past 18 months.
Iran has maintained that its forces in Syria are in an advisory role to the Syrian army in its war on Islamic State group militants and armed opposition groups.
Iran does not recognize Israel and supports militant groups opposed to Israel including Hamas and Hezbollah.
By Khaama Press on 28 Sep 2018 1:04pm
At least 48 militants including a Tajikistani national were killed or wounded during the operations of the Afghan Special Forces in northern Kunduz province of Afghanistan.
The 209th Shaheen Corps of the Afghan Military in the North issued a statement earlier today confirming that the militants were killed or wounded during the operations conducted in the past 72 hours.
The statement further added that the operations were conducted in the vicinity of Chahar Dara district, leaving at least 31 militants dead, including a Tajikistani national.
According to 209th Shaheen Corps, the shadow district chief of the Taliban for Aliabad dsitrict Qari Nematullah was also among those killed.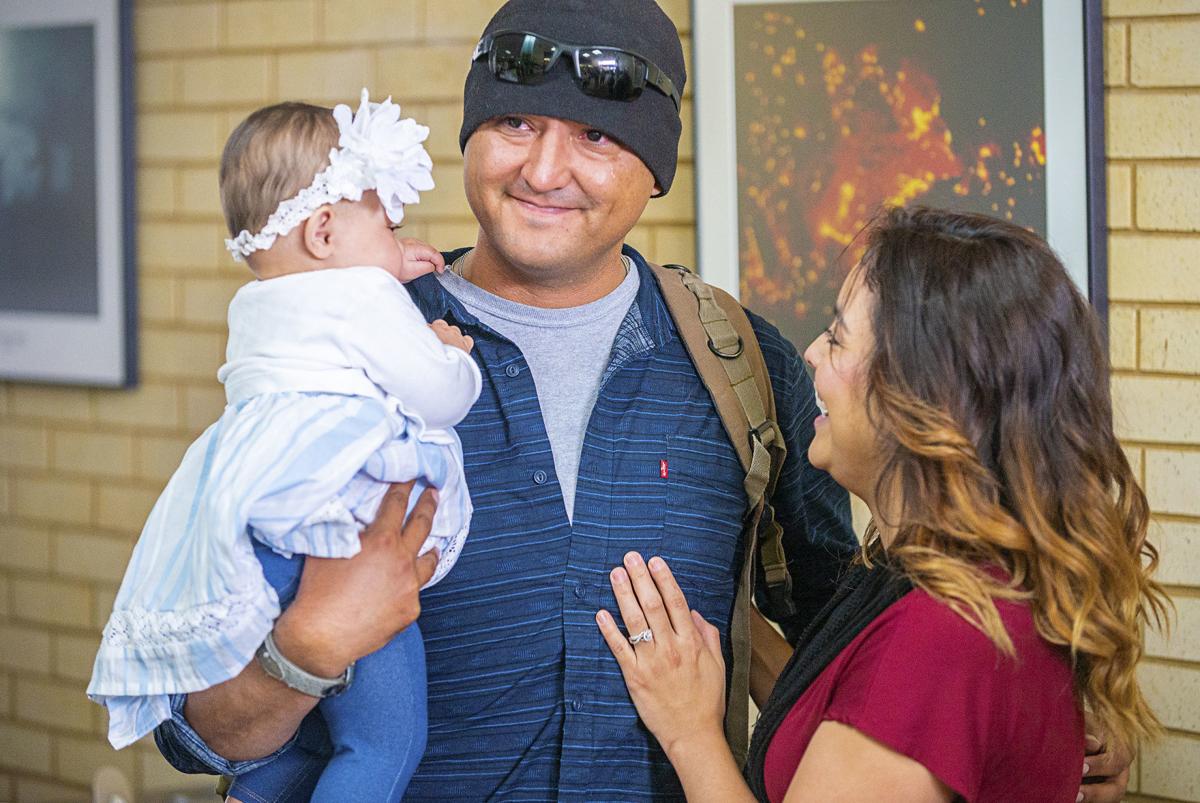 POCATELLO, Idaho (AP) — An Idaho soldier is finally able to hold his newborn daughter in his arms after returning from assignments throughout the Middle East.
Since Spc. Nolan Thorpe's daughter was born in March, he has only been able to see her through the computer.
He says he was lucky to have a day off to watch a spotty, live internet stream of her birth.
On Wednesday morning, Thorpe met 6-month-old Vaanya for the first time.
Recent Casualties:

Color Denotes Today's Confirmation
The Department of Defense announced today the death of a soldier who was supporting Operation Freedom's Sentinel.
Command Sgt. Maj. Timothy A. Bolyard, 42, from Thornton, West Virginia, died Sept. 3, 2018, of wounds sustained from small arms fire in Logar Province, Afghanistan. The incident is under investigation.
Bolyard was assigned to 3rd Squadron, 1st Security Force Assistance Brigade, Fort Benning, Georgia.
Care for Veterans:
PTSD: National Center for PTSDPTSD Care for Veterans, Military, and FamiliesSee Help for Veterans with PTSD to learn how to enroll for VA health care and get an assessment.
All VA Medical Centers provide PTSD care, as well as many VA clinics.Some VA's have programs specializing in PTSD treatment. Use the VA PTSD Program Locator to find a PTSD program.
If you are a war Veteran, find a Vet Center to help with the transition from military to civilian life.