29 Sep
United States Wars, News and Casualties
A Walk Through Arlington
Come, walk with me past the white stones
Through ancient fields of the fallen
Along paths of dreams not seen
Through aisles of solemn stillness
The oaks and elms not heard
To acres not visited by the tours
Come, walk with me
Past wars and our discontents
We will look for fresh earth
Where a canopy is ready
Where fresh wreaths adorn the new white
Where an anthem and taps sound
Come, walk with me
Past the innocence of youth
The bounty of life never seen
The saga of age denied
Borne by brothers to rest
We will see the past
Come, walk with me
The moment is over the next rise
The white of canopy
Green shoveled aside for the earth
Upon approach
Curfew calls a mother and daughter
Come, walk with me
Stones' whiteness sears the eyes
A nation's history cries
Pangs of conscience overwhelm
We are among the young
Born to flower we failed
Such a large bounty to waste
Come, walk with me
One of eighteen years rests
Beloved daughter, Sam
No child will bound into her lap
No child will grace her knee
Her art of mind and heart lost
No warm hearth of ages of love
Come, walk with me
Through alleys of white
Row upon row of young
Never to return to their streets of warmth
Nor to grace a porch
And shout a greeting to the village
Their virtues denied by war
Come, walk with me
Oh Sam, I hurt for you
For denying you your destiny
The bounty of life and saga of age
If only my voice could provoke your silence
We could meet the dawn
And grasp the moon
One would grace your knee with a little one
Give warmth to your mother
Come, walk with me
Our view will turn to and over the river
Where a little tyrant rules
Rising through lies, fear, slaughter and blood
To the applause of a nation
And that of a listening congress
Silence triumphs its halls
Come, walk with me
Let us go outside …..and march
Come, walk with me
For Sam and the young resting….in silence
The McGlynn
October, 2007

The war ended for those children, but it has never ended for survivors who carry memories of them. Likewise, the effects of the U.S. bombings continue, immeasurably and indefensibly.
Damn
The WarCriminals,Bush,Cheney,Rice,Rumsfeld, Wolfowitz, Powell and Blair from England.
How many Iraqis have died as a result of the invasion 15 years ago? Some credible estimates put the number at more than one million. You can read that sentence again.
The invasion of Iraq is often spoken of in our country as a "blunder," or even a "colossal mistake." It was a crime.
Those who perpetrated it are still at large. Some of them have even been rehabilitated thanks to the horrors of a mostly amnesiac citizenry.

We condemned children to death, some after many days of writhing in pain on bloodstained mats, without pain relievers. Some died quickly, wasted by missing arms and legs, crushed heads. As the fluids ran out of their bodies, they appeared like withered, spoiled fruits. They could have lived, certainly should have lived – and laughed and danced, and run and played- but instead they were brutally murdered. Yes, murdered!
The McGlynn
War News
Martin Griffiths says there is huge appetite for a solution, as experts' mandate extended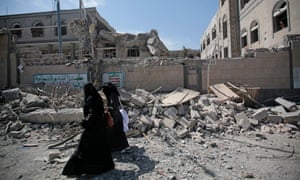 Yemenis walk past rubble after deadly Saudi-led airstrikes in and near the presidential compound, in Sanaa, Yemen, Monday, May. 7, 2018. Photograph: Hani Mohammed/AP

Sixty-day-old Nadia Ahmad Sabri, who suffers from severe malnutrition, lies in bed at a malnutrition treatment centre in the Red Sea port city of Hodeida, Yemen December 20, 2017. Photograph: Abduljabbar Zeyad/Reuters
Every day the war in Yemen goes on "is a day that a mother loses their child", the UN's envoy to the country has said as he announced a plan to restart peace talks.
The scheme would introduce a set of confidence-building measures within a week, including reopening Sana'a airport, prisoner swaps and payment of civil service salaries.
It was arranged by the UN special envoy Martin Griffiths after a frenetic round of meetings in New York designed to prevent Yemen from sliding towards a humanitarian disaster as fighting escalates.
Griffiths said he was optimistic that overlapping steps could be agreed by Houthi rebels and a Saudi-led coalition that includes the United Arab Emirates and that backs the UN-recognised government of Yemen.
He said: "There is a huge appetite for this. Both sides reconfirmed to me their desire to be reconvened, and they both recognise that there is no other solution to this war apart from through this process. We are now working on ways to get them back together as soon as possible."
Beginning in September, the Times bureau in Kabul mobilized all of its stringers and Afghan reporters to record every attack on the Afghan security forces that they could find, as a daily chronicle of the war. This first entry goes back to the week of Sept. 6, a period when 400 Afghan soldiers and police officers were reportedly killed, a record number. The average this year, officials say, is between 30 and 40 deaths per day. Many local Afghan officials say they have been told not to cooperate with the press in reporting casualties, so this accounting is necessarily incomplete.
Sept. 25 Wardak Province: one local police killed
During a Taliban ambush in Maidan Shahr, the provincial capital, one local police officer and four civilians were killed. In addition, one local police officer and two civilians were wounded.
Sept. 25 Farah Province: one police killed
A police vehicle hit a roadside bomb in Farah Roud District, killing one police officer and wounding two others……………………..
Sept. 17 Farah Province: at least 29 police and soldiers killed
The Taliban attacked an Afghan National Army base in Kensak village, Balaboluk District, overrunning it and killing seven soldiers; three other soldiers are missing.
In Pusht-i- Roud District, a police outpost was overrun and 10 police officers were killed, while another outpost was attacked in the Sur area of Farah city, in which seven police officers were killed and three are missing. Three armored vehicles were blown up by roadside bombs, killing five police officers and wounding three more.
Sept. 17 Ghazni Province: 14 soldiers killed
An army base was attacked by insurgents in Moqur District, where 14 army soldiers were killed and an unknown number were taken prisoner. The army base fell to the Taliban. Two local police officers were also killed. In Nawa and Khogyani districts, American airstrikes killed 22 Taliban, officials said.
WASHINGTON/NEW YORK (Reuters) – The United States announced on Friday it will effectively close its consulate in the Iraqi city of Basra and relocate diplomatic personnel assigned there following increasing threats from Iran and Iran-backed militia, including rocket fire.
The decision adds to mounting tension between the United States and Iran, which is the target of increasing U.S. economic sanctions.
U.S. Secretary of State Mike Pompeo, as he explained the move, renewed a warning that the United States would hold Iran directly responsible for any attacks on Americans and U.S. diplomatic facilities.
It followed recent rocket attacks that Pompeo said were directed at the consulate in Basra. U.S. officials said the rockets, however, had not impacted the consulate, which is located on the Basra airport compound.
"I have made clear that Iran should understand that the United States will respond promptly and appropriately to any such attacks," Pompeo said in a statement……………In a statement, the U.S. State Department said the consulate was placed on "ordered departure," which technically involves a drawdown in staff. Although some personnel could remain on the diplomatic compound, the move is believed to effectively close the consulate, at least temporarily.
NEW YORK (Reuters) – The United States will pursue "a strategy of isolation," including sanctions, with its allies if President Bashar al-Assad holds up a political process aimed at ending Syria's seven-year war, a top U.S. diplomat for Syria told Reuters on Friday.
Jim Jeffrey, the U.S. special representative for Syria, said Washington would work with countries in Europe, Asia and the Middle East to impose tough international sanctions if Assad's government failed to cooperate on rewriting the Syrian constitution as a prelude to elections.
"If the regime does that, we believe that then we can go after it the way we went after Iran before 2015 – with really tough international sanctions," Jeffrey said, referring to secondary sanctions against Tehran for its nuclear program.
He added: "Even if the U.N. Security Council won't pass them we will just do it through the European Union, we will do it through our Asian allies, and then we will make it our business to make life as miserable as possible for that flopping cadaver of a regime and let the Russians and Iranians, who made this mess, get out of it."
TEHRAN, Iran (AP) — A prominent Iranian lawmaker says the terror attack on a military parade in the southwestern city of Ahvaz that killed 24 people was the result of negligence by security forces.
The Saturday report by semi-official ISNA news agency quoted the head of Iran's parliamentary committee on national security and foreign policy, Heshmatollah Falahatpisheh, as saying a video shot by the Intelligence Ministry and the Army makes this clear
Describing the video, he says: "The cameraman begged a sniper to shoot the attackers, but the sniper waited for his commander's order."
Falahatpisheh also said some of the wounded in last Saturday's attack had experience fighting the Islamic State group in Syria and if they had a gun, they could have prevented the tragedy from happening.
GENEVA (AP) — The U.N.'s top human rights body voted Friday to renew work by experts investigating alleged rights violations and crimes in war-torn Yemen, brushing aside the objections of Saudi Arabia, the United Arab Emirates and Yemen's internationally recognized government itself.
The vote capped a week-long diplomatic showdown led by the three Arab countries who had previously supported the experts but changed course after being stung by their August report that said the countries could be responsible for war crimes during 3½ years of war against rebels in Yemen.
The Human Rights Council, in a measure brought by Western countries, voted 21-8 with 18 abstentions. Burundi, China, Cuba, Egypt, Pakistan and Venezuela joined Saudi Arabia and the UAE in opposing the measure at the 47-member Geneva body.
The measure, among other things, extends the experts' mandate by one year.
The move came despite days of arduous negotiations to try to find a consensus between the Western group, led by Canada and the Netherlands, and diplomats from the three Arab states. Many countries expressed disappointment that a unified message could not be reached.
Shortly before the vote, Ambassador Obaid Salem al-Zaabi of the UAE said passage of the resolution would "do more harm than good for Yemen," claiming that it would "deepen divisions" among Yemenis and increase instability in the region.
Proponents, however, insisted the resolution was nearly identical to one adopted by consensus at the council last year, which created the group of three experts plus staffers. The supporters also said the experts' team has had little time to do its work, and said Yemen's crisis needs continued scrutiny.
NEW YORK — The Trump administration pressed ahead Friday with plans to create an "Arab NATO" that would unite U.S. partners in the Middle East in an anti-Iran alliance, but Qatar said the crisis among Gulf countries must be solved first.
Secretary of State Mike Pompeo met in New York with foreign ministers from Bahrain, Egypt, Jordan, Kuwait, Oman, Qatar, Saudi Arabia and the United Arab Emirates to advance the project.
The State Department said Pompeo had stressed the need to defeat the Islamic State group and other terrorist organizations as well as ending the conflicts in Syria and Yemen, securing Iraq and "stopping Iran's malign activity in the region."
Qatar's Foreign Minister Sheikh Mohammed bin Abdulrahman Al Thani told a news conference afterward that the alliance should be built on existing institutions, and he asked how that could be done when the most powerful Gulf countries have been engaged in a more-than-yearlong dispute.
KABUL, Afghanistan — An Afghan official says at least two police officers were gunned down by a fellow officer in the country's latest "insider" attack in southern Kandahar province.
Aziz Ahmad Azizi, provincial governor's spokesman, says three other police were wounded in the attack late Friday night.
The incident took place at a remote police outpost in Raghistan district. Azizi says the attacker, who had joined police around a year ago, was able to flee the area.
A police investigation was begun to find out the motive behind this attack.
No one immediately claimed responsibility for the attack.
By Khaama Press on 29 Sep 2018 10:59am.
Several militants were killed or wounded during the separate operations conducted by the Afghan and U.S. forces in southeastern Paktika and Ghazni provinces.
The 201st Thunder Corps of the Afghan Military in the Southeast said at least 3 militants were killed and 7 others were wounded during the operations of the Afghan armed forces in the main highway between Orgun and Gian districts of Paktika.
 The statement further added that the Afghan forces also discovered and defused 7 various types of improvised explosive devices during the same operations.
In the meantime, the U.S. forces carried out airstrikes in Moqor district of Ghazni province, leaving at least 6 miliants dead and 9 others wounded, the 203rd Thunder Corps added.
The anti-government armed militant groups including Taliban militants have not commented regarding the report so far.
Recent Casualties:

Color

Denotes Today's Confirmation
The Department of Defense announced today the death of a soldier who was supporting Operation Freedom's Sentinel.
Command Sgt. Maj. Timothy A. Bolyard, 42, from Thornton, West Virginia, died Sept. 3, 2018, of wounds sustained from small arms fire in Logar Province, Afghanistan. The incident is under investigation.
Bolyard was assigned to 3rd Squadron, 1st Security Force Assistance Brigade, Fort Benning, Georgia.
Care for Veterans:
PTSD: National Center for PTSDPTSD Care for Veterans, Military, and FamiliesSee Help for Veterans with PTSD to learn how to enroll for VA health care and get an assessment.
All VA Medical Centers provide PTSD care, as well as many VA clinics.Some VA's have programs specializing in PTSD treatment. Use the VA PTSD Program Locator to find a PTSD program.
If you are a war Veteran, find a Vet Center to help with the transition from military to civilian life.