30 Sep
United States Wars, News and Casualties

The war ended for those children, but it has never ended for survivors who carry memories of them. Likewise, the effects of the U.S. bombings continue, immeasurably and indefensibly.
Damn
The WarCriminals,Bush,Cheney,Rice,Rumsfeld, Wolfowitz, Powell and Blair from England.
How many Iraqis have died as a result of the invasion 15 years ago? Some credible estimates put the number at more than one million. You can read that sentence again.
The invasion of Iraq is often spoken of in our country as a "blunder," or even a "colossal mistake." It was a crime.
Those who perpetrated it are still at large. Some of them have even been rehabilitated thanks to the horrors of a mostly amnesiac citizenry.

We condemned children to death, some after many days of writhing in pain on bloodstained mats, without pain relievers. Some died quickly, wasted by missing arms and legs, crushed heads. As the fluids ran out of their bodies, they appeared like withered, spoiled fruits. They could have lived, certainly should have lived – and laughed and danced, and run and played- but instead they were brutally murdered. Yes, murdered!
The McGlynn
War News
The rows of white marble headstones at Arlington National Cemetery, on 624 acres beside the Potomac River and the Pentagon, speak to the scale of United States military service across generations — and tell something of its human toll. Much of that toll reaches back to battles far enough in the past that no veteran who survived them remains alive. But one part of the cemetery — a rectangular, 14-acre portion known as Section 60 — holds the rawness and grief of more recent loss.
Roughly 900 service members killed in the still-active wars in Afghanistan and Iraq are buried in the eastern half of this section. No other place anywhere holds such a density of Americans killed in combat since the terrorist attacks of 2001, a fact that has made these few acres a sacred and singular memorial ground for those connected to the people who died.
A House resolution and a vote on arms sales in the Senate could affect US backing for the Saudi-led coalition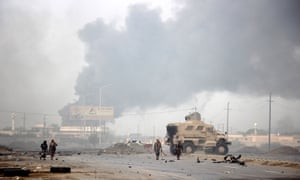 Smoke rises over the city of Hodeidah as the pro-government coalition's offensive enters its fourth month. Photograph: Najeeb Almahboobi/EPA
T

he civil war in Yemen is one of those obscure conflicts that feels as though it has been going on for ever. In the space of little more than three years, the conflict has become what the UN and aid agencies agree is the world's worst man-made humanitarian disaster, with 16,700 civilians killed or wounded, 8.4 million people facing famine, a nation torn apart and an economy destroyed.
The killing of children, hit by missiles and shells smashing into their homes and schools or stricken by disease and malnutrition, has come to symbolise Yemen's war. The UN's latest Children and Armed Conflict report found that 1,316 children were killed or maimed in 2017. Just over half died in air attacks by the western-backed, pro-government coalition, and many others at the hands of Houthi rebels.
Yet perhaps most extraordinary, and dismaying, is the counter-productive response of the governments principally concerned. There has been intervention aplenty since 2015 – by the Saudis, the UAE, Iran, the US and the UK – but their actions have served to inflame the conflict, not extinguish it. In the very limited discussions about Yemen among national leaders at the UN last week, it was clear the conflict is getting worse, not better.
The collapse in Geneva of the latest UN-sponsored peace talks could trigger the war's bloodiest chapter yet
August was the most violent month so far this year, with nearly 500 people killed in nine days, according to the International Rescue Committee (IRC). There has been a 164% spike in civilian deaths in the last four months, and this rate of attrition is expected to rise further amid the Saudi-led, pro-government coalition's resumed offensive on the port of Hodeidah. Overall, since 2015, the coalition has launched 18,000 airstrikes, one-third of which are said to have hit non-military targets……………All of which leaves one possible ray of light for the suffering Yemenis. Last week more than 50 members of the US House of Representatives backed a bipartisan resolution invoking the 1973 War Powers Act, declaring that Congress never authorised US support for the coalition in Yemen, as it is legally bound to do under the act, and directing Trump to withdraw all American military personnel.
Action is also pending in the US Senate, where Bob Menendez – the top Democrat on the Senate foreign relations committee – is blocking a $2bn arms sale to Saudi Arabia and the UAE. "Widespread destruction and disease [are] contributing to the world's worst humanitarian crisis. US-fuelled planes continue to drop US-made bombs on innocent victims," said Democrat Ro Khanna, the House resolution's lead sponsor. A showdown vote is expected after November's elections.
Both moves are certain to be fiercely opposed by the Trump administration, which argues its military assistance and expertise reduces the number of civilian deaths. But both reflect growing public abhorrence at a series of atrocities, including a horrific bus bombing that killed dozens of children last month, which could implicate the US government and personnel in war crimes.
"The actions of the Saudi-led coalition in Yemen are fast approaching the level of crimes against humanity," said Democrat Jim McGovern. "The US must send a clear and unambiguous message to Saudi Arabia – their actions are unacceptable to the international community and will not be tolerated."
BEIRUT (Reuters) – The Syrian Observatory for Human Rights said on Sunday that rebel group Failaq al-Sham has started withdrawing its forces and heavy arms from a demilitarized zone in northwest Syria.
The group is the first to comply with a requirement to leave a demilitarized buffer zone set up by Turkey and Russia to avert a Russian-backed Syrian army offensive, Rami Abdulrahman, head of the UK-based war monitor told Reuters.
Rebel sources could not immediately be reached for comment.
BASRA, IRAQ — After months of violent demonstrations that saw thousands take to the streets and government buildings torched, Iraqi Prime Minister Haider al-Abadi is describing the deadly protests in the southern city of Basra as a mere "political dispute."
The comments came after at least thirteen demonstrators were killed and dozens more wounded in clashes with security forces as the violence escalated in the past week. The unrest has thrust Iraq into a major crisis at a time when politicians still have yet to agree on a new government after an inconclusive election in May.
The protesters first took to the streets earlier this summer in response to severe water shortages, water contamination, and frequent power outages. But people's anger here goes beyond that. Iraq's southern province is home to some of the world's largest oil reserves — yet unemployment is soaring and public services are a mess.
"Down with al-Abadi and all his government!" one woman told VICE News during a visit to the city in late August. She was quickly drowned out by her fellow protesters, who began shouting, "No, no to Abadi!"
Decades of war has destroyed Iraq's economy and its infrastructure — and temperatures soaring up to 130 degrees Fahrenheit this summer haven't helped either.
For years, dams in Turkey, Syria, and Iran reduced the freshwater levels in Iraq's two main rivers — the Tigris and Euphrates — to critically low levels. That's allowed salty sea water to flood in from the Southern Persian Gulf, entering Basra's canals and streams, turning the once fertile land into desert, and decimating farms. It's also contaminated drinking water supplies, leading to thousands of people being hospitalized.
Like many in the city, protester Ahmed Hussein is unemployed.
"Let them just take all the oil," Ahmed told VICE News. "We just want clean water. Just fix the salty water. We don't want oil. We only need clean water to wash our hands and our faces. Iraqis need clean water!"
Tara Fares was a model and a social media star whose carefully crafted lifestyle and fashion photos drew in more than 2.7 million followers on Instagram.
On Thursday, she was shot dead at 22 in broad daylight in Baghdad, the latest woman killed in a series of attacks that government officials are investigating as possibly linked.
Ms. Fares, a former beauty queen who had just been voted one of Iraq's most followed social media stars, was shot three times while at the wheel of her white convertible in the upscale Camp Sarah neighborhood in the center of the Iraqi capital.
"She was very beautiful and nice and wanted to be happy and to live her life how the rest of the world lives: without restraint and hatred," said Omar Moner, a Baghdad-based photographer and friend. "But here in Iraq, there is no acceptance of the freedoms of others."
KABUL, Afghanistan — Two Afghan police officers were gunned down by a fellow policeman in southern Kandahar province, the latest in so-called "insider" attacks in the war-battered country, a spokesman said Saturday.
According to Aziz Ahmad Azizi, the provincial governor's spokesman, three other policemen were wounded in the attack late on Friday night.
The incident took place at a remote police outpost in Raghistan district. Azizi said the attacker, who had joined the police force around a year ago, was able to flee the area.
A police investigation has been launched into the attack. No militant group immediately claimed responsibility but blame is likely to fall on the Taliban.
By Khaama Press on 30 Sep 2018 2:04pm .
The Afghan Air Force has carried out a series of airstrikes on Taliban targets in Dasht Archi district of northern Kunduz province as part of the ongoing counter-terrorism operations.
The 209th Shaheen Corps of the Afghan Military in the North in a statement said the airstrikes were carried out in the vicinity of Sharshara village, using MD-530F Warrior helicopters.
The statement further added that the airstrikes left at least 2 militants dead while four others sustained injuries.
The anti-government armed militant groups including Taliban militants have not commented regarding the report so far.
Kunduz is among the relatively volatile provinces in North of Afghanistan where the Taliban militants are actively operating in its various districts and carry out terrorist related activities, including coordinated attacks against the government and security forces.
By Khaama Press on 30 Sep 2018 9:30am .
A clash broke out between the local residents of Khogyani district and the Taliban militants in eastern Nangarhar province of Afghanistan, leaving a number of Taliban militants dead or wounded.
The 201st Silab Corps of the Afghan Military in the East in a statement said the clash broke out on Saturday in Arghach area of the district.
The statement further added that a Taliban militant was killed during the clash and at least two others sustained injuries.
In the meantime, a Taliban militant identified as Khanezullah surrendered to the Border Police forces in Kelgho area of the district, the 201st Silab Corps said, adding that the militant also handed over a Ak-47 rifle to the security forces.
The anti-government armed militant groups including Taliban militants have not commented regarding the report so far.
Recent Casualties:

Color Denotes Today's Confirmation
The Department of Defense announced today the death of a soldier who was supporting Operation Freedom's Sentinel.
Command Sgt. Maj. Timothy A. Bolyard, 42, from Thornton, West Virginia, died Sept. 3, 2018, of wounds sustained from small arms fire in Logar Province, Afghanistan. The incident is under investigation.
Bolyard was assigned to 3rd Squadron, 1st Security Force Assistance Brigade, Fort Benning, Georgia.
A Walk Through Arlington
Come, walk with me past the white stones
Through ancient fields of the fallen
Along paths of dreams not seen
Through aisles of solemn stillness
The oaks and elms not heard
To acres not visited by the tours
Come, walk with me
Past wars and our discontents
We will look for fresh earth
Where a canopy is ready
Where fresh wreaths adorn the new white
Where an anthem and taps sound
Come, walk with me
Past the innocence of youth
The bounty of life never seen
The saga of age denied
Borne by brothers to rest
We will see the past
Come, walk with me
The moment is over the next rise
The white of canopy
Green shoveled aside for the earth
Upon approach
Curfew calls a mother and daughter
Come, walk with me
Stones' whiteness sears the eyes
A nation's history cries
Pangs of conscience overwhelm
We are among the young
Born to flower we failed
Such a large bounty to waste
Come, walk with me
One of eighteen years rests
Beloved daughter, Sam
No child will bound into her lap
No child will grace her knee
Her art of mind and heart lost
No warm hearth of ages of love
Come, walk with me
Through alleys of white
Row upon row of young
Never to return to their streets of warmth
Nor to grace a porch
And shout a greeting to the village
Their virtues denied by war
Come, walk with me
Oh Sam, I hurt for you
For denying you your destiny
The bounty of life and saga of age
If only my voice could provoke your silence
We could meet the dawn
And grasp the moon
One would grace your knee with a little one
Give warmth to your mother
Come, walk with me
Our view will turn to and over the river
Where a little tyrant rules
Rising through lies, fear, slaughter and blood
To the applause of a nation
And that of a listening congress
Silence triumphs its halls
Come, walk with me
Let us go outside …..and march
Come, walk with me
For Sam and the young resting….in silence
The McGlynn
October, 2007
Care for Veterans:
PTSD: National Center for PTSDPTSD Care for Veterans, Military, and FamiliesSee Help for Veterans with PTSD to learn how to enroll for VA health care and get an assessment.
All VA Medical Centers provide PTSD care, as well as many VA clinics.Some VA's have programs specializing in PTSD treatment. Use the VA PTSD Program Locator to find a PTSD program.
If you are a war Veteran, find a Vet Center to help with the transition from military to civilian life.