06 Oct
United States Wars, News and Casualties
Originally Published In 2007
The McGlynn

The war ended for those children, but it has never ended for survivors who carry memories of them. Likewise, the effects of the U.S. bombings continue, immeasurably and indefensibly.
Damn
The WarCriminals,Bush,Cheney,Rice,Rumsfeld, Wolfowitz, Powell and Blair from England.
How many Iraqis have died as a result of the invasion 15 years ago? Some credible estimates put the number at more than one million. You can read that sentence again.
The invasion of Iraq is often spoken of in our country as a "blunder," or even a "colossal mistake." It was a crime.
Those who perpetrated it are still at large. Some of them have even been rehabilitated thanks to the horrors of a mostly amnesiac citizenry.

We condemned children to death, some after many days of writhing in pain on bloodstained mats, without pain relievers. Some died quickly, wasted by missing arms and legs, crushed heads. As the fluids ran out of their bodies, they appeared like withered, spoiled fruits. They could have lived, certainly should have lived – and laughed and danced, and run and played- but instead they were brutally murdered. Yes, murdered!
The McGlynn
War News

The Department of Defense announced today the death of a soldier who was supporting Operations Resolute Support and Freedom's Sentinel.
Spc. James A. Slape, 23, from Morehead City, North Carolina, died Oct. 4, 2018, in Helmand Province, Afghanistan, as a result of wounds sustained from an improvised explosive device. The incident is under investigation.
Slape was assigned to 60th Troop Command, North Carolina Army National Guard, Washington, North Carolina.
A father gives water to his malnourished daughter at a feeding center in a hospital in Hodeida, Yemen. With US backing, the United Arab Emirates and its Yemeni allies have restarted their all-out assault on Yemen???s port city of Hodeida, aiming to wrest it from rebel hands. Victory here could be a turning point in the 3-year-old civil war, but it could also push the country into outright famine. Already, the fighting has been a catastrophe for civilians on the Red Sea coast. (AP Photo/Hani Mohammed)
A rare look at the front lines where Special Forces battle the Islamic State.
MOHMAND VALLEY, Afghanistan — When I spent time with the 12 men of the Operational Detachment Alpha team in July, they had been fighting an Islamic State affiliate, the Islamic State in Khorasan, for four months. The team was based at Combat Outpost Blackfish, a farm compound at the mouth of the bucolic Mohmand Valley that they had named after the killer whale.
Their mission was to work with their Afghan Special Forces counterparts to defeat the Islamic State there and extend the Afghan government's reach into the remote valleys that run down from the snow-capped mountains bordering Pakistan in Nangarhar Province. After months together isolated in rural Afghanistan, the team members, most of them much older than the typical military unit, had shunned many of the military's rigid formalities.
More than 200 mortars were fired one evening to prevent enemy fighters from occupying high ground.
The fight in Mohmand Valley began in April 2017, after the United States opened the jihadists' front line by dropping the largest non-nuclear bomb ever used in combat. Since then, three successive Special Forces units have fought their way up the valley. They bombed relentlessly from the air, then, with their Afghan counterparts, went in on foot, securing villages one by one…………..Special Forces were the tip of the spear when the United States invaded Afghanistan in October 2001. But some Afghans labeled their tribal and factional enemies as "Taliban" in order to put them in the American special operators' cross hairs. The fallout is widely believed to have helped fuel the insurgency.
The fight against the Islamic State is less fraught. Most Afghans despise the Salafist jihadists, whom they view as barbarous foreigners. "We think people associate us with the absence" of the Islamic State in Khorasan, said Captain J., a mild-mannered 31-year-old. (Special Forces are not allowed to reveal their full names.)………….The Americans won't want to stay at Blackfish longer than they believe they have to. And the region won't be free of problems even if government forces maintain control. To secure a nearby agricultural area, for instance, the American Special Forces allied with Bilal Pacha, a local police commander and former member of the Taliban with a reputation for extortion and murder. "We knew he was a bad dude, so we always kept our distance," Captain J. said. "But he had a lot of contacts in the area and we needed his influence."
Nobel peace prize winner Nadia Murad describes her extraordinary journey from suffering at the hands of Islamic State to human rights campaigner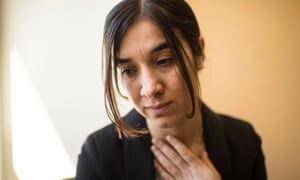 Nadia Murad: 'Deciding to be honest was one of the hardest decisions I have ever made, and also the most important.' Photograph: The Washington Post/Getty Images
T

he slave market opened at night. We could hear the commotion downstairs where militants were registering and organising, and when the first man entered the room, all the girls started screaming. It was like the scene of an explosion. We moaned as though wounded, doubling over and vomiting on the floor, but none of it stopped the militants. They paced around the room, staring at us, while we screamed and begged. They gravitated toward the most beautiful girls first, asking, "How old are you?" and examining their hair and mouths. "They are virgins, right?" they asked a guard, who nodded and said, "Of course!" like a shopkeeper taking pride in his product. Now the militants touched us anywhere they wanted, running their hands over our breasts and our legs, as if we were animals.
It was chaos while the militants paced the room, scanning girls and asking questions in Arabic or the Turkmen language.
"Calm down!" militants kept shouting at us. "Be quiet!" But their orders only made us scream louder. If it was inevitable that a militant would take me, I wouldn't make it easy for him. I howled and screamed, slapping away hands that reached out to grope me. Other girls were doing the same, curling their bodies into balls on the floor or throwing themselves across their sisters and friends to try to protect them.
SWEIDA, Syria (AP) — Maysoun Saab's eyes filled with tears as she recalled finding her parents bleeding to death on the ground outside their home, minutes after they were shot by Islamic State militants on a killing spree across once tranquil villages they infiltrated in a southeastern corner of Syria.
Within an hour, she had lost her mother, father, brother and 34 other members of her extended family. Overall, more than 200 people were killed and 30 hostages abducted in the coordinated July 25 attacks across Sweida province.
It was one of the biggest single massacres of the Syrian civil war and the worst bloodshed to hit the province since the conflict began in 2011, underscoring the persistent threat posed by the Islamic State group, which has been largely vanquished but retains pockets of territory in southern and eastern Syria.
More than two months after the attack, tensions over the missing hostages — all women and children — are boiling over in Sweida, a mountainous area which is a center for the Druze religious minority. Anger is building up, and young men are taking up arms. This week, the militants shot dead one of the women, 25-year-old Tharwat Abu Ammar, triggering protests and a sit-in outside the Sweida governorate building by relatives enraged at the lack of progress in negotiations to free them.
It's a stark change for a usually peaceful province that has managed to stay largely on the sidelines of the seven-year Syrian war, and where most villagers work grazing livestock over the surrounding hills.
"We still haven't really absorbed what happened to us. It's like a dream or a nightmare that you don't wake up from," said Saab, a slender woman with a long braid showing underneath a loose white scarf covering her hair.
During a rare visit to the Sweida countryside by an Associated Press team, armed young men and teens, some as young as 14, patrolled the streets. Some wore military uniforms, others the traditional black baggy pants and white caps worn by Druze villagers. They said the Syrian army had provided them with weapons to form civilian patrols to defend their towns and villages.
BAGHDAD (AP) — Police say two bombs have exploded in former strongholds of the Islamic State group in central Iraq killing one person and wounding at least 16.
The first blast occurred in the city of Fallujah west of Baghdad when a parked car exploded wounding two security men, three civilians and causing material damage.
Saturday's second attack was a roadside bomb that targeted a bus carrying employees of the al-Siniya oil refinery in the Beiji area in central Salahuddin province.
Police said the second blast killed one employee and wounded 11 others. The attack took place on the Beiji highway north of Baghdad.
The number of bombings in Iraq have dropped sharply since IS suffered a major setback losing most of the lands it once controlled.
KABUL, Afghanistan — An Afghan official says at least two security forces have been killed in bomb blasts in the capital.
Basir Mujahid, spokesman for the Kabul police chief, says nine others including six police officers and three civilians were wounded in Saturday's attack.
Mujahid says a roadside bomb hit a military vehicle when police arrived to respond to an insurgent attack, then a second blast took place in the same area causing casualties.
The police chief was among the wounded, he said.
No one immediately claimed responsibility for the attack, but both the Taliban and Islamic State group are active in Kabul and have claimed responsibility for previous attacks against Afghan security forces.
Recent Casualties:

Color

Denotes Today's Confirmation
The Department of Defense announced today the death of a soldier who was supporting Operations Resolute Support and Freedom's Sentinel.
Spc. James A. Slape, 23, from Morehead City, North Carolina, died Oct. 4, 2018, in Helmand Province, Afghanistan, as a result of wounds sustained from an improvised explosive device. The incident is under investigation.
Slape was assigned to 60th Troop Command, North Carolina Army National Guard, Washington, North Carolina.

The Department of Defense announced today the death of a soldier who was supporting Operation Freedom's Sentinel.
Command Sgt. Maj. Timothy A. Bolyard, 42, from Thornton, West Virginia, died Sept. 3, 2018, of wounds sustained from small arms fire in Logar Province, Afghanistan. The incident is under investigation.
Bolyard was assigned to 3rd Squadron, 1st Security Force Assistance Brigade, Fort Benning, Georgia.
Care for Veterans:
PTSD: National Center for PTSDPTSD Care for Veterans, Military, and FamiliesSee Help for Veterans with PTSD to learn how to enroll for VA health care and get an assessment.
All VA Medical Centers provide PTSD care, as well as many VA clinics.Some VA's have programs specializing in PTSD treatment. Use the VA PTSD Program Locator to find a PTSD program.
If you are a war Veteran, find a Vet Center to help with the transition from military to civilian life.