11 Oct
United States Wars, News and Casualties
.
The war ended for those children, but it has never ended for survivors who carry memories of them. Likewise, the effects of the U.S. bombings continue, immeasurably and indefensibly.
Damn The WarCriminals,Bush,Cheney,Rice,Rumsfeld, Wolfowitz, Powell and Blair from England.
How many Iraqis have died as a result of the invasion 15 years ago? Some credible estimates put the number at more than one million. You can read that sentence again.
The invasion of Iraq is often spoken of in our country as a "blunder," or even a "colossal mistake." It was a crime.
Those who perpetrated it are still at large. Some of them have even been rehabilitated thanks to the horrors of a mostly amnesiac citizenry.

We condemned children to death, some after many days of writhing in pain on bloodstained mats, without pain relievers. Some died quickly, wasted by missing arms and legs, crushed heads. As the fluids ran out of their bodies, they appeared like withered, spoiled fruits. They could have lived, certainly should have lived – and laughed and danced, and run and played- but instead they were brutally murdered. Yes, murdered!
The McGlynn
War News
Children War Pictures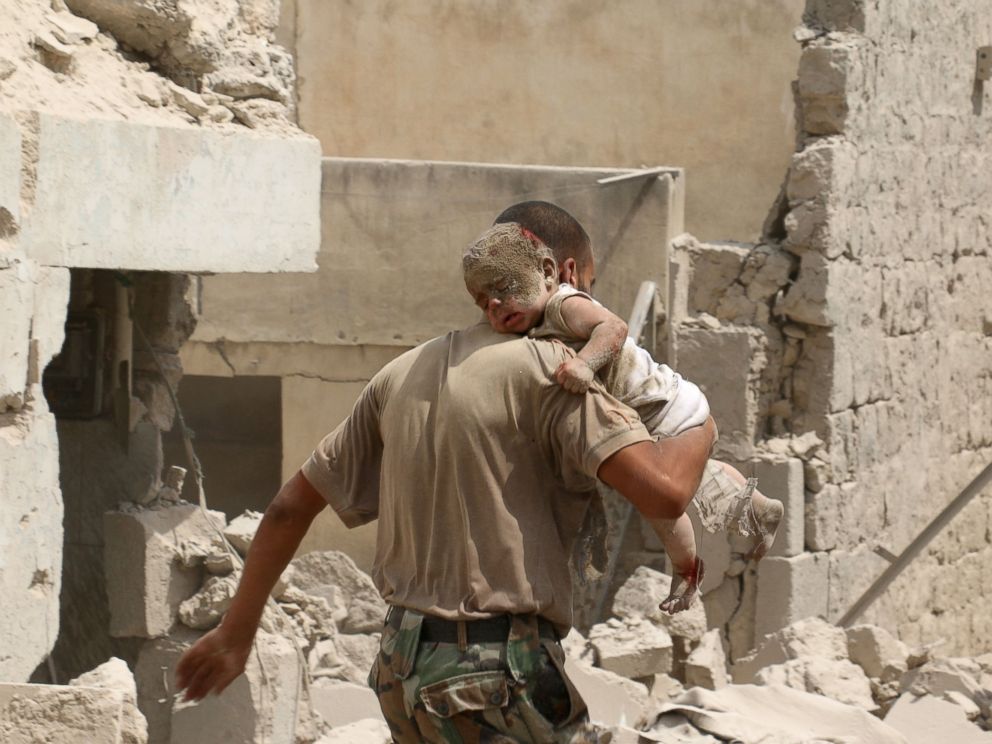 Image of Syrian Child Capture Horror of Civil War
Growing Up in a War Zone Permanently Damages Kids' Brains
WASHINGTON (Reuters) – Under pressure from Congress, the Trump administration faces a dilemma: how to respond to the disappearance of Saudi journalist Jamal Khashoggi while ensuring that any punitive action does not alienate Riyadh, a key ally against Iran.
Leading senators have already made their displeasure clear with Saudi Arabia, with Senator Bob Corker telling Reuters, "You can't go around killing journalists."
Saudi Arabia's denials that it had any role in Khashoggi's disappearance have fallen on deaf ears in Congress, with nearly a quarter of the Senate triggering a U.S. investigation into the case.
U.S. President Donald Trump, who forged close ties with Saudi Arabia's Crown Prince Mohammed bin Salman upon taking office, has also increasingly expressed frustration with the case.
Harsh actions against one of Trump's stalwart allies would be a sharp contrast with the administration's relatively muted tone over the kingdom's role in the war in Yemen and a crackdown on internal dissent.
Corker, the Republican chairman of the Senate Foreign Relations Committee, acknowledged the case – if Saudi responsibility is confirmed – could complicate the U.S. strategy to contain Iran, in its bid to gain influence throughout the Middle East.
"It could affect multiple things that we're working with them on that are very important," Corker said on Wednesday, adding that the Senate's relationship with Saudi Arabia was at a "very, very low point."
ERBIL, Iraq (Reuters) – A joint task force of U.S. coalition and Iraqi special forces have arrested 10 suspected members of a network that provided funding for Islamic State in the capital Baghdad and the northern city of Erbil, the coalition said on Thursday.
The task force conducted raids from Oct. 7-9 and arrested suspected members of the Rawi financial network, which operated as a "financial facilitation group" for the militants, the coalition said in a statement.
"The arrests deal a major blow to ISIS's capacity to threaten and terrorize civilians," said Major General Patrick B. Roberson, commander of Special Operation Joint Task Force – Operation Inherent Resolve.
"This demonstrates that those who assist in, sponsor, or provide financial, material or technological support to ISIS will face severe consequences."
Iraq declared victory over the militant group in December after retaking swathes of territory it held but its fighters have since then waged a campaign of kidnappings and killings.
FALLUJA, Iraq (Reuters) – An army officer was killed and three soldiers were captured in western Iraq after militants attacked their vehicle, security sources said on Thursday.
The attack took place late on Wednesday in the town of Akaz, five kilometers (three miles) from the Qaim district of Anbar province. The unit was delivering food to other troops, the sources told Reuters.
No group has claimed responsibility for the attack but Islamic State militants are active in the area.
Usually militants kill soldiers and take officers captive whom they view as higher value targets, the sources said, but the reverse happened on Wednesday night.
At least eight people were killed and 12 wounded in a suicide car-bomb attack on a security checkpoint in the same area last August.
ISTANBUL (Reuters) – The deal between Turkey and the United States regarding the northern Syrian town of Manbij is delayed "but not completely dead", President Tayyip Erdogan was quoted as saying by Hurriyet newspaper on Thursday.
Turkey and the United States reached a deal in May over Manbij after months of disagreement. Under the deal, the Kurdish YPG militia would withdraw from Manbij and Turkish and U.S. forces would maintain security and stability around the town.
Erdogan told reporters on Tuesday during his flight back from a visit to Hungary that the implementation of the deal had been delayed.
"There is a delay but (the deal) is not completely dead. U.S. Secretary of State Pompeo and Defense Secretary Mattis say they will take concrete steps," Erdogan was quoted as saying by Hurriyet.
The NATO allies have been carrying out coordinated but independent patrols in the region as part of the deal.
On Tuesday, Turkish Defence Minister Hulusi Akar was quoted by state-run Anadolu news agency as saying that joint training of U.S. and Turkish soldiers for patrols in Manbij had begun.
KABUL — Two Afghan military officials were jailed for 20 years after a two-year trial for sharing state secrets with Pakistan, a prosecutor said on Wednesday.
The sentence highlights a long-standing belief between Afghanistan and neighboring Pakistan that the other country does not adequately prevent cross-border militant attacks.
Shah Mohammad and Nazirullah were arrested in 2016 after traveling to Pakistan to hand over information to Pakistan's Inter Services Intelligence (ISI) agency. They pleaded not guilty but eventually "confessed to their crime" before the military court in the eastern city of Jalalabad, officials said.
"Each of them has been sentenced to 20 years in prison by the primary court," said Najiburrahman Nadim, a military prosecutor.
Nadim said the accused had shared secret information about attacks and bomb blasts.
Afghanistan's Western-backed government has long accused Pakistan of harboring Afghan Taliban insurgents, a charge that Islamabad denies.
KABUL — At least 8,050 Afghan civilians were killed or wounded in the first nine months of 2018, almost half of them targeted by suicide bomb attacks and other improvised devices that may amount to war crimes, the United Nations said on Wednesday.
The number of casualties was roughly in line with the same period a year earlier, when there were 8,084 casualties, with deaths this year rising five percent to 2,798 and injuries falling three percent to 5,252, the report from the UN Assistance Mission in Afghanistan (UNAMA) said.
"As there can be no military solution to the fighting in Afghanistan, the United Nations renews its call for an immediate and peaceful settlement to the conflict," said Tadamichi Yamamoto, the top UN official in Afghanistan.
Seventeen years after U.S. forces led a campaign to overthrow the Taliban following the Sept. 11 attacks on New York and Washington, the figures underline how dire the security situation remains.
While the figures show little change in the overall trend of violence, the UN highlighted the indiscriminate use of suicide and IED attacks, which killed 1,065 civilians and wounded 2,569 in the first nine months, a total of 3,634 casualties, compared with 3,007 casualties in the same period of 2017.
"UNAMA recalls that attacks deliberately targeting civilians and the murder of civilians are serious violations of international humanitarian law that amount to war crimes," it said in the report.
With parliamentary elections due on Oct. 20, security officials warn that attacks are likely to pick up on polling stations and other election sites, many of which are located in schools, mosques or health clinics.
A wave of suicide attacks in the eastern province of Nangarhar and in the capital Kabul this year has hit students preparing for exams, spectators at sporting events, people waiting to register for elections as well as Shi'ite mosques.
By Khaama Press on 11 Oct 2018 1:22pm .
At least nine civilians including children were killed or wounded in separate Improvised Explosive Device (IED) explosions in southeastern Ghazni and Paktika provinces.
The 203rd Thunder Corps of the Afghan Military in the Southeast in a statement said at least three children lost their lives in an explosion triggered by an IED planted by the Taliban militants in Orgun district of Paktia province.
The statement further added that another IED planted by the militants in Moqor district of Ghazni province went off targeting a civilian vehicle which left one civilian dead and five others wounded.
The Taliban militants and other militants often use improvised explosive device as the weapon of their choice to target the security forces and government officials.
However, in majority of such attacks the ordinary civilians are killed while in some cases the Taliban militants are themselves blown up in premature explosions.
Anti-government elements must immediately end the indiscriminate and disproportionate use of all improvised explosive devices (IEDs) in areas frequented by civilians, said UNAMA in a special human rights report released few days earlier.
By Khaama Press on 11 Oct 2018 11:53am .
The U.S. forces carried out airstrikes on a hideout of the Taliban group in northern Faryab province of Afghanistan, leaving at least 13 militants dead or wounded and destroying three armored personnel carriers.
The 209th Shaheen Corps of the Afghan Military in the North in a statement said the airstrikes were carried out at around 11:00pm local time on Wednesday in Ghormach district.
The statement further added that ten Taliban militants were killed during the airstrikes and three others sustained injuries.
According to 209th Shaheen Corps, a commander of the Taliban group identified as Qari Nasir, also famous as Ansar, was among those killed.
The airstrikes also destroyed three Armored Personnel Carriers equipped with heavy weapons, the 209th Shaheen Corps added in its statement.
By Khaama Press on 11 Oct 2018 9:33am .
At least seventy five Taliban militants including five of their commanders joined peace process in eastern Nangarhar province of Afghanistan.
According to the local officials, the Taliban militants renounced violence and reconciled with the government due to the efforts of Afghan intelligence directorate.
The officials further added that the militants involved in anti-government armed insurgency activities in Bati Kot district for 16 years.
Provincial governor Hayatullah Hayat said the militants were led by Qari Fazal Ur Rehman, Qari Haqqani, Qari Mir Zaman, Zarawar Khan, andQari Sharafuddin.
Hayat further added that the militants have also handed over their weapons to the government which would be used for the security of Bati Kot district.
Provincial intelligence chief Gen. Nazar Ali Wahidi said the militants have handed over 75 various types of heavy and light weapons.
Gen. Wahidi further added that a recommendation would be made to the provincial administration to financially support the reconciled militants.
In the meantime, the commander of the 4th brigade of the armed forces Gen. Mohammad Karim Niazi asked all the militants to adopt a peaceful approach and reconcile, warning that the security forces would continue their fight against those who are pursuing their destructive activities.
Recent Casualties:

Color

Denotes Today's Confirmation
The Department of Defense announced today the death of a soldier who was supporting Operations Resolute Support and Freedom's Sentinel.
Spc. James A. Slape, 23, from Morehead City, North Carolina, died Oct. 4, 2018, in Helmand Province, Afghanistan, as a result of wounds sustained from an improvised explosive device. The incident is under investigation.
Slape was assigned to 60th Troop Command, North Carolina Army National Guard, Washington, North Carolina.
Care for Veterans:
PTSD: National Center for PTSDPTSD Care for Veterans, Military, and FamiliesSee Help for Veterans with PTSD to learn how to enroll for VA health care and get an assessment.
All VA Medical Centers provide PTSD care, as well as many VA clinics.Some VA's have programs specializing in PTSD treatment. Use the VA PTSD Program Locator to find a PTSD program.
If you are a war Veteran, find a Vet Center to help with the transition from military to civilian life.
A Walk Through Arlington
Originally Published In 2007
The McGlynn