16 Oct
United States Wars, News and Casualties
.
The war ended for those children, but it has never ended for survivors who carry memories of them. Likewise, the effects of the U.S. bombings continue, immeasurably and indefensibly.
Damn The WarCriminals,Bush,Cheney,Rice,Rumsfeld, Wolfowitz, Powell and Blair from England.
How many Iraqis have died as a result of the invasion 15 years ago? Some credible estimates put the number at more than one million. You can read that sentence again.
The invasion of Iraq is often spoken of in our country as a "blunder," or even a "colossal mistake." It was a crime.
Those who perpetrated it are still at large. Some of them have even been rehabilitated thanks to the horrors of a mostly amnesiac citizenry.

We condemned children to death, some after many days of writhing in pain on bloodstained mats, without pain relievers. Some died quickly, wasted by missing arms and legs, crushed heads. As the fluids ran out of their bodies, they appeared like withered, spoiled fruits. They could have lived, certainly should have lived – and laughed and danced, and run and played- but instead they were brutally murdered. Yes, murdered!
The McGlynn
War News
War Children Photo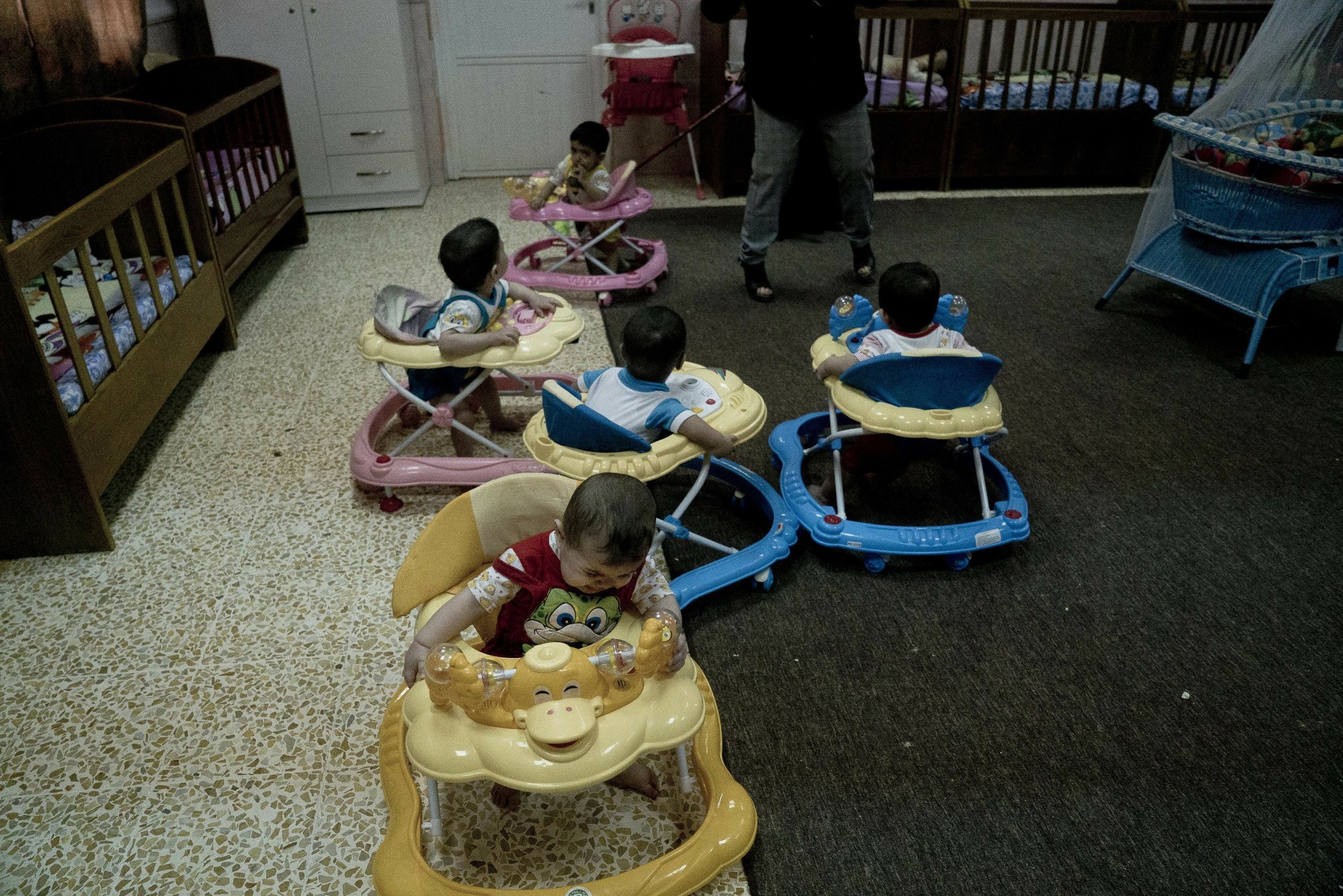 In this Aug. 19, 2018 photo, babies toddle around in walkers at the state-run al-Zuhour Orphanage in Mosul, Iraq. Orphanages are where wars play out: children abandoned in the chaos of battle, children born of rape and sexual slavery, babies left behind in the hospital in the hopes of a fresh start, and those left in state care after their parents are sentenced to death. (AP Photo/Maya Alleruzzo)
With tension mounting in Idlib, people trying to flee across the border are being given the choice of detention or waiving their right to asylum
T

areq* can recall in detail each of the 22 times he climbed over the concrete border wall, dodged a flurry of bullets, and sprinted as fast as he could – until Turkish border guards caught him and turned him back.
On his 23rd attempt, the soldiers drove the 26-year-old Syrian to a police station called Branch 500 in Hatay. There they presented him with a choice: either stay in prison – for how long, they wouldn't say – or sign a paper and walk free.
"It's not like they're physically putting a gun to your head, but you have no other option," Tareq says. He signed and the next day he was driven across the border and dropped back where he had started, in Idlib.
It was only when he yet again crossed from Syria into Turkey that he understood the paper's significance. The Turkish authorities told him what he had signed at Branch 500 waived his claim for asylum protection.
As uncertainty hangs over Syria's final rebel-controlled enclave, where government and rebel forces are currently in a tense standoff, a Guardian investigation has found that undocumented Syrian refugees in Turkey face arrest, detention and deportation back to the war they fled. Some claim to have been coerced into signing statements saying they were returning of their own free will.
Human rights groups say this is in violation of international law, which prohibits refoulement – sending refugees back to war zones.
JOHANNESBURG (AP) — The U.S. military says it has conducted an airstrike that killed four al-Shabab extremists after "partner forces came under small arms fire."
The U.S. Africa Command says Sunday's airstrike was carried out near the community of Araara in Lower Juba region in the south.
The statement says no U.S. service members were on the ground during the Somali-led operation and that according to its assessment no civilians were injured or killed in the airstrike.
The U.S. military has carried out more than two dozen airstrikes, including drone strikes, this year against the al-Qaida-linked al-Shabab, the deadliest Islamic extremist group in sub-Saharan Africa.
Somalia on Sunday marked the first anniversary of al-Shabab's deadliest attack, a truck bombing in the capital, Mogadishu, that killed well over 500 people.
MAZAR-I SHARIF, Afghanistan — Dozens of Afghan police were killed or wounded in heavy fighting in northern and central provinces overnight, officials said on Tuesday, just days before parliamentary elections which the insurgents have promised to disrupt.
The latest fighting came despite increasing signs of moves toward possible peace talks and followed a meeting in Qatar last week between Taliban officials and Zalmay Khalilzad, the new U.S. special envoy for peace in Afghanistan.
In the northern province of Samangan, 11 police, including the province's deputy police chief, were killed and 30 wounded when Taliban fighters attacked security checkpoints in Dara-e Sof Payeen district, said Naqibullah Tataar, a member of the provincial council.
Another 15 police were captured along with a large quantity of weapons, vehicles and equipment. The Taliban also suffered heavy casualties, he said but had no exact details.
Munir Ahmad Rahimi, spokesman for Samangan police, confirmed the attack and the death of deputy provincial police chief Khawani Taheri but said seven members of the security forces had been killed.
In the central province of Daikundi, hundreds of Taliban fighters equipped with heavy weapons attacked checkpoints in Kajran district and fought an hours-long battle in which eight Afghan soldiers and five police were killed, Ali Akbar Nateqi, the provincial governor's spokesman said.
The Taliban's main spokesman, Zabihullah Mujahid, claimed responsibility for both attacks, saying 30 police were killed in Samangan province and 19 killed in Daikundi, with large quantities of weapons and equipment and captured.
Although the latest attacks had no apparent direct link with Saturday's elections, they underlined the strength of the Taliban who control large areas of the countryside and earlier this year overran the major city of Ghazni.
Security officials see the increased attacks as part of a broad strategy by the insurgents to establish a strong position to impose their demands if formal peace talks begin. The Taliban have also suffered heavy casualties and say they are willing to keep talking about finding a solution to the conflict.
The United States has said it is willing to take part in talks but insists that the process must be led by the internationally recognized Afghan government, which the Taliban regard as an illegitimate regime imposed by foreign powers.
In the meanwhile, thousands of civilians have continued to be killed and wounded in the fighting, with more than 8,000 casualties in the first nine months of the year, according to United Nations figures.
KABUL, Afghanistan — An Afghan official says a Taliban attack on a security outpost in northern Samangan province has killed seven policemen, including a deputy provincial police chief.
The provincial governor, Abdul Latif Ibrahimi, says the attack occurred late on Monday in Dari Suf district.
Ibrahimi told The Associated Press on Tuesday that another five policemen were wounded in the attack. He says the attackers made away with two armored personnel carriers, a police vehicle and an ambulance.
There was no immediate claim of responsibility but in recent months, the Taliban have staged near-daily attacks on Afghan forces across the country.
On Saturday night, the Taliban attacked an army base in western Afghanistan, killing 17 Afghan soldiers and abducting 11. They also overran two checkpoints near the base, seizing weapons and ammunition.
By Khaama Press on 16 Oct 2018 1:54pm .
At least six members of a single family were killed or wounded after a mortar round impacted a residential house in southeastern Ghazni province of Afghanistan.
The 203rd Thunder Corps of the Afghan Military in the Southeast in a statement said the incident has taken place in the vicinity of Deh Yak district.
The statement further added that a mortar round fired by the terrorists impacted a residential house in Tasang village, leaving of the family dead.
According to 203rd Thunder Corps, at least four other members of the same family were also wounded in the incident.
The anti-government armed militant groups including Taliban militants have not commented regarding the incident so far.
By Khaama Press on 16 Oct 2018 1:12pm.
At least nine militants affiliated with the Islamic State of Iraq and Syria Khurasan (ISIS-K) were killed in an airstrike in eastern Nangarhar province of Afghanistan.
The Provincial Police Commandment in a statement said the airstrike was carried out by the coalition forces using unmanned aerial vehicle.
The statement further added that a hideout of the terror group was targeted in Bagh Dara area of Achi district, leaving at least nine militants dead.
The anti-government armed militant groups including ISIS loyalists have not commented regarding the report so far.
Nangarhar is among the relatively calm provinces in East of Afghanistan but the Taliban militants and ISIS loyalists have been attempting to expand their foothold and activities in this province.
By Khaama Press on 16 Oct 2018 10:13am .
The Security Chief of Samangan province Haji Khawani has been killed along with several police soldiers in an attack by the Taliban militants, the local officails said.
Provincial governor Abdul Rauf Ibrahimi confirmed the Security Chief of Samangan and his comrades were killed in an attack in Dara Suf district late on Monday night.
Ibrahimi further added that the Security Chief and his comrades had visited the district to help improve the security situation of the district when they came under attack.
According to Ibrahimi, the Haji Khawani and his comrades lost their lives after resisting the Taliban attack for several hours.
At least 12 militants were killed and two Armored Personnel Carriers were recaptured along with several other military equipment during the operation of the Afghan Special Forces in northern Kunduz province of Afghanistan.
The 209th Shaheen Corps of the Afghan Military in the North in a statement said the operation was conducted in Aliabad district of Kunduz province.
The statement further added that two militants were also wounded while two others arrested during the same operation.
The Afghan forces also recaptured two Armored Personnel Carries, a soft skin vehicle, an Ak-47 rifle, a PKM machine gun, 3 radio sets, and a large quantity of munitions during the operation, the statement added.
Recent Casualties:

Color

Denotes Today's Confirmation
The Department of Defense announced today the death of a soldier who was supporting Operations Resolute Support and Freedom's Sentinel.
Spc. James A. Slape, 23, from Morehead City, North Carolina, died Oct. 4, 2018, in Helmand Province, Afghanistan, as a result of wounds sustained from an improvised explosive device. The incident is under investigation.
Slape was assigned to 60th Troop Command, North Carolina Army National Guard, Washington, North Carolina.
Care for Veterans:
PTSD: National Center for PTSDPTSD Care for Veterans, Military, and FamiliesSee Help for Veterans with PTSD to learn how to enroll for VA health care and get an assessment.
All VA Medical Centers provide PTSD care, as well as many VA clinics.Some VA's have programs specializing in PTSD treatment. Use the VA PTSD Program Locator to find a PTSD program.
If you are a war Veteran, find a Vet Center to help with the transition from military to civilian life.
A Walk Through Arlington
Originally Published In 2007
The McGlynn