17 Oct
United States Wars, News and Casualties
.
The war ended for those children, but it has never ended for survivors who carry memories of them. Likewise, the effects of the U.S. bombings continue, immeasurably and indefensibly.
Damn The WarCriminals,Bush,Cheney,Rice,Rumsfeld, Wolfowitz, Powell and Blair from England.
How many Iraqis have died as a result of the invasion 15 years ago? Some credible estimates put the number at more than one million. You can read that sentence again.
The invasion of Iraq is often spoken of in our country as a "blunder," or even a "colossal mistake." It was a crime.
Those who perpetrated it are still at large. Some of them have even been rehabilitated thanks to the horrors of a mostly amnesiac citizenry.

We condemned children to death, some after many days of writhing in pain on bloodstained mats, without pain relievers. Some died quickly, wasted by missing arms and legs, crushed heads. As the fluids ran out of their bodies, they appeared like withered, spoiled fruits. They could have lived, certainly should have lived – and laughed and danced, and run and played- but instead they were brutally murdered. Yes, murdered!
The McGlynn
War News
Sources say soaring food prices have overtaken projections from UN general assembly two weeks ago, with up to 14 million people now at risk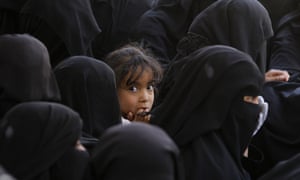 Yemeni women wait to receive food supplies. The UN warns that the country is on the brink of the world's worst famine in 100 years. Photograph: Yahya Arhab/EPA
The sheer magnitude of the famine facing Yemen was initially underestimated by the aid sector, leaving food security experts rushing to update projections made at the UN general assembly a fortnight ago, sources have told the Guardian.

The UN's humanitarian coordinator in Yemen, Lise Grande, visiting injured children in the northern province of Saada, in August. Photograph: Naif Rahma/Reuters
The speed at which the Yemeni currency plunged in early September, forcing food prices to soar, is being blamed for miscalculations that mean between 1.5 million and 2 million more people than initially thought are now at risk of famine.
Humanitarians warn children will be worst hit in what is being forecast as the world's most lethal famine for 100 years with up to 14 million people at risk, according to the UN.
"The crisis in Yemen is so huge and of such magnitude, we have to be frank about whether we can together deal with what is facing us," said Lise Grande, the UN's humanitarian coordinator for Yemen. "We are literally looking at hundreds of thousands, maybe even millions of people who may not survive."
Britain announced on Tuesday it would provide further aid to tackle malnutrition among Yemen's children, with funding secured to help screen 2.2 million under-fives.
But the news was met with cynicism from one humanitarian organisation, which criticised the UK for providing aid with one hand and arms to the Saudi-led coalition with the other.
LONDON (Reuters) – Iran's Revolutionary Guards said on Tuesday they had killed the "mastermind" behind an attack on a military parade in the Iranian city of Ahvaz last month which left 25 people dead, nearly half of them members of the Guards.
The Guards said in a statement published on state media their forces had killed a man named Abu Zaha and four other militants in Diyala province in Iraq. One news website run by Iran's state television said Abu Zaha was a member of Islamic State.
Both Islamic State and an Iranian ethnic Arab opposition movement called the Ahwaz National Resistance, which seeks a separate state in Iran's oil-rich Khuzestan province, have claimed responsibility for the Sept. 22 attack. Neither group has provided conclusive evidence to back up its claim.
LONDON (AP) — The kingdom of Saudi Arabia has enjoyed the ultimate protected status from the United States throughout its short history.
Riyadh has had a special relationship with the U.S., from President Franklin D. Roosevelt meeting Saudi Arabia's first King Abdul Aziz on Valentine's Day in 1945 to the kingdom becoming America's main Mideast ally following the downfall of Iran's shah in 1979.
Israel, Jordan and Egypt — sworn enemies who later signed peace deals — as well enjoy such a special status with the U.S. But none are the world's top supplier of crude oil, able to swing the global energy market……………..On Monday a new tale began to emerge: Trump floated the idea without publicly presenting any evidence that "rogue killers" were behind the possible assassination.
Realpolitik kicked in and the new arc of the story sounded distinctly written, directed and produced by the ultraconservative Saudi hierarchy, where no decision of any weight is made without the authority of the ruling Al Saud family.
Khashoggi, a contributor to the Washington Post, is well known and thought of in the halls of power — a face respected in many quarters to put to an alleged crime. That alone may have propelled the outrage surrounding his disappearance.
What binds Washington and Riyadh with such fervency and kinship, and why have previous perceived Saudi outrages not caused such seismic ripples?…………….Saudi Arabia was the first among American's Persian Gulf friends in times of trouble. When Saddam invaded Kuwait and the royal family fled to Saudi Arabia until the U.S. invaded and removed Iraqi forces, Saudi Arabia played host to American forces on its bases. This infuriated many in the Arab world given the Saudi monarchy's custodianship of Islam's two holiest sites in Mecca and Medina.
Ties were especially close between King Fahd and his successor King Abdullah with President George W. Bush. That's even after Osama bin Laden's al-Qaida launched the Sept. 11 attacks, in part over America's military presence in the kingdom. Saudi support for the 2003 Iraq War was less fulsome publicly, but logistical support remained undimmed.
Saudi Arabia, along with Israel, was most opposed to the thaw in relations between Tehran and Washington that led to the nuclear deal. Crown Prince Mohammed bin Salman, now at the center of the Khashoggi crisis, alleged by some to be its guiding bloody hand, spoke loudest, calling Iran's ayatollah a modern-day Hitler. Candidate Trump had railed against one of former President Barack Obama's signature geopolitical successes, and the nuclear accord was duly ripped up by President Trump.
VATICAN CITY (AP) — The head of Iraq's Chaldean Catholic Church complained on Tuesday that promised U.S. aid for religious minorities in Iraq hasn't materialized, issuing an unusual public rebuke of the United States on the same day Washington announced a new infusion of assistance.
Cardinal Louis Raphael I Sako spoke at a Vatican briefing as Mark Green, USAID administrator, was at the Vatican for talks and announced a near doubling of funding — to about $300 million since last year — and on-the-ground results.
"There are promises, but the reality is that there's been nothing up to now," Sako said, when asked about the U.S. aid. "Today, we need to help and encourage Christians to remain in place, help them to find work, repair their homes, give them a hope. Emptying these places is a mortal sin, truly."
He praised Hungary by contrast, saying it had provided $5 million in direct assistance to repair Christian homes, schools and churches in Iraq and Syria rather than take refugees in……………It wasn't immediately clear if he was referring to the U.S. policy overall in the region, but he suggested that the U.S. invasion of Iraq, which gave way to years of instability that facilitated the birth of the Islamic State group, was responsible for the exodus of Iraqi Christians from communities that have existed since the time of Jesus.
White House officials are worried that the apparent killing of the dissident journalist Jamal Khashoggi, and Saudi Arabia's changing account of his fate, could derail a showdown with Iran and jeopardize plans to enlist Saudi help to avoid disrupting the oil market.
Officials said the dilemma comes at a fraught moment for the Trump administration, which is expected to reimpose harsh sanctions against Iran on Nov. 5, with the intent of cutting off all Iranian oil exports.
But to make the strategy work, the administration is counting on its relationship with the Saudis to keep global oil flowing without spiking prices, and to work together on a new policy to contain Iran in the Persian Gulf.
If that carefully coordinated plan moves forward, the Saudis would likely see a significant increase in oil revenue at exactly the moment Congress is talking about penalizing the kingdom over the Khashoggi case. It is one reason that Secretary of State Mike Pompeo was sent, with a few hours' notice, to see King Salman of Saudi Arabia and Crown Prince Mohammed bin Salman on Tuesday.
Part of the problem is optics, officials said: Saudi Arabia looks like a brutal ally, including by leading a deadly military campaign in Yemen, just as President Trump and Mr. Pompeo have been casting Iran as the region's bully.
WASHINGTON — The Pentagon's Africa Command said on Tuesday that it had carried out the deadliest attack against the Islamist extremist group Shabab in nearly a year, killing about 60 fighters in central Somalia.
The strike took place Friday in the vicinity of Harardhere, about 300 miles northeast of Mogadishu, Somalia's capital, the military said in a statement. Africa Command officials offered no other details except to say it did not kill or injure any civilians, suggesting the militants were in a camp or massing for an attack.
The strike came after a recent spate of attacks that the Shabab have conducted against Somali security forces and their American advisers across the country.
On Sept. 21, Shabab fighters attacked American and Somali troops 30 miles northwest of Kismayo. Ten days earlier, militants struck Somali and American forces in Mubarak, in central Somalia, killing one Somali soldier.
KABUL, Afghanistan — A bomb blast killed an Afghan parliamentary candidate on Wednesday as the Taliban warned teachers and students not to participate in upcoming elections and not to allow schools to be used as polling centers.
The insurgents said in the statement that they will target the Oct. 20 national elections, which they view as illegitimate, but that they do not want to harm civilians.
A bomb went off Wednesday in the campaign office of Abdul Jabar Qahraman, a candidate in the southern Helmand province, killing him and wounding seven other people, said Omar Zwak, a spokesman for the provincial governor.
Zwak said the explosive device appeared to have been hidden in a sofa. No one immediately claimed responsibility for the bombing of the office in the provincial capital, Lashkar Gah. A series of recent attacks has killed six other candidates, before and after the official start of the campaign. Two candidates have been abducted and three have been wounded in violence.
KABUL — More female candidates than ever are set to contest Afghanistan's upcoming parliamentary election, braving violence and opposition from social conservatives in a campaign seen as a test of the war-torn nation's democratic institutions.
"Elections in my country are not just about victory or defeat," said Dewa Niazai, a 26 year-old candidate from the eastern province of Nangarhar, who holds a degree in computer science from India. "It is about launching a small-scale war. I can get killed, injured or abducted."
Niazai is one of the 417 women candidates contesting seats across the country, despite deadly suicide attacks on election rallies and offices apparently aimed at forcing voters to boycott the vote scheduled for Oct. 20.
She says she wants to be a voice for uneducated women who are not represented in parliament and to defend girls' rights to education – Islamic State has blown up several girls' schools in her Nangarhar constituency.
The growing involvement of women has been welcomed by the United Nations and other international bodies, which see the elections as a vital step in building trust in democratic processes.
Campaigning is fraught with risks regardless of gender. Nine candidates, including one woman, have been killed in separate attacks. Another two have been abducted, and four others have been wounded by hardline Islamist militants, election officials said.
Last week a blast at an election rally of a woman candidate in the northeastern province of Takhar killed 22 people and wounded 35.
By Khaama Press on 17 Oct 2018 9:51am.
At least 30 militants including 4 suicide bombers were killed or wounded in separate airstrikes carried out by the U.S. forces in southeastern Ghazni province of Afghanistan.
The 203rd Thunder Corps of the Afghan Military in the Southeast in a statement said the coalition forces carried out an airstrike targeting a mini-van of the militants in Qurban area of Qarabagh district, leaving four suicide bombers dead.
The statement further added that the coalition forces also carried out airstrikes against the Taliban targets in Chori Kali area of Aab Band district, leaving at least 19 militants dead and 7 others wounded.
According to 203rd Thunder Corps, the militants killed or wounded during the airstrikes belong to Zarif Kochi group of Taliban.
Recent Casualties:

Color

Denotes Today's Confirmation
The Department of Defense announced today the death of a soldier who was supporting Operations Resolute Support and Freedom's Sentinel.
Spc. James A. Slape, 23, from Morehead City, North Carolina, died Oct. 4, 2018, in Helmand Province, Afghanistan, as a result of wounds sustained from an improvised explosive device. The incident is under investigation.
Slape was assigned to 60th Troop Command, North Carolina Army National Guard, Washington, North Carolina.
Care for Veterans:
PTSD: National Center for PTSDPTSD Care for Veterans, Military, and FamiliesSee Help for Veterans with PTSD to learn how to enroll for VA health care and get an assessment.
All VA Medical Centers provide PTSD care, as well as many VA clinics.Some VA's have programs specializing in PTSD treatment. Use the VA PTSD Program Locator to find a PTSD program.
If you are a war Veteran, find a Vet Center to help with the transition from military to civilian life.
A Walk Through Arlington
Originally Published In 2007
The McGlynn