20 Oct
United States Wars, News and Casualties
.
The war ended for those children, but it has never ended for survivors who carry memories of them. Likewise, the effects of the U.S. bombings continue, immeasurably and indefensibly.
Damn The WarCriminals,Bush,Cheney,Rice,Rumsfeld, Wolfowitz, Powell and Blair from England.
How many Iraqis have died as a result of the invasion 15 years ago? Some credible estimates put the number at more than one million. You can read that sentence again.
The invasion of Iraq is often spoken of in our country as a "blunder," or even a "colossal mistake." It was a crime.
Those who perpetrated it are still at large. Some of them have even been rehabilitated thanks to the horrors of a mostly amnesiac citizenry.

We condemned children to death, some after many days of writhing in pain on bloodstained mats, without pain relievers. Some died quickly, wasted by missing arms and legs, crushed heads. As the fluids ran out of their bodies, they appeared like withered, spoiled fruits. They could have lived, certainly should have lived – and laughed and danced, and run and played- but instead they were brutally murdered. Yes, murdered!
The McGlynn
War News
Photos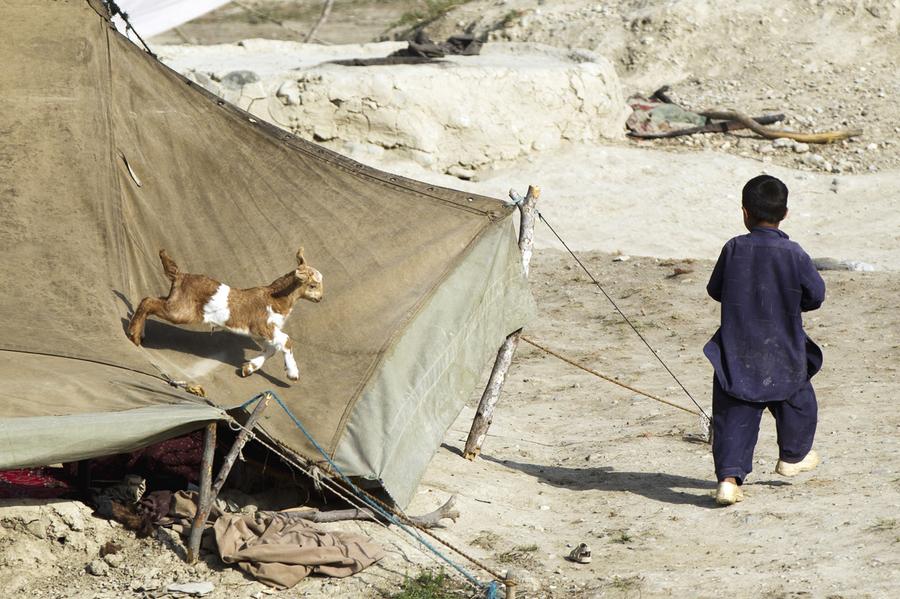 A young boy runs from a goat that is chasing him, as it climbs over his family's tent in Afghanistan's Paktiya Province Reuters/Lucas Jackson

Children run away after an explosion in Kabul. Several large explosions rocked a busy area in the center of the Afghan capital, Kabul, with witnesses describing shooting in the area Reuters/Omar Sobhani 
BEIRUT (Reuters) – Six hostages were freed on Saturday from Islamic State, which has held several women and children captive since it attacked Syria's Sweida city three months ago, state media and a monitor said.
A woman and her children are seen after being freed from the Islamic State in Sweida, Syria October 20, 2018. Syrian Arab News Agency (SANA)/Handout via REUTERS
Islamic State militants staged multiple suicide attacks in Sweida and overran nearby villages in southwestern Syria on July 25, killing more than 200 people, many of them civilians.
Sweida, which is under state rule, has a mainly Druze community. Druze authorities and Islamic State have held negotiations for the release of the hostages.
Syrian state news agency SANA said two women and four children returned home on Saturday after being kidnapped from a village east of Sweida city.
"As a result of the army's siege on the terrorists, and efforts by the concerned entities, six of the 29 hostages were freed, and the rest will be freed very soon," SANA cited Sweida Governor Amer al-Eshi as saying…………….The Syrian Observatory for Human Rights, a UK-based war monitoring group, said the militants released the first group of hostages after talks with local authorities.
KABUL, Afghanistan (AP) — Some Afghans lined up for hours to cast their vote Saturday in a chaotic start to parliamentary elections that are being protected by tens of thousands of security forces on alert nationwide following a campaign marred by relentless violence.
In some parts of the capital Kabul, voters waited for polls to open five hours after the official opening time of 7 a.m. In some of the city's western neighborhoods, voters were posting pictures of closed polling stations hours after they were scheduled to open.
Afghans hoping to bring change to a corrupt government have in the eight years since the last elections endured a resurgent Taliban that have carried out near-daily attacks on security forces, seizing large swathes of the countryside and threatening major cities.
The Islamic State affiliate, meanwhile, has launched a wave of bombings targeting the country's Shiite minority, killing hundreds. Both groups have threatened to attack anyone taking part in the vote.
Poll workers struggled with a new biometric system and in several polling stations workers took an extraordinary amount of time to locate names on voter lists. In some polling stations in Kabul, voting started considerably late leading to small disturbances by frustrated voters, some of whom had come to vote nearly two hours before polls opened.
The new biometric machines meant to curtail fraud were late additions to Afghanistan's elections and had not been tested in the field and workers had not had more than a few weeks to learn the system. Even the Independent Election Commission chairman, Abdul Badih Sayat, warned ahead of polling that the system might experience glitches and asked for voters' patience.
The chaos at the polls could compromise the legitimacy of Saturday's vote in the minds of many Afghans, who have already expressed fears of fraud aimed at keeping the warlords and politically corrupt who currently dominate Afghanistan's Parliament in power.
KABUL, Afghanistan (AP) — The stakes in Saturday's parliamentary elections in Afghanistan have never been higher, coming just two days after the Taliban assassinated two top provincial officials in an audacious attack on a security conference attended by the top U.S. military commander in the country.
The attack came just as Washington is trying to find a peace deal that will allow the U.S. to draw down its forces and extricate itself from the 17-year war, the longest in American history.
On Friday, Afghanistan's Independent Election Commission postponed polls in southern Kandahar province for one week in response to the brazen attack that killed the powerful provincial police chief, Gen. Abdul Raziq, who was gunned down Thursday as participants wrapped up a day-long meeting to lay out security plans for Saturday's elections. Gen. Scott Miller, the commander of U.S. and NATO troops in Afghanistan, escaped injury, but his presence at the gathering was indicative of the importance Washington places on a violence-free election, particularly in the country's south and east, once the religious and political heartland of the Taliban before their 2001 ouster.
Raziq's death deals a powerful blow to the Afghan government's already flagging war against a resurgent Taliban.
"The Americans found (Raziq) brutally effective against the Taliban," said an analysis released Friday by the Brussels-based International Crisis Group, or ICG. "Raziq did not fight by the rules: the U.N. Committee Against Torture called for his prosecution last year after he was personally implicated in torture and extrajudicial killings."……………….Many Afghans say they hope Saturday's poll will result in less power for the warlords and corrupt political elite, who currently dominate Parliament, but few expect the new generation can compete against the lavish entertainment and cash handouts to impoverished voters that characterized the election campaign of the country's politically powerful.
"Prospective peace talks would get a big boost if they include a credible Afghan government partner regarded as legitimate and truly representative of the people," said Kugelman of the Wilson Center. "To get a credible peace partner, you need a successful political transition, and that transition starts with the Saturday polls."
KABUL — Voting in Afghanistan's parliamentary election will be extended to Sunday in some constituencies after technical and organizational problems stopped voters casting their ballot in some polling centers on Saturday, government officials said.
Abdul Badi Sayad, chairman of Independent Election Commission said the voting process will continue till Sunday in those places where election officers or election material arrived late.
Confusion over biometric voter registration equipment, polling stations not opening on time, missing election materials and delays forcing lengthy waits angered voters on Saturday.
WASHINGTON — A brazen attack that the Taliban says targeted the top U.S. commander in Afghanistan is a stark reminder of the formidable task the Trump administration faces as it tries to extricate America from its longest war.
The commander, Army Gen. Scott Miller, escaped unharmed from Thursday's attack. Elections for the lower house of parliament are still expected to be held as scheduled Saturday in much of the country. And administration officials said U.S. resolve is unshaken.
"We remain absolutely committed to an Afghan-led Afghan reconciliation," Defense Secretary Jim Mattis told reporters Friday on the sidelines of an Asian security conference in Singapore. "Right now, we're going toward the election and we will continue to defend the Afghan people."
But the timing of the attack makes U.S. goals seem ever more distant. It comes just a week after reported U.S. back-channel talks with the Taliban and as the administration steps up efforts to kick-start peace negotiations between the militant group and the Afghan government to end the war, now entering its 18th year.
"The Trump administration, like the Obama administration before it, wants out. The Taliban knows this and is more than happy to dictate the terms of America's withdrawal," Thomas Joscelyn, a senior fellow at the Washington-based Foundation for Defense of Democracies, wrote in The Weekly Standard, a conservative magazine.
There are about 14,000 U.S. troops in Afghanistan on a mission to train and assist Afghan government forces in taking the fight to the Taliban, which controls or contests close to half the districts in the country. Violence is rising, claiming the lives of hundreds of civilians every month. There have been seven U.S. combat deaths so far this year.
By Khaama Press on 20 Oct 2018 3:49pm -.
The Afghan and Pakistani forces have briefly exchanged fire along the Drand Line in Spin Boldak district of southern Kandahar province.
A source in 205th Maiwand Corps of the Afghan Military confirmed the incident and said the brief exchange of fire by the two sides.
The source further added that the skirmish is not intense but both the Afghan and Pakistani forces are sporadically exchanging fire.
According to the Afghan Military source, the latest skirmish took place due to the fencing of the controversial areas of the Durand Line by the Pakistani forces.
The source also added that the incident has taken place in Saro Sahan area of Spin Boldak district.
By Khaama Press on 20 Oct 2018 2:47pm .
The shadow governor of the Taliban group for Maidan Wardak province has been killed during the operations of the Afghan National Defense and Security Forces (ANDSF), the Afghan Military in the Southeast said.
According to a statement released by 203rd Thunder Corps of the Afghan Military, the Taliban shadow governor for Maidan Wardak was killed with his three comrades in Chak district.
The statement further added that the Afghan forces conducted operations using artillery fire to target the hideouts of the Taliban in Baksari area of Chak district, leaving four Taliban militants dead, including the shadow governor of the group.
In the meantime, the 203rd Thunder Corps said at least 12 militants were killed and 14 others sustained injuries during the operations "Sultan" in Bakawal area located in the outskirts of the provincial capital of Ghazni city.
Recent Casualties:

Color

Denotes Today's Confirmation
The Department of Defense announced today the death of a soldier who was supporting Operations Resolute Support and Freedom's Sentinel.
Spc. James A. Slape, 23, from Morehead City, North Carolina, died Oct. 4, 2018, in Helmand Province, Afghanistan, as a result of wounds sustained from an improvised explosive device. The incident is under investigation.
Slape was assigned to 60th Troop Command, North Carolina Army National Guard, Washington, North Carolina.
Care for Veterans:
PTSD: National Center for PTSDPTSD Care for Veterans, Military, and FamiliesSee Help for Veterans with PTSD to learn how to enroll for VA health care and get an assessment.
All VA Medical Centers provide PTSD care, as well as many VA clinics.Some VA's have programs specializing in PTSD treatment. Use the VA PTSD Program Locator to find a PTSD program.
If you are a war Veteran, find a Vet Center to help with the transition from military to civilian life.
A Walk Through Arlington
Originally Published In 2007
The McGlynn