22 Oct
United States Wars, News and Casualties
.
The war ended for those children, but it has never ended for survivors who carry memories of them. Likewise, the effects of the U.S. bombings continue, immeasurably and indefensibly.
Damn The WarCriminals,Bush,Cheney,Rice,Rumsfeld, Wolfowitz, Powell and Blair from England.
How many Iraqis have died as a result of the invasion 15 years ago? Some credible estimates put the number at more than one million. You can read that sentence again.
The invasion of Iraq is often spoken of in our country as a "blunder," or even a "colossal mistake." It was a crime.
Those who perpetrated it are still at large. Some of them have even been rehabilitated thanks to the horrors of a mostly amnesiac citizenry.

We condemned children to death, some after many days of writhing in pain on bloodstained mats, without pain relievers. Some died quickly, wasted by missing arms and legs, crushed heads. As the fluids ran out of their bodies, they appeared like withered, spoiled fruits. They could have lived, certainly should have lived – and laughed and danced, and run and played- but instead they were brutally murdered. Yes, murdered!
The McGlynn
War News
Photos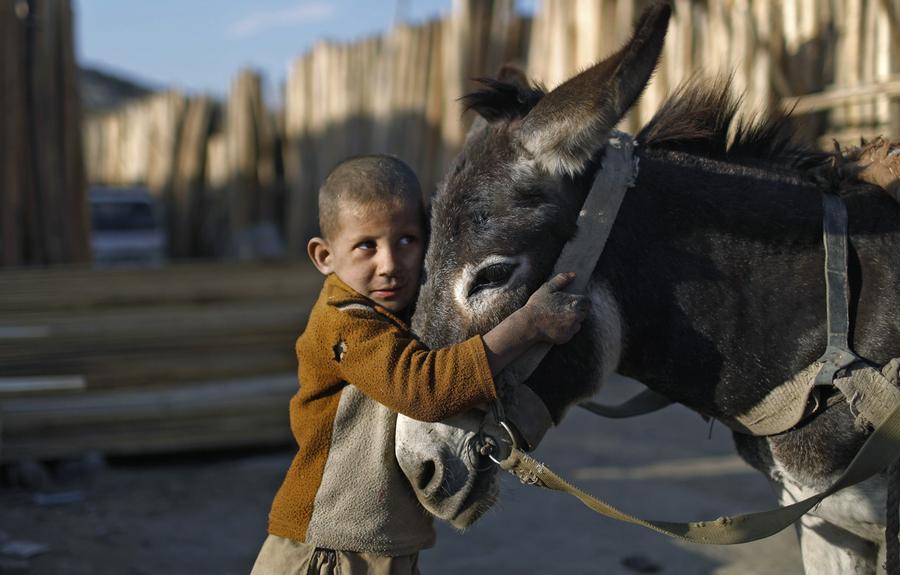 A boy holds his donkey outside a timber market in Kabul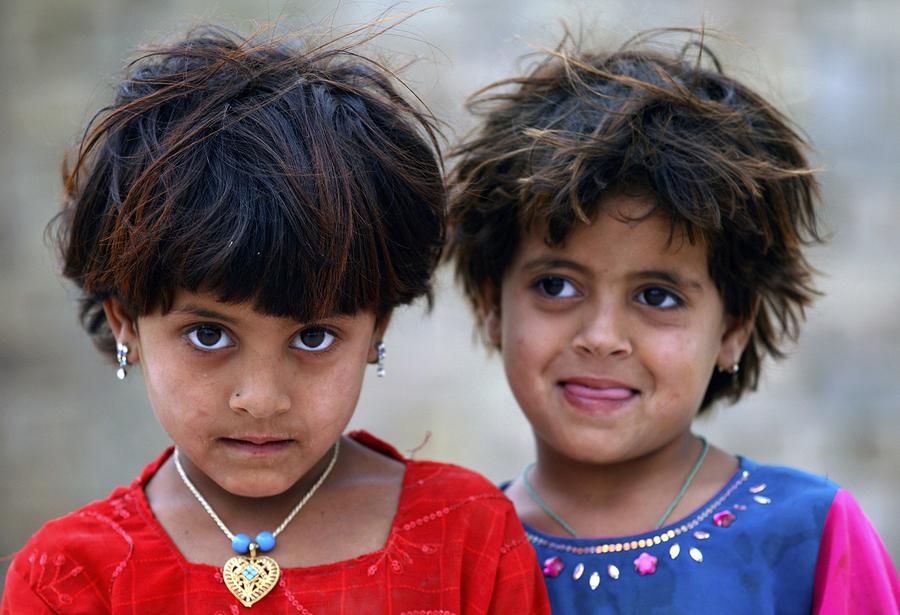 Two girls gather as a soldier from Camp Nathan Smith visits their village of Mirwaise Mina, some 5 km (3 mi) southwest of Kandahar City center.
With the help of the Trump administration, the Saudi regime is trying to sell us a brand new fake investigation.

Activists dressed as Saudi Crown Prince MBS and President Trump seen during a demonstration to protest the disappearance of Jamal Khashoggi, in Washington, US October 19, 2018 [Leah Millis/Reuters]
In the age of "fake news" and "alternative facts" you, of course, have "fake investigations", too – the sort that FBI did on Brett Kavanaugh's sexual misconduct allegations and now the sort Donald Trump tells us Mohammed bin Salman is doing into allegations of his own suspected involvement in the brutal murder of the dissident journalist Jamal Khashoggi. Has anyone ever heard anything more absurd – for an accused to investigate himself? Yes, of course, we live in Trump time – any absurdity is the new normal.
The Saudis have now
finally admitted
that Khashoggi died at the Saudi consulate in Istanbul, supposedly after a fistfight, and that "18 Saudi nationals have been arrested" for further investigation.
The Saudis should have hired what in Hollywood they call a "script supervisor" before they opened their mouth telling the world what happened to Jamal Khashoggi. So far, they have gone from flat denial to having Khashoggi start a fistfight with 15 cutthroat butchers the Saudis had sent to cut him to pieces. Right now, they are shooting a martial art movie with Khashoggi cast as Bruce Lee.
An Iraqi refugee remembers the day when 12 of his relatives, including a six-month-old, died in the Battle for Mosul.
Lesbos, Greece – At 5am on October 1 last year, Mohamed set foot on a boat for the first time in his life, beginning a five-hour voyage in a small dinghy from the Turkish coast to the Greek island of Lesbos.
The smugglers had kept their charges – who were huddled together in the cold darkness – in limbo since midnight, waiting for the lights of the patrolling Turkish coastguard vessels to disappear.
"It was one of the hardest days of my life," said the 22-year-old. "I was crying so much." 
Mohamed was lucky. The trip was uneventful and he arrived safely. 
By midday, he was waiting to be processed in Moria, Lesbos' main refugee camp………..
Mohamed spends his days as an Arabic translator in a medical clinic that serves refugees, working for free. In the evenings, he rushes off to a shift at another facility, where he translates until 2am.
Sitting on a wooden bench outside the one-room clinic where he volunteers, he is able to take a break. None of the patients waiting to be seen speaks Arabic; they are all Africans, mainly Congolese and Cameroonians.
US forces made a lot of mistakes and a lot of people died from these mistakes. They would try to bomb an ISIL hideout, but they would miss and hit a house nearby. Sometimes, nine or 10 innocent people would die.
………….
"When I went to my father's house, I saw that everything was completely destroyed. The building was nothing. When I saw that, my life stopped. My life stopped completely. I lost my whole family. I lost everything."
All of Mohamed's immediate family perished in the bombing: his father, 65, his mother, 53, his three brothers, 28, 25 and 19, and his three sisters, 32, 30 and 21.
He also lost his two sisters-in-law, 22 and 16, a one-year-old nephew, and a niece, six months.
KABUL (Reuters) – U.S. Army Brigadier General Jeffrey Smiley, was confirmed as one of two Americans wounded in Thursday's attack that killed the police chief of the southern Afghan province of Kandahar, a spokeswoman for the NATO-led Resolute Support mission said.
Smiley, commander of Resolute Support's training and advisory mission in southern Afghanistan, was shot when a member of the provincial governor's bodyguard opened fire on a group of officials leaving a meeting with the top NATO commander in Afghanistan, General Scott Miller.
"I can confirm US. Army Brig. Gen. Jeffrey Smiley was wounded during a recent insider attack in Afghanistan's Kandahar Province," a spokeswoman for the NATO-led force said in an emailed statement.
Miller was unhurt but Kandahar police chief, General Abdul Razeq, one of Afghanistan's most prominent anti-Taliban commanders, was fatally wounded along with the local head of the NDS intelligence service General Abdul Momim.
The attack, which was claimed by the Taliban, was a devastating blow to the government, decapitating the security command of one of Afghanistan's most strategically important provinces and demonstrating the insurgents' ability to strike even top leaders.
Along with Smiley, one U.S. civilian and a coalition contractor were wounded as the group of officials made their way to a helicopter due to take Miller and his party back to Kabul.
BERLIN (Reuters) – Germany wants other European Union member states to follow its example in stopping arms exports to Saudi Arabia as long as uncertainty remains over the killing of journalist Jamal Khashoggi, Economy Minister Peter Altmaier said on Monday.
Riyadh has given multiple and conflicting accounts on what led to Khashoggi's death on Oct. 2 at its consulate in Istanbul. On Sunday, Foreign Minister Adel al-Jubeir called the killing a "huge and grave mistake" but sought to shield Saudi Arabia's powerful crown prince.
Chancellor Angela Merkel said on Sunday that Germany would stop arms exports to Saudi Arabia as long as the uncertainty around Khashoggi's death persisted.
Altmaier, a close ally of Merkel, said Riyadh's explanations on the case so far had not been satisfactory.
"The government is in agreement that we will not approve further arms exports for the moment because we want to know what happened," Altmaier told ZDF broadcaster.
So far this year the German government had approved weapons exports worth more than 400 million euros ($462 million) to Saudi Arabia, making it the second-biggest recipient of German arms after Algeria.
Asked whether Germany would roll back previously agreed arms deals with Saudi, he said a decision would be made "very soon".
WASHINGTON (Reuters) – Top U.S. lawmakers turned their ire on Saudi Crown Prince Mohammed bin Salman on Sunday and said they believed he ordered the killing of Saudi journalist Jamal Khashoggi, although the Trump administration maintained a more cautious stance.
"Do I think he did it? Yes, I think he did it," Republican Senator Bob Corker, the influential chairman of the Senate Foreign Relations Committee, said in an interview with CNN.
Corker, who received a classified briefing on the case on Friday, said he was waiting for investigations to be completed and hoped that Turkey would share any audio tapes of the killing of Khashoggi in the Saudi consulate in Istanbul on Oct. 2.
However, he made it clear that he believed the murder was directed by the prince, who has consolidated power in the world's top oil exporter and courted U.S. President Donald Trump.
"Let's let this play out, but my guess is that at the end of the day the United States and the rest of the world will believe fully that he did it," Corker told CNN's "State of the Union."
The prince has denied involvement with the disappearance of Khashoggi, a critic of the government who wrote columns for the Washington Post and lived in the United States. Saudi Foreign Minister Adel al-Jubeir went on U.S. television to insist that the killing was a mistake, and sought to shield the prince from the widening crisis.
BEIRUT (Reuters) – The U.S.-led coalition said on Sunday it had killed militants in eastern Syria by striking a mosque that Islamic State used as a base, after reports of dozens of civilian deaths.
The Syrian Observatory for Human Rights said air strikes killed 41 people, including 10 children, in al-Sousa village and its environs on Thursday and Friday. Many were Iraqi relatives of Islamic State fighters, the UK-based monitor said.
The coalition raids, which hit a mosque and houses, also killed 22 jihadists around the Euphrates River near the Iraqi border, one of the last Islamic State enclaves in Syria.
Syria's foreign ministry said on Saturday that coalition warplanes had "committed a crime", killing at least 62 civilians in al-Sousa and a nearby village in Deir al-Zor province.
Damascus, which deems the U.S. and international forces in Syria occupiers, accused them of relentless bombing and called on the United Nations to "punish the aggressors".
The U.S.-led coalition said it destroyed a mosque which Islamic State fighters had turned into a headquarters in al-Sousa to defend their last territory.
The strike on Thursday killed 12 militants, disabling a command center they had used to attack coalition forces and their allies, it said…………….The U.S.-led coalition is fighting the remnants of Islamic State near the frontier between Syria and Iraq. With air power and special forces on the ground, it backs the Syrian Democratic Forces (SDF), a Kurdish-led alliance of militias.
KABUL, Afghanistan — Vote counting has started in Afghanistan following chaotic parliamentary elections marred by violence, technical glitches and unprecedented delays.
Despite attacks that killed 50, including many children, roughly 4 million Afghans out of 8.8 registered voters cast their ballots over the two-day voting.
In southern Kandahar province, voting is to take place next Saturday, after polls there were postponed for a week following an attack that killed two senior Afghan officials, including the powerful provincial police chief, Gen. Abdul Raziq.
Unofficial election results are not expected before mid-November and official results sometime in December.
Recent Casualties:

Color

Denotes Today's Confirmation
The Department of Defense announced today the death of a soldier who was supporting Operations Resolute Support and Freedom's Sentinel.
Spc. James A. Slape, 23, from Morehead City, North Carolina, died Oct. 4, 2018, in Helmand Province, Afghanistan, as a result of wounds sustained from an improvised explosive device. The incident is under investigation.
Slape was assigned to 60th Troop Command, North Carolina Army National Guard, Washington, North Carolina.
Care for Veterans:
PTSD: National Center for PTSDPTSD Care for Veterans, Military, and FamiliesSee Help for Veterans with PTSD to learn how to enroll for VA health care and get an assessment.
All VA Medical Centers provide PTSD care, as well as many VA clinics.Some VA's have programs specializing in PTSD treatment. Use the VA PTSD Program Locator to find a PTSD program.
If you are a war Veteran, find a Vet Center to help with the transition from military to civilian life.
A Walk Through Arlington
Originally Published In 2007
The McGlynn