23 Oct
United States Wars, News and Casualties
.
The war ended for those children, but it has never ended for survivors who carry memories of them. Likewise, the effects of the U.S. bombings continue, immeasurably and indefensibly.
Damn The WarCriminals,Bush,Cheney,Rice,Rumsfeld, Wolfowitz, Powell and Blair from England.
How many Iraqis have died as a result of the invasion 15 years ago? Some credible estimates put the number at more than one million. You can read that sentence again.
The invasion of Iraq is often spoken of in our country as a "blunder," or even a "colossal mistake." It was a crime.
Those who perpetrated it are still at large. Some of them have even been rehabilitated thanks to the horrors of a mostly amnesiac citizenry.

We condemned children to death, some after many days of writhing in pain on bloodstained mats, without pain relievers. Some died quickly, wasted by missing arms and legs, crushed heads. As the fluids ran out of their bodies, they appeared like withered, spoiled fruits. They could have lived, certainly should have lived – and laughed and danced, and run and played- but instead they were brutally murdered. Yes, murdered!
The McGlynn
War News

UNITED NATIONS (AP) — The U.N. humanitarian chief says the conflict in Yemen has left 8.4 million people dependent on emergency food assistance and 75 percent of its 22 million people requiring some form of aid.
Mark Lowcock warns in an analysis obtained Monday night by The Associated Press that humanitarian officials "estimate that 3.5 million to 4 million more people could become severely food insecure in the months ahead."
The analysis, which is to be the subject of a briefing to the Security Council on Tuesday, says 3 million Yemenis are malnourished, including 1.1 million pregnant women "and more than 400,000 severely acutely malnourished children."
In a worst case scenario, Lowcock warns that if current trends continue, food needs could increase "by as much as 62 percent."
The conflict in Yemen, the Arab world's poorest country, began with the 2014 takeover of the capital, Sanaa, by Houthi Shiite rebels, which toppled the internationally recognized government. A Saudi-led coalition allied with the government has been fighting the Houthis since 2015.
Civilians have borne the brunt of the conflict, which has killed over 10,000 people and sparked a cholera epidemic and humanitarian crisis.
At the beginning of 2017, the U.N. and its partners were able to provide aid to 3 million hungry Yemenis. But since then, they have scaled up assistance, reaching 8 million people last month because of generous funding from donors, Lowcock said. But increased funding is needed now to meet the "projected increases in needs."
KABUL, Afghanistan — An Afghan commando opened fire on members of the American-led NATO coalition in western Afghanistan on Monday, killing one and wounding two, officials said.
The shooting, at the Shindand base in Herat Province, intensified concerns about a rise in the kind of so-called insider attacks that, at their peak in 2012, almost derailed the NATO mission in Afghanistan.
It came just days after a brazen attack by a Taliban infiltrator among the Afghan forces in southern Kandahar Province that killed an important Afghan police commander and wounded an American brigadier general.
In the Kandahar attack, the top American and NATO commander, Gen. Austin S. Miller, was present, but officials said he was unhurt and it was clear he had not been the target.
The NATO mission, called Resolute Support, did not disclose the nationalities of the service members killed and wounded on Monday at a camp on the Shindand base used by Afghan commandos. Afghan and American officials suggested the soldiers were from the Czech Republic.
"Initial reports indicate the attack was committed by a member of the Afghan security forces," the NATO mission said in a statement.
HERAT, Afghanistan — A Czech member of the NATO-led Resolute Support mission in Afghanistan was killed and two others wounded on Monday in the western province of Herat, the Czech Defence Ministry said.
Earlier, the Resolute Support headquarters in Kabul said initial reports indicated the attack was carried out by a member of the Afghan security forces. It had not released the nationality of the service members.
The Czech ministry said in a statement that the two injured soldiers had been taken to Bagram military hospital and did not face life-threatening injuries. The attack was on a vehicle, it said but gave no further details although a spokeswoman said the incident occurred on a base.
The Czech ministry and local officials said the attack happened in Shindand district to the south of Herat city, an area with heavy Taliban presence.
Peace prize winner Tawakkol Karman, a friend of murdered Saudi journalist Jamal Khashoggi, says his death will bring change in the region as long as the crown prince is held to account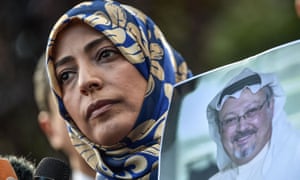 Nobel peace prize laureate Tawakkol Karman holds a picture of Khashoggi during a demonstration in front of the Saudi consulate on 5 October. Photograph: Ozan Köse/AFP/Getty Images
The death of dissident journalist Jamal Khashoggi must now galvanise greater scrutiny of Saudi Arabia's military intervention in Yemen, where a coalition led by the kingdom is fighting Houthi rebels, said Yemeni Nobel laureate and human rights advocate Tawakkol Karman.
"Jamal Khashoggi's death cannot go unpunished. His blood should lead to the prosecution of the perpetrators of this crime, who are the same perpetrators of the crime against millions of people in Yemen – that is the Saudi kingdom," said Karman, journalist and a leader of the Arab Spring in Yemen in 2011.
Despite denials from Riyadh, mounting evidence collected by Turkish intelligence services indicates that Khashoggi was seized by a Saudi hit squad, tortured and killed at the Saudi consulate in Istanbul earlier this month.
"His death can open a big window for change if we continue to pressure against any settlement of deals that protect [crown prince] Mohammed bin Salman. I believe that if the criminals behind this crime do not escape justice, it will lead to great change," said Karman, in an interview with the Guardian. A friend of Khashoggi, she believes he was killed because he pushed for freedom of expression…………..Karman, a joint winner of the 2011 Nobel peace prize, for leading women's efforts to build peace in Yemen, called on the US and Britain to immediately stop selling arms to Saudi Arabia. At least 10,000 people have been killed and millions displaced by a four-year civil war. The UN said last week 12 to 13 million people could be at risk of starvation if Saudi-led airstrikes do not cease.
Karman, who founded Women Journalists Without Chains, said Saudi Arabia's role in the death of Khashoggi should lead to more international media attention on what is happening in Yemen. She described the country as "a forgotten land, where there has not been enough focus on the genocide taking place".
MOSUL, Iraq (Reuters) – At least four people were killed and 15 wounded in a car bomb blast in the northern Iraqi town of Qayyara on Tuesday, police and medical sources said.
A vehicle packed with explosives was parked near a restaurant and a crowded market area in Qayyara, south of the city of Mosul, police said. Health official said the death toll might rise as some of the wounded were in a critical condition.
No group immediately claimed responsibility, but Islamic State militants often carry out such attacks.
Iraq declared victory over Islamic State in December, dislodging the group from all territories it held after its self-proclaimed caliphate, which also composed part of Syria, collapsed earlier in 2017.
The group's fighters have since waged a campaign of kidnapping, killing and bomb attacks targeting civilians and security forces.
An interior ministry spokesman said the blast was a result of a "terrorist attack by a car bomb".
SAADA, Yemen (Reuters) – The tiny, red pomegranate seed may not look like much but it helps explain why Yemen's civil war has brought millions of people to the brink of famine.
Pomegranate exports were a key source of income for people in Saada in northwest Yemen, a province under the control of the Houthi movement aligned with Iran. Before the war began in 2015, farmers exported 30,000 tons of the fruit.
Those exports have fallen by around a third and farmers blame lack of fuel and water for irrigation and the impact of aerial bombing by a coalition of forces led by Saudi Arabia and armed by the United States, France, Britain and other Western countries.
Markets and roads have been targeted, making it much more dangerous and, crucially, more expensive to get pomegranates by truck to Yemen's main port in Hodeidah, the farmers say.
The coalition is fighting to restore the internationally-recognized government that was ousted from the capital Sanaa by the Houthis. Many bombs have fallen on civilian areas. The coalition denies targeting civilians deliberately.
OTTAWA — Canada is prepared to freeze a big arms deal with Saudi Arabia if it concludes the weapons have been misused, Prime Minister Justin Trudeau said on Monday, amid increasing pressure to punish Riyadh for the killing of journalist Jamal Khashoggi.
Trudeau's comments signalled Ottawa might halt a 2014 contract that the Canadian unit of U.S. weapons maker General Dynamics Corp won to supply light-armoured vehicles. The deal is worth up to $13 billion.
"We strongly demand and expect that Canadian exports are used in a way that fully respects human rights," Trudeau said in Parliament. "We have frozen export permits before when we had concerns about their potential misuse and we will not hesitate to do so again."
The opposition left-leaning New Democrats, who will be competing for the same voters as Trudeau in 2019 elections, say Canada should not be arming the Saudis when they are attacking civilian targets in Yemen.
LONDON — Britain's defense secretary says the country has launched 27 airstrikes against Islamic State positions in the last month.
Gavin Williamson told Parliament on Monday that the Islamic State extremists represent a "great threat" to Britain even though its territory has been "massively reduced."
He said actions against IS had not slowed down since the group was stripped of most of its territory in Syria and Iraq because of the need to "put pressure on them."
Williamson says Britain cannot take for granted that Islamic State has been defeated.
By Khaama Press on 23 Oct 2018 1:11pm .
A prominent local leader of the Taliban group has been killed during the operations of the Afghan National Defense and Security Forces (ANDSF) in northern Kunduz province of Afghanistan.
The 209th Shaheen Corps of the Afghan Military in the North in a statement said a prominent Taliban leader Mullah Mansoor who was in charge of overall activities of the group in Kunduz province has been killed in Imam Sahib district.
The statement further added that Mullah Mansoor was killed another key Taliban group member Mullah Yasin and twenty of his fighters.
The militants were killed during a clash which erupted amid ongoing military operations, the 209th Shaheen Corps added in its statement. The anti-government armed militant groups including Taliban militants have not commented regarding the report so far.
Recent Casualties:

Color Denotes Today's Confirmation
The Department of Defense announced today the death of a soldier who was supporting Operations Resolute Support and Freedom's Sentinel.
Spc. James A. Slape, 23, from Morehead City, North Carolina, died Oct. 4, 2018, in Helmand Province, Afghanistan, as a result of wounds sustained from an improvised explosive device. The incident is under investigation.
Slape was assigned to 60th Troop Command, North Carolina Army National Guard, Washington, North Carolina.
Care for Veterans:
PTSD: National Center for PTSDPTSD Care for Veterans, Military, and FamiliesSee Help for Veterans with PTSD to learn how to enroll for VA health care and get an assessment.
All VA Medical Centers provide PTSD care, as well as many VA clinics.Some VA's have programs specializing in PTSD treatment. Use the VA PTSD Program Locator to find a PTSD program.
If you are a war Veteran, find a Vet Center to help with the transition from military to civilian life.
A Walk Through Arlington
Originally Published In 2007
The McGlynn