25 Oct
United States Wars, News and Casualties
.
The war ended for those children, but it has never ended for survivors who carry memories of them. Likewise, the effects of the U.S. bombings continue, immeasurably and indefensibly.
Damn The WarCriminals,Bush,Cheney,Rice,Rumsfeld, Wolfowitz, Powell and Blair from England.
How many Iraqis have died as a result of the invasion 15 years ago? Some credible estimates put the number at more than one million. You can read that sentence again.
The invasion of Iraq is often spoken of in our country as a "blunder," or even a "colossal mistake." It was a crime.
Those who perpetrated it are still at large. Some of them have even been rehabilitated thanks to the horrors of a mostly amnesiac citizenry.

We condemned children to death, some after many days of writhing in pain on bloodstained mats, without pain relievers. Some died quickly, wasted by missing arms and legs, crushed heads. As the fluids ran out of their bodies, they appeared like withered, spoiled fruits. They could have lived, certainly should have lived – and laughed and danced, and run and played- but instead they were brutally murdered. Yes, murdered!
The McGlynn
War News
Country is in 'clear and present danger' of mass deaths from starvation, top aid official says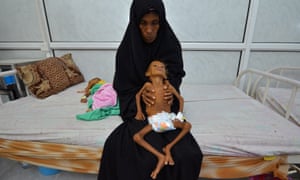 A mother holds her six-year-old son at a hospital in the Red Sea port city of Hodeida. Photograph: Abduljabbar Zeyad/Reuters
The country is in "clear and present danger" of mass deaths from starvation, and as many as 14 million people – half the population – could soon be entirely dependent on aid to survive, the under-secretary general for humanitarian affairs, Mark Lowcock, said.
Fighting is blocking shipments from getting into the country, let alone to those who need it. Even after expanding relief operations to help an estimated 8 million people, it is not possible to reach all those in need. The looming disaster could be "much bigger than anything any professional in this field has seen during their working lives," he said.
Food prices have also nearly doubled in the country, Save the Children said in a new report…………..Both aid and commercial shipments of vital food and fuel are unloaded at Hodeida, but fighting has blocked roads east and damaged infrastructure. Enough aid to feed 3.7 million people for a month is trapped in one warehouse.
Hours after Lowcock addressed the UN, however, Yemeni officials said they were bracing for a fresh wave of attacks after the Saudi-led coalition – which backs the internationally recognised government of Yemen – sent reinforcements to the coast near the port. They include tanks and armoured vehicles provided by the UAE, the Associated Press reported.
Half the population of war-torn Yemen – 14 million people – are facing "pre-famine conditions", the UN has warned.

Humanitarian co-ordinator Mark Lowcock said survey work showed the number entirely reliant on aid for survival was three million higher than thought.
There was a clear danger of a famine "much bigger than anything any professional in this field has seen during their working lives", he added.
Medics say the number of deaths linked to food-related factors is rising.
Yemen has been devastated by a conflict that escalated in 2015, when a Saudi-led coalition intervened after the rebel Houthi movement seized control of much of the west of the country and forced President Abdrabbuh Mansour Hadi to flee abroad.
At least 6,660 civilians have been killed and 10,560 injured in the war, according to the UN. The fighting and a partial blockade by the coalition have also left 22 million people in need of humanitarian aid, created the world's largest food security emergency, and led to a cholera outbreak that has affected 1.1 million people.
The likely assassination of the Saudi critic and Washington Post journalist Jamal Khashoggi underscores how urgent it has become for the United States to redefine our relationship with Saudi Arabia, and to show that the Saudis do not have a blank check to continue violating human rights.
One place we can start is by ending United States support for the war in Yemen. Not only has this war created a humanitarian disaster in one of the world's poorest countries, but also American involvement in this war has not been authorized by Congress and is therefore unconstitutional.
In March 2015, a coalition of Arab states led by Saudi Arabia and the United Arab Emirates started a war against Yemen's Houthi rebels. Since then, many thousands of civilians have been killed and many more have lost their homes. Millions are now at the risk of the most severe famine in more than 100 years, according to the United Nations. The chaos in Yemen has also provided fertile ground for extremist groups like Al Qaeda and the Islamic State, and created new opportunities for intervention by Iran.
The United States is deeply engaged in this war. We are providing bombs the Saudi-led coalition is using, we are refueling their planes before they drop those bombs, and we are assisting with intelligence.
Congress needs to step in to end our complicity in the kingdom's human rights abuses………….'The war is a strategic and moral disaster for the United States.'
The war is also undermining the broader effort against violent extremists. A 2016 State Department report found that the conflict between Saudi-led forces and the Houthi insurgents had helped Al Qaeda and the Islamic State's Yemen branch "deepen their inroads across much of the country." As the head of the International Rescue Committee, David Miliband, said in a recent interview, "The winners are the extremist groups like Al Qaeda and ISIS."
SANAA, Yemen (AP) — A Saudi-led coalition airstrike at a fruit-and-vegetable market near Yemen's flashpoint Red Sea port of Hodeida killed 19 civilians, including children, Yemeni officials said Thursday.
Wednesday's strike comes amid mounting fears of a fresh coalition assault on Hodeida — a city that has been the lifeline for international aid deliveries to Yemen, ravaged by a brutal three-and-a-half year war between the Saudi-led alliance and Shite rebels known as Houthis.
The coalition has been trying to wrest Hodeida from the Iran-backed rebels but the campaign, like the rest of Yemen's war, had fallen into a stalemate.
The airstrike, which hit the outdoor market in the town of Bayt el-Faqih, just south of Hodeida, also wounded six people. Initial reports had five dead but the death toll steadily climbed overnight.
The director of the Bayt el-Faqih hospital, Abdullah Shahawi, said all the victims were civilians and that at least two children were among the dead.
In the capital, Saana, the rebel-run Al Masirah TV reported a higher casualty figure, saying at least 20 people died and 10 were wounded. The different casualty tolls could not immediately be resolved.
Video footage obtained by The Associated Press showed the aftermath of the strike, with body parts lying scattered across the market and coffins lined up in the hospital. The video could not be independently confirmed but it corresponded to events reported by the AP. A spokesman for the Saudi-led coalition did not respond to multiple phone calls and messages seeking comment.
Journalists have been barred from visiting rebel-held areas in Hodeida, including where Wednesday's airstrike took place. Yemeni security officials confirmed the strike but didn't know what the intended target had been.
MOSCOW (Reuters) – The Kremlin said on Thursday that it was very alarmed by a report from the Russian Defence Ministry alleging that a U.S. spy plane coordinated a drone attack on Russia's Hmeymim air base in Syria in January.
Russian Deputy Defence Minister Alexander Fomin said earlier on Thursday that a U.S. Poseidon-8 spy plane had helped coordinate an attack by 13 drones on the base, the TASS news agency reported.
Kremlin spokesman Dmitry Peskov said he could not rule out that President Vladimir Putin would raise the alleged drone attack with U.S. President Donald Trump. The two leaders are expected to meet in Paris on Nov. 11.
SULAIMANIYA, Iraq/BAGHDAD (Reuters) – Iraq's new Prime Minister Adel Abdul Mahdi was sworn in on Wednesday with only a partial Cabinet after lawmakers failed to reach a consensus on key postings including interior and defense.
A rowdy parliament session to approve Abdul Mahdi's government list created more uncertainty for Iraq, months after an inconclusive election, with parties and blocs wrangling over appointments.
The new premier faces the daunting task of rebuilding much of the country after a devastating war against Islamic State, as well as solving acute economic problems and power and water shortages.
Eight ministries have yet to be decided, ahead of a Nov. 2 deadline.
Among the 14 ministers who were sworn in, Thamer Ghadhban became Oil Minister and veteran Kurdish politician Fuad Hussein Finance Minister.
DUBAI (Reuters) – At least 16 people were killed on Wednesday in an air strike that hit a factory for vegetable packaging in Yemen's Hodeidah province, medical workers and residents said.
A Saudi-led coalition that intervened in Yemen's war in 2015 has conducted frequent air strikes targeting the Iran-aligned Houthi group and has often hit civilians, although it denies doing so intentionally.
Medics and residents in Bayt al-Faqih, a town 70 km (40 miles) south of Hodeidah city, said twelve people were also wounded.
They said bombs fell on a vegetable packaging factory in aal-Masoudi neighborhood and the victims were workers there.
Houthi media said 19 were killed and 10 were wounded in the same area.
Residents said violent clashes erupted in the southern outskirts of Hodeidah, a port city that pro-government forces have been trying to capture from the Houthis since the renewal of an offensive in September.
WASHINGTON (Reuters) – A bipartisan group of lawmakers introduced a bill in the U.S. House of Representatives on Wednesday that would stop most U.S. arms sales to Saudi Arabia in response to the death of journalist Jamal Khashoggi, Representative James McGovern said on his web site.
The bill said that President Donald Trump could request exceptions to the arms sale ban if he also submitted a report on a U.S. investigation into anyone involved in "the murder of journalist and United States permanent resident Jamal Khashoggi."
The Trump administration and the U.S. defense industry are scrambling to save the few actual deals in a much-touted $110 billion arms package for Saudi Arabia as concerns rise about the role of the Kingdom's leadership over the death of Khashoggi, a prominent critic, at the Saudi consulate in Istanbul.
The bill includes a prohibition on security assistance, intelligence, training and equipment but does not extend to activities related to safeguarding U.S. diplomatic posts or personnel.
By Khaama Press on 25 Oct 2018 9:18am .
The U.S. forces in Afghanistan carried out an airstrike targeting a group of ISIS IED planters, leaving at least three of them dead.
The 201st Silab Corps of the Afghan Military in the East in a statement said a group of three ISIS militants were busy planting an Improvised Explosive Device (IED) in Payin area of Deh Bala district when they came under an airstrike of the coalition forces drone aircraft.
The statement further added that the airstrike left at least three ISIS militants dead.
The Taliban militants and other militants including ISIS often use improvised explosive device as the weapon of their choice to target the security forces and government officials.
However, in majority of such attacks the ordinary civilians are killed while in some cases the Taliban militants are themselves blown up in premature explosions.
Recent Casualties:

Color Denotes Today's Confirmation
The Department of Defense announced today the death of a soldier who was supporting Operations Resolute Support and Freedom's Sentinel.
Spc. James A. Slape, 23, from Morehead City, North Carolina, died Oct. 4, 2018, in Helmand Province, Afghanistan, as a result of wounds sustained from an improvised explosive device. The incident is under investigation.
Slape was assigned to 60th Troop Command, North Carolina Army National Guard, Washington, North Carolina.
Care for Veterans:
PTSD: National Center for PTSDPTSD Care for Veterans, Military, and FamiliesSee Help for Veterans with PTSD to learn how to enroll for VA health care and get an assessment.
All VA Medical Centers provide PTSD care, as well as many VA clinics.Some VA's have programs specializing in PTSD treatment. Use the VA PTSD Program Locator to find a PTSD program.
If you are a war Veteran, find a Vet Center to help with the transition from military to civilian life.
A Walk Through Arlington
Originally Published In 2007
The McGlynn
Please do not forget this boy.