03 Nov
United States Wars, News and Casualties
.
The war ended for those children, but it has never ended for survivors who carry memories of them. Likewise, the effects of the U.S. bombings continue, immeasurably and indefensibly.
Damn The War Criminals,Bush,Cheney,Rice,Rumsfeld, Wolfowitz, Powell and Blair from England.
How many Iraqis have died as a result of the invasion 15 years ago? Some credible estimates put the number at more than one million. You can read that sentence again.
The invasion of Iraq is often spoken of in our country as a "blunder," or even a "colossal mistake." It was a crime.
Those who perpetrated it are still at large. Some of them have even been rehabilitated thanks to the horrors of a mostly amnesiac citizenry.

We condemned children to death, some after many days of writhing in pain on bloodstained mats, without pain relievers. Some died quickly, wasted by missing arms and legs, crushed heads. As the fluids ran out of their bodies, they appeared like withered, spoiled fruits. They could have lived, certainly should have lived – and laughed and danced, and run and played- but instead they were brutally murdered. Yes, murdered!
The McGlynn
War News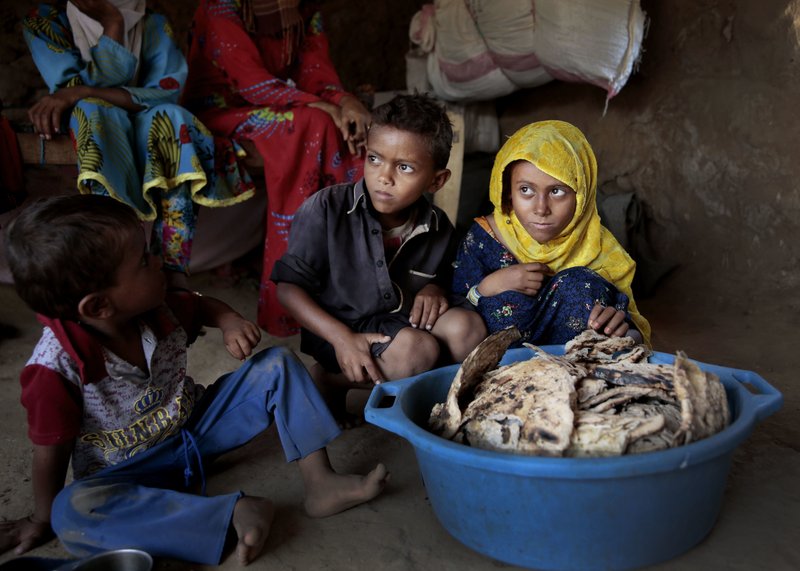 CAIRO (AP) — The regional chief of the U.N. children's agency said Saturday that Yemeni authorities are making it difficult to deliver much-needed humanitarian aid and warned that impeding relief efforts could plunge the country into famine.
Geert Cappelaere told The Associated Press in an interview from Yemen that recent U.S. calls for a cease-fire are imperative to ending the nearly four-year war, which pits a Saudi-led coalition against Iran-aligned rebels known as Houthis.
He visited the Red Sea port city of Hodeida and the rebel-held capital, Sanaa, over the past two days as clashes and airstrikes intensified. He said both the internationally-recognized Yemeni government and Houthi rebels "are not enabling us to do our work as fast as we should."
Cappelaere said he can't bring the best nutrition experts to the country because of delays in granting visas and that aid agencies face bureaucratic impediments the delay the import of supplies.
He criticized authorities with "other interests" for creating delays in the arrival and distribution of supplies, without elaborating.
Most aid agencies operate in Houthi-held areas where they face movement restrictions. The rebels manipulate aid distribution by providing lists of beneficiaries and sometimes divert aid to their supporters.
Cappelaere's visit came shortly after the United States called for the cease-fire within 30 days. He said the situation is deteriorating, with millions unable to meet their basic needs.
Yemen has been at war since March 2015, when Houthis occupied northern Yemen, forcing the government into exile. Since then, a Saudi-led coalition supporting the government has blockaded the rebel-held north and waged a devastating air campaign. The U.S. has sold billions of dollars' worth of arms to Saudi Arabia and provides logistical and other support to the coalition.
KABUL (Reuters) – A member of the U.S. armed forces was killed and another was wounded on Saturday in an apparent insider attack in the Afghan capital Kabul, the NATO-led Resolute Support mission said.
The attack is the latest in a series of "green-on-blue" attacks in which members of the Afghan forces have killed U.S. or coalition advisers this year and follows the death of a Czech soldier in the western province of Herat last month
"Initial reports indicate the attacker was a member of the Afghan National Defense and Security Forces. Initial reports also indicate the attacker was immediately killed by other Afghan Forces," the NATO-led mission said in a statement.
It said the incident was being investigated and the wounded service member was in a stable condition, but did not release the identity of the service member who had been killed.
U.S. Defense Secretary James Mattis said in September that training and vetting of Afghan forces was being stepped up to minimize insider attacks and some training and advisory operations have been scaled back while security is assessed.
Last month, the NATO commander in Afghanistan, General Scott Miller, escaped unhurt when the bodyguard of a provincial governor opened fire on a group of U.S. and Afghan officials in the southern province of Kandahar.
UN warns heightening of hostilities following US ceasefire calls will have devastating impact on severely malnourished children

A nurse looks on as a malnourished girl is weighed at a malnutrition treatment centre in Sana'a, Yemen. Photograph: Khaled Abdullah/Reuters
Fighting has intensified around the largest hospital operating in the port city of Hodeidah, preventing access to severely malnourished and vulnerable children, the UN's children's agency has warned.
The escalation in conflict follows US calls for a ceasefire and suggestions that peace talks may be held in Sweden. On Thursday, the Saudi-led coalition said it had attacked Sana'a international airport and an adjoining airbase being used by Houthi insurgents.
"It's very clear that, despite the call for talks, and despite the call for an agreement on the cessation of hostilities in the next 30 days, the parties are intensifying the fighting – unfortunately, with an incredible impact on children," said Geert Cappelaere, Unicef's regional director for the Middle East and north Africa, speaking from Sana'a.
Cappelaere said the few shipments of crucial medical supplies and food arriving in the port of Hodeidah were regularly blocked, sometimes for months. "Even the humanitarian aid is taken hostage at times. It's just unacceptable. All parties are carrying responsibility," said Cappelaere. "The war on children needs to stop."
Active fighting is taking place within a few hundred metres of the largest of Hodeidah's handful of hospitals, according to Cappelaere, who visited the city this week. Families were delaying seeking medical attention because of the hostilities, or because they could not afford the transport costs.
Hodeidah, which has been hit particularly hard by cholera and acute diarrhoea, was already among the worst places for children in Yemen, Cappelaere said……………….At a hospital in a nearby town of 72,000 people, there are 50 new cases of malnourished children each day, on average. Of these, 15 are severely malnourished.
While fighting is preventing shipments from arriving in the country, the currency has collapsed in value, leaving people unable to afford food, which has nearly doubled in price.
Cappelaere said parties to the conflict, and those supporting them, must put children's interests first. "We need parties to enable us to do our work without any hindrance, and we need donors who are generous to continue to be generous," he said.
MOSCOW (Reuters) – Russia said on Saturday that Afghan President Ashraf Ghani had agreed to send a group of senior politicians to peace talks in Moscow, at which a delegation representing the Taliban would be present.
Russia in August proposed holding multilateral peace talks in Moscow, and invited 12 countries and the Taliban to attend a summit the following month. But the meeting was postponed after Ghani rejected the invitation on the grounds that talks with the Taliban should be led by the Afghan government.
In a statement on Saturday, Russia's foreign ministry said the talks were now confirmed to be held on Nov. 9.
"It will be the first time that a delegation from the Taliban's political office in Doha will attend such a high-level international meeting," the foreign ministry said.
The ministry has invited several other countries to send representatives, including India, Iran, Pakistan, China and the United States.
AMMAN (Reuters) – A United Nations aid convoy on Saturday reached the Rukban refugee camp in Syria, next to the border with Jordan, where thousands of people are stranded in the desert, a member of the camp's local council said.
"The first convoys have entered the camp," said Abu Abdullah, a member of the civilian council that runs the camp and has coordinated with the U.N. on humanitarian aid convoys.
Rukban, located close to the Tanf U.S. military base in the desert near where the borders of Syria, Jordan and Iraq converge, is home to more than 50,000 people whose last U.N. aid convoy arrived in January.
The camp was last month besieged on the Syrian side of the border by the Syrian army, preventing smugglers and traders from delivering food. A U.S.-backed rebel group controls the area but it abuts Jordan's border and is encircled by the Syrian army.
Jordan has put a block on aid crossing the frontier after allowing the January delivery through its territory, and says it should not be held responsible for conditions in the camp.
KANDAHAR, Afghanistan — Minutes before killing one of the most important generals in Afghanistan, the infiltrator made a final call to the Taliban.
Though only a teenager, the assassin managed to get hired as an elite guard, slipping into government service with a fake ID and no background check.
It put him so close to the center of power in Afghanistan that he was just paces away from Gen. Austin S. Miller, the commander of United States and NATO forces, when he suddenly raised his Kalashnikov and started firing in bursts.
The attack was a nightmare scenario for American and Afghan security planners: a Taliban operation months in the making that succeeded in breaching a high-level meeting, killing a powerful Afghan general and a provincial intelligence chief, wounding an Afghan governor and an American general — and barely missing General Miller and other officials standing nearby.
The infiltration and the chaotic American escape two weeks ago — detailed in interviews with more than a dozen people, including witnesses, family members and officials who have seen investigative reports — have deeply shaken the relationship between Afghan and American forces.
After 17 years of war and the killings of dozens of coalition service members by men in Afghan uniforms, the assault underscored how susceptible the Americans and Afghans remain to the kind of infiltration and insider attacks that, at their peak six years ago, almost derailed the NATO mission in Afghanistan.
Recent Casualties:

Color

Denotes Today's Confirmation
The Department of Defense announced today the death of a soldier who was supporting Operations Resolute Support and Freedom's Sentinel.
Spc. James A. Slape, 23, from Morehead City, North Carolina, died Oct. 4, 2018, in Helmand Province, Afghanistan, as a result of wounds sustained from an improvised explosive device. The incident is under investigation.
Slape was assigned to 60th Troop Command, North Carolina Army National Guard, Washington, North Carolina.
Care for Veterans:
PTSD: National Center for PTSDPTSD Care for Veterans, Military, and FamiliesSee Help for Veterans with PTSD to learn how to enroll for VA health care and get an assessment.
All VA Medical Centers provide PTSD care, as well as many VA clinics.Some VA's have programs specializing in PTSD treatment. Use the VA PTSD Program Locator to find a PTSD program.
If you are a war Veteran, find a Vet Center to help with the transition from military to civilian life.
A Walk Through Arlington
Originally Published In 2007
The McGlynn
Iraq War Child Photo credit: Stopwar.org.uk
Please do not forget this child.