04 Nov
United States Wars, News and Casualties
.
The war ended for those children, but it has never ended for survivors who carry memories of them. Likewise, the effects of the U.S. bombings continue, immeasurably and indefensibly.
Damn The War Criminals,Bush,Cheney,Rice,Rumsfeld, Wolfowitz, Powell and Blair from England.
How many Iraqis have died as a result of the invasion 15 years ago? Some credible estimates put the number at more than one million. You can read that sentence again.
The invasion of Iraq is often spoken of in our country as a "blunder," or even a "colossal mistake." It was a crime.
Those who perpetrated it are still at large. Some of them have even been rehabilitated thanks to the horrors of a mostly amnesiac citizenry.

We condemned children to death, some after many days of writhing in pain on bloodstained mats, without pain relievers. Some died quickly, wasted by missing arms and legs, crushed heads. As the fluids ran out of their bodies, they appeared like withered, spoiled fruits. They could have lived, certainly should have lived – and laughed and danced, and run and played- but instead they were brutally murdered. Yes, murdered!
The McGlynn
War News
Photo
Syrian Refugees AFP
KABUL, Afghanistan — American military officials say a member of the Utah National Guard has been killed in an apparent "insider attack" in the capital of Afghanistan.
The officials say another U.S. service member is being treated for wounds sustained in the attack in Kabul on Saturday.
A statement from a spokeswoman for the NATO-led Operation Resolute Support says the attacker was a member of the Afghan security forces and that initial reports indicate the assailant was immediately killed by other Afghan forces.
The Utah National Guard has identified the service member killed as a member of the Guard. The Guard member's name is being withheld pending notification of next of kin.
Donald Trump's intervention in the Yemen war would be welcome if it didn't seem so cynical and ill-judged
The US proposal, backed by Britain, for a "cessation of hostilities" in Yemen, to be followed by UN-led peace talks, is welcome. But it raises a number of questions. Why has it taken so long for the Trump administration to act, given that the appalling, avoidable toll on Yemeni lives exacted by the Saudi-led, western-backed bombing campaign has been well documented over the past three years?
Could it be that this sudden burst of American diplomatic activity is linked to last month's murder by Saudi government agents of the journalist Jamal Khashoggi? In point of fact, there seems little doubt the two events are connected. Donald Trump has shown little or no interest in the Yemen war until now, viewing it as but one of many theatres in a wider, strategic contest between the US, Israel and its Gulf Arab allies on the one hand and Iran on the other. Iran's backing and arming of Yemen's Houthi rebels was apparently sufficient reason to turn a blind eye to civilian suffering. In any case, Trump has no appetite for the hard slog of peace-making, as Syrians, Palestinians and Koreans know to their cost.
What Trump is interested in is preserving America's military, intelligence and economic relationships with the Saudis and, in particular, with Crown Prince Mohammed bin Salman, who is widely believed to have ordered Khashoggi's murder. Trump has been at pains to shelter Prince Mohammed from the torrent of international condemnation that followed the Istanbul killing. But he could not stop the furore shining a new spotlight on the Saudi leader's personal responsibility for, among other bad things, the unfolding catastrophe in Yemen.
Authoritative reports from Washington last week suggest the US has now decided to stick by Prince Mohammed despite the Khashoggi affair. There will be no real punishment. Why? Because Trump needs Saudi support for his destabilisation campaign against Iran, which intensifies on Monday with the imposition of a global oil embargo. Trump sees Prince Mohammed as a key ally, along with Israel, the UAE and Egypt's dictator, Abdel Fatah al-Sisi, in effecting regime change in Tehran. He also wants to maintain bilateral co-operation on Islamist terrorism, a Syrian postwar settlement, and lucrative arms sales.
Foreign secretary Jeremy Hunt told that west's help will be vital if Russia breaks ceasefire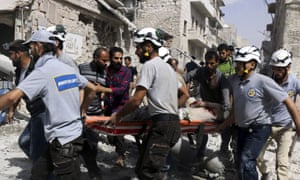 The White Helmets are credited with saving more than 115,000 lives in Syria. Photograph: AP
The head of Syria's White Helmet volunteers has told Britain's foreign secretary that the west must do more to protect millions of civilians still in extreme danger, and warned that reconstruction should not begin without justice or accountability.
Raed al-Saleh said Moscow's record of broken promises meant he had little confidence in a ceasefire brokered between Russia and Turkey in September. The agreement halted a planned advance on Idlib, one of the last parts of Syria still outside the control of President Bashar al-Assad, and currently home to more than 3 million people.
But similar agreements in other parts of Syria have proved a prelude to siege, brutal bombardment and eventual evacuation, and Saleh said he wanted to remind Jeremy Hunt that western support was vital to save lives.
"We would emphasise that we cannot rely on the Russians or trust guarantees provided by them, because we have seen how their commitments were fake in previous de-escalation zones in Homs, in Daraa, in eastern Ghouta," Saleh said before his meeting with Hunt last week. "So we need more commitment from the western world to protect the Syrian people."…………………….
The Syrian teenager tweeting the horror of life in Ghouta – video
The White Helmets have been hailed for their humanitarian search and rescue work on the frontlines of Syria's brutal civil war. But Saleh said they are worried about the impact of extensive campaigns of disinformation, which have falsely claimed the group stage rescue efforts and attack scenes, and that they have links to extremist groups.
"Imagine when someone is putting his life in danger to rescue others, then he hears that people are calling them a bad guy or terrorist. That over time may affect the morale of the volunteers."
"We are very keen to keep the support of ordinary people around the world. The disinformation campaign causes distraction and affects how people view and understand the situation."
BAGHDAD (Reuters) – The Iraqi Foreign Ministry rejected on Saturday what it called U.S. interference in its affairs after the U.S. embassy issued a statement telling neighboring Iran to respect Iraq's sovereignty allow demobilization of Shi'ite militias.
The U.S. embassy in Baghdad had posted a message on Twitter on Tuesday saying Tehran must "respect the sovereignty of the Iraqi government and permit the disarming, demobilization, and reintegration" of Shi'ite militias.
It was one of several statements issued on the embassy's Twitter account outlining U.S. demands before new U.S. sanctions on Iran's oil and financial sector take effect on Nov. 4. The sanctions worry Iraq as it imports crucial supplies from Iran.
Iraq's Foreign Ministry said in a statement it "rejects interference in Iraq's internal affairs, especially domestic security reform" and demanded the Twitter post be removed.
Washington and Tehran have competed for influence in Iraq since the 2003 U.S. invasion that toppled Saddam Hussein.
By Khaama Press on 04 Nov 2018 2:47pm .
At least seven Taliban militants were killed during a clash with the Afghan National Police (ANP) forces in southern Kandahar province of Afghanistan.
The Ministry of Interior (MoI) in a statement said a clash broke out between the National Police forces and the Taliban militants in Shah Wali Kot district on Saturday.
The statement further added that the clash took place in Sur Sakhar area of the district, resulting into the deaths of seven Taliban militants.
According to the Ministry of Interior, the dead bodies of the militants along with eleven improvised explosive devices were also left in the area following the clash.
The anti-government armed militants including Taliban have not commented regarding clash so far.
In the meantime, the Ministry of Interior said the police forces and local residents have not suffered casualties during the clash.
By Khaama Press on 04 Nov 2018 12:14pm .
Several ISIS militants were killed during the separate airstrikes conducted by the Afghan and U.S. forces in eastern Nangarhar province of Afghanistan.
The 201st Silab Corps of the Afghan Miliary in the East in a statement said the 02 unit of the Afghan military conducted airstrikes in Tuto village of Deh Bala district, leaving at least 15 ISIS militants dead.
The statement further added that two ISIS commanders identified as Abdul Lara and Qari Imran were among those killed and five hideouts of the terror group were destroyed.
In the meantime, the U.S. forces carried out similar airstrikes in Deh Khola area of Nazian district, leaving at least 11 ISIS militants dead, the 201st Silab Corps said.
The U.S. forces also carried out airstrikes in Alisheng district of Laghman leaving at least four militants dead in Gula Khel area of the district.
By Khaama Press on 04 Nov 2018 10:27am .
President Mohammad Ashraf Ghani has once again called on Taliban group to participate in intra-Afghan peace talks, emphasizing that a consensus exists for peace and the Islamic world and region is prepared for reconciliation.
He made the remarks during a meeting with religious scholars, influential figures, and tribal elders of Paktika province on Saturday.
President Ghani further added that Afghanistan also wants peace with Pakistan, insisting that the country must understand that a peaceful Afghanistan is in their interest.
Calling on the Taliban group to get ready for intra-Afghan talks, President Ghani said Afghanistan will not hand over the authority of reconciliation efforts to outsiders.
In his speech during another gathering in Paktika province, President Ghani said the Taliban should bid farewell with the weapons, halt ties with the foreigners, and return back to their country.
Recent Casualties:

Color

Denotes Today's Confirmation
MSN November 3rd The mayor of North Ogden, Utah was killed Saturday on duty in Afghanistan as part of Utah's National Guard.
Brent Taylor was killed Saturday in an "insider attack" in Kabul, according to a statement from the Utah National Guard to Fox 13 Salt Lake City, while the terrorist responsible was immediately killed by Afghan forces.
"These reports also indicate the attacker was immediately killed by other Afghan Forces," the statement said. "The incident is under investigation."

The Department of Defense announced today the death of a soldier who was supporting Operations Resolute Support and Freedom's Sentinel.
Spc. James A. Slape, 23, from Morehead City, North Carolina, died Oct. 4, 2018, in Helmand Province, Afghanistan, as a result of wounds sustained from an improvised explosive device. The incident is under investigation.
Slape was assigned to 60th Troop Command, North Carolina Army National Guard, Washington, North Carolina.
Care for Veterans:
PTSD: National Center for PTSDPTSD Care for Veterans, Military, and FamiliesSee Help for Veterans with PTSD to learn how to enroll for VA health care and get an assessment.
All VA Medical Centers provide PTSD care, as well as many VA clinics.Some VA's have programs specializing in PTSD treatment. Use the VA PTSD Program Locator to find a PTSD program.
If you are a war Veteran, find a Vet Center to help with the transition from military to civilian life.
A Walk Through Arlington
Originally Published In 2007
The McGlynn
Iraq War Child Photo credit: Stopwar.org.uk
Please do not forget this child.