05 Nov
United States Wars, News and Casualties
.
The war ended for those children, but it has never ended for survivors who carry memories of them. Likewise, the effects of the U.S. bombings continue, immeasurably and indefensibly.
Damn The War Criminals,Bush,Cheney,Rice,Rumsfeld, Wolfowitz, Powell and Blair from England.
How many Iraqis have died as a result of the invasion 15 years ago? Some credible estimates put the number at more than one million. You can read that sentence again.
The invasion of Iraq is often spoken of in our country as a "blunder," or even a "colossal mistake." It was a crime.
Those who perpetrated it are still at large. Some of them have even been rehabilitated thanks to the horrors of a mostly amnesiac citizenry.

We condemned children to death, some after many days of writhing in pain on bloodstained mats, without pain relievers. Some died quickly, wasted by missing arms and legs, crushed heads. As the fluids ran out of their bodies, they appeared like withered, spoiled fruits. They could have lived, certainly should have lived – and laughed and danced, and run and played- but instead they were brutally murdered. Yes, murdered!
The McGlynn
War News
Hassan Rouhani says Iran faces a 'war situation', raising tensions across Middle East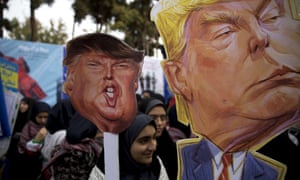 Anti-US protest in Tehran on Sunday as sanctions were set to be reimposed. Photograph: Majid Saeedi/Getty Images
Iran has greeted the reimposition of US sanctions with air defence drills and an acknowledgement from the president, Hassan Rouhani, that the country faces a "war situation", raising tensions in the Middle East.
The sanctions bring to an end all the economic benefits the US granted Tehran for its 2015 nuclear deal with world powers, though Iran for now continues to abide by the accord under which it limited its enrichment of uranium. But Iranian officials in recent months have made a point to say that could resume at any time faster than before.
The new sanctions will particularly hurt Iran's oil industry, a crucial source of money for its anaemic economy. Its national currency, the rial, has plummeted over the last year, sending prices for everything from mobile phones to medicine skyrocketing.
"Today, Iran is able to sell its oil and it will sell," Rouhani said on Monday as the sanctions kicked in.
Iranian state television aired footage of air defence systems and anti-aircraft batteries in military manoeuvres across a vast stretch of the country's north…………………."We are in the war situation," Rouhani said. "We are in the economic war situation. We are confronting a bullying enemy. We have to stand to win."
Iran is already in the grip of an economic crisis. The rial now trades at 145,000 to $1, compared with 40,500 to $1 a year ago. The economic chaos prompted mass anti-government protests at the end of last year that resulted in nearly 5,000 reported arrests and at least 25 people being killed. Sporadic demonstrations still continue.
The US says the sanctions are not aimed at toppling the government, but at persuading it to radically change its policies, including its support for regional militant groups and its development of long-range ballistic missiles.
But Donald Trump's personal lawyer, Rudy Giuliani, and John Bolton, the president's national security adviser, have both made public statements supporting overthrowing Iran's theocratic government.
Drownings, disease and abuse fail to deter on route supposed to be safer option from east Africa
When the boat's engines stopped, the beatings began. The smugglers tried to keep order by hitting the panicking passengers with rifle butts and their fists.It was night, and the Yemeni coast was invisible, though only a few hundred metres away across a choppy sea.
"The boat floated for a while, then overturned. I had never seen the sea before so I did not know how to swim. I prayed to God to save me. I was lucky," said Sahra Adam, a 31-year-old from a small town in southern Somalia.
Thirty people are thought to have died in the previously unreported sinking off the coast of Yemen in August, many of them children.
The tragedy was among dozens that have occurred in recent months on one of the busiest clandestine migration routes in the world. It leads from poor and unstable countries in eastern Africa to Yemen, then on to wealthy Gulf states and sometimes Europe…………….In Mogadishu last week, Ibrahim Husein Mohamed, 27, was making final preparations to travel to Europe. A previous attempt via Sudan and Libya last year ended in captivity in Tripoli. Mohamed, a qualified accountant, was sold by people smugglers to an armed militia who forced him to work unpaid in a garage for many months before he was rescued by the UN and local NGOs. He is undeterred.
"I have no future here. How can I stay here without knowing what my future will be like? I can't get a job. I can be killed easily," he said.
"I'm not afraid to die in the sea while I don't have any right to life in my country. My aim is to reach and live in Europe whatever it takes."
The McGlynn: The United States is a member of the Saudi Arabia Coalition.
ANKARA (Reuters) – Saudi Arabia sent a two-man "clean-up team" to erase evidence of journalist Jamal Khashoggi's killing a week after he disappeared at the Saudi consulate in Istanbul, a Turkish official said on Monday, calling it a sign top Saudi officials knew of the crime.
Confirming a report in Turkey's pro-government Sabah newspaper, the official said the chemist and toxicologist were tasked with erasing evidence before Turkish investigators were given access to the Saudi consulate and consul's residence.
Sabah identified the two men as Ahmed Abdulaziz al-Jonabi and Khaled Yahya al-Zahrani, saying they arrived in Turkey as part of an 11-person team sent to carry out the inspections with Turkish officials.
Khashoggi, a Washington Post columnist critical of the Saudi government and its de facto ruler Crown Prince Mohammed bin Salman, disappeared at the consulate on Oct. 2.
Saudi officials initially insisted Khashoggi had left the consulate, then said he died in an unplanned "rogue operation". The kingdom's public prosecutor Saud al-Mojeb later said he was killed in a premeditated attack.
Turkish and Saudi officials have carried out joint inspections of the consulate and consul's residence in Istanbul, but President Tayyip Erdogan says some Saudi officials are still trying to cover up the crime. Ankara has also demanded Riyadh cooperate in finding Khashoggi's body, which Istanbul's chief prosecutor said had been dismembered.
PARIS (Reuters) – French prosecutors have issued international arrest warrants for three senior Syrian intelligence and government officials, including security chief Ali Mamlouk, for alleged collusion in war crimes, lawyers and a judicial source said on Monday.
Mamlouk, one of Syrian President Bashar al-Assad's most senior advisers, was targeted by the order alongside Jamil Hassan, the head of Airforce Intelligence who is already the subject of a German warrant, the sources said.
Another senior Airforce Intelligence official, Abdel Salam Mahmoud, who lawyers say heads a detention facility at Mezzeh military airport in Damascus, was named in the order.
The warrants stem from a long-running case involving two French-Syrian nationals, father and son Mazen and Patrick Dabbagh, who were arrested by Syrian Airforce Intelligence agents in Syria in November 2013 and subsequently disappeared………..In a statement, the rights groups — the International Federation for Human Rights, France's League for the Rights of Man and the Syrian Center for Media and Freedom of Expression — said the warrants were issued on October 8.
"The international arrest warrants demonstrate that the wall of impunity surrounding Syrian officials at the highest level can indeed be broken," said lawyers Clemence Bectarte and Patrick Baudouin in a joint statement.
GHAZNI, Afghanistan (Reuters) – Taliban militants captured an important security post outside the central Afghan city of Ghazni on Monday, killing 13 members of government forces and underscoring their vulnerability even in areas where defenses have been bolstered.
The post was part of a belt of strongholds built around Ghazni, which is on the main road between the capital, Kabul, and the Afghan south, after the city was briefly overrun by Taliban in August in one of their biggest offensives in years.
As well as the 13 killed, 13 members of the Western-backed government's security forces were wounded in the attack, said Arif Noori, a spokesman for the provincial governor.
He said the Taliban had suffered heavy casualties but he had no exact information.
Taliban spokesman Zabihullah Mujahid said in a statement 18 policemen were killed and six wounded and large quantities of weapons and ammunition were seized.
The attack is only the latest indication of the precarious security around Ghazni following the big Taliban assault in August, which shocked the government and was only repelled with the help of U.S. air strikes and special force troops.
A U.S. watchdog agency said last week the Afghan government was struggling to recover control of districts lost to the Taliban while casualties among security forces had reached record levels.
PESHAWAR, Pakistan — The Afghan Taliban will join multilateral peace talks hosted by Russia on Friday, senior Taliban officials said on Tuesday, after the United States and Afghanistan turned down their invitations.
But Taliban spokesman Zabihullah Mujahid said they had not formally agreed to take part.
Russia invited 12 countries and the Taliban, who are fighting to re-impose strict Islamic law after their 2001 ouster by U.S.-led troops, but the United States and the U.S.-backed Afghan government declined.
Representatives from Iran, China, Pakistan, Tajikistan, Uzbekistan and Turkmenistan are expected to attend, officials said.
The Moscow talks underline the increasingly active role Russia is playing in Afghanistan, decades after Soviet forces withdrew from the country, with business investment plans, diplomatic and cultural outreach and small military support for the central government.
Afghan President Ashraf Ghani rejected the invitation on the grounds that talks with the Taliban should be led by the Afghan government.
Russia decided to go ahead with the Moscow talks nevertheless, a diplomatic move that has angered Kabul as the meeting could complicate an ongoing U.S.-backed peace process.
A five-member Taliban delegation led by Sher Mohammad Abbas Stanakzai, head of the Taliban's political council in Qatar, will attend.
"The majority of our top leaders showed the willingness to participate in the Moscow peace talks though some of them also expressed their reservations and said it would not give them any benefit on the ground in Afghanistan," said a Taliban member.
Some Taliban said the delegation would raise their demands for a withdrawal of all foreign forces, the release of all prisoners and the lifting of a ban on travel.
KABUL, Afghanistan — The Taliban launched an attack early Monday on a newly established joint Afghan army and police checkpoint in eastern Ghazni province, killing at least 13 soldiers and policemen, according to a provincial official.
Afghan reinforcements were subsequently dispatched to the site of the attack in Khogyani district but were repeatedly ambushed along the way. And late on Sunday night, a Taliban attack in southern Kandahar province killed at least four policemen.
The assaults came as a resurgent Taliban hold nearly half of Afghanistan, with near-daily attacks on Afghan security forces. The Taliban view the U.S.-backed government in Kabul as a dysfunctional Western puppet and have refused repeated offers to negotiate with it.
Arif Noori, spokesman for the provincial governor in Ghazni, said seven soldiers and six policemen were killed in Monday's attack on the checkpoint, and four soldiers were wounded.
According to Noori, six insurgents were killed and more than 10 others were wounded during the ensuing three-hour battle with Afghan forces. Zabihullah Mujahid, a Taliban spokesman, claimed responsibility for the Ghazni and Kandahar attack.
The joint army-police checkpoint was set up just two days ago in a strategic area to cut off a key supply route for the Taliban but was now completely burned down and destroyed, Noori said.
"Reinforcements were rushed to assist the forces under attack but they were ambushed by other Taliban fighters at least four times while on their way to the checkpoint," said Noori.
The Taliban have stepped up attacks in volatile Ghazni, and in August overran parts of the provincial capital, also called Ghazni. At the time, hundreds of people fled the city amid intense fighting between Afghan forces and the Taliban that killed about 120 members of the security forces and civilians. According to Afghan authorities, nearly 200 insurgents, many of them foreign fighters, were also killed.
By Khaama Press on 05 Nov 2018 11:15am .
At least six militants including a local commander of the group were killed or wounded in U.S. drone strike in eastern Laghman province of Afghanistan.
The 201st Silab Corps of the Afghan Military in the East in a statement said the coalition forces carried out airstrikes using unmanned aerial vehicles, targeting the militants in Qala Tak area of Alisheng district in Laghman.
The statement further added that the airstrikes left at least three militants dead, including their local commander Allah Yar.
According to 201st Silab Corps, at least three militants also sustained injuries during the airstrikes.
The anti-government armed militant groups including Taliban militants have not commented regarding the report so far.
Laghman has been among the relatively calm provinces in East of Afghanistan but the security situation in some of its districts has deteriorated comparatively during the recent years amid ongoing efforts by anti-government armed militants to expand their insurgency in this province.
Recent Casualties:

Color Denotes Today's Confirmation
MSN November 3rd The mayor of North Ogden, Utah was killed Saturday on duty in Afghanistan as part of Utah's National Guard.
Brent Taylor was killed Saturday in an "insider attack" in Kabul, according to a statement from the Utah National Guard to Fox 13 Salt Lake City, while the terrorist responsible was immediately killed by Afghan forces.
"These reports also indicate the attacker was immediately killed by other Afghan Forces," the statement said. "The incident is under investigation."

The Department of Defense announced today the death of a soldier who was supporting Operations Resolute Support and Freedom's Sentinel.
Spc. James A. Slape, 23, from Morehead City, North Carolina, died Oct. 4, 2018, in Helmand Province, Afghanistan, as a result of wounds sustained from an improvised explosive device. The incident is under investigation.
Slape was assigned to 60th Troop Command, North Carolina Army National Guard, Washington, North Carolina.
Care for Veterans:
PTSD: National Center for PTSDPTSD Care for Veterans, Military, and FamiliesSee Help for Veterans with PTSD to learn how to enroll for VA health care and get an assessment.
All VA Medical Centers provide PTSD care, as well as many VA clinics.Some VA's have programs specializing in PTSD treatment. Use the VA PTSD Program Locator to find a PTSD program.
If you are a war Veteran, find a Vet Center to help with the transition from military to civilian life.
A Walk Through Arlington
Originally Published In 2007
The McGlynn
Iraq War Child Photo credit: Stopwar.org.uk
Please do not forget this child.