11 Nov
United States Wars, News and Casualties
.
The war ended for those children, but it has never ended for survivors who carry memories of them. Likewise, the effects of the U.S. bombings continue, immeasurably and indefensibly.
Damn The War Criminals,Bush,Cheney,Rice,Rumsfeld, Wolfowitz, Powell and Blair from England.
How many Iraqis have died as a result of the invasion 15 years ago? Some credible estimates put the number at more than one million. You can read that sentence again.
The invasion of Iraq is often spoken of in our country as a "blunder," or even a "colossal mistake." It was a crime.
Those who perpetrated it are still at large. Some of them have even been rehabilitated thanks to the horrors of a mostly amnesiac citizenry.

We condemned children to death, some after many days of writhing in pain on bloodstained mats, without pain relievers. Some died quickly, wasted by missing arms and legs, crushed heads. As the fluids ran out of their bodies, they appeared like withered, spoiled fruits. They could have lived, certainly should have lived – and laughed and danced, and run and played- but instead they were brutally murdered. Yes, murdered!
The McGlynn
War News
Photo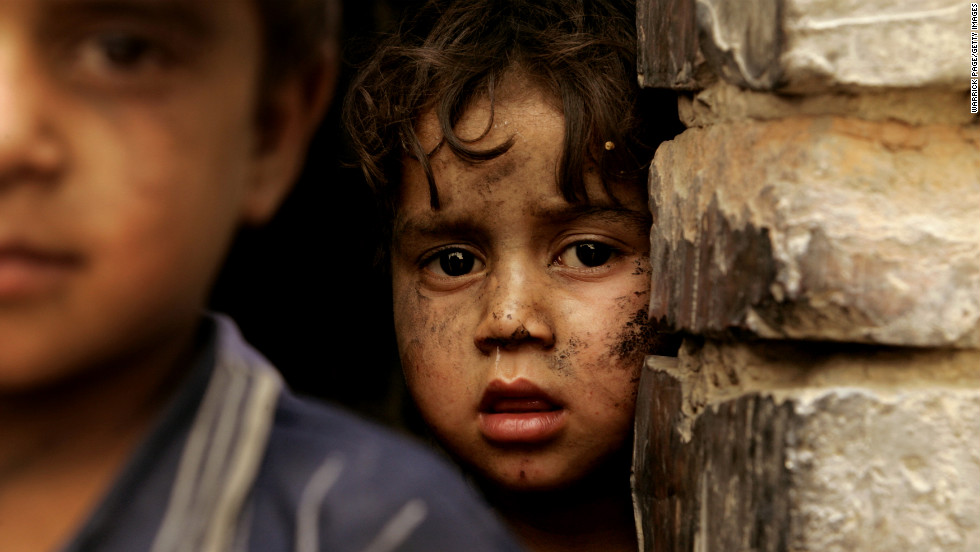 Iraqi War Child
The McGlynn:

The Iraq War was a war for oil, and it was a war with losers: the Iraqi people and all those who spilled and lost blood so that Big Oil could come out ahead, led by the war criminal president Bush.
Houthi insurgents mount fierce resistance to Saudia-backed government forces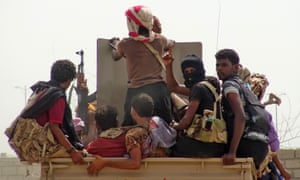 Fears for the safety of civilians have been rising since pro-government forces renewed an operation to take Hodeidah from Huthi rebels. Photograph: STRINGER/AFP/Getty Images
Fighting for control of Yemen's rebel-held city of Hodeidah has reached residential streets, with Houthi insurgents mounting fierce resistance to government forces backed by Saudi Arabia, military sources said.
Troops entered residential areas in eastern Hodeidah with the aim of "purging them of insurgents," a pro-government military official said.
Fears for the safety of civilians have been rising since loyalist forces renewed an operation to take the city, which has been under the control of Yemen's Iran-backed Houthi rebels since 2014. More than 400 combatants have been killed in 10 days of clashes in the city.
Hodeidah is a vital lifeline for people across impoverished war-torn Yemen, with the majority of imports and humanitarian aid entering through its port.
The docks have been blockaded by the Saudi-led alliance since November 2017 over what the coalition says is arms smuggling from Iran to the Houthis. Tehran denies the charge………………..The conflict has triggered what the UN calls the world's worst humanitarian crisis, with 14 million Yemenis at risk of starvation.
BEIRUT (Reuters) – The Syrian government has protested to the United Nations about an air strike by the U.S.-led coalition against Islamic State which it said killed 26 civilians in Hajin in the eastern Deir al-Zor region, state media reported on Saturday.
Asked about reports of air strikes in that area on Friday, the coalition's spokesman said it had "successfully struck and destroyed an ISIS (Islamic State) observation post and staging area in Hajin, void of civilians at the time".
The Syrian Observatory for Human Rights said 41 people, including 17 children, had been killed in two waves of coalition air strikes on Friday in Hajin and the nearby village of al-Shafa on the eastern bank of the Euphrates River.
It said the casualties were mostly Iraqi and family members of Islamic State fighters.
The coalition is supporting the Kurdish-led Syrian Democratic Forces in an attempt to defeat Islamic State in the area it controls near the border with Iraq.
CAIRO (AP) — Airstrikes by Saudi Arabia and its allies in Yemen are on a pace to kill more civilians than last year, according to a database tracking violence in the country, despite the United States' repeated claims that the coalition is taking precautions to prevent such bloodshed.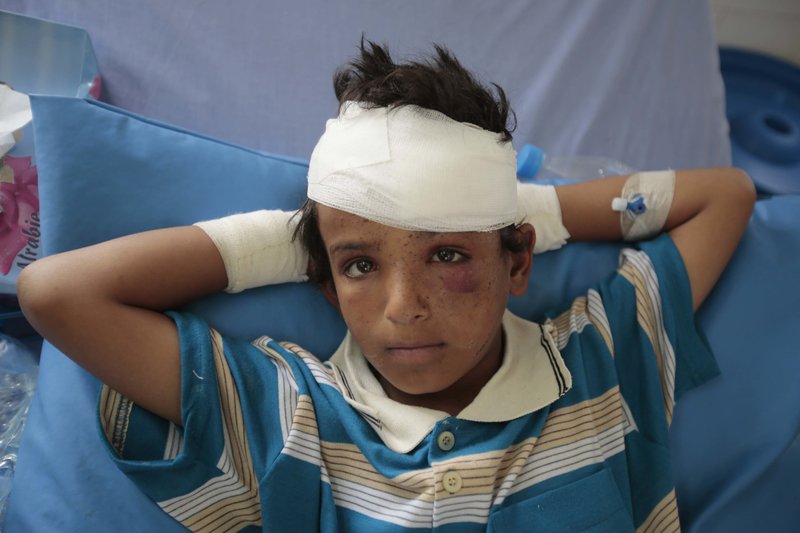 A child injured in a deadly Saudi-led coalition airstrike rests in a hospital in Saada. (AP Photo/Hani Mohammed)
The database gives an indication of the scope of the disaster wreaked in Yemen by nearly four years of civil war. At least 57,538 people — civilians and combatants — have been killed since the beginning of 2016, according to the data assembled by the Armed Conflict Location & Event Data Project, or ACLED.
That doesn't include the first nine months of the war, in 2015, which the group is still analyzing. Those data are likely to raise the figure to 70,000 or 80,000, ACLED's Yemen researcher Andrea Carboni told The Associated Press. The organization's count is considered by many international agencies to be one of the most credible, although all caution it is likely an underestimate because of the difficulties in tracking deaths.
The numbers don't include those who have died in the humanitarian disaster caused by the war, particularly starvation. Though there are no firm figures, the aid group Save the Children estimated hunger may have killed 50,000 children in 2017. That was based on a calculation that around 30 percent of severely malnourished children who didn't receive proper treatment likely died.
Renewed uproar over the destruction has put Washington in a corner. The U.S. has sold billions of dollars in weaponry to Saudi Arabia, backing the fight to stop Shiite rebels known as Houthis, who Washington and the coalition consider a proxy for Iran.
That along with tensions over the killing of Saudi journalist Jamal Khashoggi inside the country's consulate in Istanbul may be key factors why Defense Secretary Jim Mattis and Secretary of State Mike Pompeo on Oct. 30 made their biggest push yet for an end to the war, calling for a ceasefire within 30 days and resumed negotiations.
Only a month earlier, Pompeo gave a powerful show of support to the coalition by certifying to Congress that Saudi Arabia and its allies were taking measures to prevent civilian casualties. Certification was a required step in continuing U.S. aid, which includes providing intelligence used in targeting and mid-air refueling for coalition planes.
But deaths from the coalition campaign show no sign of slowing.
BAGHDAD (AP) — The U.S. military says American and Iraqi forces killed more than 50 Islamic State militants, including several commanders, in northern Iraq last month.
U.S. Central Command said Sunday that an Oct. 30 operation in Salahuddin province killed five IS leaders and more than 30 other militants, and that an operation the following day in the Makhmour Mountains killed around 20 IS fighters. It says the leaders killed in the first raid were responsible for coordinating attacks across northern and western Iraq.
Iraq declared victory over IS last year, but the group has continued to carry out scattered attacks, particularly in the north. The extremists have lost virtually all the territory they once ruled in Syria and Iraq, but still control small, remote pockets in eastern Syria along the border.
KABUL, Afghanistan — Afghan officials say the Taliban have attacked a small army base, killing 12 members of the security forces and leaving behind explosives that killed four tribal elders who had come to help collect the bodies.
Safder Mohsini, head of provincial council in the northern Baghlan province, says the insurgents abducted two soldiers and wounded three others in the attack, which began late Saturday. He says the militants burned down the base before planting bombs around it.
The Taliban claimed the attack and said they seized ammunition from the base.
The Taliban carry out near-daily attacks, mainly targeting Afghan security forces at rural outposts. Seventeen years after the U.S.-led invasion, the insurgents control nearly half the country.
By Khaama Press on 11 Nov 2018 3:34pm .
At least three Taliban militants were killed in an explosion triggered by own Improvised Explosive Device in southern Zabul province of Afghanistan.
The Ministry of Interior (MoI) in a statement said the incident took place on Saturday in Jaldak district of the province.
The statement further added that three Taliban militants were busy planting an improvised explosive device on a roadside when the incident took place, leaving three of them dead.
The anti-government armed militant groups including Taliban militants have not commented regarding the incident so far.
The Taliban militants and other militants including ISIS often use improvised explosive device as the weapon of their choice to target the security forces and government officials.
However, in majority of such attacks the ordinary civilians are killed while in some cases the Taliban militants are themselves blown up in premature explosions.
Anti-government elements must immediately end the indiscriminate and disproportionate use of all improvised explosive devices (IEDs) in areas frequented by civilians, said UNAMA in a special human rights report released few weeks earlier.
By Khaama Press on 11 Nov 2018 10:05am .
President Mohammad Ashraf Ghani has said the conflict in Afghanistan has complex dimensions and a national mobilization is needed to pass through the ongoing war.
The Office of the President, ARG Palace, said President Ghani made the remarks during a meeting with the representatives of various sects of Bamyan province on Saturday.
He said the ongoing conflict has complex dimensions as the enemies do not adhere to any principle.
President Ghani further added that security in Bamyan is vital for the government and therefore special operations would increase in the neighboring provinces of Bamyan.
He said a national mobilization is needed to pass through the ongoing war and called on national to prepare for a national mobilization.
In regards to the demands of Bamyan residents regarding security, President Ghni said he has signed a decree for the establishment of a special unit of the intelligence forces which will soon start operations.
Recent Casualties:

Color Denotes Today's Confirmation
MSN November 3rd The mayor of North Ogden, Utah was killed Saturday on duty in Afghanistan as part of Utah's National Guard.
Brent Taylor was killed Saturday in an "insider attack" in Kabul, according to a statement from the Utah National Guard to Fox 13 Salt Lake City, while the terrorist responsible was immediately killed by Afghan forces.
"These reports also indicate the attacker was immediately killed by other Afghan Forces," the statement said. "The incident is under investigation."
Care for Veterans:
PTSD: National Center for PTSDPTSD Care for Veterans, Military, and FamiliesSee Help for Veterans with PTSD to learn how to enroll for VA health care and get an assessment.
All VA Medical Centers provide PTSD care, as well as many VA clinics.Some VA's have programs specializing in PTSD treatment. Use the VA PTSD Program Locator to find a PTSD program.
If you are a war Veteran, find a Vet Center to help with the transition from military to civilian life.

A Walk Through Arlington
Originally Published In 2007
The McGlynn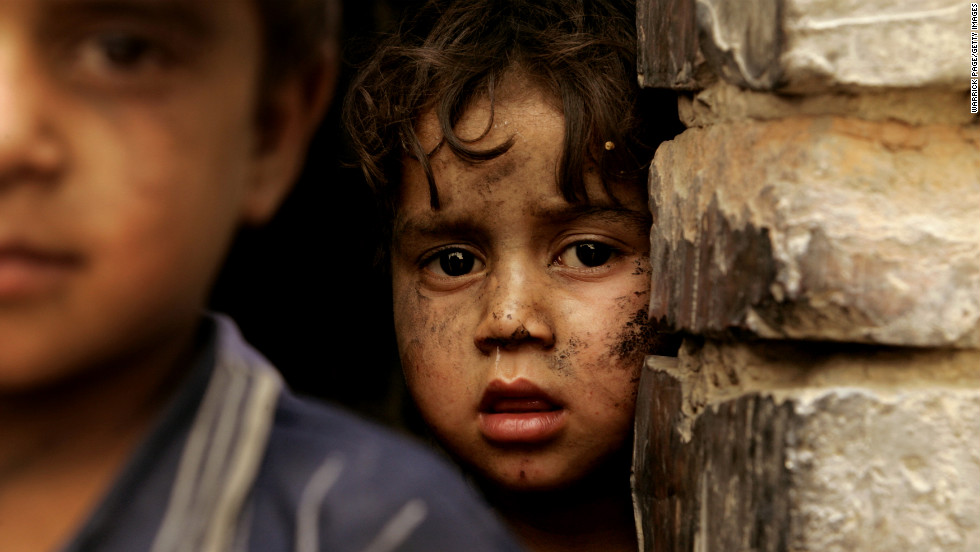 Please do not forget this child.
Iraqi War Child in fear, result of the war for oil led by the war criminal

president Bush.