16 Nov
United States Wars, News and Casualties
.
The war ended for those children, but it has never ended for survivors who carry memories of them. Likewise, the effects of the U.S. bombings continue, immeasurably and indefensibly.
Damn The War Criminals,Bush,Cheney,Rice,Rumsfeld, Wolfowitz, Powell and Blair from England.
How many Iraqis have died as a result of the invasion 15 years ago? Some credible estimates put the number at more than one million. You can read that sentence again.
The invasion of Iraq is often spoken of in our country as a "blunder," or even a "colossal mistake." It was a crime.
Those who perpetrated it are still at large. Some of them have even been rehabilitated thanks to the horrors of a mostly amnesiac citizenry.

We condemned children to death, some after many days of writhing in pain on bloodstained mats, without pain relievers. Some died quickly, wasted by missing arms and legs, crushed heads. As the fluids ran out of their bodies, they appeared like withered, spoiled fruits. They could have lived, certainly should have lived – and laughed and danced, and run and played- but instead they were brutally murdered. Yes, murdered!
The McGlynn
War News
Photo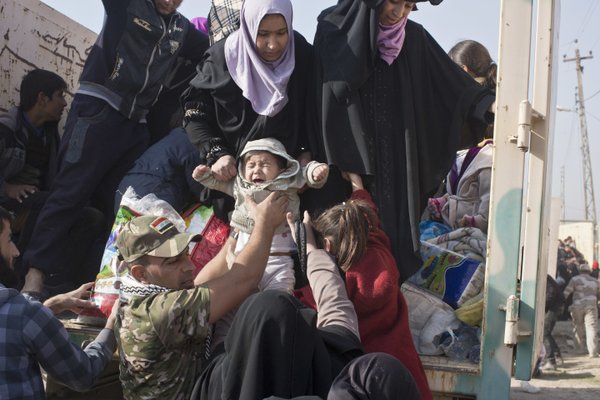 People are evacuated by the Iraqi military as mortars land in their proximity in Gogjali, on the eastern edges of Mosul, Iraq, Sunday, Nov. 6, 2016. Iraq's special forces worked Sunday to fully clear neighborhoods on Mosul's eastern edge of Islamic State militants as IS claimed bombings killed at least 20 people elsewhere around the country. (AP Photo/Marko Drobnjakovic)
SANAA (Reuters) – Saleh al-Faqeh held the wasted arm of his baby daughter as she took her last breath on Thursday at the malnutrition ward of the main hospital in Yemen's capital Sanaa.
Saleh Hassan al-Faqeh holds the hand of his four-month-old daughter, Hajar, who died at the malnutrition ward of al-Sabeen hospital in Sanaa, Yemen, November 15, 2018. REUTERS/Mohamed al-Sayaghi
Four-month-old Hajar al-Faqeh reached the al-Sabeen hospital last week from Saada province, one of thousands of Yemeni children suffering from malnutrition in a country that has been pushed to the brink of famine by more than three years of war.
Her body lies in the same ward where another baby boy, Mohammed Hashem, died from severe hunger on the same day. His passing was witnessed by a Reuters photographer. Doctors confirmed both babies had died of malnutrition.
"She has spent two months in a hospital in Saada, but we had to bring her to Sanaa," Hajar's father said.
Sooner or later, the Trump administration will be forced to withdraw from this war. But how many people will die before it happens?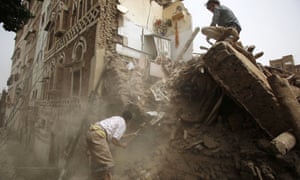 'Most Americans have heard nothing of this ongoing clash in Congress, which has lasted for more than a year.' Photograph: Hani Mohammed/AP
O

n Wednesday the Republican leadership briefly transformed the US House of Representatives into a theater of the absurd in order to block a debate and vote on US military participation in a genocidal war.
In an odd spectacle, representatives went back and forth between speaking about wolves, who kill other animals, to the Saudi monarchy, which has killed hundreds of thousands of people – mostly civilians including children – and pushed 14 million people to the brink of starvation.
The Republicans had hijacked the "Manage our Wolves Act" – a bad but unrelated piece of legislation – to pass a rule that would prohibit the House from debating H Res 138, introduced by Ro Khanna, a Democratic representative from California. The latter resolution would give the president 30 days to get the US military out of the war in Yemen.
The Republicans won by a vote of 201-187. But the Democrats could have easily defeated this surprise attack with some of the 17 members of their party who didn't vote and the 6 who voted with the Republicans.
Most Americans have heard nothing of this ongoing clash in Congress, which has lasted for more than a year, and is probably the most important foreign policy action that Congress has launched since it cut off funding for the Vietnam war.
What the Republicans did on Wednesday was illegal and unconstitutional. Under the War Powers Resolution of 1973, Khanna's resolution must be allowed a debate and vote.
The War Powers Resolution was a response to the prolonged tragedy of the Vietnam war. It reaffirms that under the constitution the president does not have authority to use offensive military force without specific authorization from Congress. And it establishes procedures to help Congress prevent and end unauthorized wars. One of these procedures is that when the president introduces US armed forces into hostilities without authorization, any member of Congress can demand a debate and vote on that military intervention, and it cannot be blocked procedurally.
The 1973 War Powers Resolution is still the law of the land, and the courts have not overturned any part of it. There are officials in the "national security state" who believe that the president can decide without Congress to participate in a war. But that is not the law, or is it consistent with the US Constitution – even if some prior presidents have claimed this power.
WASHINGTON (Reuters) – Republican and Democratic U.S. senators introduced legislation on Thursday seeking to strike back at Saudi Arabia over the death of a Saudi journalist at a consulate in Turkey and for its role in Yemen's devastating civil war.
If it were to become law, the bill would suspend weapon sales to Saudi Arabia and prohibit U.S. refueling of Saudi coalition aircraft for Riyadh's campaign in Yemen against the Houthis, Shi'ite Muslim fighters that Yemen's neighbors view as agents of Iran, the lawmakers said.
It also would impose sanctions on anyone blocking humanitarian access in Yemen and anyone supporting the Houthis in Yemen.
Sponsored by three Republican and three Democratic senators, the legislation reflects continued dissatisfaction in the U.S. Congress over the Yemen war, which has killed more than 10,000 people and created the world's most urgent humanitarian crisis.
That frustration was exacerbated by the killing in October at the Saudi consulate in Istanbul of journalist Jamal Khashoggi, a U.S. resident who wrote for the Washington Post.
Senator Bob Menendez, the top Democrat on the Senate Foreign Relations Committee, said sanctions on 17 Saudis announced earlier on Thursday by President Donald Trump's administration were not enough to ensure a credible investigation of Khashoggi's death and an end to hostilities in Yemen.
"We are putting teeth behind these demands with regular oversight, sanctions and suspension of weapons sales and refueling support," he said in a statement……………The bill's other sponsors include Republican Senators Todd Young and Susan Collins and Democrats Jack Reed and Jeanne Shaheen.
Special Operations Chief Edward Gallagher, seen during his 2017 deployment, may face a military trial on murder and other charges.
I
Special Operations Chief Edward Gallagher, seen during his 2017 deployment, may face a military trial on murder and other charges.
NAVAL BASE SAN DIEGO — Edward Gallagher was something special, even by the punishing standards of the Navy SEALs. Both a lifesaving medic and a crack sniper, he was repeatedly decorated for valor and for coolheaded leadership during 19 years of combat deployments. After his latest tour, fighting Islamic State militants in Iraq, he was named the top platoon leader in SEAL Team 7 and nominated for the Silver Star, the military's third-highest honor.
But now, less than a year later, Special Operations Chief Gallagher, 39, is locked in the brig, facing charges that during that same deployment — his eighth — he shot indiscriminately at civilians, killed a teenage Islamic State fighter with a handmade custom blade, and then performed his re-enlistment ceremony posing with the teenager's bloody corpse in front of an American flag.
The Navy has charged Chief Gallagher with premeditated murder, attempted murder and nearly a dozen other offenses, including obstruction of justice and bringing "discredit upon the armed forces." If he is convicted, he could spend the rest of his life in prison.
Chief Gallagher denies all the charges.
The case has sent waves through the secretive world of the SEALs, who prefer to operate behind the headlines in an atmosphere of silent professionalism. And the case may widen as the investigation implicates other SEALs who did not report what they knew. A lieutenant has already been charged……………….Navy investigators said that one SEAL medic was kneeling over the fighter's head, treating him, when Chief Gallagher walked up and, without saying a word, took out a handmade knife and stabbed the teenager several times in the neck and side.
Investigators said two other SEALs gave similar accounts.
Members of the platoon then posed for photos with Chief Gallagher as he held the teenager's head up by the hair with one hand, and held his knife in the other. Photos show Chief Gallagher then raising his right hand to perform a re-enlistment ceremony over the dead body, while another SEAL member holds an American flag.

The bodies of 20 commandos were lined up outside the governor's office in Sang-e-Masha, Afghanistan, on Sunday. Their company was almost entirely destroyed fighting the Taliban.
Credit

Credit

Jim Huylebroek for The New York Times
The following reports compile all significant security incidents confirmed by New York Times reporters throughout Afghanistan. It is necessarily incomplete as many local officials refuse to confirm casualty information.
This week President Ashraf Ghani revealed that 28,529 members of the Afghan security forces have been killed in the past four years, since 2015. That tally, which he gave during a video address Nov. 12 to Johns Hopkins School of Advanced International Studies, was the highest to come from his government yet. While he gave no breakdown of that number, previous government estimates put security force death tolls at 5,000 in 2015 and nearly 7,000 in 2016; after that, the Afghan government began classifying casualty totals. That means a total of about 16,500 this year and last year, about 25 a day or 175 a week — far more than Afghan government officials are usually willing to confirm.
That average rate was exceeded last week, despite the onset of cold weather in most of the country. The Times confirmed that at least 242 members of the security forces were killed, once again a significant increase over the previous week. Historically, fighting has greatly declined by this time in past years.
During the week, an entire company of Afghan commandos was wiped out only days after they were sent to rescue Jaghori District in Ghazni, an anti-insurgent stronghold. Although Times photographers took photos and video of the bodies of 20 commandos brought to the governor's office, the Ghazni police chief, Dawood Tarakhel, publicly denied any serious casualty toll in Jaghori.
Nov. 15 Farah Province: 42 security forces and government employees killed
The Taliban carried out a coordinated attack on Khurma Base, a joint installation in Bala Bolok District. Due to security problems in Khak-e-Safid District, the district governor's office had been previously forced to move there. The attack started when Taliban infiltrators inside the base started firing, then additional insurgents attacked the base from the outside, killing all 42 soldiers, police officers and government employees inside. Officials did not provide a breakdown of casualties.
Recent Casualties:

Color

Denotes Today's Confirmation
MSN November 3rd The mayor of North Ogden, Utah was killed Saturday on duty in Afghanistan as part of Utah's National Guard.
Brent Taylor was killed Saturday in an "insider attack" in Kabul, according to a statement from the Utah National Guard to Fox 13 Salt Lake City, while the terrorist responsible was immediately killed by Afghan forces.
"These reports also indicate the attacker was immediately killed by other Afghan Forces," the statement said. "The incident is under investigation."
Care for Veterans:
PTSD: National Center for PTSDPTSD Care for Veterans, Military, and FamiliesSee Help for Veterans with PTSD to learn how to enroll for VA health care and get an assessment.
All VA Medical Centers provide PTSD care, as well as many VA clinics.Some VA's have programs specializing in PTSD treatment. Use the VA PTSD Program Locator to find a PTSD program.
If you are a war Veteran, find a Vet Center to help with the transition from military to civilian life.

A Walk Through Arlington
Originally Published In 2007
The McGlynn
Please do not forget this child.
The United States has waged a drone war in Yemen for 16 years.

In this Oct. 1, 2018, photo, a severely malnourished boy rests on a hospital bed at the Aslam Health Center, Hajjah, Yemen. Malnutrition, cholera, and other epidemic diseases like diphtheria ravaged through the displaced and the impoverished communities. The fighting in Hodeida, the Red Sea port seen as the lifeline of northern Yemen where 70 percent of the population lives, threaten to worsen the world's largest humanitarian crisis. (AP Photo/Hani Mohammed)