19 Nov
United States Wars, News and Casualties
.
The war ended for those children, but it has never ended for survivors who carry memories of them. Likewise, the effects of the U.S. bombings continue, immeasurably and indefensibly.
Damn The War Criminals,Bush,Cheney,Rice,Rumsfeld, Wolfowitz, Powell and Blair from England.
How many Iraqis have died as a result of the invasion 15 years ago? Some credible estimates put the number at more than one million. You can read that sentence again.
The invasion of Iraq is often spoken of in our country as a "blunder," or even a "colossal mistake." It was a crime.
Those who perpetrated it are still at large. Some of them have even been rehabilitated thanks to the horrors of a mostly amnesiac citizenry.

We condemned children to death, some after many days of writhing in pain on bloodstained mats, without pain relievers. Some died quickly, wasted by missing arms and legs, crushed heads. As the fluids ran out of their bodies, they appeared like withered, spoiled fruits. They could have lived, certainly should have lived – and laughed and danced, and run and played- but instead they were brutally murdered. Yes, murdered!
The McGlynn
War News
Photo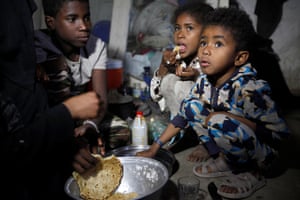 Children displaced from the port city of Hodeida eat at a shelter in Sana'a, Yemen. Photograph: Mohamed al-Sayaghi/Reuters
Head of Higher Revolutionary Committee says his group wants a ceasefire
A high-ranking Houthi official has called on rebels to stop firing rockets and using attack drones in the conflict in Yemen, as a UN envoy prepares to travel to the country to finalise arrangements for peace talks.
Mohammed Ali al-Houthi, the head of the Higher Revolutionary Committee and an influential political figure, tweeted: "We announce an initiative to call all official Yemeni parties to ask to end launching rockets and drones against aggression countries … in order to deprive them for any reason to continue their aggression and siege, along a readiness to freeze and stop all military operations on all fronts in order to reach peace."
His comments come after the UN special envoy Martin Griffiths said on Friday he planned to travel to the rebel-held capital, Sana'a, in the coming week to finalise arrangements for peace talks to take place in Sweden soon.
Thousands of people have died in the conflict, and fighting intensified last week after clashes escalated in the Red Sea city of Hodeidah, whose port serves as an entry point for nearly all of the country's commercial imports and humanitarian aid.
"This is a crucial moment for Yemen," Griffiths told the UN security council. "I have received firm assurances from the leadership of the Yemeni parties … that they are committed to attending these consultations. I believe they are genuine."
ASTANA (Reuters) – Russia, Turkey, and Iran will hold the next round of talks on Syria on Nov. 28-29 in Kazakhstan, Kazakh foreign minister Kairat Abdrakhmanov said on Monday.
Delegations of the Damascus government and the Syrian rebels are also set to attend, Abdrakhmanov told reporters.
AMMAN (Reuters) – Hundreds of Islamic State militants withdrew from the heart of a rugged area in southeastern Syria after holding up for over three months against a major campaign by the Syrian army and its allies to crush them, rebels and residents said on Sunday.
They said jihadists dug into the Tulul al Safa heights, east of Sweida province, had begun their retreat in the last few days as Syrian army tanks backed by heavy air strikes approached their last hideout.
Local leaders in Sweida city said the army and militias had suffered heavy losses in weeks of attempts to advance deep into the volcanic plateau area where the rugged terrain had long made it an ideal refuge for fugitives and insurgents……………The militants are believed to have fled to other areas to the west, including the towns of al Hasa and al Rahba, with many also melting into the vast sparsely populated eastern desert region, a former rebel source familiar with the area said.
Further northeast, the U.S.-led coalition was waging air strikes against the town of Hajin, east of the Euphrates River, in the last remaining Islamic State-held pocket in Syria near the border with Iraq.
TIKRIT, Iraq — A car bomb blast killed at least five people and wounded 16 others in the Iraqi city of Tikrit on Sunday, police and medical sources said.
The blast set nearly a dozen vehicles on fire, the police sources said. Security forces have closed most of the city streets and deployed in case of any other incidents.
There was no immediate claim of responsibility for the explosion. Such attacks have been rare in Tikrit, about 100 miles north of Baghdad, since Islamic State were defeated in Iraq in 2017.
Islamic State militants have switched from controlling territory to insurgency tactics such as bombings and attacks on security forces since their military defeat.
Analysts and security sources warn these attacks are likely to increase in traditional Sunni militant strongholds in the north and west of the country, although security in Baghdad has improved.
Iraq's government said this week that about 2,000 Iraqi Islamic State fighters based across the border in eastern Syria were seeking to come back to Iraq, and that security forces were preparing to prevent militant incursions.
Recent Casualties:

Color

Denotes Today's Confirmation
MSN November 3rd The mayor of North Ogden, Utah was killed Saturday on duty in Afghanistan as part of Utah's National Guard.
Brent Taylor was killed Saturday in an "insider attack" in Kabul, according to a statement from the Utah National Guard to Fox 13 Salt Lake City, while the terrorist responsible was immediately killed by Afghan forces.
"These reports also indicate the attacker was immediately killed by other Afghan Forces," the statement said. "The incident is under investigation."
Care for Veterans:
PTSD: National Center for PTSDPTSD Care for Veterans, Military, and FamiliesSee Help for Veterans with PTSD to learn how to enroll for VA health care and get an assessment.
All VA Medical Centers provide PTSD care, as well as many VA clinics.Some VA's have programs specializing in PTSD treatment. Use the VA PTSD Program Locator to find a PTSD program.
If you are a war Veteran, find a Vet Center to help with the transition from military to civilian life.

A Walk Through Arlington
Originally Published In 2007
The McGlynn
Please do not forget these children.