21 Nov
United States Wars, News and Casualties
.
The war ended for those children, but it has never ended for survivors who carry memories of them. Likewise, the effects of the U.S. bombings continue, immeasurably and indefensibly.
Damn The War Criminals,Bush,Cheney,Rice,Rumsfeld, Wolfowitz, Powell and Blair from England.
How many Iraqis have died as a result of the invasion 15 years ago? Some credible estimates put the number at more than one million. You can read that sentence again.
The invasion of Iraq is often spoken of in our country as a "blunder," or even a "colossal mistake." It was a crime.
Those who perpetrated it are still at large. Some of them have even been rehabilitated thanks to the horrors of a mostly amnesiac citizenry.

We condemned children to death, some after many days of writhing in pain on bloodstained mats, without pain relievers. Some died quickly, wasted by missing arms and legs, crushed heads. As the fluids ran out of their bodies, they appeared like withered, spoiled fruits. They could have lived, certainly should have lived – and laughed and danced, and run and played- but instead they were brutally murdered. Yes, murdered!
The McGlynn
War News
Photo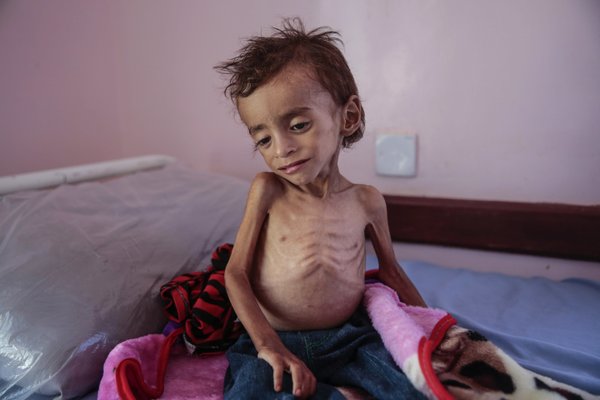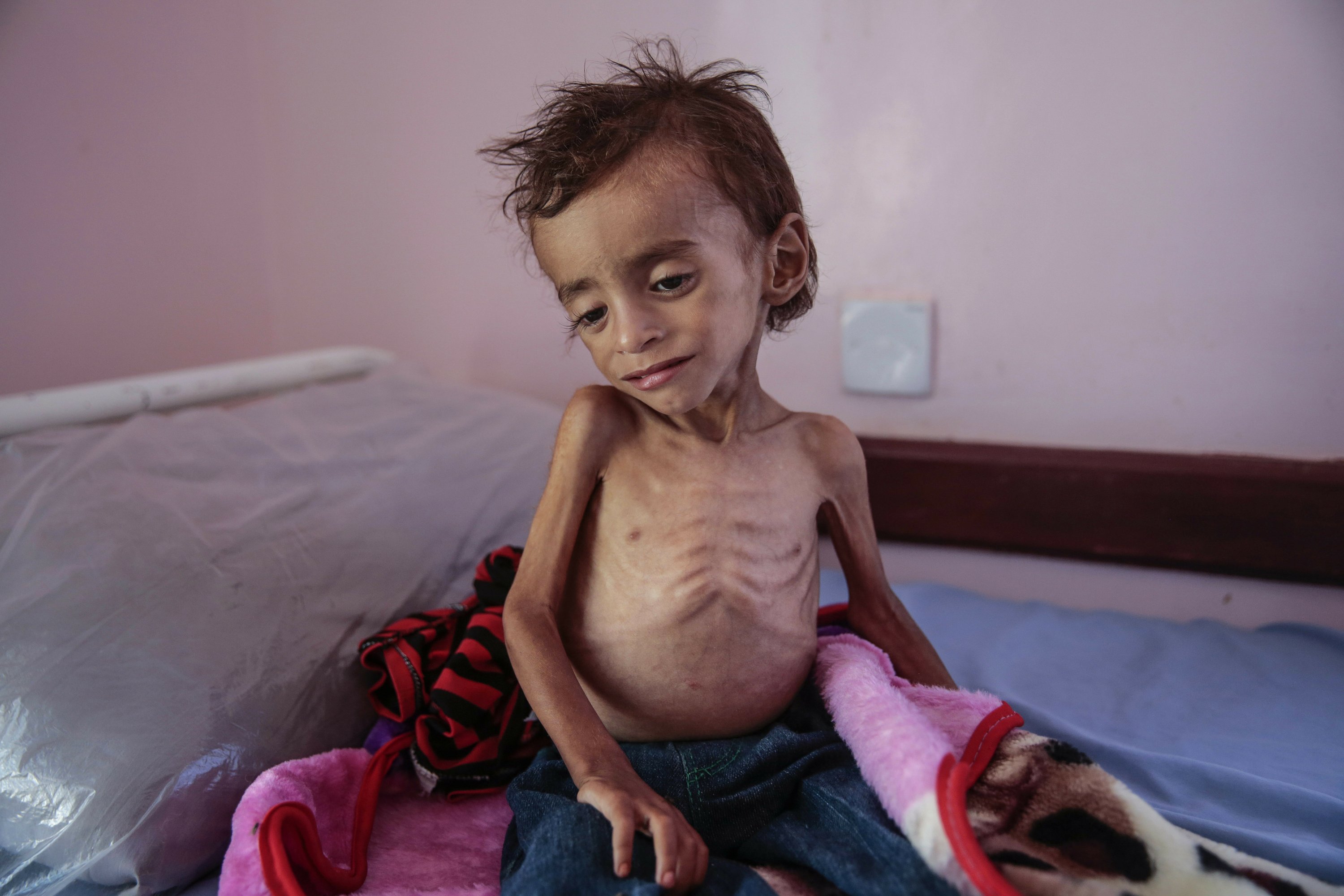 FILE – In this Oct. 1, 2018, photo, a malnourished boy sits on a hospital bed at the Aslam Health Center, Hajjah, Yemen. An estimated 85,000 children under age 5 may have died of hunger and disease since the outbreak of Yemen's civil war in 2015, an international aid group said Wednesday, Nov. 21, 2018. (AP Photo/Hani Mohammed, File)
Save the Children condemns 'preventable' deaths of under-fives and calls for end to war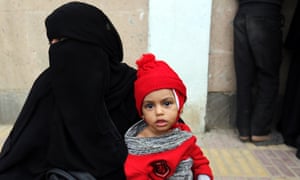 A displaced Yemeni woman holds her granddaughter as she waits to register at an evacuation centre in Sana'a. Photograph: Yahya Arhab/EPA
An estimated 85,000 children under the age of five have starved to death as a result of Yemen's civil war, a report from Save the Children has found, as the charity urged an immediate ceasefire to prevent more loss of life.
The figure is a conservative estimate based on UN data on severe acute malnutrition, which the international body says has afflicted more than 1.3 million children since the conflict began in 2015 between Houthi rebels and the Saudi-led coalition that seeks to restore Yemen's exiled government.
About 14 million people – half of Yemen's population – are currently at risk of famine, largely because of Saudi border blockades designed to weaken the Houthis, which have also strangled civilian access to food, fuel, aid and commercial goods.
Fears for Yemen's civilian population have increased in recent weeks because of an escalation in fighting around the Red Sea port city of Hodeidah, through which about 80% of the country's imports flow………….."This conflict has created a perfect storm of conditions that has driven the country to the brink of famine," said Bhanu Bhatnagar, a Save the Children spokesman. "The violence has disrupted food production and destroyed hospitals and health centres where the weak and sick can be treated.
"Barriers to importing and distributing supplies have severely restricted the amount of food getting into and around the country. And in markets where food is actually available, ordinary people simply can't afford to buy it as salaries have been unpaid for months and the currency has collapsed in value."
DUBAI (Reuters) – An estimated 85,000 children under five may have died from extreme hunger in Yemen since a Saudi-led coalition intervened in the civil war in 2015, Save the Children said on Wednesday.

Nusair, 13 months old, in his house in Hodeidah, Yemen, with his mother Suad :

Mohammed Awadh/Save the Children
An estimated 85,000 children under the age of five may have died from acute malnutrition in three years of war in Yemen, a leading charity says.
It said that according to a conservative estimate based on U.N. data, approximately 84,700 children suffering from severe acute malnutrition may have died between April 2015 and October 2018 in the impoverished country, where a Western-backed Arab alliance is battling the Houthi movement that holds the capital.
"We are horrified that some 85,000 children in Yemen may have died because of the consequences of extreme hunger since the war began. For every child killed by bombs and bullets, dozens are dying from hunger and disease and it's entirely preventable," it said in a statement.
The last available figure from the United Nations for the death toll from the war was in 2016 and stood at more than 10,000.
BEIRUT (AP) — Amnesty International said Wednesday it is enlisting the help of thousands of online activists to speed up its investigation into the U.S.-led campaign that drove Islamic State militants from their self-styled capital of Raqqa but left the Syrian city in ruins.
The London-based rights group said the new phase of its investigation enables thousands of online activists, using satellite imagery of the city, to map out the destruction over the four-month campaign, which ended in October 2017.
The U.N estimates that more than 10,000 buildings were destroyed— or 80 percent of the city. Amnesty's Strike Tracker campaign, in partnership with Airwars, would help narrow down when and where coalition air and artillery strikes destroyed buildings.
Amnesty hopes to compel the U.S-led coalition to accept greater responsibility for the destruction and conduct its own investigation into the deaths of hundreds of civilians.
The coalition says it worked to avoid civilian casualties in Raqqa. Col. Sean Ryan, a spokesman for the coalition, said it is "always willing to review if new evidence is reported."
In an earlier phase of Amnesty's investigation inside Raqqa, the group provided new evidence that compelled the coalition to acknowledge 77 civilian deaths. In total, the coalition has acknowledged 104 civilian deaths from the hard-fought campaign.
"With bodies still being recovered from the wreckage and mass graves more than a year later, this is just the tip of the iceberg," said Milena Marin, senior adviser on Amnesty's Crisis Response team.
"There is a mountain of evidence left to sift through, and the scale of the civilian devastation is simply too large for us to do this alone."
Some 2,500 bodies have been pulled from the rubble and uncovered in mass graves, and searches are still underway. Amnesty suspects hundreds of civilians died in the campaign.
Raqqa was the capital of the Islamic State group's self-styled caliphate, which once encompassed a third of Syria and Iraq. In recent years the group has been driven from virtually all the territory it once controlled, and holds just a few small, remote pockets in Syria.
CAIRO (Reuters) – Iraqi forces have killed 15 Islamic State militants inside a tunnel during a search operation in the northern Sunni-majority Salahuddin province, the military said on Wednesday.
Islamic State, which once occupied a third of Iraq's territory, has been largely defeated in the country but has continued to carry out ambushes, assassinations and bombings there and still poses a threat.
Security forces "have completed a search operation which led to the destruction of two hideouts used by the terrorists and the killing of 15 elements inside a large tunnel," a spokesman for the military's Joint Operations Command said in a statement. It did not say when the incident took place.
Iraq declared final victory over Islamic State in December but the militant group has resorted to guerrilla tactics since it abandoned its goal of holding territory and creating a self-declared caliphate straddling Iraq and Syria.
Most of its activity in Iraq takes place in the three provinces of Salahuddin, Diyala, and Kirkuk.
QAIM, Iraq (AP) — More than a year after the Iraqi town of Qaim was freed from the Islamic State group, booms from airstrikes still echo and columns of smoke rise beyond the berms and concrete walls marking the border with Syria. There, on the other side, the fight is raging to capture one of the militants' last enclaves.
Iraqi troops and Shiite militiamen outside Qaim watch over a giant earth barricade topped with barbed wire that runs along the long, featureless desert border, trying to prevent IS infiltration. Iraqi artillery and U.S.-led coalition warplanes bombard IS positions inside Syria, while Iraqi militiamen along with allied Iranian troops cross the border to back Syrian government forces there.
The battle on the doorstep means life in Qaim is still on hold, with residents waiting for their town to be rebuilt. There is still no central electricity, and running water works only intermittently. On the outskirts lie the wreckage of houses, their walls blasted open and roofs collapsed from bombardment during the assault a year ago by militias and U.S.-backed Iraqi troops who retook Qaim from IS.
The dusty, quiet streets are dotted with security checkpoints, manned by the military and the government-sanctioned, Iranian-backed militias known as the Popular Mobilization Forces, who are viewed with deep suspicion by many in this Sunni Muslim town. Many checkpoints fly both Iraqi national flags and the militias' banners proclaiming Shiite slogans.
On the main commercial road, militiamen and Iranian fighters shop in the markets. One fruit seller, Nabil Mashhad, said that since he doesn't speak Farsi, he shows the Iranians the prices on his cellphone's calculator.
"The situation is bad," Mashhad said. "Where are the services? The schools? There's no life. We're working just trying to get by."
The fight next door underscores the tenacity of the Islamic State group, a year after it was driven out of almost all the territory it once held, which at its height encompassed nearly a third of both Iraq and Syria.
KABUL — Afghan authorities were struggling on Wednesday to identify the group behind a suicide bomb attack that killed at least 55 people at a gathering of religious scholars in Kabul after the Taliban denied any responsibility.
The victims included religious delegates from various parts of the country, invited by the Afghan Ulema Council to celebrate the birth anniversary of Prophet Mohammad on Tuesday.
Without knowing who was behind the attack, it was unclear whether the aim was to undermine President Ashraf Ghani's government, or whether it was part of a strategy to keep the pressure on his government and its Western allies while they pursued talks with the Taliban, to end the 17-year long war.
"As of now we don't know which militant outfit could be behind the attack. Investigations are at a preliminary stage," said a senior security official who was at the blast site on Wednesday to collect forensic evidence.
The council, the country's largest religious organization, gathered scholars from the Sunni sect, but it was uncertain whether the attack could have had a sectarian dimension.
Though Sunni themselves, Taliban and Islamic State fighters have targeted religious scholars aligned with the Afghan government in the past……………….The toll from Tuesday's attack could rise as most of the 80 wounded had severe injuries, hospital and government officials said.
Recent Casualties:

Color

Denotes Today's Confirmation
MSN November 3rd The mayor of North Ogden, Utah was killed Saturday on duty in Afghanistan as part of Utah's National Guard.
Brent Taylor was killed Saturday in an "insider attack" in Kabul, according to a statement from the Utah National Guard to Fox 13 Salt Lake City, while the terrorist responsible was immediately killed by Afghan forces.
"These reports also indicate the attacker was immediately killed by other Afghan Forces," the statement said. "The incident is under investigation."
Care for Veterans:
PTSD: National Center for PTSDPTSD Care for Veterans, Military, and FamiliesSee Help for Veterans with PTSD to learn how to enroll for VA health care and get an assessment.
All VA Medical Centers provide PTSD care, as well as many VA clinics.Some VA's have programs specializing in PTSD treatment. Use the VA PTSD Program Locator to find a PTSD program.
If you are a war Veteran, find a Vet Center to help with the transition from military to civilian life.

A Walk Through Arlington
Originally Published In 2007
The McGlynn
Please do not forget the children.