24 Nov
United States Wars, News and Casualties
Damn The War Criminals,Bush,Cheney,Rice,Rumsfeld, Wolfowitz, Powell and Blair from England.
.
The war ended for those children, but it has never ended for survivors who carry memories of them. Likewise, the effects of the U.S. bombings continue, immeasurably and indefensibly.
How many Iraqis have died as a result of the invasion 15 years ago? Some credible estimates put the number at more than one million. You can read that sentence again.
The invasion of Iraq is often spoken of in our country as a "blunder," or even a "colossal mistake." It was a crime.
Those who perpetrated it are still at large. Some of them have even been rehabilitated thanks to the horrors of a mostly amnesiac citizenry.

We condemned children to death, some after many days of writhing in pain on bloodstained mats, without pain relievers. Some died quickly, wasted by missing arms and legs, crushed heads. As the fluids ran out of their bodies, they appeared like withered, spoiled fruits. They could have lived, certainly should have lived – and laughed and danced, and run and played- but instead they were brutally murdered. Yes, murdered!
The McGlynn
War News
KABUL (Reuters) – A U.S. service member was killed in Afghanistan on Saturday, the NATO-led Resolute Support mission said in a statement, bringing the U.S. combat death toll this year to eight.
The identity of the service member and details about the incident will be shared at a later stage, said Debra Richardson spokesperson for the Resolute Support in Afghanistan.
The Pentagon says there are about 14,000 U.S. service members in Afghanistan. The U.S. military's mission is focused mainly on guiding and aiding Afghan forces battling the Taliban, which was ousted from power in 2001.
More than 2,400 U.S. forces have died in the 17-year-old war, America's longest conflict.
Britain sells arms to Saudi Arabia, a state that is playing such a disastrously central role in Yemen's civil war, writes Alec Burt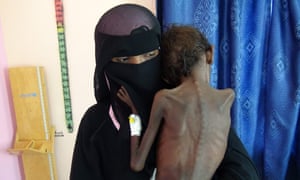 Yemeni mother Nadia Nahari holding her five-year-old son Abdelrahman Manhash, who is suffering from severe malnutrition and weighing 5 kilograms, at a treatment clinic in the Khokha district in the western province of Hodeidah. Photograph: AFP/Getty Images
It was interesting to read of the welcome conviction of three people for smuggling fighter jet parts to Iran, and in particular the comments of Simon York, "the director of HMRC's fraud investigation service", who was quoted as saying: "These three … didn't care what these parts might be used for, as long as they got paid" (Report, 23 November).
Could a similar comment not be made about the various British arms manufacturers who continue to, with the full support of our government, sell arms to Saudi Arabia, a state that has played and is playing such a disastrously central role in Yemen's civil war? A civil war that, as reported by the Guardian on Thursday, has resulted in the deaths of approximately 85,000 children under the age of five from malnutrition.
DUBAI (Reuters) – Iranian President Hassan Rouhani called on Muslims worldwide on Saturday to unite against the United States, instead of "rolling out red carpets for criminals".
Washington in May reimposed sanctions on Tehran, after President Donald Trump pulled out of a 2015 international nuclear deal with Iran under which they had been lifted.
DUBAI (Reuters) – Iranian President Hassan Rouhani called on Muslims worldwide on Saturday to unite against the United States, instead of "rolling out red carpets for criminals".
Washington in May reimposed sanctions on Tehran, after President Donald Trump pulled out of a 2015 international nuclear deal with Iran under which they had been lifted.
The following reports compile all significant security incidents confirmed by New York Times reporters throughout Afghanistan. It is necessarily incomplete as many local officials refuse to confirm casualty information. The toll here does not generally include claims of insurgents killed by the government, because of the difficulty of verifying such claims. Similarly, the reports do not include attacks on the government claimed by the Taliban. Both sides routinely inflate casualties of their opponents.
The greatly decreased death toll among security forces, 42, indicated that clashes between the insurgents and the government decreased in the past week, but a larger number of civilians, 73, lost their lives — particularly due to a massive bombing in the capital, the first major attack in more than a month. Most of the reported attacks were small in scale, also unlike previous weeks, with few casualties.
The heavy fighting in Jaghori and Malestan districts in Ghazni Province also quieted, with the situation apparently stalemated there. Most businesses and schools remained closed, and residents who fled have not returned. But the Taliban did not continue to push to overrun the districts, which are populated by the Hazara minority. Heavy government reinforcements were sent in but apparently did not yet go on the offensive.
Gen. Austin Scott Miller, the American commander, visited Ghazni city on Wednesday and a rocket was fired into the city while he was meeting the governor. Officials said it landed far from the meeting place.
Update to last week's report: On Nov. 12 last week, the Taliban attacked Farah Province's Khust valley, which was guarded by Afghan Local Police. Officials initially denied or refused to give full details, but it became clear this week that 45 local police officers were killed and 90 others tried to flee but finally surrendered to the insurgents. They spent two days hiding in the mountains without supplies or equipment, hoping for reinforcements that never came; local elders then negotiated their peaceful surrender to the Taliban, who disarmed them but promised not to harm them. There originally had been 180 local police officers in the remote valley.
Nov. 22 Faryab Province: 11 security force members killed
In overnight fighting in the Almar District, Taliban insurgents captured eight local police and militia members, then killed them, officials said.
Taliban insurgents captured a government village and an Afghan National Army outpost in the Dowm Qala area of Gorziwan District, killing two soldiers and one member of a pro-government militia; five militia members were wounded as well. Government positions in the area remained surrounded by the insurgents and officials called for urgent reinforcements.
Nov. 22 Badghis Province: two soldiers killed
An army convoy was attacked in the Laman area by what officials said was 500 Taliban, who killed two soldiers and wounded three others. Some of the soldiers' Humvees were set on fire.
Nov. 21 Logar Province: eight civilians killed
Local officials said the National Directorate of Security, Afghanistan's paramilitary intelligence service, carried out a night raid in Mohammad Agha District looking for Taliban insurgents. Eight civilians were killed during the operation, which is under investigation.
Nov. 21 Kandahar Province: three police killed
A roadside I.E.D. targeted a front-line commander named Sadiqullah on Kandahar-Oruzgan Road in the Urdobbagh area of Shawalikot District; three police were killed, including the commander, and two others wounded…………………
Nov. 20 Kabul Province: 55 civilians killed and 94 wounded
A suicide bomber attacked a religious gathering in Kabul, killing 55 civilians and wounding 94, many of them critically. No individual or group has so far claimed responsibility behind the attack.
ROME — The Houthi rebels who control the key Yemeni port of Hudaydah have agreed to enter talks about handing some control to the United Nations, its envoy to Yemen said during a visit to the city on Friday.
The initiative, although tentative, added to momentum for peace talks expected to start in the coming weeks, when the Saudi-led coalition and its Houthi foes are to meet in Sweden as a humanitarian crisis threatens to tip millions of Yemenis into starvation.
Hudaydah has been engulfed in fighting in recent weeks as the Saudi-led coalition has stepped up its assault there, partly surrounding it from three sides. That has prompted fears that the port, a major channel for food and fuel imports, could be cut off.
The United Nations sees a deal on Hudaydah as an important first step toward ending the war. But any arrangement to turn the port over to international supervision would also need approval from the United Arab Emirates, the Saudi ally leading the military assault.
By Khaama Press on 24 Nov 2018 5:29pm .
The Afghan Military in the North claims that 48 militants have been killed or wounded during the latest operations conducted as part of Pamir operations in Kunduz province.
The 209th Shaheen Corps in a statement said the Afghan Commandos and 0905 unit of the Afghan intelligence conducted operations in Dasht Archi district which have resulted in killing of at least 41 militants so far.
The statement further added at least seven militants were also wounded during the same operations.
According to 209th Shaheen Corps, Pamir operations were launched four days ago in Dasht district and are still being conducted to suppress the militant groups.
The anti-government armed militant groups including Taliban have not commented regarding the operations so far.
Kunduz is among the relatively volatile provinces in North of Afghanistan but the security situation of has deteriorated more during the recent years.
The Taliban militants are active in some districts of Kunduz and often conduct terrorist related activities against the government and security institutions.
By Khaama Press on 24 Nov 2018 3:56pm .
The Chief of Ulema Council of Kabul Mawlavi Abdul Basir Haqqani has been shot dead by unknown gunmen, security officials and Ulema Council sources have said.
The incident has reportedly taken place in the vicinity of the 7th police district of Kabul city.
No individual or group has so far claimed responsibility behind the attack.
The attack on Ulema Council Chief of Kabul was carried out days after a deadly attack targeted a gathering of religious scholars in Kabul city.
A suicide bomber detonated his explosives among the religious scholars in a hotel late on Tuesday evening, leaving more than 50 people dead.
Similarly, a suicide bomber detonated his explosives among the participants of Friday prayer in a unit of the Afghan army in southeastern Khost province of Afghanistan.
According to reports, at least twenty six people lost their lives.
Recent Casualties:

Color Denotes Today's Confirmation
MSN November 3rd The mayor of North Ogden, Utah was killed Saturday on duty in Afghanistan as part of Utah's National Guard.
Brent Taylor was killed Saturday in an "insider attack" in Kabul, according to a statement from the Utah National Guard to Fox 13 Salt Lake City, while the terrorist responsible was immediately killed by Afghan forces.
"These reports also indicate the attacker was immediately killed by other Afghan Forces," the statement said. "The incident is under investigation."
Care for Veterans:
PTSD: National Center for PTSDPTSD Care for Veterans, Military, and FamiliesSee Help for Veterans with PTSD to learn how to enroll for VA health care and get an assessment.
All VA Medical Centers provide PTSD care, as well as many VA clinics.Some VA's have programs specializing in PTSD treatment. Use the VA PTSD Program Locator to find a PTSD program.
If you are a war Veteran, find a Vet Center to help with the transition from military to civilian life.

Afghanistan War Children Daily Express
Please do not forget the children.
The McGlynn