30 Nov
United States Wars, News and Casualties
Damn The War Criminals,
Bush,Cheney,Rice,Rumsfeld,Wolfowitz, Powell and Blair from England.
.
The war ended for those children, but it has never ended for survivors who carry memories of them. Likewise, the effects of the U.S. bombings continue, immeasurably and indefensibly.
How many Iraqis have died as a result of the invasion 15 years ago? Some credible estimates put the number at more than one million. You can read that sentence again.
The invasion of Iraq is often spoken of in our country as a "blunder," or even a "colossal mistake." It was a crime.
Those who perpetrated it are still at large. Some of them have even been rehabilitated thanks to the horrors of a mostly amnesiac citizenry.

We condemned children to death, some after many days of writhing in pain on bloodstained mats, without pain relievers. Some died quickly, wasted by missing arms and legs, crushed heads. As the fluids ran out of their bodies, they appeared like withered, spoiled fruits. They could have lived, certainly should have lived – and laughed and danced, and run and played- but instead they were brutally murdered. Yes, murdered!
The McGlynn
War News
Photo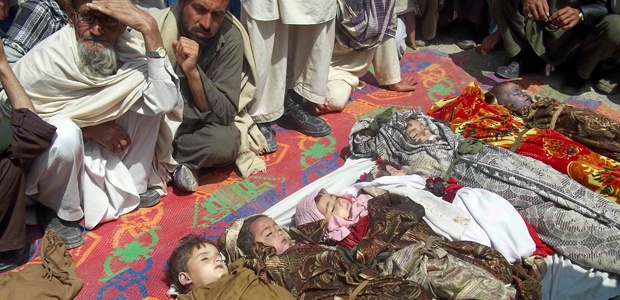 Afghan villagers sit near the bodies of children who were reported to have been killed during a NATO airstrike in Kunar province (Photo: Reuters).
UK aid to Yemen is eclipsed by the billions brought in through the bungling, deceitful sale of British weapons to Saudi Arabia
T

he war in Yemen has killed upwards of 57,000 people since March 2015, left 8.4 million people surviving on food aid and created a cholera epidemic. The British government claims to have been at the forefront of international humanitarian assistance, giving more than £570m to Yemen in bilateral aid since the war began.
Yet the financial value of aid is a drop in the ocean compared with the value of weapons sold to the Saudi-led coalition – licences worth at least £4.7bn of arms exports to Saudi Arabia and £860m to its coalition partners since the start of the war. Relatively speaking, aid has been little more than a sticking plaster on the death, injury, destruction, displacement, famine and disease inflicted on Yemen by an entirely manmade disaster.
Britain and the US have been the key supporters of the Saudi-led coalition, providing arms, intelligence, logistics, military training and diplomatic cover. This has provoked criticism: in the US, a Democrat congressional resolution invoked the 1973 War Powers Act to end US involvement in the war in Yemen, but was blocked by a Republican procedural rule change to a resolution about … wolves. More recently, an attempt to push through a UN resolution calling for a ceasefire was stalled by the US and other countries, reportedly after a lobbying campaign by Saudi Arabia and the United Arab Emirates (UAE).
In the UK, parliament's committees on arms export controls (CAEC) fell into disarray in 2016, unable to agree on whether or not to recommend a suspension of arms exports to Saudi Arabia pending an international investigation into alleged war crimes.
Britain's own rules state that it cannot sell weapons to countries where there is a clear risk they might be used in serious violations of international humanitarian law.
The UK government claims to have one of the most rigorous arms control regimes in the world, yet evidence of attacks on medical facilities and schoolchildren in Yemen is clear.
War is the primary cause of death, injury, famine and disease in Yemen; and the coalition is causing twice as many civilian casualties as all other forces fighting in Yemen – including the Houthis.
There are some – including the chair of CAEC, responsible for holding the government to account for arms sales – who claim that the Houthis bear primary responsibility for Yemen's humanitarian disaster. While expert observers are clear that the Houthis are attacking civilians and aid and humanitarian actors, attempts to disavow the Saudi-led coalition's responsibility for war crimes simply don't stand up.
How does the British government manage to convince itself that its arms export policy is not in tatters?
BEIRUT (Reuters) – The Syrian Observatory for Human Rights said air strikes by the U.S.-led coalition against Islamic State in eastern Syria this week killed dozens of people in the jihadist group's last major foothold.
The coalition could not immediately be reached for comment on the report. Syrian state media also reported dozens of deaths this week.
The Observatory said strikes beginning overnight on Wednesday in and around al-Shafa in the Deir al-Zor countryside had targeted a hospital, prison and houses used by jihadists in their pocket on the eastern bank of the Euphrates river near the Iraqi border.
The Observatory said around 40 prisoners, civilians and fighters had been killed in strikes with more wounded. The toll rose as bodies were pulled from the rubble.
Syrian state news agency SANA, citing local sources, said new air strikes on Friday on al-Shafa killed around 30, bringing the total killed this week in strikes on the Islamic State pocket to around 45.
The Syrian government has written to the United Nations a number of times protesting casualties caused by air strikes by the U.S.-led coalition against Islamic State.
The U.S.-led coalition, now in a push to defeat the final remnants of Islamic State in Iraq and Syria, has previously said it investigates reports of civilian casualties and does all it can to avoid them.
An injured boy receives treatment at a hospital after an airstrike in Helmand province, Nov. 29, 2018.

Credit

Credit

Watan Yar/EPA, via Shutterstock
The following reports compile all significant security incidents confirmed by New York Times reporters throughout Afghanistan. It is necessarily incomplete as many local officials refuse to confirm casualty information. The toll here does not generally include claims of insurgents killed by the government, because of the difficulty of verifying such claims. Similarly, the reports do not include attacks on the government claimed by the Taliban. Both sides routinely inflate casualties of their opponents.
The death toll greatly increased this week among pro-government forces, to 89, a figure that includes five security contractors killed in a brazen attack on their base in Kabul, and three American Special Forces soldiers killed by a roadside bomb, the worst loss of American life in a year. Civilian deaths were 53, many of them from airstrikes — including 22 members of one family in Helmand Province.
Nov. 29 Kunar Province: four civilians killed
A coalition air and ground attack on the Islamic State in Chawkay District killed four civilians.
Nov. 29 Kabul: five security contractors, five civilians killed
A complex attack by the Taliban on a base of the multinational security company, G4S, in the capital city killed five employees of G4S, as well as five civilians, while wounding 19 others. At least one of the dead was reportedly a British citizen. A suicide bomb breached the base's defenses and four attackers held out inside for 11 hours until they were finally subdued by police. Officials said there were 230 hostages among base employees, 36 of them Afghans and the rest foreigners. They hid in a safe room and all survived.
Nov. 28 Helmand Province: 22 civilians killed in airstrikes
Authorities said Taliban insurgents took refuge in a house in Kushti village of Garmsir District, drawing airstrikes that killed 22 family members and wounded three others. Among the dead were 12 children.
Nov. 27 Faryab Province: one soldier killed
Taliban insurgents attacked Shirin Tagab District, killing one Afghan army soldier and wounding one.
Nov. 27 Ghazni Province: three American soldiers, five Afghans killed
A roadside bomb exploded on a highway just outside of Ghazni City, flipping an MRAP carrying a team of American Special Forces soldiers. Three were killed and three others wounded; an American contractor was also wounded. It was the worst loss of life for the American military in Afghanistan in 2018, bringing the number of service members who died in combat to 12 this year. Four other coalition members have also died this year, and one American service member died in a non-combat-related incident.
In a separate incident, reported on Nov. 27, five Afghan National Army soldiers were killed in a Taliban attack in Moqur District a day or more earlier.
C

asualties, Exclusive of Civilians
Recent Casualties
Color

 Denotes Today's Confirmation
The Department of Defense announced today the deaths of two soldiers and one airman who were supporting Operation Freedom's Sentinel.
The service members died Nov. 27, 2018, from injuries sustained when their vehicle was struck by an improvised explosive device in Andar, Ghazni Province, Afghanistan.
The soldiers were assigned to 1st Battalion, 3rd Special Forces Group (Airborne), Fort Bragg, North Carolina. The airman was assigned to the 26th Special Tactics Squadron at Cannon Air Force Base, New Mexico.
The incident is under investigation.
The deceased are:
Army Capt. Andrew Patrick Ross, 29, of Lexington, Virginia.
Army Sgt. 1st Class Eric Michael Emond, 39, of Brush Prairie, Washington.
Air Force Staff Sgt. Dylan J. Elchin, 25, of Hookstown, Pennsylvania.
Care for Veterans:
PTSD: National Center for PTSDPTSD Care for Veterans, Military, and FamiliesSee Help for Veterans with PTSD to learn how to enroll for VA health care and get an assessment.
All VA Medical Centers provide PTSD care, as well as many VA clinics.Some VA's have programs specializing in PTSD treatment. Use the VA PTSD ProgramLocator to find a PTSD program.If you are a war Veteran, find a Vet Center to help with the transition from military to civilian life.
This data is based on 51,544 database entries from the beginning of the war to 28 Feb 2017, and on monthly preliminary data from that date onwards. Preliminary data is shown in grey when applicable, and is based on approximate daily totals in the Recent Eventssection prior to full analysis. The full analysis extracts details such as the names or demographic details of individuals killed, the weapons that killed them and location amongst other details. The current range contains 36,537–38,380 deaths (20%–19%, a portion which may rise or fall over time) based on single-sourced reports.
Graphs are based on the higher number in our totals. Gaps in recording and reporting suggest that even our highest totals to date may be missing many civilian deaths from violence.
Pictures by Corporal MIKE PRYSNER, US Military Iraq War Veteran

Please Never Forget These Children
The McGlynn