03 Dec
United States Wars, News and Casualties
Damn The War Criminals,
Bush,Cheney,Rice,Rumsfeld,Wolfowitz, Powell and Blair from England.
.
The war ended for those children, but it has never ended for survivors who carry memories of them. Likewise, the effects of the U.S. bombings continue, immeasurably and indefensibly.
How many Iraqis have died as a result of the invasion 15 years ago? Some credible estimates put the number at more than one million. You can read that sentence again.
The invasion of Iraq is often spoken of in our country as a "blunder," or even a "colossal mistake." It was a crime.
Those who perpetrated it are still at large. Some of them have even been rehabilitated thanks to the horrors of a mostly amnesiac citizenry.

We condemned children to death, some after many days of writhing in pain on bloodstained mats, without pain relievers. Some died quickly, wasted by missing arms and legs, crushed heads. As the fluids ran out of their bodies, they appeared like withered, spoiled fruits. They could have lived, certainly should have lived – and laughed and danced, and run and played- but instead they were brutally murdered. Yes, murdered!
The McGlynn
War News
Despite horrifying statistics of death and starvation, regional players and their backers are using a ceasefire as a bargaining chip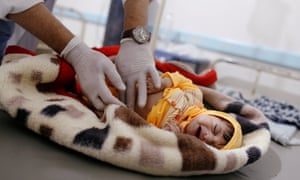 10,000 new cholera cases are reported every week, and over 85,000 children under five have starved to death. Photograph: Khaled Abdullah/Reuters
More than three years into Yemen's war, the horrifying statistics induce a sense of hopelessness: 57,000 people killed, 14 million at risk of famine, 10,000 new cholera cases each week. Save the Children estimates 85,000 under-fives have starved to death. That's an average of 77 a day since 2015. If 77 children died from avoidable causes on a single day in the UK or US, the roar of grief and anger would be heard around the world.
But the story of Yemen's war is a story of international indifference, self-interest and cynical manipulation. World leaders at this weekend's G20 mostly paid lip service to the issue, if they discussed it at all.
Yemen has limited economic or strategic importance. Former colonial powers, Turkey and Britain, admit no responsibility. For the Saudis next door, it is a battleground in a region-wide proxy war with Iran. For arms dealers, it's a profitable bazaar. The ancients dubbed Yemen "Arabia Felix" (happy Arabia) for its fertile soil. That's a grim irony now.
Things may be changing. The UN's envoy to Yemen, British diplomat Martin Griffiths, hopes to convene peace talks in Stockholm this week. Earlier efforts foundered when Iranian-backed Houthi rebels failed to show up for talks with the Saudi-backed regime of Abd-Rabbu Mansour Hadi. Mohammed Ali al-Houthi, head of the Houthi supreme revolutionary committee, pledged to go to Sweden "if safe exit and return is guaranteed and there are positive indications peace is a priority".
Mosul, one of Iraq's largest cities, was the place where so-called Islamic State declared its caliphate back in 2014. Now, after the Iraqi government has declared victory over IS -the group has also lost its last strongholds in Syria- the massive destruction over the campaign to liberate the city five months ago is in plain sight. Nafiseh Kohnavard from the BBC's Persian Service has been covering the battle for Mosul and has been back to the city's old town where life for ordinary civilians is anything but back to normal.
DUBAI (Reuters) – Yemen's Houthi group is expected to travel to Sweden as early as Monday for peace talks after the Saudi-led coalition approved the evacuation of some of their wounded for treatment, paving the way for negotiations to end the nearly four-year-old war.
Wounded Houthi fighters wait at Sanaa airport during his evacuation from Yemen December 3, 2018. REUTERS/Mohamed al-Sayaghi
U.N. special envoy Martin Griffiths arrived in the Houthi-held capital Sanaa on Monday to escort the Houthi delegation, a U.N. source told Reuters. The Saudi-backed government has said it would follow the Houthis to the talks, the first since 2016.
Prospects for convening talks have increased as Western allies press Saudi Arabia, leader of the Sunni Muslim alliance battling the Iranian-aligned Houthis, over a war that has killed more than 10,000 people and pushed Yemen to the brink of famine.
The peace talks may start on Wednesday, two sources familiar with the matter said, after U.N. special envoy Martin Griffiths shuttled between the parties to salvage a previous round that collapsed in September after the Houthis failed to show up.
Western powers, which provide arms and intelligence to the coalition, may have greater leverage to demand action on Yemen after outrage over the murder of Saudi journalist Jamal Khashoggi in Riyadh's consulate in Istanbul led to increased scrutiny of the kingdom's activities in the region.
The U.S. Senate is due to consider this week a resolution to end support for the conflict, which is seen as a proxy war between Saudi Arabia and its arch foe, Shi'ite Iran.
A Houthi official told Reuters that their delegation could travel on Monday night or Tuesday morning. In addition the evacuation of their wounded, the group had asked to travel on a plane not inspected by the coalition.
Fifty fighters will be flown to Muscat on UN plane as confidence-building measure
The UN envoy for Yemen will travel to the country's capital, Sana'a, to oversee the evacuation of 50 Houthi fighters to Muscat, a critical confidence-building measure before peace talks can get under way in Stockholm as early as Wednesday.
The evacuation on a UN-chartered plane on Monday would represent an essential building block to the talks starting. Martin Griffiths, the envoy, is trying to avoid the kind of last-minute hitch over the same issue that led to the postponement of discussions that were due to take in place in Geneva in September.
The Yemeni conflict pits a coalition led by Saudi Arabia and the United Arab Emirates against Houthi rebels from a resistance movement formed in opposition to Saudi religious influence. Four years of war have caused a dire humanitarian situation that risks descending into widespread famine unless some way is found of allowing the free flow of humanitarian aid into the country, aid agencies and the UN have warned.
Leaders of the "Yemen quartet" – Saudi Arabia, the United Arab Emirates, the US and the UK – met in Riyadh at the weekend to discuss the continuing humanitarian crisis.
BEIRUT (Reuters) – U.S.-led war planes killed an Islamic State leader on Sunday in Syria responsible for executing hostages including an American, Washington's envoy to the coalition fighting the jihadist group said.
"Earlier today, coalition air forces conducted precision strikes against a number of ISIS leaders in southeast Syria. Those targeted included Abu al-Umarayn," Brett McGurk said in a Tweet late on Sunday.
Abu al-Umarayn was responsible for killing several prisoners including the U.S. aid worker Peter Kassig, who was captured by the group in Syria and beheaded in 2014, McGurk said.
The strike in the Badia desert in eastern Syria killed "several other ISIS members", said Colonel Sean Ryan, spokesman for the U.S.-led coalition against Islamic State.
BEIRUT (AP) — The U.S.-led coalition has targeted a senior member of the Islamic State group involved in the 2014 killing of American aid worker Peter Kassig, a military spokesman said Monday.
Col. Sean Ryan, a spokesman for the U.S.-led coalition fighting IS, told The Associated Press that coalition forces conducted precision strikes against Abu al-Umarayn and several other IS members. He said the strikes, which took place on Sunday, occurred in a desert area in southeastern Syria.
The area is close to where Syria's state news agency said the U.S.-led coalition fired several missiles at Syrian army positions in the country's east, causing material damage. The SANA report said positions targeted on Sunday night are in the Ghorab Mountains, south of the eastern town of Sukhna.
The Britain-based Syrian Observatory for Human Rights, a war monitoring group, said U.S. troops in the Tanf base near the Jordanian and Iraqi border fired 15 rockets at a Syrian military convoy that lost its way in the area. It gave no further details.
However, Mozahem al-Salloum, from the activist-run Hammurabi Justice News network that tracks developments in eastern Syria, denied reports that U.S. troops targeted Syrian army positions. The targets were only IS elements, al-Salloum added.
Attacks by the U.S.-led coalition against Syrian troops have been rare. In 2016, warplanes of the U.S.-led coalition bombed Syrian army positions in the eastern city of Deir el-Zour and killed dozens of soldiers.
Ryan, the military spokesman, said Abu al-Umarayn had given indications of "posing an imminent threat" to coalition forces and that he was involved in Kassig's beheading. He also said Abu al-Umarayn was linked to and directly involved in the killings of several other prisoners of IS.
C

asualties, Exclusive of Civilians
Recent Casualties
Color

 Denotes Today's Confirmation
The Department of Defense announced today the deaths of two soldiers and one airman who were supporting Operation Freedom's Sentinel.
The service members died Nov. 27, 2018, from injuries sustained when their vehicle was struck by an improvised explosive device in Andar, Ghazni Province, Afghanistan.
The soldiers were assigned to 1st Battalion, 3rd Special Forces Group (Airborne), Fort Bragg, North Carolina. The airman was assigned to the 26th Special Tactics Squadron at Cannon Air Force Base, New Mexico.
The incident is under investigation.
The deceased are:
Army Capt. Andrew Patrick Ross, 29, of Lexington, Virginia.
Army Sgt. 1st Class Eric Michael Emond, 39, of Brush Prairie, Washington.
Air Force Staff Sgt. Dylan J. Elchin, 25, of Hookstown, Pennsylvania.
War Casualties By Name
More
Care for Veterans:
PTSD: National Center for PTSDPTSD Care for Veterans, Military, and FamiliesSee Help for Veterans with PTSD to learn how to enroll for VA health care and get an assessment.
All VA Medical Centers provide PTSD care, as well as many VA clinics.Some VA's have programs specializing in PTSD treatment. Use the VA PTSD Program Locator to find a PTSD program.
If you are a war Veteran, find a Vet Center to help with the transition from military to civilian life.

Iraq War Children
Pictures by Corporal MIKE PRYSNER, US Military Iraq War Veteran
Please do not forget the children.
The McGlynn