04 Dec
United States Wars, News and Casualties
Damn The War Criminals,
Bush,Cheney,Rice,Rumsfeld,Wolfowitz, Powell and Blair from England.
.
The war ended for those children, but it has never ended for survivors who carry memories of them. Likewise, the effects of the U.S. bombings continue, immeasurably and indefensibly.
How many Iraqis have died as a result of the invasion 15 years ago? Some credible estimates put the number at more than one million. You can read that sentence again.
The invasion of Iraq is often spoken of in our country as a "blunder," or even a "colossal mistake." It was a crime.
Those who perpetrated it are still at large. Some of them have even been rehabilitated thanks to the horrors of a mostly amnesiac citizenry.

We condemned children to death, some after many days of writhing in pain on bloodstained mats, without pain relievers. Some died quickly, wasted by missing arms and legs, crushed heads. As the fluids ran out of their bodies, they appeared like withered, spoiled fruits. They could have lived, certainly should have lived – and laughed and danced, and run and played- but instead they were brutally murdered. Yes, murdered!
The McGlynn
War News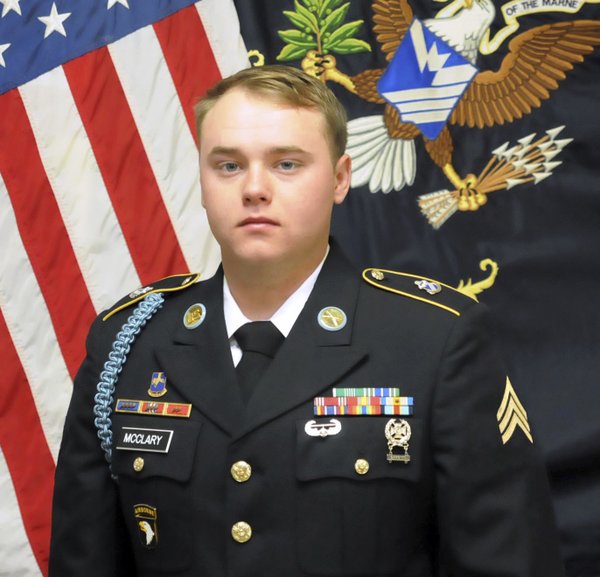 WASHINGTON (AP) — The Pentagon says that a fourth soldier has died from wounds suffered last week in a roadside bomb blast in eastern Afghanistan.
Sgt. Jason Mitchell McClary died Sunday at the military hospital in Landstuhl, Germany. He was 24 years old and from Export, Pennsylvania.
Three other service members were killed in the explosion last Tuesday near Ghazni, and two others were wounded.
It was the deadliest attack against U.S. forces in Afghanistan this year. The Taliban claimed responsibility.
McClary was assigned to 1st Stryker Brigade Combat Team, 4th Infantry Division, based at Fort Carson, Colorado.
SANAA (Reuters) – A Yemeni Houthi delegation is expected to leave for Sweden on Tuesday for U.N.-sponsored peace talks, the first since 2016, as Western nations press for an end to the war that has pushed the impoverished country to the verge of starvation.
The nearly four-year-old conflict, which has killed thousands and spawned the world's most urgent humanitarian crisis, pits the Iranian-aligned Houthis against other Yemeni forces backed by a coalition loyal to President Abd-Rabbu Mansour Hadi led by Saudi Arabia and the United Arab Emirates.
A Houthi official said their team would travel on a Kuwaiti plane accompanied by U.N. special envoy Martin Griffiths, who arrived in the Houthi-held capital Sanaa on Monday.
Hadi's government is expected to follow the group, whose attendance was secured after the coalition allowed the evacuation of 50 wounded Houthis for treatment in Oman on Monday. Previous talks in Geneva in September had collapsed after three days when the Houthis failed to show up.
The warring parties are expected to convene in Sweden as early as Wednesday to discuss confidence-building measures and a transitional governing body, as the U.S. Senate is set to consider a resolution to end support for the war.
BAGHDAD (Reuters) – A growing rivalry between two powerful Shi'ite Muslim factions has paralyzed efforts to form a government in Iraq six months after an election aimed at steering the country toward recovery from years of war.
The two largest parliamentary groupings to emerge after the vote in May – one led by populist cleric Moqtada al-Sadr and the other by Iranian-backed militia leader Hadi al-Amiri – formed a tacit alliance in October when they picked a president and approved 14 out of 22 cabinet ministers.
But since then there has been stalemate, mainly over the empty interior ministry post dominated for years by allies of Amiri, who are backing the former head of a paramilitary force supported by Tehran. Sadr meanwhile says no one with a political affiliation should get the post.
A vote in parliament to fill the vacant ministries in Prime Minister Adel Abdul Mahdi's cabinet has been repeatedly put back.
Iraq's return to deadlocked parliamentary politics, now involving Shi'ite factions rather than the Sunni-Shi'ite sectarianism that followed the 2003 U.S.-led invasion, prompted a plea last week from Iraq's most senior Shi'ite cleric for politicians to work together.
That now looks all but impossible. As Grand Ayatollah Ali al-Sistani made his remarks, the two sides broke off talks, lawmakers said.
GENEVA (Reuters) – Yemen's government will need billions of dollars in external support to finance its 2019 budget and avoid another currency collapse in addition to $4 billion in aid, U.N. aid chief Mark Lowcock said on Tuesday.
Lowcock said he had discussed the balance of payments deficit and the need to pay Yemeni salaries and pensions with officials from Saudi Arabia, the United Arab Emirates and the United States at weekend talks in Riyadh.
"There is going to be a need for billions of dollars of support so they can finance core functions of government," Lowcock told a news conference. "Unless they get some external finance for their budget these problems we saw with the rial plummeting will be back."

People collect drinking water from charity tap amid fears of a new cholera outbreak in Sanaa, Yemen November 5, 2018. Picture taken November 5, 2018. REUTERS/Khaled Abdullah
GENEVA (Reuters) – The United Nations appealed for $21.9 billion on Tuesday to address 21 humanitarian crises worldwide next year, including $4 billion for Yemen, its largest aid operation.
The appeal to donor countries does not include the funding requirements for Syria, which are expected to bring the total up to $25 billion, it said.
GENEVA — The U.N. humanitarian aid chief says he doesn't expect an "easy or rapid process" in peace talks aimed at ending Yemen's devastating civil war, which are set to begin later this week.
Mark Lowcock, head of the world body's Office for the Coordination of Humanitarian Affairs, spoke to The Associated Press on Monday after laying out the organization's 2019 humanitarian appeal.
OCHA says $21.9 billion is needed next year for food, shelter, health care, education, protection and other assistance worldwide. It predicts nearly 132 million people in 42 countries will need assistance.
The worst humanitarian crisis is in Yemen, where the government and a Saudi-led coalition have been locked in a largely stalemated war with the Iran-aligned Houthi rebels since March 2015. The fighting has claimed tens of thousands of lives and pushed the country to the brink of famine.
Lowcock said the "onus" in the peace talks is on Yemen's government and the Houthi rebels to "take this seriously and act in a responsible way."
The two sides are set to meet later this week following a series of confidence-building measures. Around 50 wounded rebel fighters were flown to Oman for treatment on Monday, meeting a key Houthi demand. On Tuesday, Abdul-Qader el-Murtaza, a rebel official, said the government and the coalition have agreed to a U.N.-brokered prisoner exchange approved by the Houthis.
Houthi delegates flew to Stockholm from Yemen's rebel-held capital, Sanaa, on Tuesday. Other rebel delegates were expected to travel to Sweden from Oman on Wednesday. The U.N. says both sides have agreed to attend the talks.
David Miliband, president of the International Rescue Committee, on Tuesday urged the U.S. and Britain to use their influence as military supporters of the Saudi-led coalition to "encourage meaningful dialogue in these talks."
"It's time for world leaders to listen to their constituents and help end the unmitigated suffering of the Yemeni people," he said in a statement.
KABUL, Afghanistan (AP) — An Afghan official says the Taliban stormed a police checkpoint in northern Sari Pul province, killing a district police chief and another officer.
Zabi Amani, the governor's spokesman, says the attack on Monday night in Sayyad district also wounded four policemen.
Amani says the attack triggered an hours-long gun battle and that there are also casualties among the Taliban. He didn't elaborate.
Meanwhile, a shootout that broke out overnight between Kabul police and a man who was being evicted under a court order from his house in the Afghan capital left one policeman dead and six people, including a reporter, wounded.
Basir Mujahid, spokesman for the Kabul police, says roads around the area have been blocked off and sporadic shooting is still taking place at the site on Tuesday.
KABUL — Traffic in Kabul was blocked for a second successive day on Tuesday as police exchanged gun and rocket fire with the guards of a local strongman who resisted a police order for his eviction from a home in the Afghan capital's main business area.
The incident in one of Kabul's most prosperous localities underlines the struggle of the Western-backed government to control powerful figures, whose armored cars carrying heavily armed gunmen are a common sight on the city's streets.
Afghan officials said at least one policeman was killed and six wounded in the gunbattle with the guards of Tamim Wardak, the owner of a security company whom some officials described as being related to a former defense minister.
Government forces finally arrested Wardak and 18 of his armed men, said interior ministry spokesman Najib Danish, after additional forces were despatched to disarm the gunmen and end an impasse that had forced shops and schools nearby to shut.
"One of his guards has been killed, and three wounded, but Wardak and all his men are in custody," Danish added.
The confrontation began on Monday afternoon, when Wardak's guards responded to the order for his eviction from a house he had illegally occupied for years by opening fire with automatic weapons and rocket-propelled grenades, security officials said.
C

asualties, Exclusive of Civilians
Recent Casualties
Color

 Denotes Today's Confirmation
The Department of Defense announced today the death of a soldier who was supporting Operation Freedom's Sentinel.
Sgt. Jason Mitchell McClary, 24, from Export, Pennsylvania, died Dec. 2, 2018, in Landstuhl, Germany, as a result of injuries sustained from an improvised explosive device on Nov. 27, 2018, in Andar District, Ghazni Province, Afghanistan. The incident is under investigation.
McClary was assigned to 1st Battalion, 38th Infantry Regiment, 1st Stryker Brigade Combat Team, 4th Infantry Division, Fort Carson, Colorado. 
The Department of Defense announced today the deaths of two soldiers and one airman who were supporting Operation Freedom's Sentinel.
The service members died Nov. 27, 2018, from injuries sustained when their vehicle was struck by an improvised explosive device in Andar, Ghazni Province, Afghanistan.
The soldiers were assigned to 1st Battalion, 3rd Special Forces Group (Airborne), Fort Bragg, North Carolina. The airman was assigned to the 26th Special Tactics Squadron at Cannon Air Force Base, New Mexico.
The incident is under investigation.
The deceased are:
Army Capt. Andrew Patrick Ross, 29, of Lexington, Virginia.
Army Sgt. 1st Class Eric Michael Emond, 39, of Brush Prairie, Washington.
Air Force Staff Sgt. Dylan J. Elchin, 25, of Hookstown, Pennsylvania.
War Casualties By Name
More
Care for Veterans:
PTSD: National Center for PTSDPTSD Care for Veterans, Military, and FamiliesSee Help for Veterans with PTSD to learn how to enroll for VA health care and get an assessment.
All VA Medical Centers provide PTSD care, as well as many VA clinics.Some VA's have programs specializing in PTSD treatment. Use the VA PTSD Program Locator to find a PTSD program.
If you are a war Veteran, find a Vet Center to help with the transition from military to civilian life.

Iraq War Child
Pictures by Corporal MIKE PRYSNER, US Military Iraq War Veteran
Please do not forget the children.
The McGlynn