05 Dec
United States Wars, News and Casualties
Damn The War Criminals,
Bush,Cheney,Rice,Rumsfeld,Wolfowitz, Powell and Blair from England.
.
The war ended for those children, but it has never ended for survivors who carry memories of them. Likewise, the effects of the U.S. bombings continue, immeasurably and indefensibly.
How many Iraqis have died as a result of the invasion 15 years ago? Some credible estimates put the number at more than one million. You can read that sentence again.
The invasion of Iraq is often spoken of in our country as a "blunder," or even a "colossal mistake." It was a crime.
Those who perpetrated it are still at large. Some of them have even been rehabilitated thanks to the horrors of a mostly amnesiac citizenry.

We condemned children to death, some after many days of writhing in pain on bloodstained mats, without pain relievers. Some died quickly, wasted by missing arms and legs, crushed heads. As the fluids ran out of their bodies, they appeared like withered, spoiled fruits. They could have lived, certainly should have lived – and laughed and danced, and run and played- but instead they were brutally murdered. Yes, murdered!
The McGlynn
War News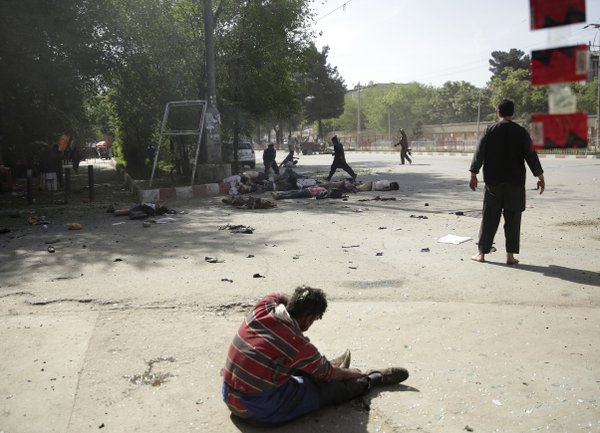 WASHINGTON (AP) — The fight in Afghanistan is at a stalemate, and the significant number of Afghan troop deaths in the war is not sustainable, the Marine officer nominated to command U.S. forces in the Middle East told lawmakers on Tuesday.
Marine Lt. Gen. Kenneth McKenzie warned the Senate Armed Services Committee against an abrupt withdrawal of American forces or change in strategy despite frustration over the status of the 17-year conflict. He said he doesn't know how long it will take to develop an Afghan force capable of defending its own country.
"If we left precipitously right now, I do not believe they would be able to successfully defend their country," McKenzie said.
McKenzie said the U.S. and its allies need to keep helping the Afghans recruit and train forces to fight the Taliban's estimated 60,000 troops.
"They're fighting hard, but their losses are not going to be sustainable unless we correct this problem," McKenzie said, in one of the U.S. military's more dire assessments of the Afghan losses.
In its most recent report to Congress, in October, the special inspector general for Afghanistan said Afghan casualty numbers had been reported only in classified form since September 2017 at the request of the Afghan government. The report, however, said that the average number of casualties between May and October this year was the greatest it has ever been during similar periods.
On Oct. 30, Defense Secretary Jim Mattis said Afghan forces had more than 1,000 dead and wounded during August and September alone. Afghan President Ashraf Ghani said in a November speech that more than 28,000 of his country's forces had been killed in the last four years.
McKenzie's grim assessment comes amid growing frustration among Congress over lack of progress in the 17-year Afghan conflict. Lawmakers peppered the general with questions about lack of advancement in the war, and why the Taliban has been gaining control of additional territory.
Sen. Ben Peters, D-Mich., told McKenzie that Congress members have been hearing about a political settlement for years.
"We've been at it for 17 years; 17 years is a long time," said Peters. "What are we doing differently when it comes to the Afghan security forces that we haven't done for 17 years?"
McKenzie, who is director of the Joint Staff and who served two tours in Afghanistan, acknowledged the frustration. But he said the government has opted to secure the more populated areas of the country, while ceding control of more remote, sparsely occupied regions to the insurgents.
BENGHAZI, Libya (Reuters) – Dozens of Libyans protested on Tuesday against a U.S. air strike on suspected al Qaeda militants in the country's southwestern desert, saying civilians had been targeted, witnesses said.
The U.S. Africa Command (Africom) on Thursday said it had killed 11 al Qaeda militants near the town of al Uwaynat in its third strike since March on the militant group's North African branch – al Qaeda in the Islamic Maghreb (AQIM).
The strike close to the Algerian border, destroyed three vehicles, Africom had said in its statement last week, adding that at the time, they had assessed "no civilians were injured or killed".
Members of the ethnic Tuareg tribe living in the area staged a protest on Tuesday, calling on the Tripoli-based government to launch an investigation into the strike.
The protesters, among them women and children, held up pamphlets saying "Africom attacked civilians", and "Africom is killing our sons", witnesses and participants told Reuters.
Jihadists linked to al Qaeda and Islamic State have sought refuge in Libya's vast southern desert as the country struggles to restore stability seven years after the uprising that toppled Muammar Gaddafi.
ADEN/STOCKHOLM (Reuters) – A delegation from Yemen's Saudi-backed government left for Sweden on Wednesday to attend peace talks with members of the Iran-aligned Houthi group, in a renewed U.N. push to end a war that has brought economic ruin and famine.
One representative of the internationally recognized government, Abdullah al-Alimi, tweeted that the talks were "a true opportunity for peace," before his team flew out of the Saudi capital Riyadh.
Saudi Arabia and the United Arab Emirates – leaders of a Western-backed coalition battling the Houthis to restore President Abd-Rabbu Mansour Hadi's government – want to exit a war that had dragged on for four years.
Western allies, which provide arms and intelligence to the coalition, have ramped up pressure on them to find a way to end a conflict that killed tens of thousands of people and left more than 8 million facing famine.
The Saudi-led alliance intervened in the civil war in 2015 after the Houthi movement ousted Hadi's government from the Yemeni capital Sanaa in 2014, but has faced military stalemate since seizing the southern port of Aden.
The conflict is seen as a proxy war between Sunni Muslim power Riyadh and Shi'ite Tehran.
Seeking to reinvigorate peace efforts, U.N. special envoy Martin Griffiths secured some confidence-building measures, including the evacuation of Houthi wounded, to help persuade the movement to attend the talks in Sweden.
The Houthi delegation arrived there on Tuesday, having failed to turn up for previous talks in Geneva in September.
GENEVA (Reuters) – The United Nations has reports of Islamic State (ISIL) executing people perceived as cooperating with rebel fighters in Deir al-Zor governorate in eastern Syria, the U.N. human rights boss said on Wednesday.
Michelle Bachelet, speaking to a news conference in Geneva, voiced deep concern for 7,000 civilians who she said were trapped between Islamic State fighters preventing them from leaving Deir al-Zor and air strikes by a U.S.-led coalition.
"We also have reports of ISIL executing people perceived as cooperating with SDF (Syrian Democratic Forces) or other parties to the conflict," she said, adding that civilians were being used as "pawns and bargaining chips" in the conflict.
WASHINGTON (Reuters) – The Pentagon's pick for the next commander of U.S. Central Command said on Tuesday the high casualty rate of Afghan security forces would not be sustainable even with the stalemate in the fight against Taliban militants.
"Their losses have been very high. They are fighting hard, but their losses are not going to be sustainable unless we correct this problem," Lieutenant General Kenneth McKenzie said during a Senate Armed Services Committee hearing.
The assessment comes as both Western-backed security forces and the Taliban have pushed to gain momentum as the United States has stepped up efforts to find a peaceful settlement to end the 17-year-long war in Afghanistan.
Afghan President Ashraf Ghani said last month that since 2015 more than 28,000 members of the Afghan security forces had been killed.
McKenzie said the United States would have to work with Afghan forces to improve how they recruit, train and carry out missions.
He added that Afghan forces were not capable of securing the mountainous South Asian country without help from the nearly 14,000 U.S. troops deployed there.
"If we left precipitously right now, I do not believe they would be able to successfully defend their country," McKenzie said.
He said he did not know how long it would take for Afghan forces to be self-sufficient and that Taliban fighters were estimated at 60,000.
U.S. President Donald Trump wants to end the conflict between Afghan security forces and the Taliban, who are fighting to drive out international forces and reestablish their version of strict Islamic law after their 2001 ouster.
McKenzie said he was unaware of any plans to significantly change the U.S. military footprint in Afghanistan.
KABUL, Afghanistan (AP) — Afghan officials say the Taliban have attacked a police checkpoint in the western Herat province, setting off a battle in which a policeman and three civilians were killed.
Police spokesman Abdul Ahad Walizada says six of the attackers were killed in the battle late Tuesday.
The Taliban effectively control nearly half the country and carry out daily attacks that mainly target security forces.
In the eastern Nangarhar province, meanwhile, the director of a local TV station was kidnapped.
Attahullah Khogyani, the governor's spokesman, says the TV director, known as Engineer Zelmia, was kidnapped late Tuesday. Zelmia's driver was shot and killed.
No one immediately claimed the abduction, but the Taliban and the Islamic State group are both active in Nangarhar.
KABUL — Traffic in Kabul was blocked for a second successive day on Tuesday as police exchanged gun and rocket fire with the guards of a local strongman who resisted a police order for his eviction from a home in the Afghan capital's main business area.
The incident in one of Kabul's most prosperous localities underlines the struggle of the Western-backed government to control powerful figures, whose armored cars carrying heavily armed gunmen are a common sight on the city's streets.
Afghan officials said at least one policeman was killed and six wounded in the gunbattle with the guards of Tamim Wardak, the owner of a security company whom some officials described as being related to a former defense minister.
Government forces finally arrested Wardak and 18 of his armed men, said interior ministry spokesman Najib Danish, after additional forces were despatched to disarm the gunmen and end an impasse that had forced shops and schools nearby to shut.
"One of his guards has been killed, and three wounded, but Wardak and all his men are in custody," Danish added.
The confrontation began on Monday afternoon, when Wardak's guards responded to the order for his eviction from a house he had illegally occupied for years by opening fire with automatic weapons and rocket-propelled grenades, security officials said.
Some security officials in Kabul, who declined to be identified because they were not authorized to talk to the media, said Wardak was a relative of a former defense minister, Rahim Wardak.
The former minister was not immediately available to comment.
Danish added that the government was working on a plan to close all illegal security companies and round up armed men from all over Afghanistan.
By Khaama Press on 05 Dec 2018 1:31pm .
A local commander of the Taliban group and his comrades were killed during an operation of the Afghan commandos in northern Faryab province of Afghanistan.

The 209th Shaheen Corps of the Afghan Military in the North in a statement said the Afghan commandos conducted an operation in Garziwan district of Faryab, leaving three militants dead.
The statement further added that a local commander of the Taliban was among those killed with his two comrades.
The 209th Shaheen Corps also added that two other militants also sustained injuries during the same operation of the commando forces.
The anti-government armed militant groups including Taliban have not commented regarding the report so far.
Faryab is among the relatively volatile provinces in North of Afghanistan where the Taliban militants and other groups are actively operating in some of its districts and often carry out terrorist related activities.
C

asualties, Exclusive of Civilians
Recent Casualties
Color Denotes Today's Confirmation
The Department of Defense announced today the death of a soldier who was supporting Operation Freedom's Sentinel.
Sgt. Jason Mitchell McClary, 24, from Export, Pennsylvania, died Dec. 2, 2018, in Landstuhl, Germany, as a result of injuries sustained from an improvised explosive device on Nov. 27, 2018, in Andar District, Ghazni Province, Afghanistan. The incident is under investigation.
McClary was assigned to 1st Battalion, 38th Infantry Regiment, 1st Stryker Brigade Combat Team, 4th Infantry Division, Fort Carson, Colorado.
The Department of Defense announced today the deaths of two soldiers and one airman who were supporting Operation Freedom's Sentinel.
The service members died Nov. 27, 2018, from injuries sustained when their vehicle was struck by an improvised explosive device in Andar, Ghazni Province, Afghanistan.
The soldiers were assigned to 1st Battalion, 3rd Special Forces Group (Airborne), Fort Bragg, North Carolina. The airman was assigned to the 26th Special Tactics Squadron at Cannon Air Force Base, New Mexico.
The incident is under investigation.
The deceased are:
Army Capt. Andrew Patrick Ross, 29, of Lexington, Virginia.
Army Sgt. 1st Class Eric Michael Emond, 39, of Brush Prairie, Washington.
Air Force Staff Sgt. Dylan J. Elchin, 25, of Hookstown, Pennsylvania.
War Casualties By Name
More
Care for Veterans:
PTSD: National Center for PTSDPTSD Care for Veterans, Military, and FamiliesSee Help for Veterans with PTSD to learn how to enroll for VA health care and get an assessment.
All VA Medical Centers provide PTSD care, as well as many VA clinics.Some VA's have programs specializing in PTSD treatment. Use the VA PTSD Program Locator to find a PTSD program.
If you are a war Veteran, find a Vet Center to help with the transition from military to civilian life.

AP Photo Rahmat Gul
Afghanistan War Child
Please do not forget the children.
The McGlynn