09 Dec
United States Wars, News and Casualties
Damn The War Criminals,
Bush,Cheney,Rice,Rumsfeld,Wolfowitz, Powell and Blair from England.
.
The war ended for those children, but it has never ended for survivors who carry memories of them. Likewise, the effects of the U.S. bombings continue, immeasurably and indefensibly.
How many Iraqis have died as a result of the invasion 15 years ago? Some credible estimates put the number at more than one million. You can read that sentence again.
The invasion of Iraq is often spoken of in our country as a "blunder," or even a "colossal mistake." It was a crime.
Those who perpetrated it are still at large. Some of them have even been rehabilitated thanks to the horrors of a mostly amnesiac citizenry.

We condemned children to death, some after many days of writhing in pain on bloodstained mats, without pain relievers. Some died quickly, wasted by missing arms and legs, crushed heads. As the fluids ran out of their bodies, they appeared like withered, spoiled fruits. They could have lived, certainly should have lived – and laughed and danced, and run and played- but instead they were brutally murdered. Yes, murdered!
The McGlynn
War News
Photos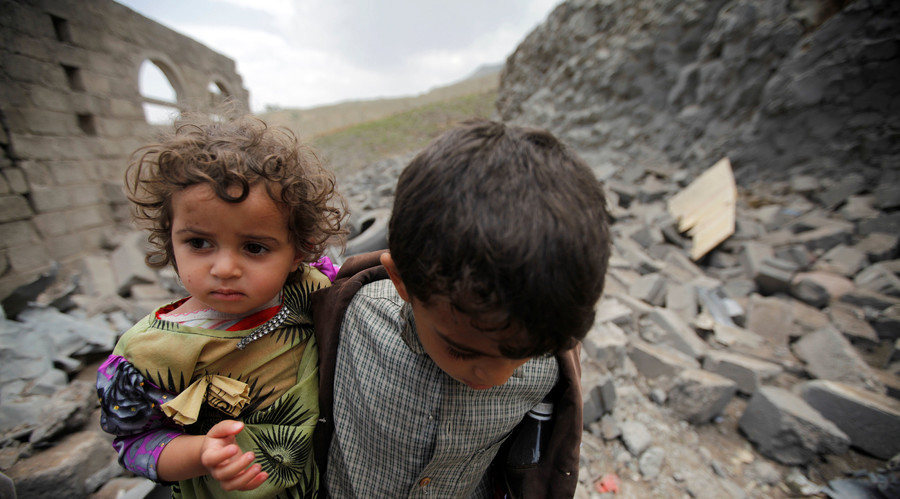 A boy carries his sister, as he walks on rubble of a house after it was destroyed by a Saudi-led air strike in Yemen's capital Sanaa,
ABU DHABI (Reuters) – The United States wants to continue support to the Saudi-led coalition in Yemen's war and will remain engaged in efforts to combat Iranian influence and Islamist militancy in the Arab state, a State Department official said on Sunday.
Since the Oct 2. murder of Washington Post columnist Jamal Khashoggi at the kingdom's Istanbul consulate, the U.S. administration has come under pressure at home over the nearly four-year-old conflict.
The Senate last month voted to advance a resolution to end U.S. military support, which includes arms sales and intelligence sharing, for the Western-backed Sunni Muslim coalition that intervened in 2015 against the Iranian-aligned Houthis to restore the internationally recognized government.
"There are pressures in our system … to either withdraw from the conflict or discontinue our support of the coalition, which we are strongly opposed to on the administration side," said Timothy Lenderking, Deputy Assistant Secretary for Arabian Gulf Affairs.
"We do believe that the support for the coalition is necessary. It sends a wrong message if we discontinue our support," he told a security forum in the United Arab Emirates.
The United States last month halted U.S. refueling of aircraft from the coalition, which has been blamed for air strikes that have killed thousands of civilians in Yemen.
The U.S. official's reassurances of continued support comes as Sweden hosts the first U.N.-led peace talks in two years between the warring parties and as Gulf Arab leaders hold an annual summit in Riyadh on Sunday, expected to discuss the war.

Senior American officials were worried. Since the early months of the Trump administration, Jared Kushner, the president's son-in-law and Middle East adviser, had been having private, informal conversations with Prince Mohammed bin Salman, the favorite son of Saudi Arabia's king.
Given Mr. Kushner's political inexperience, the private exchanges could make him susceptible to Saudi manipulation, said three former senior American officials. In an effort to tighten practices at the White House, a new chief of staff tried to reimpose longstanding procedures stipulating that National Security Council staff members should participate in all calls with foreign leaders.
But even with the restrictions in place, Mr. Kushner, 37, and Prince Mohammed, 33, kept chatting, according to three former White House officials and two others briefed by the Saudi royal court. In fact, they said, the two men were on a first-name basis, calling each other Jared and Mohammed in text messages and phone calls.
The exchanges continued even after the Oct. 2 killing of Jamal Khashoggi, the Saudi journalist who was ambushed and dismembered by Saudi agents, according to two former senior American officials and the two people briefed by the Saudis.
As the killing set off a firestorm around the world and American intelligence agencies concluded that it was ordered by Prince Mohammed, Mr. Kushner became the prince's most important defender inside the White House, people familiar with its internal deliberations say.
Mr. Kushner's support for Prince Mohammed in the moment of crisis is a striking demonstration of a singular bond that has helped draw President Trump into an embrace of Saudi Arabia as one of his most important international allies.
But the ties between Mr. Kushner and Prince Mohammed did not happen on their own. The prince and his advisers, eager to enlist American support for his hawkish policies in the region and for his own consolidation of power, cultivated the relationship with Mr. Kushner for more than two years, according to documents, emails and text messages reviewed by The New York Times.
A delegation of Saudis close to the prince visited the United States as early as the month Mr. Trump was elected, the documents show, and brought back a report identifying Mr. Kushner as a crucial focal point in the courtship of the new administration. He brought to the job scant knowledge about the region, a transactional mind-set and an intense focus on reaching a deal with the Palestinians that met Israel's demands, the delegation noted……………In a statement, a White House spokesman said that "Jared has always meticulously followed protocols and guidelines regarding the relationship with MBS and all of the other foreign officials with whom he interacts."
White House officials declined to explain those protocols and guidelines, and declined to comment on Mr. Kushner's one-on-one communications with Prince Mohammed since the killing of Mr. Khashoggi.
Rimbo, Sweden – Yemeni officials have said that removing President Abd-Rabbu Mansour Hadi will "not solve the country's problems" after their adversaries, the Houthi rebels, proposed the formation of a new transitional government.
Abdulaziz Jabari, a member of the government's delegation to peace talks in Sweden and a senior adviser to the president, said the country's woes stemmed from the Houthi takeover of Sanaa and other large expanses of the territory, not from the position Hadi occupied.
"The problem is the military coup that took place in 2014," Jabari told Al Jazeera on Saturday. "The problem is with those, who through aggression, took over our country."
"Let's say Hadi is out of the equation, this is not going to solve the problem. On the contrary, fighting over power will continue," he said.
"Our biggest problem is that there is a group which has hijacked the state."
Abd-Rabbu Mansour Hadi's adviser rejects Houthi proposal of a new transitional government at Sweden talks.
Political prisoners forgotten by the world protest on behalf of hundreds of thousands detained or 'disappeared'
In the shaky mobile phone video, around a dozen men stand in silence, faces grim, placards held above their heads. The corridor's yellow light reveals exposed wires and damp, peeling paint.
The men are detainees in the central prison in Hama, western Syria: some were arrested during the peaceful Arab Spring protests in 2011 and have been held without trial since.
"We have been imprisoned for many years in the darkness of detention cells, breathing in and breathing out agony," one reads from a piece of paper explaining their decision to go on hunger strike. "We're exhausted. We have the right to live and for our story to be taken seriously."
The powerful message is a rare glimpse into the unseen world of Syria's hundreds of thousands of political prisoners.
In Hama central prison around 200 men are now on their third week of hunger strike in protest at their continued detention – and a decision to transfer 11 prisoners to Damascus's infamous Sednaya military prison, described by Amnesty International as a slaughterhouse.
If sent to Sednaya, the 11 are "dead men walking", said Mustafa, a local activist, who added that relatives have gathered outside Hama police station in solidarity protests.
"Please, all human beings, all Syrians, I am not a terrorist. I never held a weapon. I just participated in a demonstration for freedom," one hunger-striking detainee said in a WhatsApp voice note. "We spent years in Sednaya and now they want to send us back to execute us. We did no wrong to the Syrian people, from any background or sect. Listen to our voices. Listen just for once."
KABUL, Afghanistan — An Afghan official says the Taliban have attacked an army checkpoint in the western Farah province, killing at least eight Afghan soldiers.
Abdul Samad Salehi, a provincial council member, says the insurgents abducted another 10 soldiers in the attack late Saturday.
Provincial police spokesman Mohibullah Mohib says three insurgents were killed and four others were wounded.
The Taliban, who control nearly half the country, carry out daily attacks mainly targeting security forces.
C

asualties, Exclusive of Civilians
Recent Casualties
Color

 Denotes Today's Confirmation
The Department of Defense announced today the death of a soldier who was supporting Operation Freedom's Sentinel.
Sgt. Jason Mitchell McClary, 24, from Export, Pennsylvania, died Dec. 2, 2018, in Landstuhl, Germany, as a result of injuries sustained from an improvised explosive device on Nov. 27, 2018, in Andar District, Ghazni Province, Afghanistan. The incident is under investigation.
McClary was assigned to 1st Battalion, 38th Infantry Regiment, 1st Stryker Brigade Combat Team, 4th Infantry Division, Fort Carson, Colorado.
The Department of Defense announced today the deaths of two soldiers and one airman who were supporting Operation Freedom's Sentinel.
The service members died Nov. 27, 2018, from injuries sustained when their vehicle was struck by an improvised explosive device in Andar, Ghazni Province, Afghanistan.
The soldiers were assigned to 1st Battalion, 3rd Special Forces Group (Airborne), Fort Bragg, North Carolina. The airman was assigned to the 26th Special Tactics Squadron at Cannon Air Force Base, New Mexico.
The incident is under investigation.
The deceased are:
Army Capt. Andrew Patrick Ross, 29, of Lexington, Virginia.
Army Sgt. 1st Class Eric Michael Emond, 39, of Brush Prairie, Washington.
Air Force Staff Sgt. Dylan J. Elchin, 25, of Hookstown, Pennsylvania.
War Casualties By Name
More
Care for Veterans:
PTSD: National Center for PTSDPTSD Care for Veterans, Military, and FamiliesSee Help for Veterans with PTSD to learn how to enroll for VA health care and get an assessment.
All VA Medical Centers provide PTSD care, as well as many VA clinics.Some VA's have programs specializing in PTSD treatment. Use the VA PTSD Program Locator to find a PTSD program.
If you are a war Veteran, find a Vet Center to help with the transition from military to civilian life.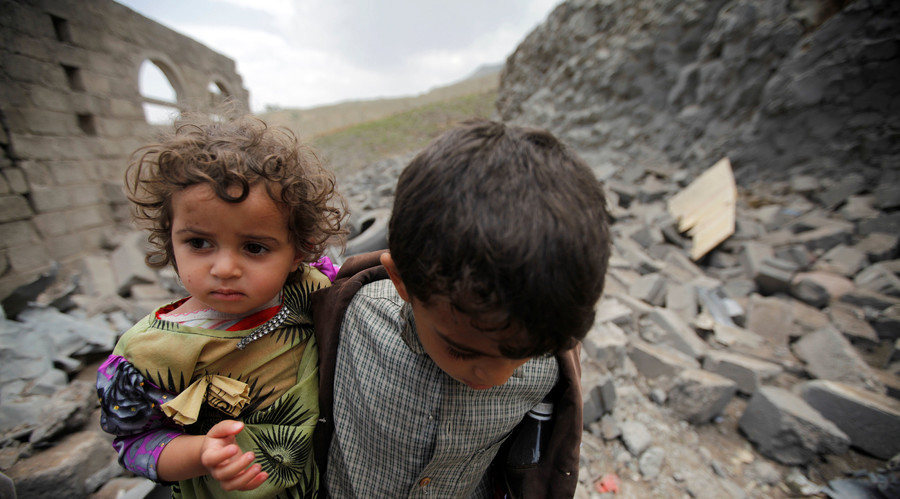 A boy carries his sister, as he walks on rubble of a house after it was destroyed by a Saudi-led air strike in Yemen's capital Sanaa,
Please do not forget the children.
The McGlynn